The Art of Entertaining: Tablescape Inspiration for Fall 2023
Fall is undeniably a season that brings joy and a sense of wonder. It's a time when we pause to appreciate the simple pleasures of life — from the changing leaves to the warmth of shared moments with loved ones. As the leaves begin to don their vibrant shades of red, orange, and gold, and the air takes on a refreshing chill, it's the ideal moment to enhance your hosting expertise. To celebrate the most out of the season, we encourage everyone to host fall parties with enchanting table arrangements that will leave your guests utterly mesmerized. In this article, we'll explore the latest trends and timeless styles to help you craft the most inviting and memorable fall table settings. We've selected some of our favorite fall tablescapes from designers we love and added photos from Instagram to help you create your own DIY fall centerpiece at home. Whether you're hosting a cozy fall dinner party or a grand harvest celebration, get ready to be inspired by the artistry of table decoration for the upcoming season.
11 Tablescapes to Delight Your Fall Guests
End-of-Summer Tablescape
Chrissy's fall tablescape starts with a statement piece. In this setup, it's a beautiful blue pitcher. For the color scheme, she wanted to create a warm and inviting atmosphere, so she went for a palette of muted colors. Think soft oranges, light blues, whites, and browns. The warmer colors remind one of fall, while the blue celebrates the last few days of summer.
As for the dinnerware, keep it simple with basic white plates. They provide a clean canvas for your delicious dishes to shine. To keep your appetizers fresh and easily accessible as guests mingle, consider adding a lazy Susan with a glass dome. It not only adds a touch of elegance but also ensures that your goodies stay at their best.
Pro Tip: Instead of going overboard with a ton of miniature pumpkins, opt for just a few medium-sized pumpkins. They'll become the focal point and fill your table with that mesmerizing fall charm. Alternatively, opt for a floral arrangement with a bit of "pumpkin spice" as @mollyboyd demonstrates in the photo above.
Easy Fall Tablescape
Corey's easy fall tablescape is all about creating a warm and inviting atmosphere. For Corey, plaid is your go-to choice for that casual and cozy feel, which perfectly complements the colors of your home. For a moodier version of Corey's fall tablescape, consider the setting pictured above by @huddleson. We love the earthy place settings and muted color palette for fall entertaining.
To keep it simple yet stylish, start by layering another material on top of your tablecloth to anchor the centerpiece. You have a few options here. A table runner would work splendidly, or you could go for the rustic charm of wood. Alternatively, layering placemats or even neatly folded napkins down the center of the table can add that extra touch of texture and depth.
The key here is to maintain a balance between the cozy, casual vibes and the understated elegance you're aiming for. With these elements, your fall tablescape will be both inviting and visually captivating, making it the perfect setting for memorable gatherings with family and friends.
Cozy Fall Tablescape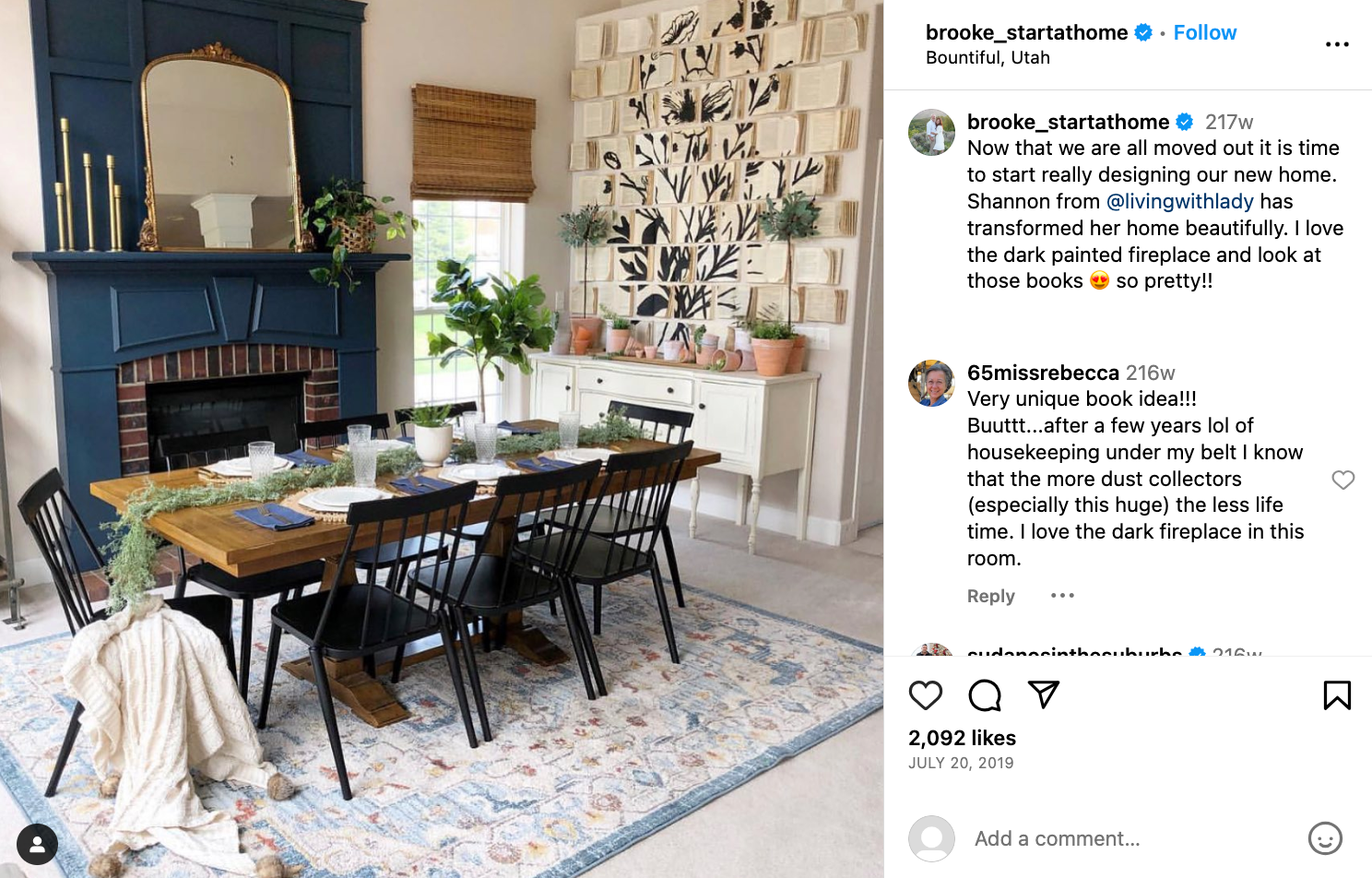 Brooke's cozy fall tablescape is a delightful blend of traditional neutrals and a tasteful pop of color. She starts with a foundation of timeless hues like taupe, brown, cream, and white. These neutral colors bring a clean, fresh, and soothing ambiance to the table, perfect for a cozy fall gathering.
To add a touch of spice without overwhelming the overall look, Brooke opts for an accent color. Classic warm tones like gold, burgundy, or orange make a subtle yet striking appearance — infusing the table with a distinct fall charm.
For natural accents, she incorporates succulents, pine cones, and mini pumpkins, creating a rustic yet refined look. Burlap sunflowers add a touch of rustic charm and a nod to the season's warmth.
What truly sets Brooke's fall tablescape apart is her creativity in using uncommon items for decorating. She has incorporated a farmhouse-style scale, adding a unique and unexpected element to the table — showcasing her distinctive style and attention to detail.
In essence, Brooke's Cozy Fall Tablescape is a masterpiece of balance and creativity — blending traditional elements with a contemporary twist to create a warm and inviting atmosphere for cherished fall gatherings.
While we couldn't find Brooke's exact tablecape on Instagram, pictured above is another one she designed for a client. Head over to Brooke's website for photos of the warm-toned table setting. It's perfect for a Thanksgiving gathering!
Modern Farmhouse Fall Tablescape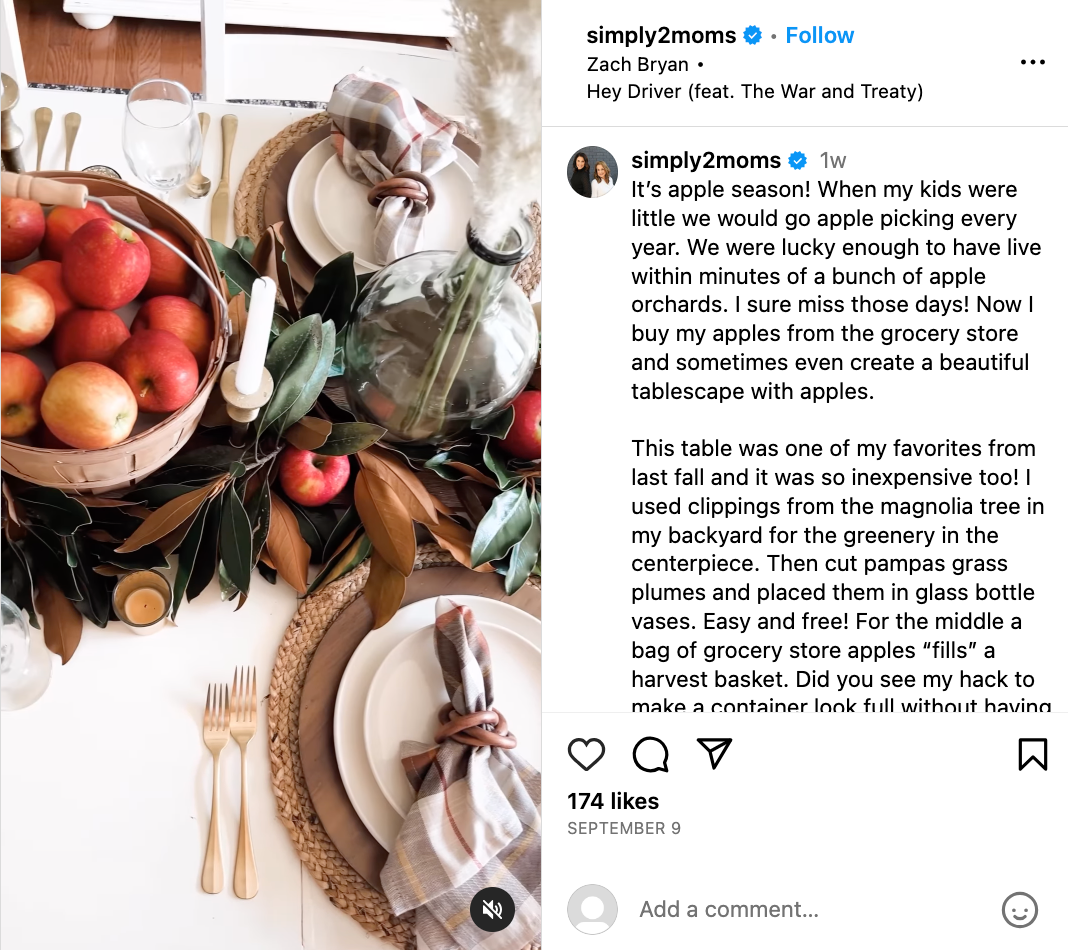 AnneMarie and Anne's Simple Fall Tablescape embodies the clean and contemporary charm of a modern farmhouse style. We love the apple and fall leaves theme in the photo from their Instagram account. With gilded flatware, natural materials, and gorgeous patterns, this table setting is so much fun, but it is also the epitome of rustic elegance.
To achieve the modern farmhouse fall tablescape, AnneMarie and Anne start with a clean and minimalist look, focusing on neutral creams and grays. These hues perfectly complement the gray walls and rug colors of the room — creating a seamless and harmonious atmosphere.
For a touch of autumn whimsy, they incorporate cute little yarn pumpkins, adding a playful element to the table. These pumpkins blend effortlessly with the neutral color scheme — contributing to the cozy and inviting ambiance.
To bring a natural element to the table, they adorn it with a leaf and twig garland. This garland not only adds a touch of rustic charm but also ties in beautifully with the fall theme.
No fall table setting is complete without candles, and AnneMarie and Anne understand this well. They incorporate five upcycled painted white candlesticks — creating a warm and inviting glow that adds to the overall cozy atmosphere.
For a final touch of elegance and comfort, they provide chambray cloth napkins. These napkins offer a tactile element and a nod to the rustic yet refined aesthetic of the modern farmhouse style.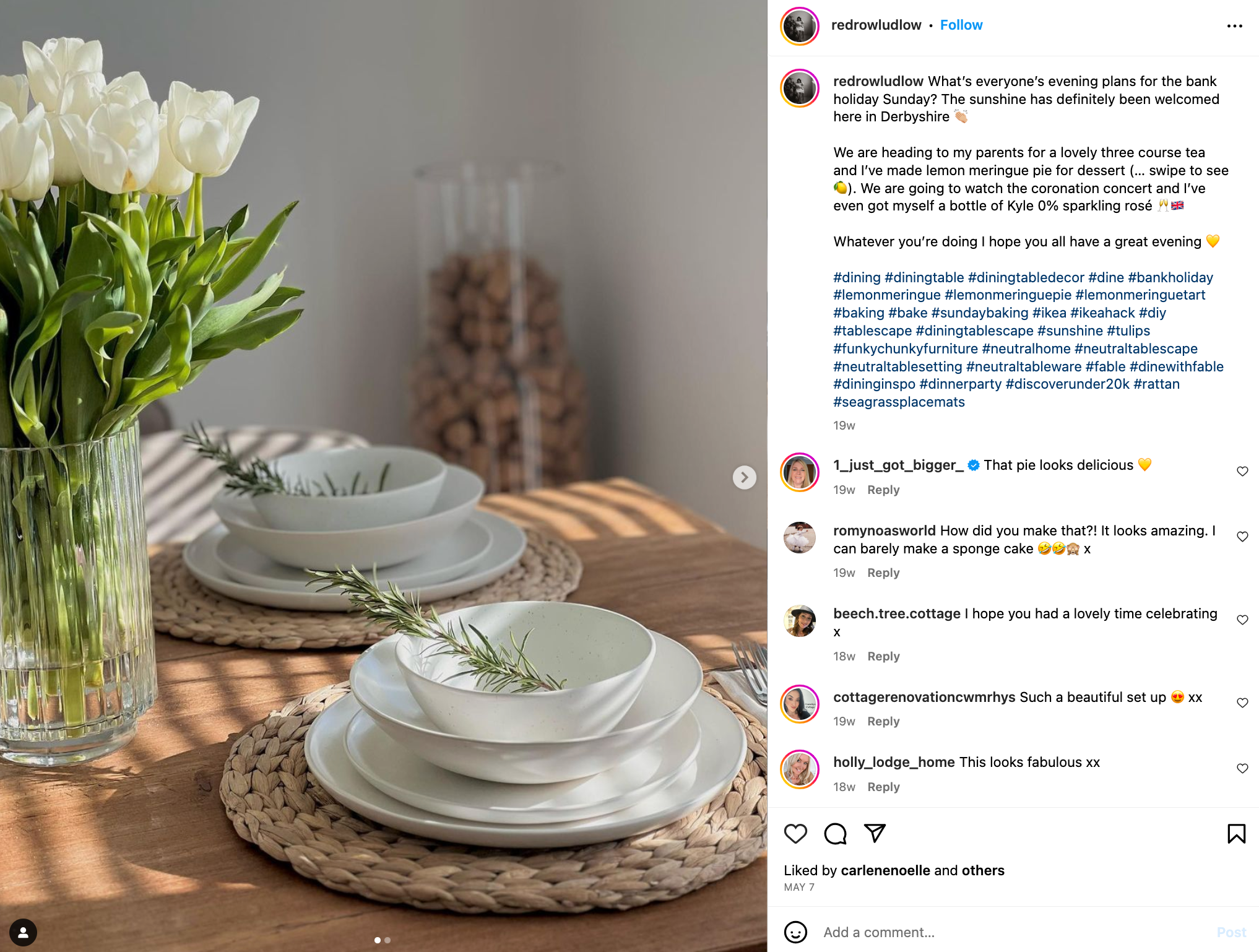 The Neutral Fall Tablescape from Live Oak Next is inspired by natural elements and earthy tones. It's a wonderful way to embrace the cozy ambiance of the season. It all begins with the foundation: grapevine wreaths, rustic and enchanting, serving as the backdrop for this seasonal masterpiece.
The color palette for this tablescape is a timeless and soothing blend of greens and browns. These earthy tones envelop the table in a warm and inviting embrace, mirroring the natural beauty of the season itself.
Pro Tip: While Live Oak Next's tablescape is distinctly fall-themed, we recommend the setting designed by @redrowludlow pictured above. You can easily transition this table setting from the final days of summer through fall and well into cooler weather. Add texture with a velvet ribbon and swap the tulips for juniper branches to make this beautiful tablescape perfect for winter too! For fall, switch things up with dried hydrangeas or wild grasses in the vase.
Back to Live Oak Next's fall tablescape ideas. For the dinnerware, simplicity reigns supreme with the choice of glass or ceramic plates. Their clean lines and classic elegance allow the natural elements to take center stage.
Personalization comes into play with carefully crafted place cards. Each one is a work of art — enhancing the sense of individuality at every guest's place. These small yet impactful details unify the tablescape — making each setting feel special and uniquely personalized.
To emphasize the quintessential fall spirit, Pretty Painted Faux pumpkins grace the table from Live Oak Next. Their warm hues and rustic appeal infuse the setting with the nostalgia of autumn — complementing the neutral color scheme impeccably.
Eclectic Fall Tablescape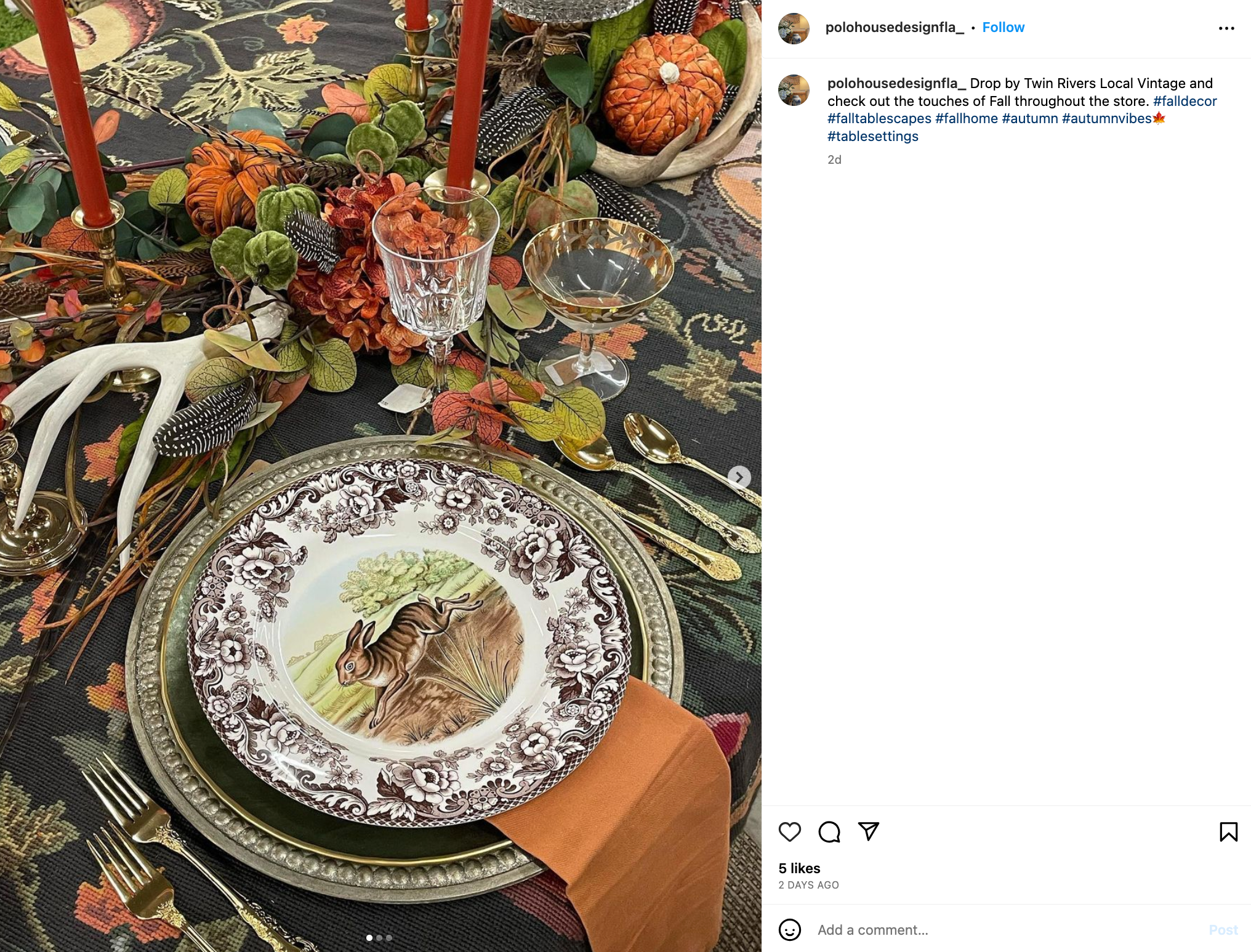 This eclectic tablescape is all about embracing a warmer look that is unique and unconventional for fall decor. It's a celebration of diversity, where each element has its tale to tell.
One of the most enchanting aspects of decorating is that it has the power to tell a story, and this tablescape is no exception. It's a beautiful collection of memories, a tapestry that weaves together different people and eras of one's life.
At the heart of this eclectic tableau is a burlap table runner that sets the stage for the unique decor. Its rustic charm provides the perfect backdrop for the eclectic elements that follow.
Antler candle holders make a striking appearance, adding an unexpected twist to the traditional fall table. They bring a touch of the wild to the mix, adding character and warmth. Equally eclectic is the fall tablescape from @polohousedesignfla_ pictured above. Between the antlers, feathers, needlepoint tablecloth, and other fall decorations, this table offers a ton of visual interest.
A true gem in this eclectic composition is a galvanized bucket, a piece that carries a rich history. It once belonged to Taryn's grandma and has nearly half a century of stories to share. Its presence on the table is a heartwarming tribute to the past and a connection to her roots.
Elegant Fall Tablescape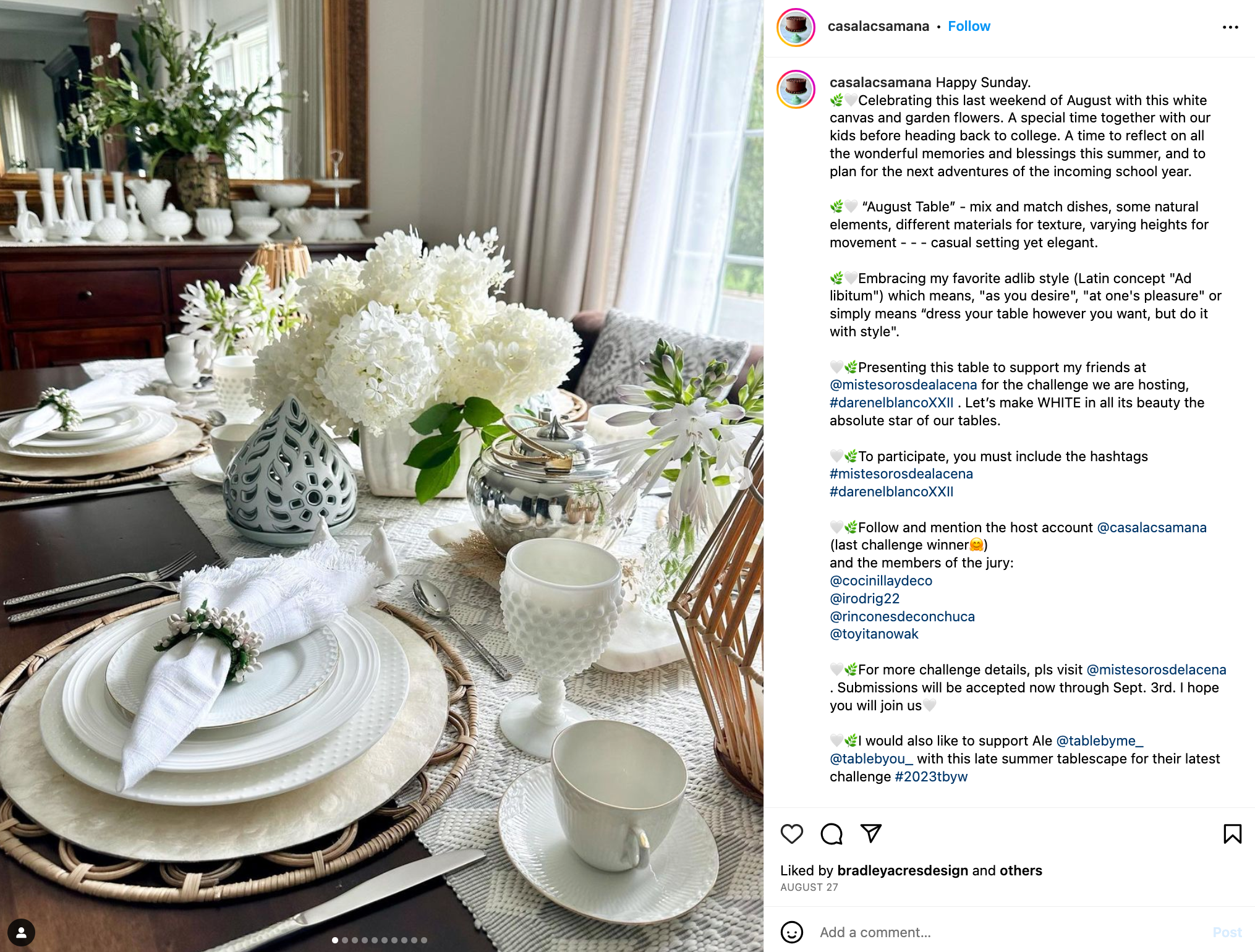 This creative fall tablescape is the perfect canvas for blending elegance with creativity and a touch of whimsy. The centerpiece is a sight to behold. Instead of traditional fall flowers, it features white hydrangea blooms that add a sense of timelessness and grace. Teal plates and napkins introduce a burst of vibrant color, instantly livening up the table. Pictured above is a similar tablescape by @casalacsamana. Instead of teal plates, it offers neutral tones and white hydrangeas at the center.
Back to the tablescape by Jane at Home. For a soft and cozy fall touch, soft fabric pumpkins in shades of blue, cream, gray, and dusty sage are carefully placed around the table. These pumpkins add a playful and whimsical element, creating a sense of nostalgia for the season.
To illuminate the table with a touch of glamor, gold candle holders stand tall. Their warm, flickering light casts a soft, enchanting glow that enhances the ambiance and adds a hint of luxury.
Completing the ensemble is gold flatware, a choice that adds a touch of festivity and sophistication. Its lustrous finish elevates the table setting, making it feel more like a special occasion.
Traditional Farmhouse-Inspired Fall Tablescape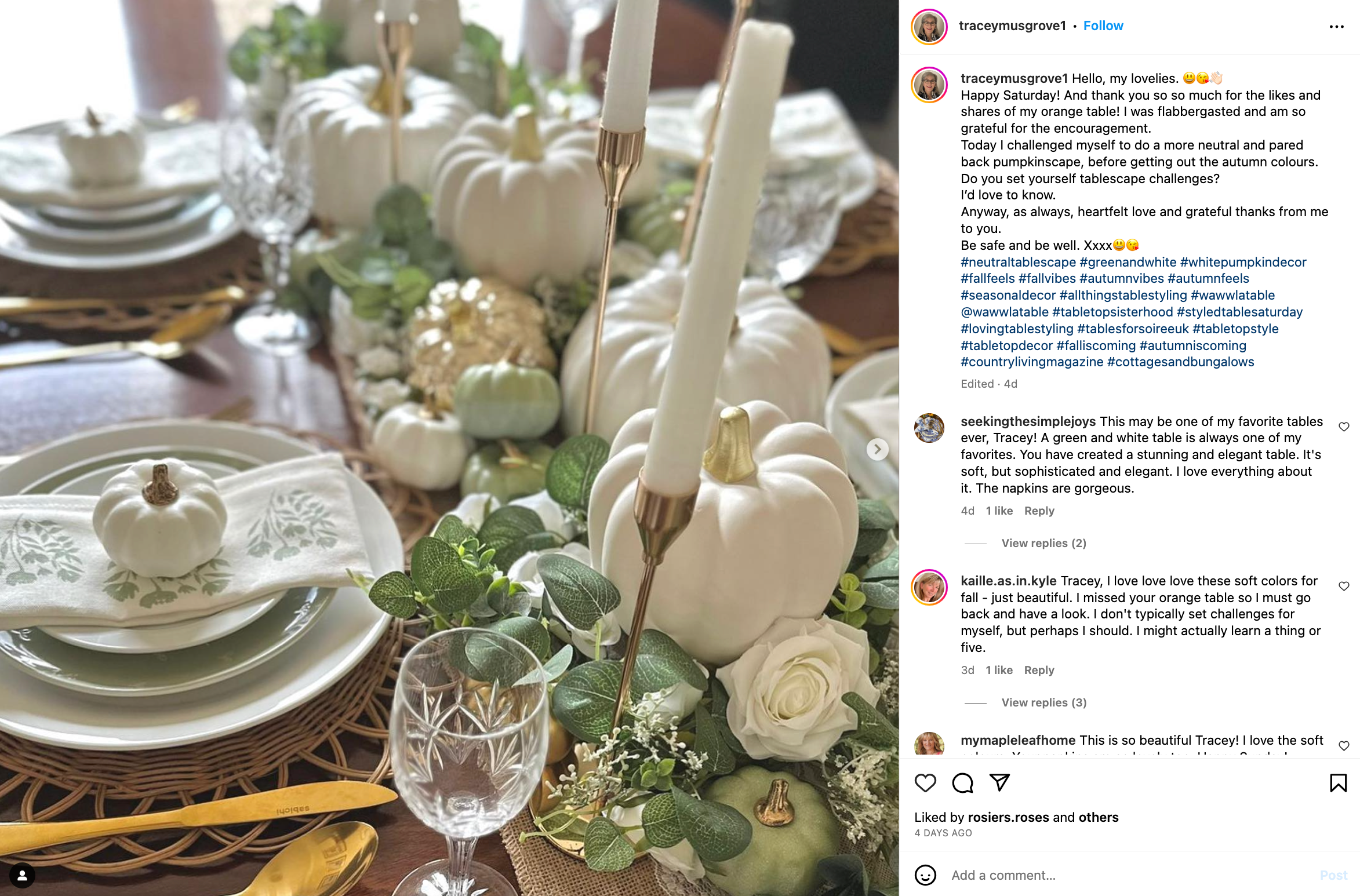 This fall tablescape with a farmhouse vibe embraces a theme of simplicity, natural components, and a dash of rustic allure. The table is graced by a linen-colored runner — creating a backdrop that's both neutral and unpretentious. Linen napkins adorned with unassuming wreath patterns are arranged at every place setting.
The star of this tablescape is the lamb's ear wreath. Its muted green hue perfectly complements the neutral farmhouse table settings. The wreath exudes a subtle elegance and a sense of tranquility — mirroring the beauty of nature in the fall.
A simple garland drapes across the table, adding a touch of greenery and texture. A couple of candles — their warm glow adding to the cozy atmosphere — are strategically placed among the garland. A few faux pumpkins, classic symbols of fall, complete the centerpiece. Their presence brings a sense of the season's bounty to the table — adding warmth and character.
Beautiful gathered cotton wreath napkins are carefully arranged, enhancing the overall farmhouse aesthetic. The cotton wreath design adds a rustic touch, tying in harmoniously with the theme of the tablescape.
Pictured above is a similar tablescape by @traceymusgrove1. We love the white pumpkins in both!
Outdoor Fall Tablescape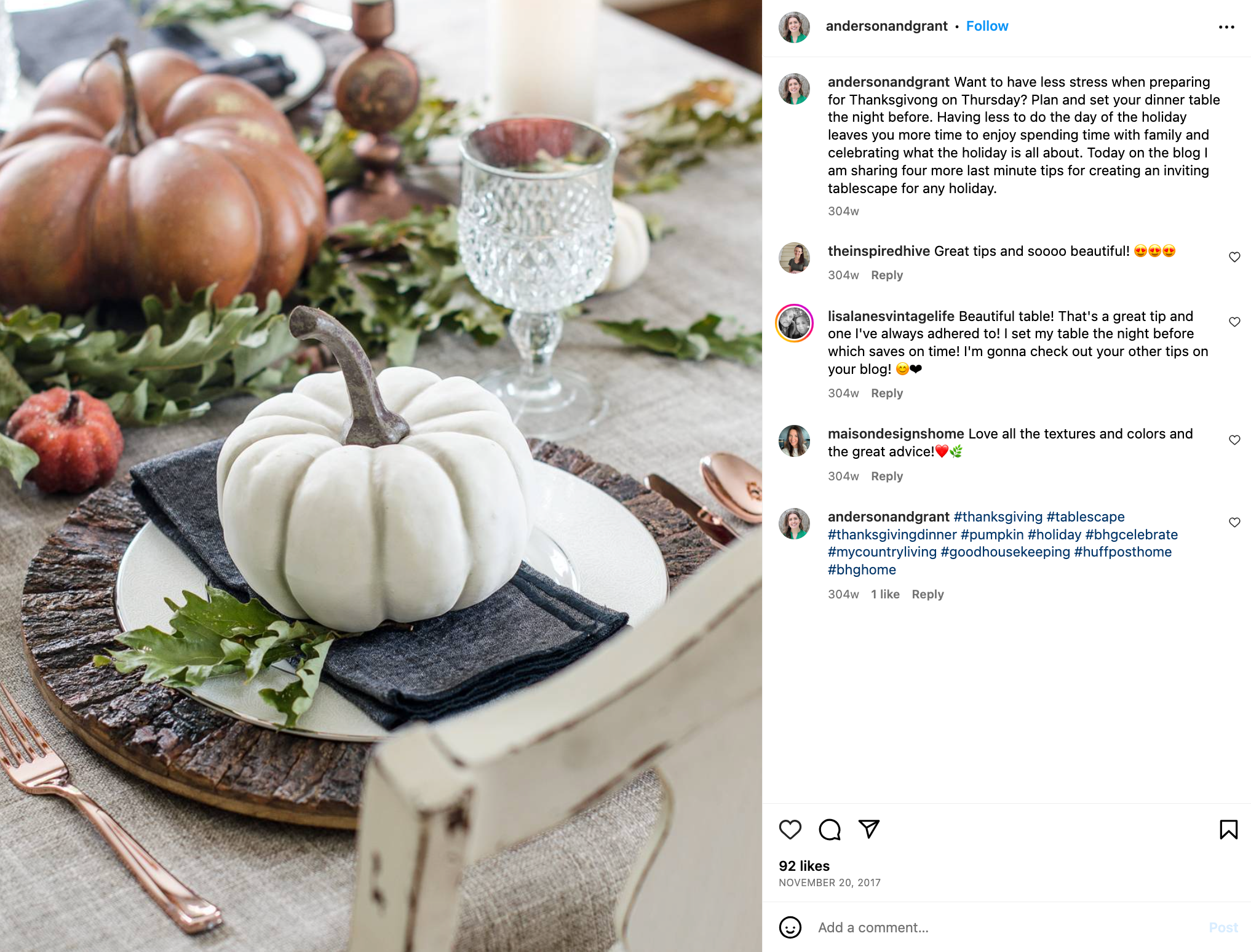 This outdoor fall tablescape by Anderson + Grant is a delightful way to embrace the beauty of the season while enjoying the crisp autumn air. This table setting is a reflection of the season's natural beauty. They lean toward neutral tones — creating a warm and understated ambiance that complements the outdoor surroundings. Rather than the bright yellows, reds, and oranges often associated with fall, this tablescape embraces a more muted and serene palette.
Dried oak leaves and acorns — gathered earlier in the season — provide a natural and rustic touch. These green oak leaves and acorns, now dried to a gentle brown, evoke the transition from late summer to autumn — bringing the essence of the changing seasons to the table.
As you dine amidst the outdoor beauty, you'll find that this Outdoor Fall Tablescape is a perfect reflection of the season's charm. It's a celebration of nature's wonders, an invitation to enjoy the crisp air, and a reminder of the simple joys that fall brings. Enjoy a whole host of fall tablescape ideas on Anders + Grant's Instagram page here.
Vintage Fall Tablescape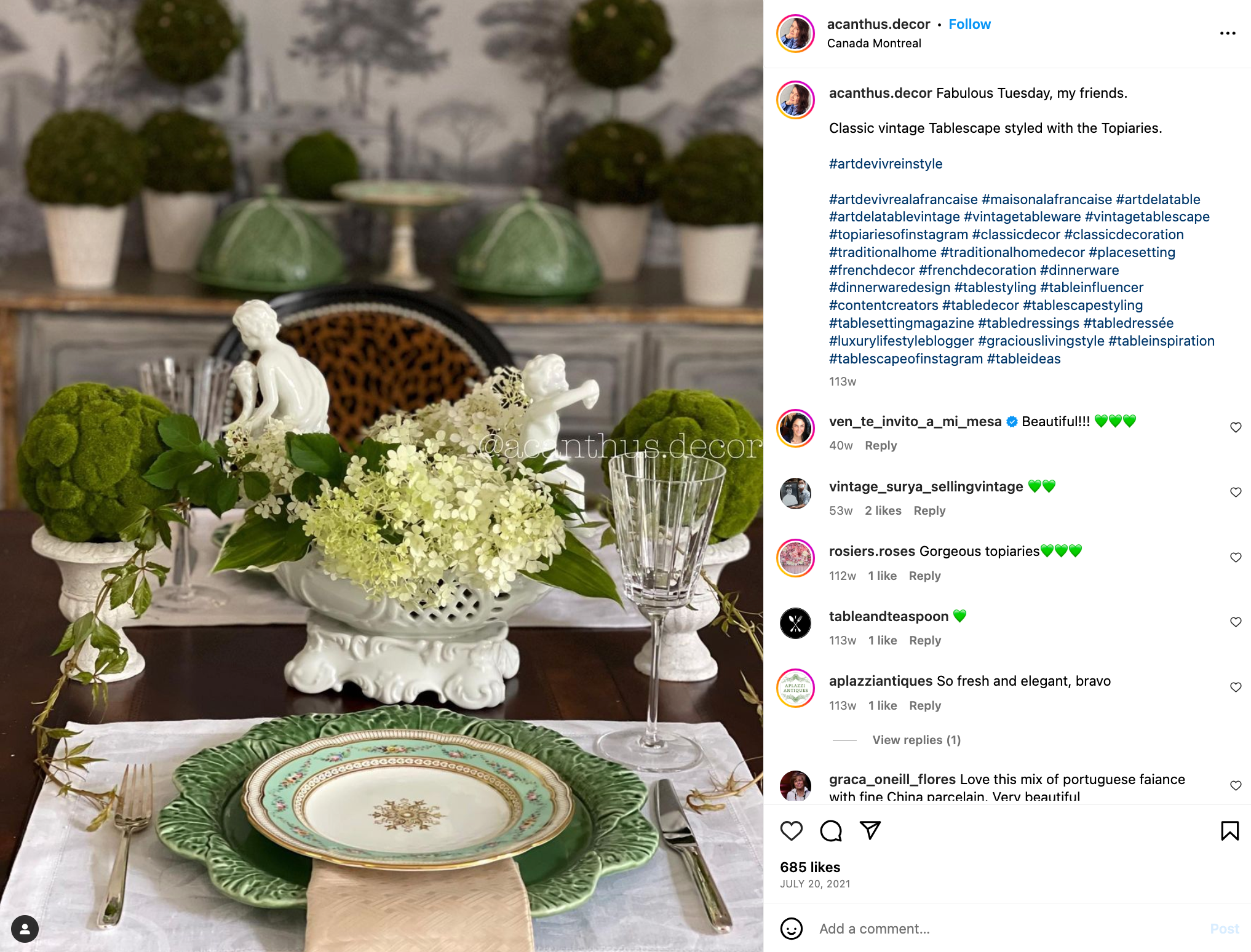 This stylish fall tablescape from PetiteHaus is drawn from the timeless combination of green and white. Each place setting is a masterpiece in itself. For a similar design with vintage elements, consider the tablescape pictured above. Designed by @acanthus.decor, this tablescape has that same classic green and white combo, but executes it with charming topiaries and eclectic dinnerware.
Back to the PetiteHaus tablescape! It features a Juliska dinner plate, a green antique Majolica plate (similar in style), and a charming Staub pumpkin cocotte. The combination of these exquisite pieces creates a visual symphony of textures and hues — offering a feast for the eyes.
The pumpkin cocotte, a fall tradition for soups and stews, adds a whimsical touch to the table. They not only serve a functional purpose but also contribute to the overall aesthetic — merging seamlessly with the theme.
For the centerpiece, olive branches plucked from the garden take center stage. This personal touch not only adds a natural and timeless element but also showcases the beauty of homegrown greenery. It's a reminder of the simple pleasures of life and the abundance of nature.
To further enhance the fall theme, curious pieces of squash from the local farm stand make a delightful addition. Their green and white hues complement the overall color scheme — adding a playful and seasonal element to the table.
Pumpkin Pie Fall Tablescape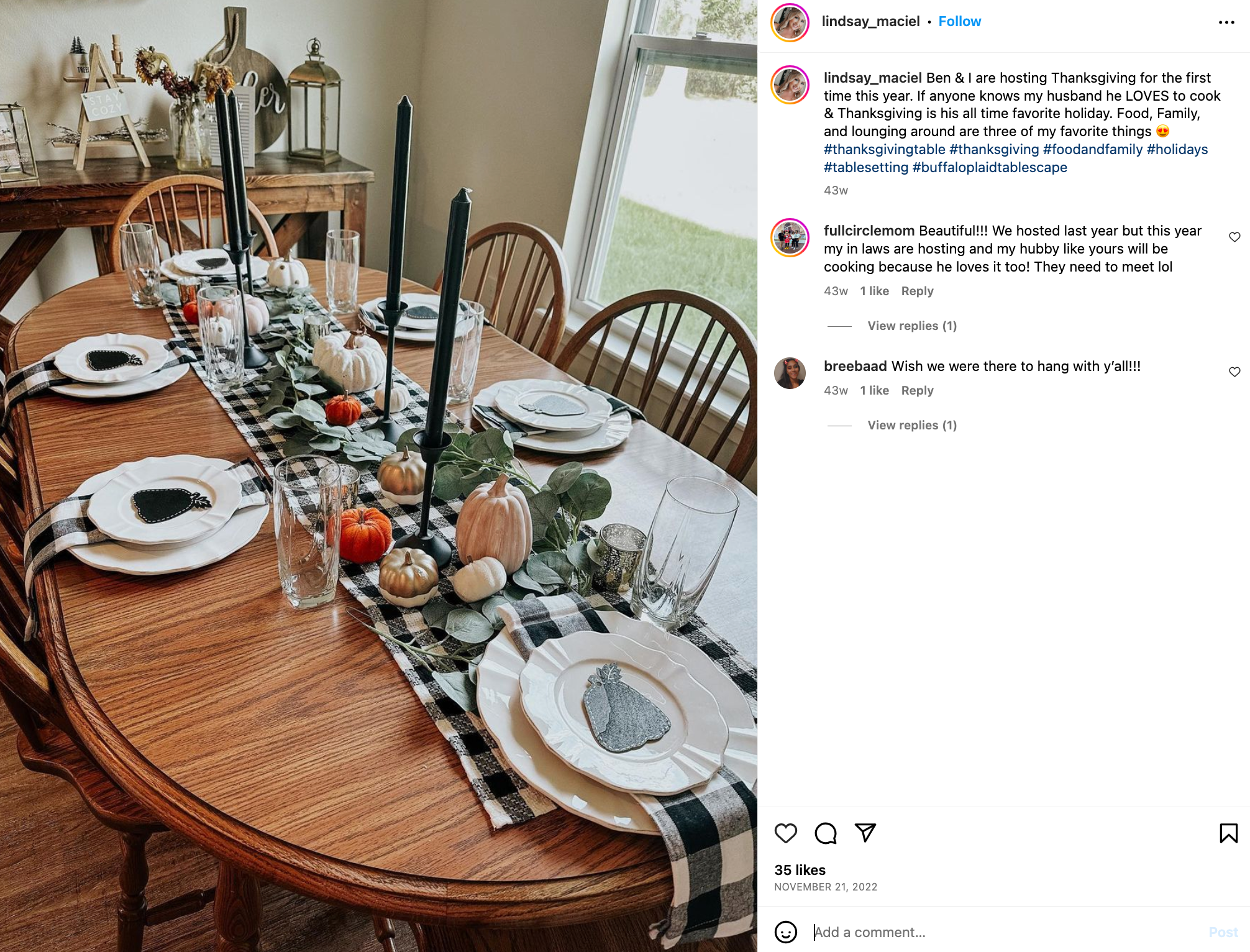 Last on our list of fall table decor ideas is this adorable pumpkin pie design. The spotlight on this tablescape from Small Gestures Matter and also the centerpiece is the pumpkin pie. It's after all the symbol of the season's harvest and the warm, comforting flavors of fall.
Flanking the centerpiece are two antique wooden candlesticks, exuding a rustic charm that perfectly complements the fall theme. Fairy lights twinkle gently, casting a soft and enchanting glow over the table, adding an extra layer of coziness.
Buffalo check place cards are thoughtfully placed at each setting, harmonizing with the buffalo check placemats. These matching details tie the entire tablescape together — creating a cohesive and inviting look.
Create a similar tablescape with a beautiful centerpiece and buffalo plaid accents by drawing inspiration from the design pictured above. Designed by @lindsay_maciel, this tablescape is cozy, cute, and perfect for your Halloween or Thanksgiving table.
How Will You Decorate Your Dining Room Table for the Fall Season?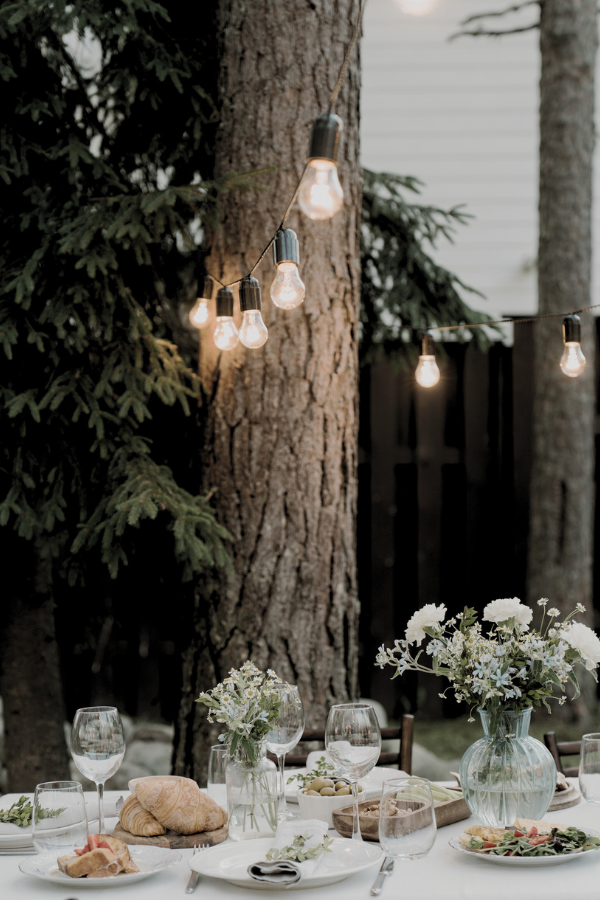 Whether hosting Thanksgiving dinner or a festive Halloween party, you need a beautiful table setting to help create the appropriate atmosphere. Will white pumpkins, fresh flowers, corn husks, fall foliage, fresh herbs, or votive candles grace your dining table this season?
Amid endless possibilities, it can be difficult to choose your fall table decor! Let us know which place settings and fall table centerpieces your indoor or outdoor table will don this season in the comments below.
Armela E.