Contemporary Ceramics: Creators Who Marry an Ancient Craft with Modern Vision
In the world of contemporary art, ceramics have found a new and exciting place. This ancient craft—which dates back thousands of years—is now being reimagined and transformed by a diverse group of innovative ceramicists. In this exploration of contemporary ceramics, we will look into the works and inspirations of several remarkable ceramic artists—showcasing their unique visions and contributions to the world of art. Let's embark on a journey through the creative minds of Magdalene Odundo, Ai Weiwei, Grayson Perry, Shozo Michikawa, Beatrice Wood, Ruth Duckworth, Edmund de Waal, Yeesookyung, Bouke de Vries, Betty Woodman, Pippin Drysdale, Jin Eui Kim, Jennifer Lee, Akiko Hirai, Ron Nagle, and Clare Twomey—each bringing their own blend of tradition and modernity to this fascinating art form.
The Origins of an Evolving Medium
One of the oldest human-made materials, ceramic traces its origins to the advent of settled communities where people began to experiment with the malleable properties of clay. Over millennia, this evolution transformed ceramics from purely utilitarian objects to boundary-pushing art forms—yet the craft remains deeply tethered to ancient techniques.
The earliest ceramics, such as pottery vessels, were primarily utilitarian, used for cooking, storage, and serving. However—as communities grew and interacted—the exchange of ideas led to the incorporation of decorative elements. Even in ancient civilizations—like the Greeks with their amphorae and the Chinese with their intricate porcelain wares—ceramics began to be appreciated not just for their function but also for their aesthetics.
Moving Beyond Utilitarian Applications Into Art
As trade routes expanded—especially along the Silk Road—the exchange of ceramic techniques and styles flourished. This intercultural exchange led to innovations in both materials and aesthetics. For instance, the introduction of porcelain from China to Europe in the medieval period inspired European potters to experiment and eventually produce their own versions.
With the advent of the Art Nouveau and Arts and Crafts movements in the late 19th and early 20th centuries, ceramics was further elevated from mere craft to fine art. Artists began experimenting with form, texture, and glaze—breaking away from traditional styles and pushing the boundaries of what ceramics could achieve.
Modern and Contemporary Evolutions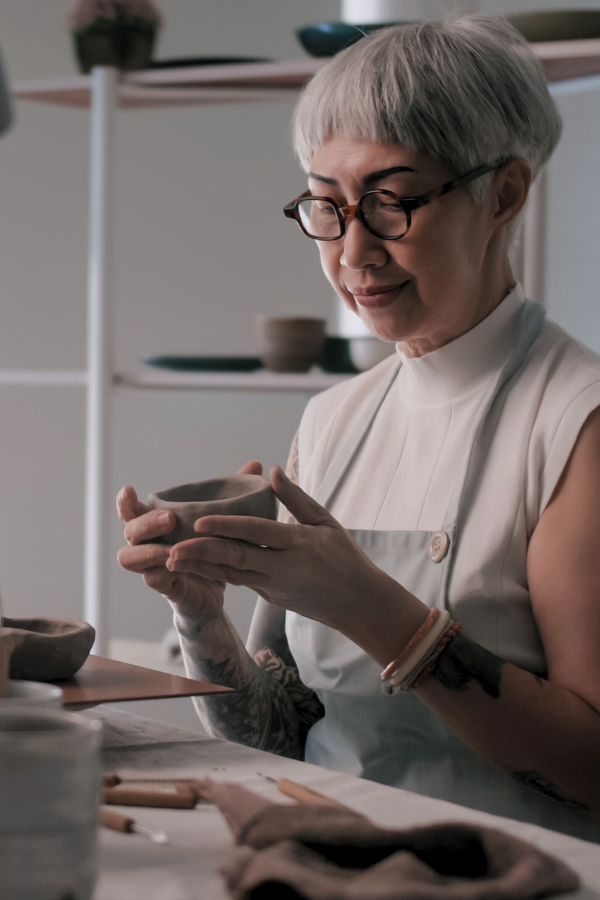 In the 20th and 21st centuries, ceramics took on new roles. Artists like Peter Voulkos and Lucie Rie redefined the medium—creating sculptural works that blurred the lines between utility and art. Additionally, ceramics became a medium for political and social commentary—with artists using clay to address issues like identity, gender, and socio-economic disparities.
Despite these evolutions, contemporary ceramicists continue to honor ancient techniques. Practices like Japanese raku firing, Korean buncheong, and Native American coiling are still used and celebrated today. Many ceramicists combine these traditional methods with modern aesthetics—showcasing a blend of past and present. Studios and schools around the world emphasize the importance of understanding foundational techniques—ensuring they are passed down to successive generations.
Celebrating Contemporary Ceramicists from China to Kenya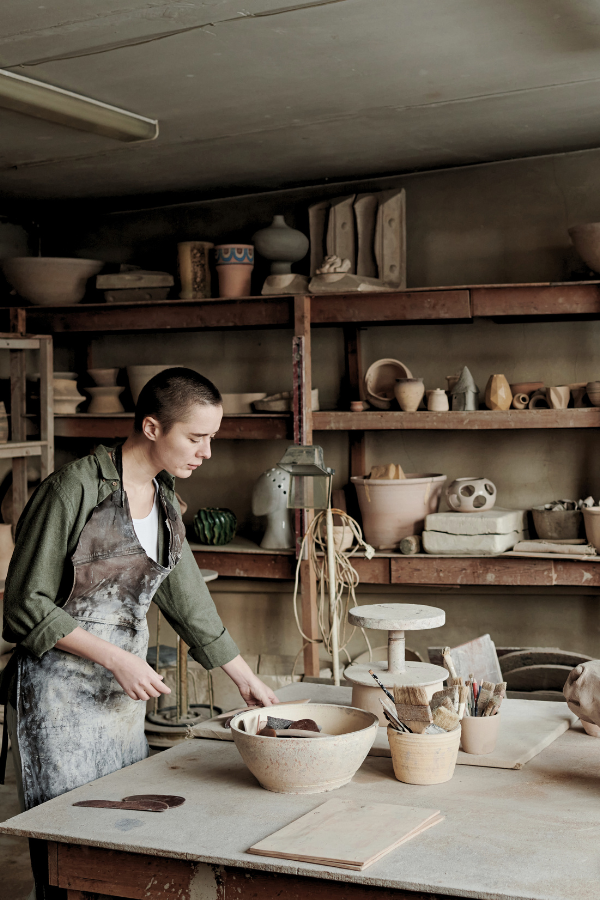 Ceramics have been an essential part of human culture for millennia. They have adorned the shelves of our homes, served as vessels for food and drink, and been shaped into works of art that have withstood the test of time.
In the modern world, ceramics have not lost their allure. Rather, they have undergone a renaissance—with these and other artists from around the globe using this age-old craft to express their contemporary visions.
From Kenya to the United Kingdom and from China to the United States, these artists are breathing new life into the age-old medium—exploring what more can be achieved with clay, glaze, and fire.
Magdalene Odundo (Kenya/UK)
Magdalene A. N. Odundo DBE—a Kenyan-born contemporary ceramic artist currently based in the United Kingdom—is recognized as one of the foremost ceramicists in the contemporary art world. Odundo's ceramic sculpture is characterized by her hand-coiled vessels—which evoke the human form and often draw inspiration from her African heritage.
These pieces are meticulously crafted through a laborious process involving hand-coiling and smoothing with a gourd. Following the shaping, the clay is covered with slip, fired, and then the fired clay is painstakingly burnished by hand—resulting in a captivating interplay of form and color.
Her international acclaim is evident through her inclusion in the collections of prestigious museums worldwide—including The Metropolitan Museum of Art, The Brooklyn Museum, and The Victoria and Albert Museum, to name a few. Her vessels—though amorphous in shape—mirror the sinuous contours of the human body—provoking contemplation about the relationship between the body and space.
Ai Weiwei (China)
Ai Weiwei—the renowned Chinese artist and activist—is celebrated for his multi-faceted creative work that spans sculptural installations, architectural projects, photography, and videos. Born in Beijing in 1957, a deep commitment to art and activism has marked Ai Weiwei's journey.
Among his notable works, "Sunflower Seeds" stands out. In this piece, millions of hand-painted porcelain seeds formed an arresting installation at Tate Modern in London in 2010. Ai Weiwei's art is driven by political conviction, personal experience, and poetry.
He frequently employs reclaimed materials when creating ceramic artworks—connecting tradition with contemporary social concerns. His work challenges the boundaries of self-expression and symbolism through sarcasm, juxtaposition, and repetition—reframing the familiar with minimal means.
International recognition came with major exhibitions—including "According to What?" at the Mori Art Museum, Tokyo and "Sunflower Seeds" at the Tate Modern.
Grayson Perry (UK)
Grayson Perry—a British contemporary artist and potter—is renowned for his vibrant and detailed pots that serve as a canvas for exploring intricate subjects like identity, sexuality, and societal norms. These decorative objects—often satirical in nature's plant life—stand out for their ability to engage viewers in thought-provoking narratives while featuring classical forms and bright colors.
Born on March 24, 1960, in Essex, England, Grayson Perry's work is deeply autobiographical—frequently incorporating his female alter-ego "Claire" and his childhood teddy bear "Alan Measles." Each ceramic vessel is made using traditional coiling techniques.
They challenge the conventional view that pottery is purely decorative or utilitarian. Perry's complex surfaces involve techniques like glazing, incision, embossing, and photographic transfers requiring multiple firings.
Perry's pioneering spirit is evident in his Turner Prize win in 2003—marking a milestone for ceramic works and art. Beyond ceramic sculptures, Perry's portfolio extends to tapestries and architectural projects—providing a unique perspective on art, identity, and the complexities of the human experience.
Shozo Michikawa (Japan)
Shozo Michikawa—a highly regarded Japanese ceramicist—is known for his extraordinary work in creating natural ash-glazed ceramics that are deeply influenced by the unpredictability, organic forms, and dynamism of the natural world. Born in 1953 in Hokkaido, Japan, one of Michikawa's signature techniques involves twisting clay on a potter's wheel—creating vessels with dramatically contorted structures. 
The inspiration for his work is drawn from his childhood surroundings at the foot of the active Mt. Usu volcano in Hokkaido. His creations are characterized by their angular shapes and are finished with striking natural ash and wood ash glazes.
Shozo Michikawa's ceramics have garnered international acclaim and have been exhibited in numerous countries—including China, the United States, Canada, France, Germany, and the United Kingdom. His works are treasured additions to the collections of prestigious museums worldwide—such as the Philadelphia Art Museum, London's Victoria and Albert Museum, and Faenza's International Museum of Ceramics.
Beatrice Wood (USA)
Beatrice Wood—often hailed as the "Mama of Dada"—left an indelible mark on the world of contemporary ceramics. Born in 1893 and raised in both California and New York, her journey from studying painting and being a Paris based artist to becoming a prominent figure in the Dada movement's avant-garde circle in New York is a testament to her adventurous spirit.
Her innovative approach involved applying luster directly into glazes on each ceramic object before the firing process—distinguishing her work from conventional ceramics.
Her artistic contributions have found homes in prestigious collections like the Museum of Modern Art, the County Museum of Art LA and the Metropolitan Museum of Art. Her Brooklyn studio was a destination for many. She passed away in 1998—having celebrated her 105th birthday.
Ruth Duckworth (Germany/USA)
Ruth Duckworth—renowned for her abstract sculptural objects and large scale works—had a life story that traversed continents. Born in Hamburg, Germany, in 1919, Duckworth moved to England in 1936. There she honed her artistic skills—studying at various art schools in England.
Her work—represented in esteemed collections across the United States, Europe, and Japan—reflects her bold departure from traditional techniques in ceramics. Duckworth's sculptures embrace abstraction, pushing the boundaries of ceramics—a medium she described as "temperamental." Her porcelain creations communicate a delicate balance of fragility and strength.
She has created works well beyond the ceramics department that served as her primary domain. Her contributions to the world of painting, art, and ceramics earned her numerous recognitions—including a Lifetime Achievement Award from the National Museum of Women in the Arts in 1993 and a Gold Medal from the National Society of Arts and Letters in 1996. The Museum of Arts & Design recognized her as a Visionary in 2003.
Ruth Duckworth's impact on the world of ceramics extends beyond borders—with her work also showcased at the Victoria & Albert Museum in London.
Edmund de Waal (UK)
Edmund de Waal—a contemporary British ceramicist and author—is renowned for his minimalist porcelain installations and profound exploration of memory and history through his works. Born in Nottingham in 1964, de Waal's artistic journey began in his childhood.
De Waal's works are marked by their ability to slow things down—inviting contemplation. His installations—often composed of large numbers of porcelain vessels—become vehicles for narratives and emotions.
Throughout his career, de Waal has explored themes of diaspora, memory, and materiality. His art transcends ceramics—encompassing architecture, music, dance, and poetry.
Yeesookyung (South Korea)
Yeesookyung—a South Korean interdisciplinary artist—is renowned for her groundbreaking "Translated Vase" series. This ceramic vases series features biomorphic sculptures crafted from fragments of porcelain shards ceramics—but with a unique twist.
Yeesookyung employs the Japanese art of Kintsugi—a technique that uses gold leaf to mend broken pottery. This results in stunning and intricate artworks that explore the boundaries of tradition and modernity.
Through her sculpture art, Yeesookyung addresses complex themes of feminism and identity—drawing from her own experiences growing up in Korea. Her work has been exhibited internationally and can be found in prestigious collections worldwide—including, Boston's Museum of Fine Arts, the Art Institute of Chicago and the British Museum in London.
Yeesookyung's innovative approach to ceramics pays homage to the rich traditions of Korean pottery while pushing the boundaries of the medium.
Bouke de Vries (Netherlands/UK)
Bouke de Vries is a Dutch ceramicist based in the UK known for his transformative approach to broken ceramics. His experience as a ceramics conservator and restorer in London led to his current artistic practice where he creates intricate sculptures from fragments of broken pottery and porcelain—giving them new life experiences and narratives.
De Vries has had solo exhibitions in various locations—including Washington, Amsterdam, Milan, and more. His work often draws inspiration from the Japanese art of Kintsugi—where broken ceramics are revamped using gold lacquer, making the repairs a visible and celebrated part of the object's history. De Vries shares a similar philosophy—finding beauty in imperfection and highlighting the stories within damaged ceramics.
His unique approach has gained recognition and appreciation in the art world—providing a fresh perspective on the value of ceramics and their capacity for transformation.
Betty Woodman (USA)
Betty Woodman—a prominent figure in postwar American art—is celebrated for her groundbreaking fusion of sculpture, painting, and ceramics. Her work offers a highly original and immediately recognizable formal vocabulary—bringing together an array of ancient and modern art traditions and concepts.
This approach has made her a boldly contemporary figure. Woodman's creative journey in sculpture and painting began in the 1950s as a studio potter—evolving over the years to redefine how ceramics function in contemporary art.
Betty Woodman's significant contributions to the art world as one of the acclaimed contemporary ceramic artists—were recognized with numerous solo exhibitions globally—including a retrospective at The Metropolitan Museum of Art in 2006—marking the first time the museum dedicated a survey to a living female artist.
Her work has been featured in permanent collections worldwide—including notable institutions such as The Metropolitan, New York, Museum of Fine Arts, Boston, Museum of Modern Art, New York; Victoria and Albert Museum, London and others.
Pippin Drysdale (Australia)
Pippin Drysdale is a highly regarded Australian ceramic artist with a career spanning over 3 decades. Her work is deeply influenced by the Australian landscape—particularly the vibrant desert landscapes.
Drysdale's porcelain vessels are notable for their intricate glazing techniques and vivid colors —which beautifully capture the essence of various landscapes.
Drysdale's work reflects her artistic practice and her engagement with the sites she documents—embracing each new creative challenge with ambition and an open mind. Her ceramics have been featured in museums, galleries, and private collections worldwide—showcasing her international profile as an artist.
Drysdale's work is characterized by a fusion of artistic expression, creativity and her profound connection to the Australian landscape—making her a prominent figure in the world of ceramics.
Jin Eui Kim (South Korea/UK)
Jin Eui Kim is an accomplished ceramic artist known for his optical illusion ceramics. Originally from South Korea, he is now residing in Cardiff, UK. Jin Eui Kim is a member of the Craft Potters Association (CPA) and a full-time member of Fireworks Clay Studios in Cardiff.
His impressive body of work has been exhibited at various prestigious events and galleries worldwide—including the Affordable Art Fair NYC, Context Miami, Art Karlsruhe, Ceramic Art London, and more.
Jin Eui Kim's art explores tonal effects and spatial illusions using gradients in tone, varying bandwidths, and the arrangement of tonal blocks. His unique approach results in visually and intellectually challenging ceramic works and pieces that have been recognized and collected by institutions and organizations.
These include the Manchester Art Gallery, The National Museum Cardiff, the National Museum of Scotland, the Shipley Art Gallery and many other art galleries around the world.
Jin Eui Kim's commitment to pushing the boundaries of ceramics and creating visually engaging pieces has earned him numerous awards—including the Emmanuel Cooper Prize at Ceramic Art London 2018 and the Best Maker in Wales award at the Made by Hand fair.
His work has also received support from the Arts Council of Wales—further highlighting his contributions to the world of ceramics.
Jennifer Lee
Jennifer Lee is a renowned ceramic artist known for her hand-built pots created with natural pigments. Born in Aberdeenshire, Scotland, in 1956, Jennifer Lee studied ceramics at the Edinburgh College of Art and later at the Royal College of Art in London from 1980 to 1983. Her pots are distinctive for their hand-built nature—featuring small bases pinched and coiled to create balanced asymmetry.
Jennifer Lee's pots draw inspiration from ancient Greek pottery traditions—invoking the fundamentals of the vessel form. She has exhibited her work extensively in Europe, Australia, and Japan.
Her pieces are held in major international public collections—including The Met in New York, The Philadelphia Museum of Art, the Los Angeles County Museum, and the Victoria and Albert Museum.
Jennifer Lee's contributions to the world of ceramics were further recognized when she was awarded the LOEWE FOUNDATION Craft Prize in 2018.
In 2020, she was honored with an Order of the British Empire (OBE) for her service to ceramics.
Akiko Hirai
Akiko Hirai is a Japanese ceramic artist who brings a contemporary touch to traditional Japanese ceramics—particularly known for her Moon Jars and functional ware with a "Kohiki" glaze. She was born in Japan in 1970. During her first visit to England, Akiko Hirai met English potters and developed an interest in working with clay.
Akiko Hirai's ceramic work is influenced by the Japanese tradition of allowing the clay to influence her in how she decorates and fires her pieces. Her approach is rooted in the concept of the interaction between the object and the viewer—allowing each viewer to discover the language of her ceramics in their own way.
Her unique approach to ceramics has earned her high acclaim, and her work is in high demand internationally.
Ron Nagle
Ron Nagle is an American sculptor celebrated for his small-scale, colorful, and meticulously crafted ceramic sculptures. His innovative use of materials—including epoxy and synthetic elements—enables him to create intricate and vibrant forms. Born in 1939 in San Francisco, Nagle is regarded as a prominent figure in American sculpture.
Nagle's work—which often focuses on cups and their various interpretations—is influenced by a wide array of artistic inspirations—from Giorgio Morandi and Philip Guston to Japanese ceramics and Hawaiian monuments.
His pieces have found homes in collections worldwide and he has exhibited in prestigious venues like the Venice Biennale.
Clare Twomey
Clare Twomey is a British artist specializing in large-scale installations, ceramic sculptures, and site-specific works with clay. She has exhibited her art at prestigious venues like the Eden Project, the Victoria and Albert Museum, Tate, Crafts Council, Museum of Modern Art Kyoto Japan, and the Royal Academy of Arts.
Her work probes into materials, craft practices, and the historical and social contexts in which they exist. Clare Twomey also actively contributes to critical research in the applied arts—engaging in activities like writing, curating, and creating artworks that expand the field's understanding of larger installation works.
Her art often explores the transient nature and organic form of ceramics—challenging established notions of value and permanence while encouraging audience engagement.
Final Thoughts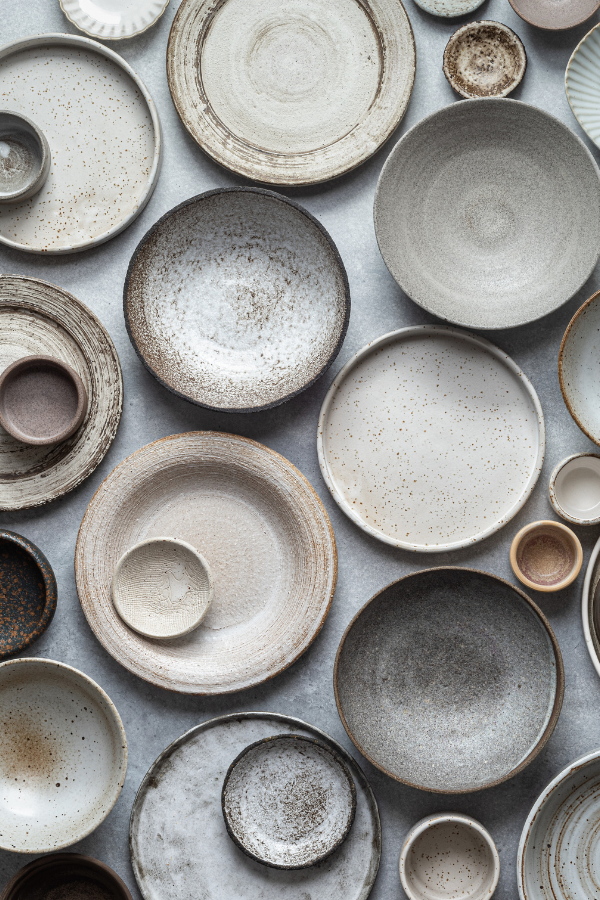 As we have journeyed through the diverse and creative art history of contemporary ceramics, it's evident that this ancient craft has found new life and purpose in the hands of these remarkable artists.
Ceramics—once regarded as a utilitarian craft—have now transcended traditional boundaries. Ceramics are now a vehicle for social commentary, cultural preservation, and artistic innovation. The fusion of ancient techniques with modern vision not only challenges the conventions of the past but also pushes the boundaries of what ceramics can achieve in the future.
We encourage you to explore the works of these contemporary ceramicists, and we invite you to share your thoughts and insights. Which artist resonates with you the most, and how do you see the future of ceramics in the ever-evolving world of contemporary art?
Your comments and reflections are a valuable part of this ongoing conversation as we continue to celebrate the artists who are marrying an ancient craft with a modern vision.
By Anila Hasnain.