Nurturing Creativity in the Pacific Northwest: A Seattle Itinerary for Designers
Affectionately called the Emerald City due to its lush evergreen forests, abundant greenery within the city center, and constant mist under which trees sparkle, Seattle is much more than a tech hub. Seattle continually draws creative minds from all over the world to its bustling streets, picturesque landscapes, and rich culture. Nestled amidst majestic mountains and surrounded by water, the city is an epicenter for design, architecture, and innovative thinking. This unique blend makes Seattle the perfect spot for designers seeking inspiration and relaxation. In this Seattle City Guide, we list a few of our favorite, architectural landmarks, boutiques, galleries, and workshops geared towards creative entrepreneurs. Read on for help creating your Seattle travel itinerary!
Historical and Cultural Foundations that Support Seattle's Evolving Design, Arts, and Architecture Scene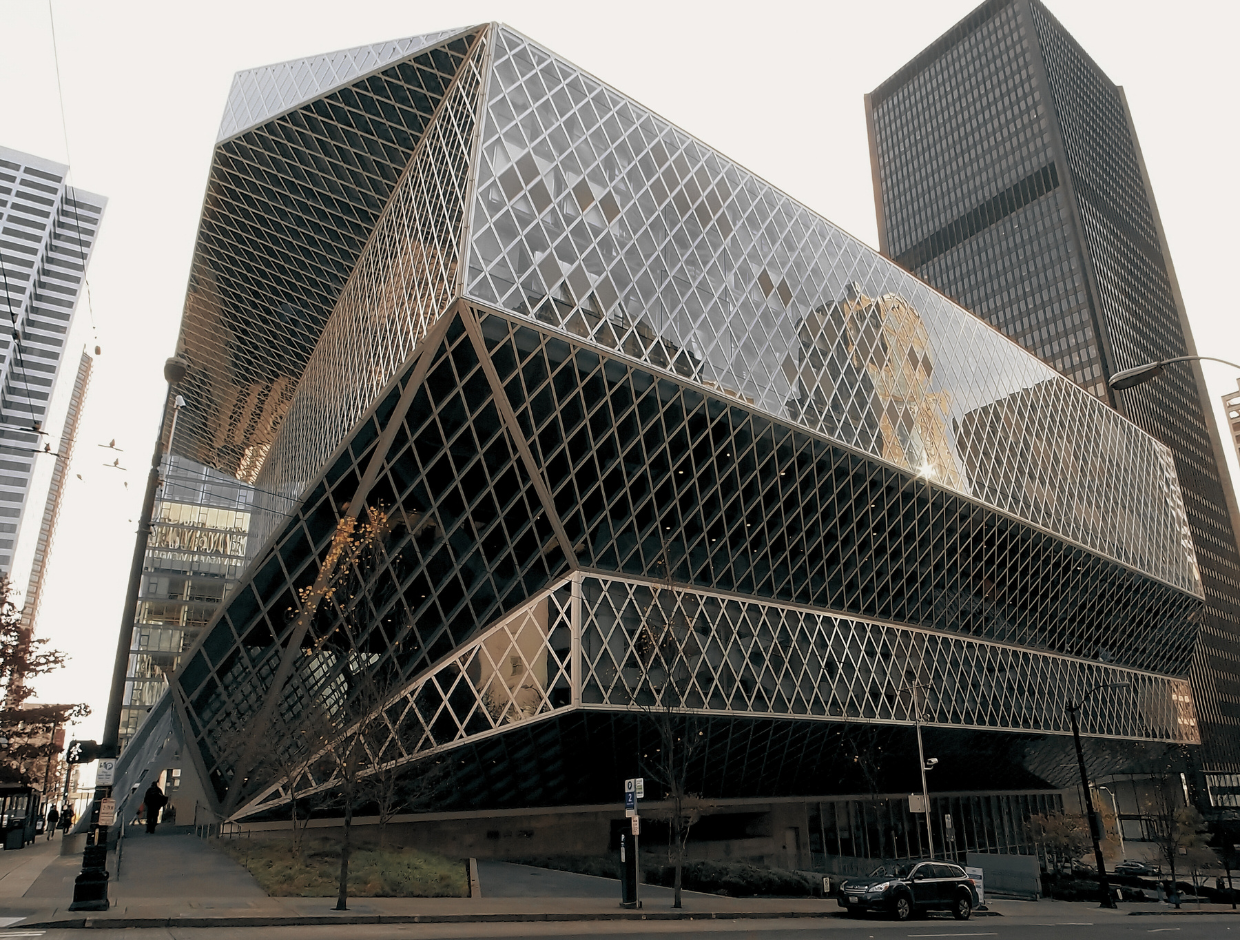 Take a look at Seattle's skyline and gaze back through history. You'll see the city's rapid evolution from a small logging town to a booming tech hub. From its indigenous art crafted by the First People of the Pacific Northwest to its modern skyscrapers and contemporary galleries, Seattle's design aesthetic is a beautiful fusion of past meets future. Let's explore how the history and landscape of the Pacific Northwest have shaped Seattle's vibrant creative culture.
Seattle's Indigenous Influences
The Coast Salish peoples—among other Indigenous tribes—have inhabited the PNW for thousands of years. Their traditions, art, and stories—ranging from intricate totem poles to woven textiles—have imparted depth and context to Seattle's artistic endeavors. Contemporary artists and creators often collaborate with Indigenous communities—ensuring that this ancient culture remains vibrant and relevant.
Seattle's Natural Beauty and Dedication to Sustainability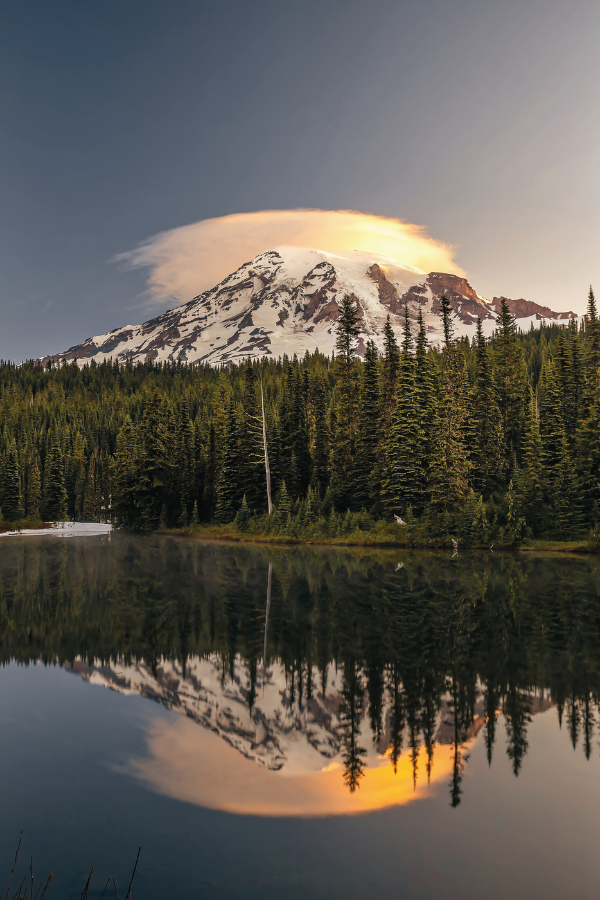 The PNW's breathtaking landscapes—from the misty mountains to the glittering water of Lake Union to the rugged coastlines—have been an endless source of inspiration. This environment has not only influenced visual arts, photography, and filmmaking but has also seeped into literature, music, and design. The vast, untamed wilderness instills a sense of awe and a deep connection with nature, which many artists translate into their work.
The PNW's outdoorsy culture—encompassing hiking, kayaking, and other nature-based activities—has influenced a lifestyle that values sustainability and environmental consciousness. This eco-awareness is evident in Seattle's arts and crafts, architecture, and even in the city's approach to urban planning and design, which emphasizes green spaces and sustainability.
Key Events in Seattle's History
The PNW has seen numerous influential historical events—i.e., the Klondike Gold Rush, the logging era, the rise of grunge music in the '90s, and the tech boom with giants like Microsoft and Amazon. Each epoch added layers of complexity to Seattle's creative milieu. For instance, the gritty, raw energy of the grunge era contrasted sharply with the city's natural serenity—leading to unique artistic expressions.
The Cultural Diversity and Evolution of Seattle's Population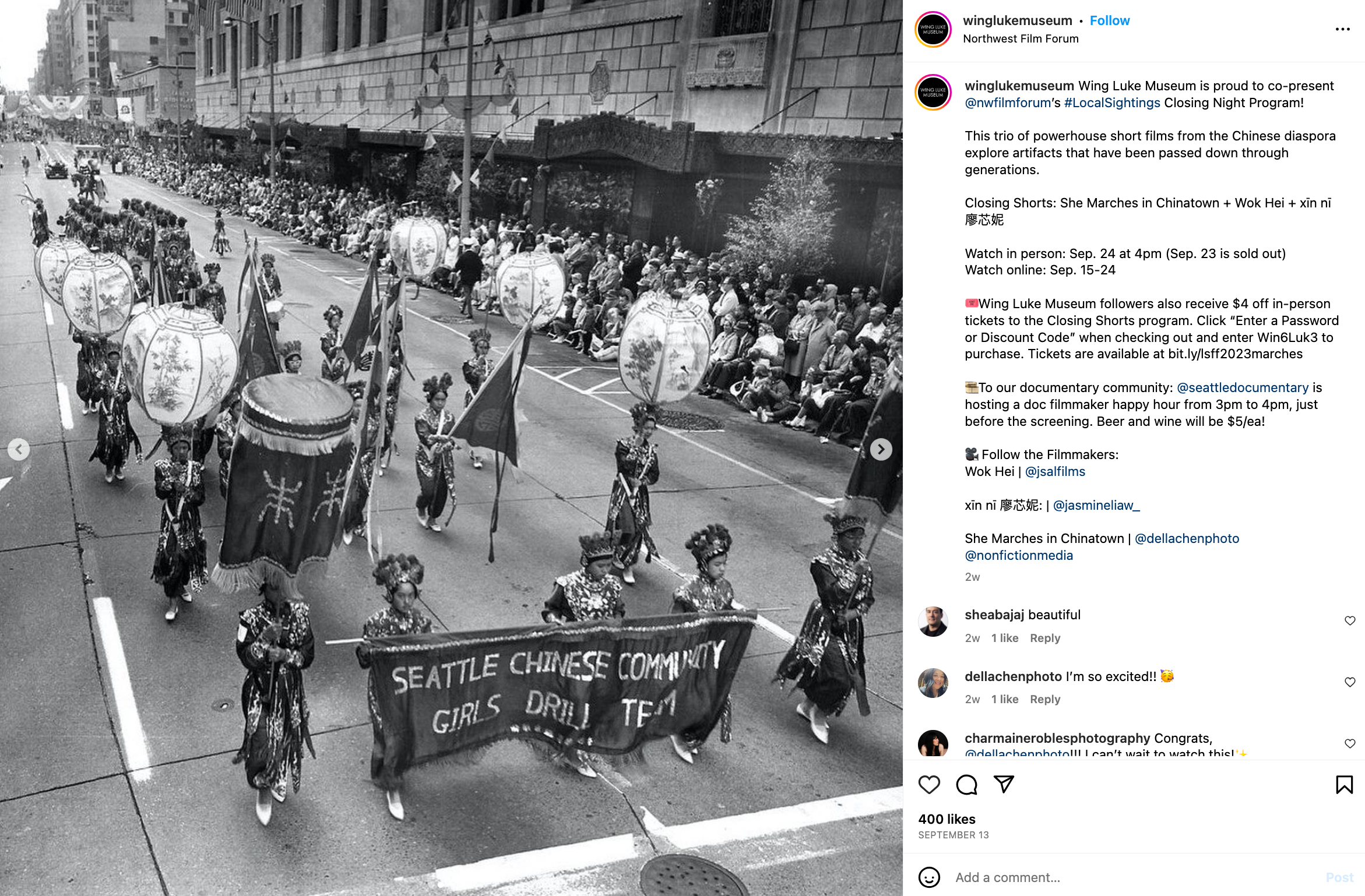 Over the years, Seattle has been a hub for various waves of migration—from Asian immigrants in the late 19th and early 20th centuries to the tech-driven global influx in recent decades. These diverse cultures intersected with the local ethos—leading to a fusion that enriched music, food, literature, and arts. This intersection has made Seattle's creative scene eclectic and inclusive.
Of course, we must also acknowledge darker moments in Seattle's history—such as the internment of thousands of Japanese Americans and Japanese residents. Learn more about those events here.
Seattle's Cool and Rainy Climate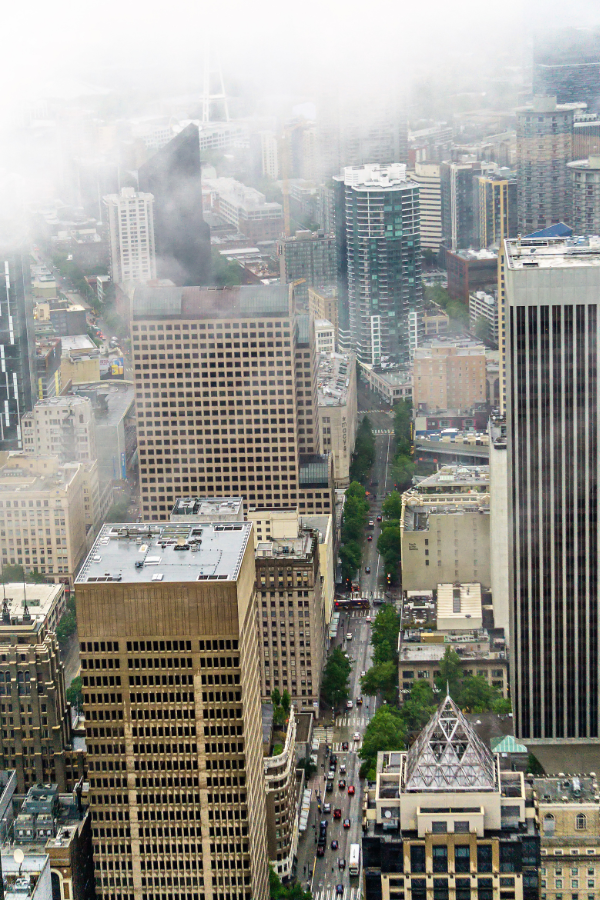 [alt text: Take a car into town from the Seattle Tacoma International Airport so we can explore the Emerald City together.]
Seattle's infamous overcast and rainy days have also played a role. The moody, introspective weather often drives people indoors—fostering indoor activities and hobbies. This might partially explain the city's bustling coffee culture—with cafes often turning into hubs for writers, artists, and thinkers.
The PNW has traditionally fostered a community-driven spirit. Be it communal barn raisings in the past or modern-day maker spaces and collaborative art installations, Seattle thrives on shared experiences. This emphasis on community over competition further fuels its creative scene.
The crisp air, the lush greenery, and the vibrant arts scene are emblematic of the city's dynamic spirit. Let's explore the Emerald City together.
Exploring Seattle's Cultural Offerings
Seattle Art Museum (SAM) and Seattle Asian Art Museum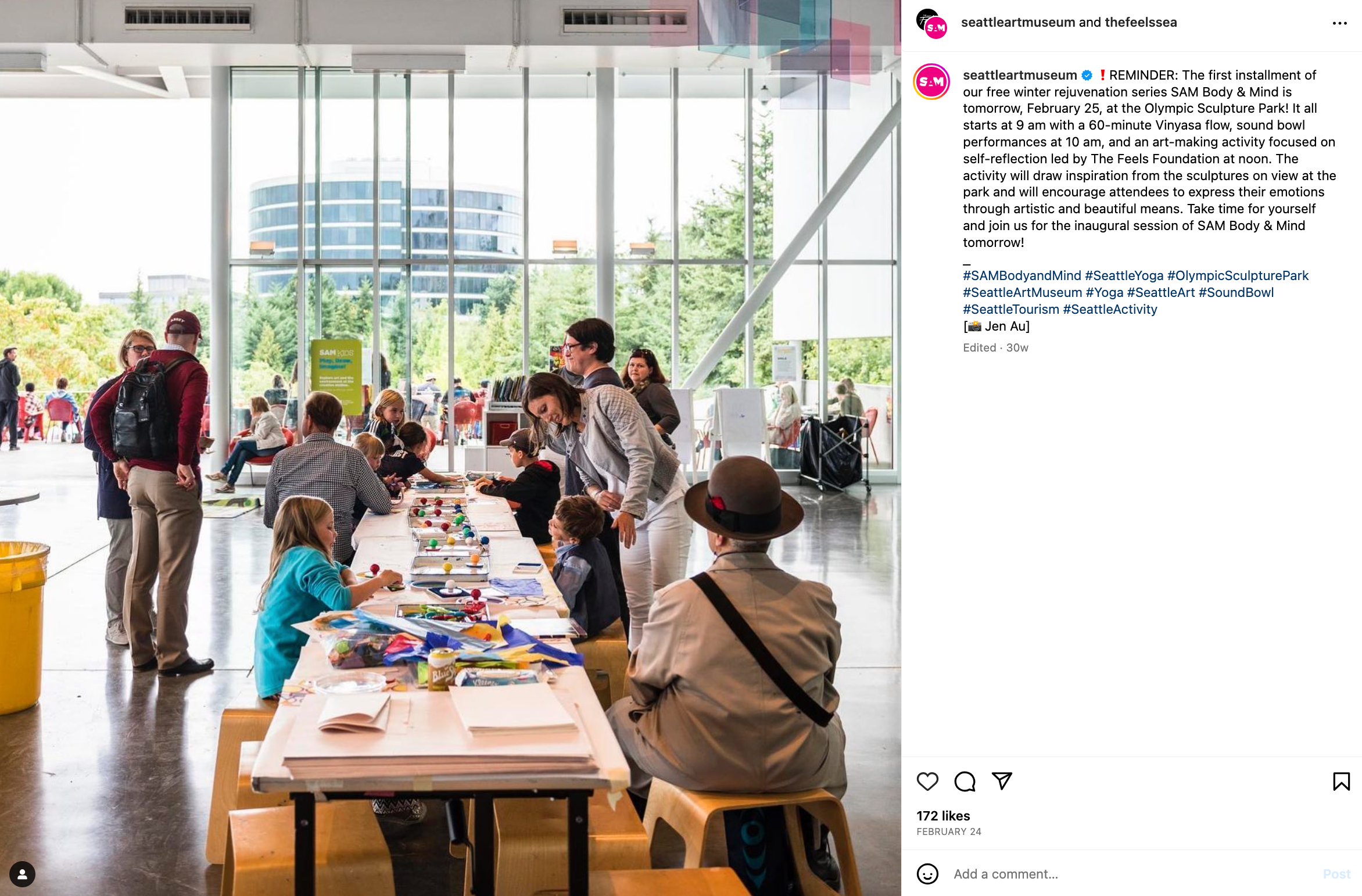 The Seattle Art Museum (SAM) is a prominent cultural institution located in the heart of downtown Seattle. Established in 1933, SAM has since grown to encompass an expansive collection that spans various eras and regions—from ancient artworks to contemporary installations.
The museum's collections are particularly renowned for their emphasis on Indigenous art, African art, Asian art, European and American art, and modern and contemporary pieces. At its entrance, SAM's iconic "Hammering Man" sculpture symbolizes the institution's dedication to art in all its forms—welcoming visitors from around the world.
Apart from its main downtown location, SAM operates two other sites: the Olympic Sculpture Park and the Seattle Asian Art Museum. The Olympic Sculpture Park—set against the backdrop of the Puget Sound—offers a unique blend of outdoor sculptures and natural beauty.
In contrast, the Seattle Asian Art Museum, situated in Volunteer Park, focuses on the intricate and diverse arts of Asia—reflecting Seattle's rich Pacific Rim heritage. Together, these three sites underscore SAM's commitment to showcasing a diverse array of artworks—fostering an appreciation for the vast tapestry of global cultures.
Current Exhibitions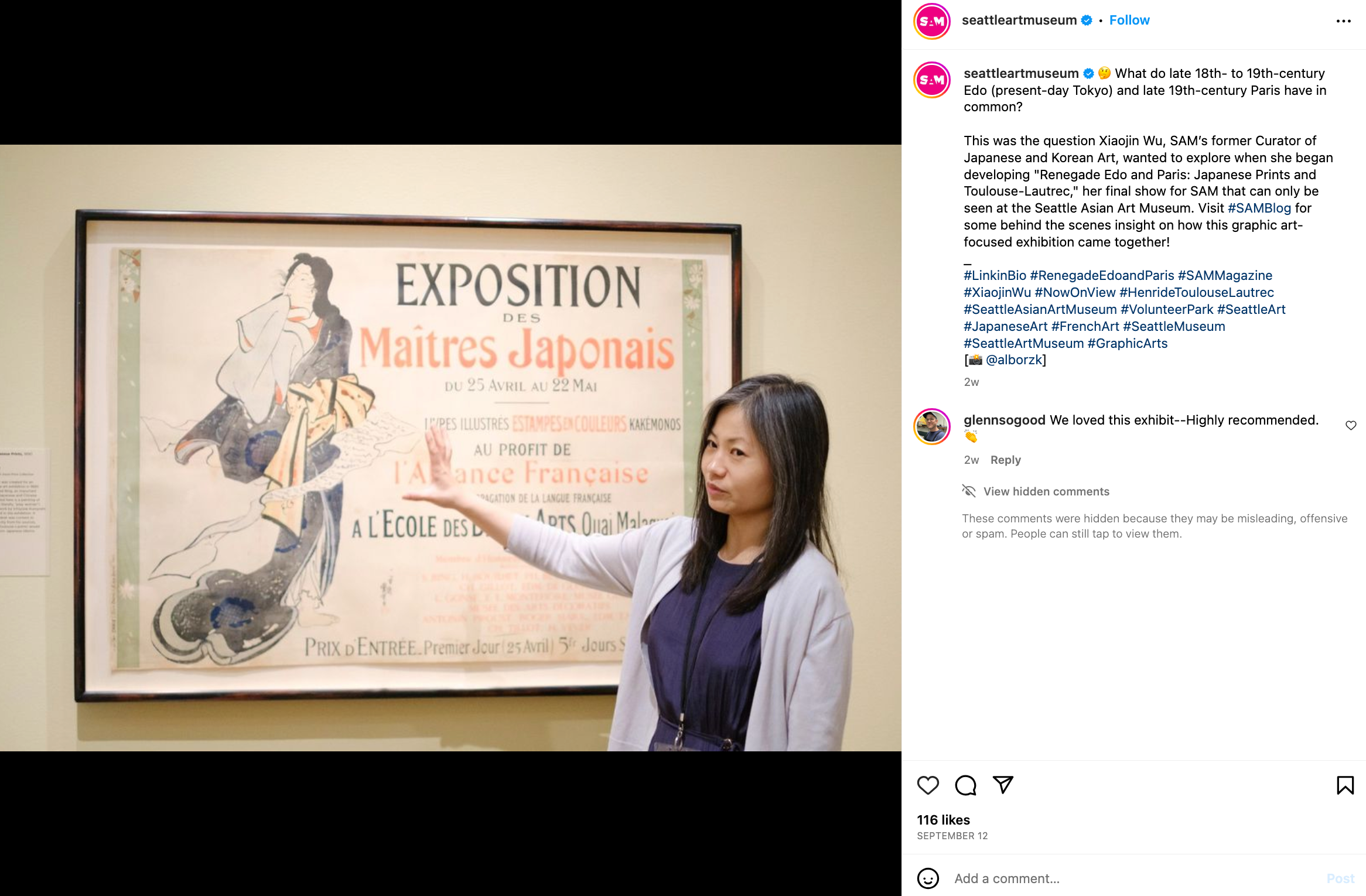 Renegade Edo and Paris: Japanese Prints and Toulouse-Lautrec at the Asian Art Museum
American Art: The Stories We Carry at the SAM
Deities and Demons: The Supernatural in Japanese Art at the SAM
Reverberations: Contemporary Art and Modern Classics at the SAM
Be/Longing Contemporary Asian Art at the Asian Art Museum
Honoring 50 Years of Papunya Tula Painting at the SAM
Upcoming Shows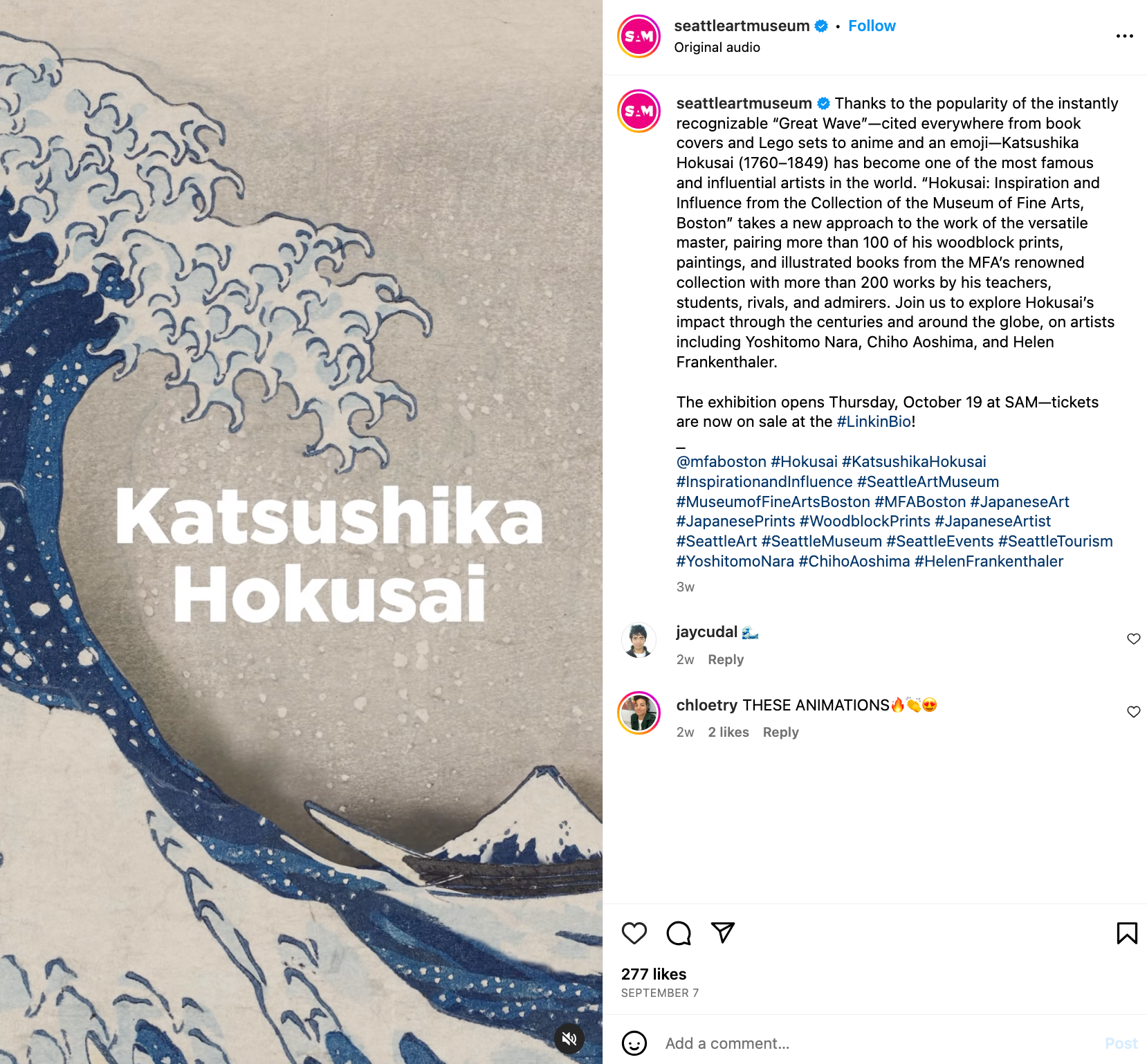 Hokusai: Inspiration and Influence from the Collection of the Museum of Fine Arts, Boston at the SAM from October 19th, 2023 through January 21st, 2024
Calder: In Motion, the Shirley Family Collection at the SAM from November 8th, 2023 through August 4th, 2024.
Elizabeth Malaska: 2022 Betty Bowen Award Winner from November 17th, 2023 through June 16th, 2024 at the SAM.
Daybreak Star Indian Cultural Center
The Daybreak Star Indian Cultural Center is a vital cultural and communal hub located within Seattle's Discovery Park. Established by the United Indians of All Tribes Foundation, the center derives its name from the "Daybreak Star"—a term inspired by a Cheyenne legend and a symbolic representation of renewal for Indigenous people.
The center's origins trace back to the 1970s when activists from various tribes occupied Fort Lawton to advocate for Indigenous rights. Following negotiations with the federal government, the land was handed over to the United Indians of All Tribes for the specific purpose of creating a space to preserve and celebrate Indigenous culture.
Today, the Daybreak Star Indian Cultural Center serves as a nexus for Indigenous events, services, and programs. Its facilities include an art gallery that showcases both traditional and contemporary Native American art, an early learning academy, and spaces for community gatherings and ceremonies.
The center actively fosters a sense of unity and cultural understanding among different Indigenous tribes, and it also strives to educate the broader public about the rich histories, traditions, and artistry of Native communities in the Pacific Northwest and beyond. Enjoy rotating exhibitions at the Daybreak Star Sacred Circle Gallery and view the Center's permanent art collection, which includes a sculpture by Lawney Reyes. The Center also hosts workshops and Native Art Markets throughout the year.
Frye Art Museum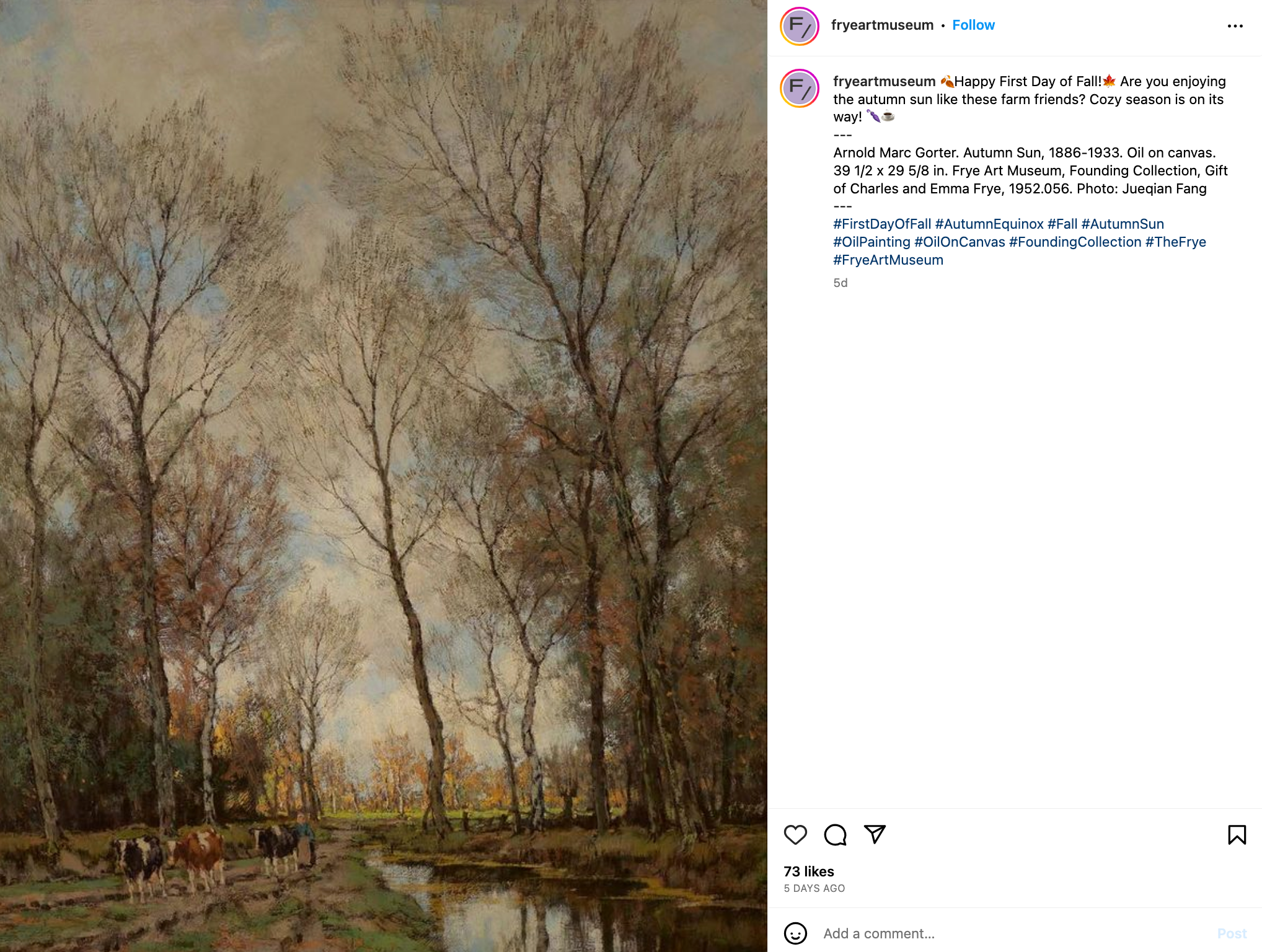 The Frye Art Museum is an iconic art institution located in Seattle's First Hill neighborhood. Established in 1952, the museum was founded by Charles and Emma Frye—who bequeathed their personal collection to the city. Their collection primarily consisted of 19th-century European paintings—which laid the foundation for the museum's initial exhibitions.
Over the decades, the Frye Art Museum has evolved to include a broader spectrum of art. It has become known for its exhibitions that span various periods, styles, and regions—including contemporary art and works from local artists. Some exhibitions are quite experimental.
One unique feature of the museum is its commitment to keeping admission free to the public—ensuring that art remains accessible to all. In addition to its art exhibitions, the Frye offers educational programs, public events, and artistic performances—further solidifying its role as a pivotal cultural hub in Seattle.
Current Exhibitions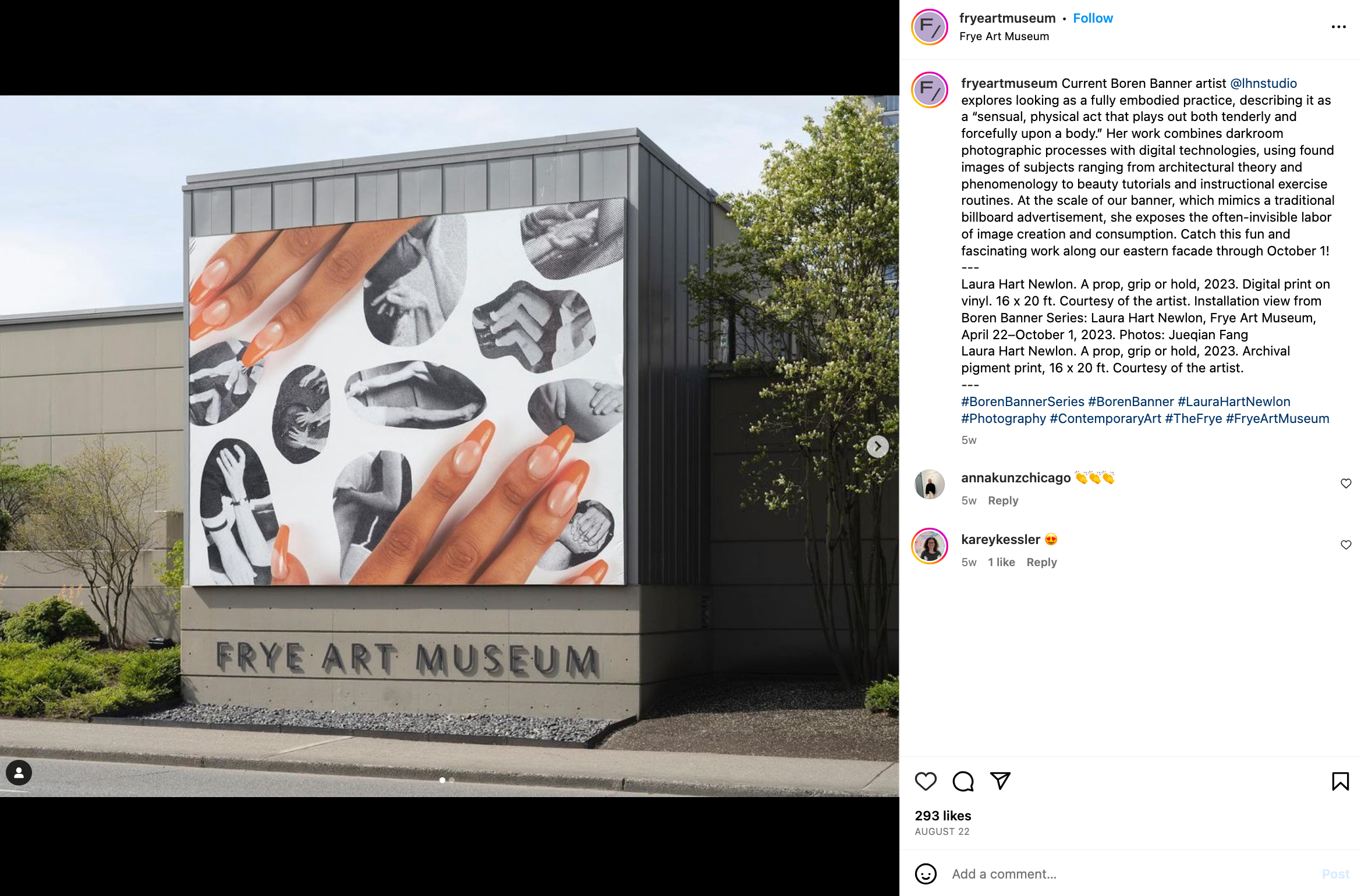 Into the Light: Works on Paper from the Collection
Boren Banner Series: Laura Hart Newlon
In Your Eyes: Experiment Like ESTAR(SER)
THE THIRD, MEANING: ESTAR(SER) Installs the Frye Collection
Upcoming Shows
Rafael Soldi: Soft Boy from October 7th through January 7th, 2024.
Clarissa Tossin: to take root among the stars from October 7th through January 7th, 2024.
Boren Banner Series: Rafael Soldi from October 7th through January 7th, 2024.
Antonio M. Gómez: LINEAJES from November 11th through March 10th, 2024.
Hanako O'Leary: Izanami from November 11th through January 28th, 2024.
Underground Tour, Smith Tower, and Art Walk in Pioneer Square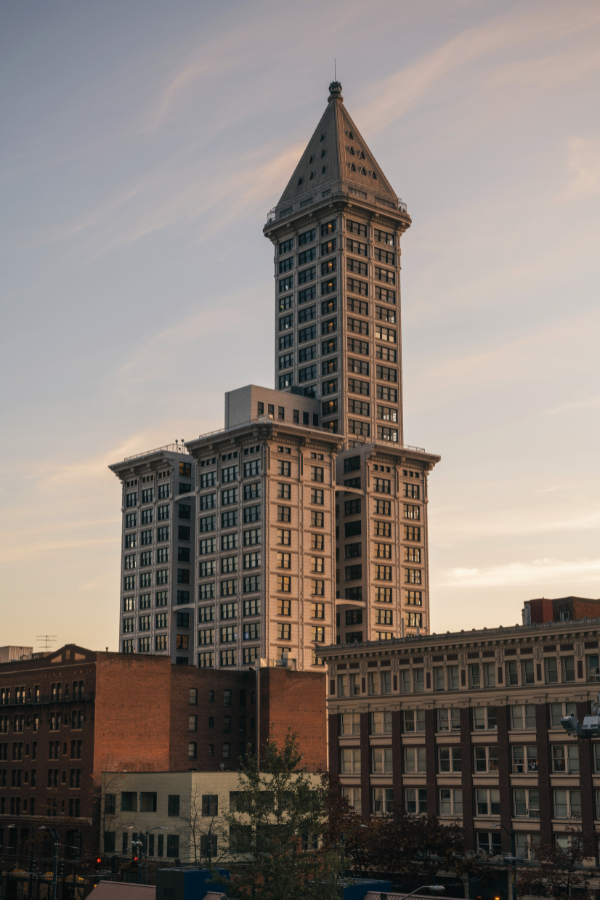 Pioneer Square is one of Seattle's most historic neighborhoods—often regarded as the city's original heart. Located in the southwest corner of Downtown Seattle, it's a blend of the past and the present—characterized by its Romanesque Revival architecture, cobblestone streets, and vibrant arts scene. Just a few square blocks, this neighborhood is filled with architectural landmarks, art galleries, tasting rooms, boutiques, and much more.
Begin your exploration of Pioneer Square with a guided tour. One of the most popular attractions is the Underground Tour—which takes visitors below the streets to see the remnants of the original city. The original city was largely destroyed in the Great Seattle Fire of 1889.
Pioneer Square is also known as Seattle's arts hub. On the first Thursday of each month, the neighborhood hosts an Art Walk, where galleries open their doors to the public, artists display their works on streets, and local musicians often perform.
Pioneer Square is home to Smith Tower, too. Smith Tower was once the tallest building west of the Mississippi. You can head up to its observatory for stunning views of the city. The building itself is an architectural gem with its detailed terracotta work and ornate lobby.
In the evening, enjoy one of Pioneer Square's many restaurants, bars, and tasting rooms. Sample local wines, craft beers, or simply enjoy the diverse culinary scene.
Boutiques, Historic Homes, Clubs, and Galleries in Capitol Hill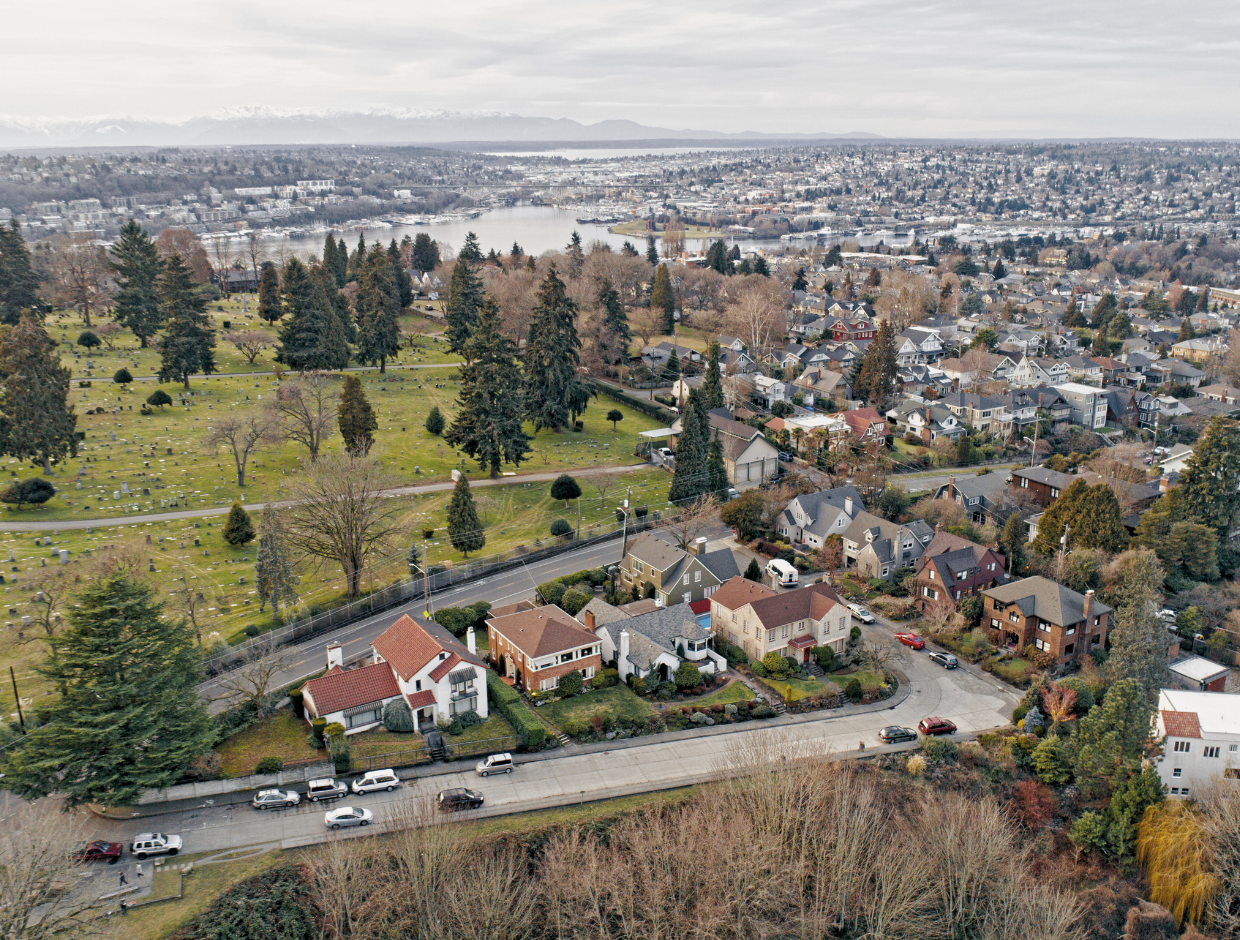 Capitol Hill—located just east of Downtown Seattle—is one of the city's most vibrant and eclectic neighborhoods. It brims with culture, history, and a youthful energy. Renowned for its rich arts scene, the area boasts a plethora of indie music venues—including the historic Neumos and the Barboza. Here, visitors can catch live performances spanning a range of genres.
The Broadway corridor—Capitol Hill's main thoroughfare—is lined with a diverse mix of boutiques, vintage shops, bookstores, and eateries. It offers everything from artisanal coffee at spots like Espresso Vivace to gourmet donuts at General Porpoise. Moreover, the neighborhood plays host to numerous events throughout the year—including the famous Capitol Hill Block Party music festival and Seattle Pride festivities.
Aside from its bustling urban scene, Capitol Hill offers serene pockets of greenery like the Volunteer Park—which houses the Seattle Asian Art Museum and a beautiful conservatory. The park's water tower offers panoramic views of the Seattle skyline—a treat for those willing to climb its steps. Cal Anderson Park—with its reflecting pool and lighted sports fields—is another urban oasis popular among locals.
For those with a literary inclination, the Elliott Bay Book Company—an independent bookstore with its inviting atmosphere and vast collection—is a must-visit. As the day transitions to night, the neighborhood's nightlife awakens with numerous bars, craft cocktail spots, and dance clubs like the Q Nightclub. Each spot welcomes those excited to revel in Capitol Hill's spirited after-hours scene.
Scandinavian and Maritime Heritage in Ballard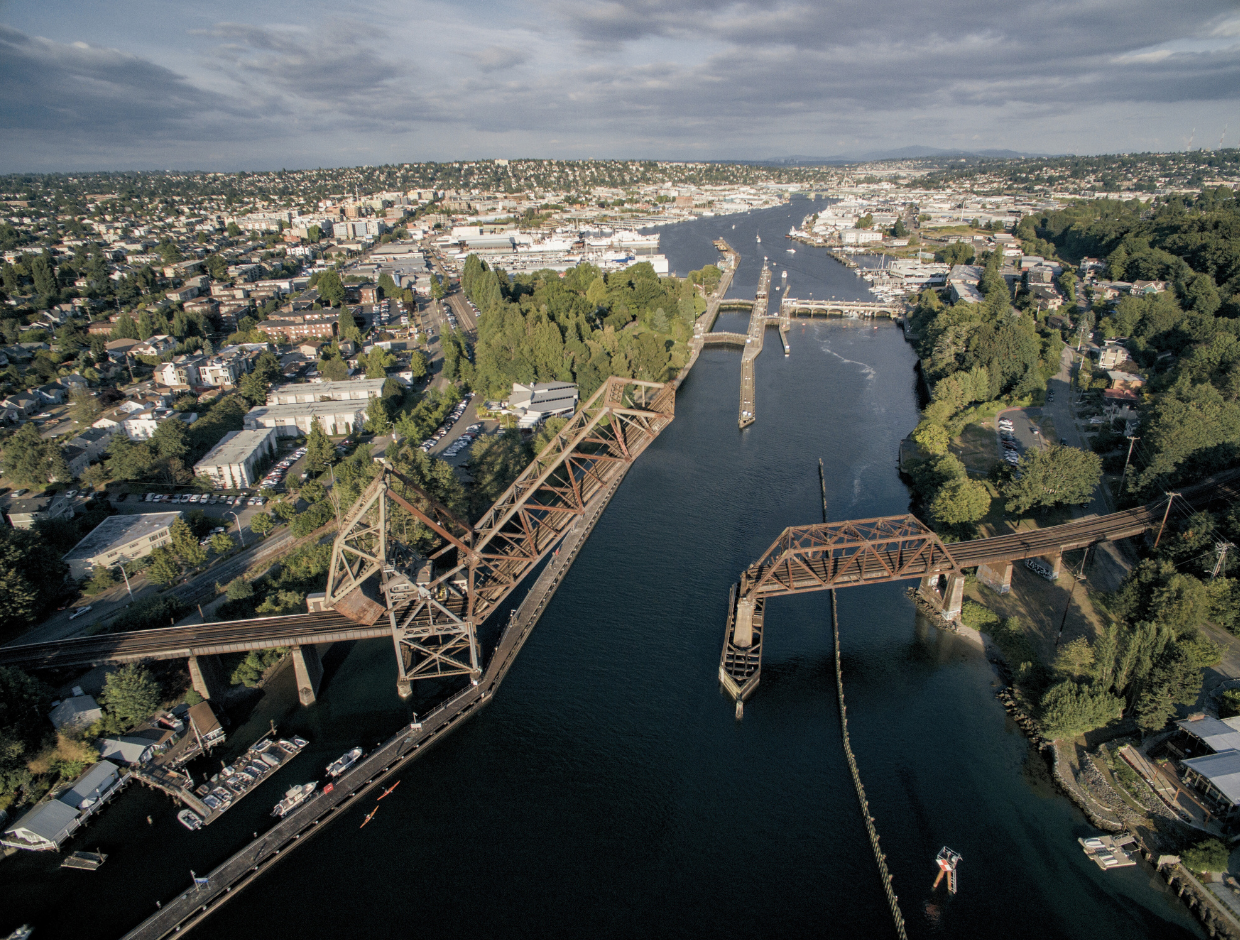 Ballard—located in the northwest part of Seattle—is a neighborhood steeped in maritime and Scandinavian heritage. One of the area's standout attractions is the Ballard Locks—where visitors can watch boats navigate between Puget Sound and the Ship Canal, and also enjoy the adjacent botanical gardens. The nearby Fishermen's Terminal is a testament to Ballard's maritime roots—showcasing a fleet of fishing boats and offering seafood eateries with fresh catches.
Ballard Avenue—the heart of this historic district—is lined with beautifully preserved buildings hosting a myriad of boutiques, restaurants, bars, and coffee shops. It's perfect for leisurely strolls. The Nordic Museum—which traces the history and culture of the Nordic region and its influence on the Pacific Northwest—is a must-visit for history enthusiasts.
Meanwhile, the Ballard Farmers Market comes alive each Sunday—offering locally sourced produce, crafts, and street food. As evening approaches, Ballard's nightlife—including the iconic Tractor Tavern—offers live music and entertainment.
Celebrate Architectural Excellence Across Seattle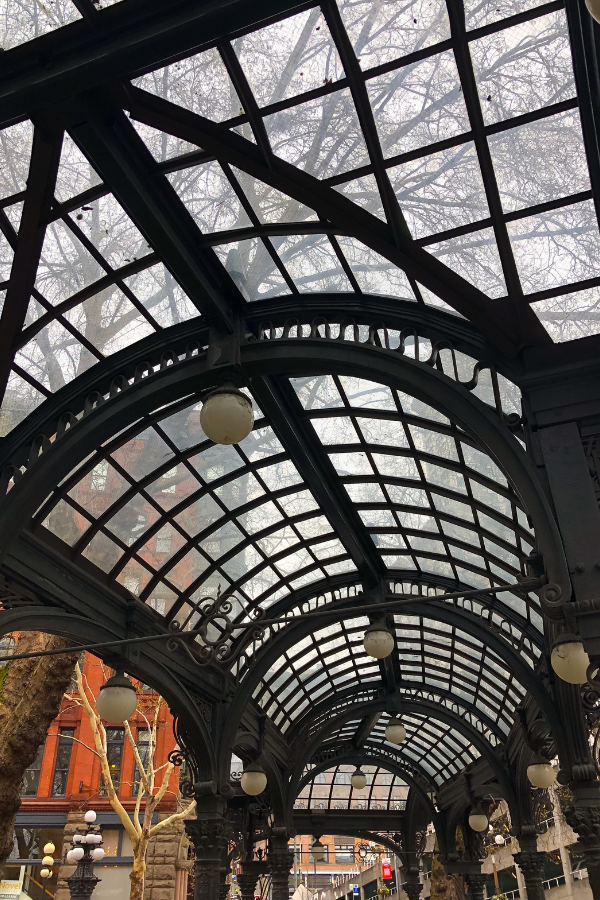 Seattle's architectural landscape is a harmonious blend of historic charm and modern innovation—reflecting the city's evolution from a rugged port town to a global tech hub. Iconic structures like the Space Needle—an emblem of mid-century modernism and Space Age design—coexist with cutting-edge buildings like the Seattle Central Library—a crystalline meshwork conceptualized by Rem Koolhaas.
From the Art Deco elegance of the Smith Tower to the eco-conscious Bullitt Center—deemed the greenest commercial building in the world—Seattle's built environment encapsulates many styles and narratives. These showcase the city's commitment to both preserving its heritage and embracing the future. Explore the following to make the most of your trip to Seattle this Fall.
The Space Needle
The Space Needle was originally conceptualized and submitted as an entry in the 1962 World's Fair. With a futuristic design inspired by the space age, this 605-foot tower boasts a slender, tapering profile supported by a tripod of thick legs—culminating in a flying saucer-like observation deck and the revolving SkyCity restaurant above.
Designed by architect John Graham and his team, the Space Needle's unique and forward-thinking silhouette has not only made it an enduring architectural marvel but also a representation of the era's optimism and the limitless possibilities of human endeavor.
​​SkyCity Restaurant in the Space Needle
Offering diners a 360-degree panorama of the city, from the downtown skyline to the distant Mount Rainier, the SkyCity restaurant completes one rotation every 47 minutes—allowing guests to savor the Pacific Northwest's culinary delights alongside ever-changing scenic views. Beyond its gourmet offerings, SkyCity's allure is in its blend of architectural innovation and immersive dining experience—making it a sought-after destination for both tourists and locals.
Bear in mind that the restaurant closed in early 2022 for extensive renovations and might not yet have reopened by the time this article is published. When it does reopen, the restaurant will have a brand-new glass floor—reinforcing its "floating in space" feel. Visitors should check the restaurant's current status before planning a visit.
Seattle Central Library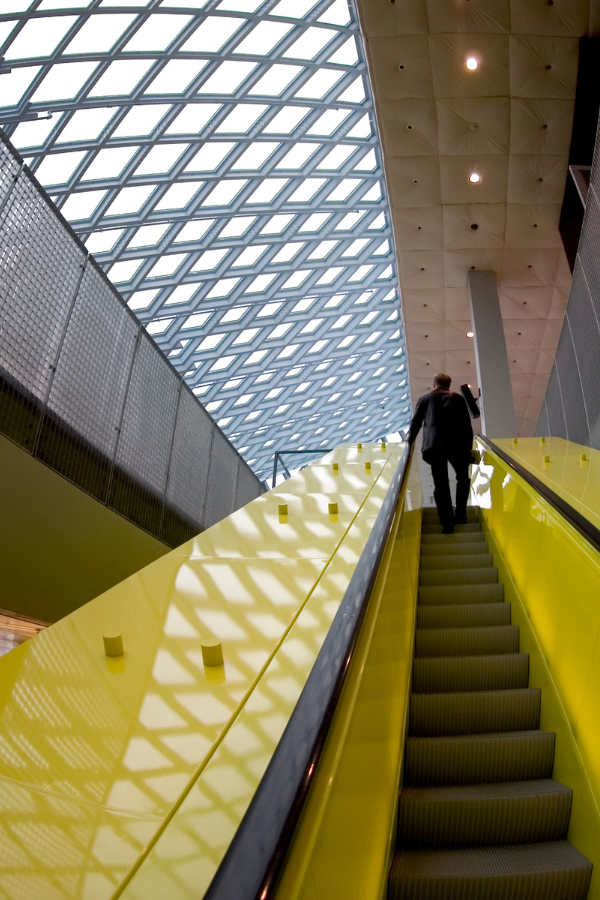 The Seattle Central Library—a masterpiece of contemporary architecture—was designed by the renowned Dutch architect Rem Koolhaas, his firm OMA, and Seattle-based LMN Architects. This 11-story structure—completed in 2004—is celebrated for its audacious and innovative design that reimagines the concept of a public library.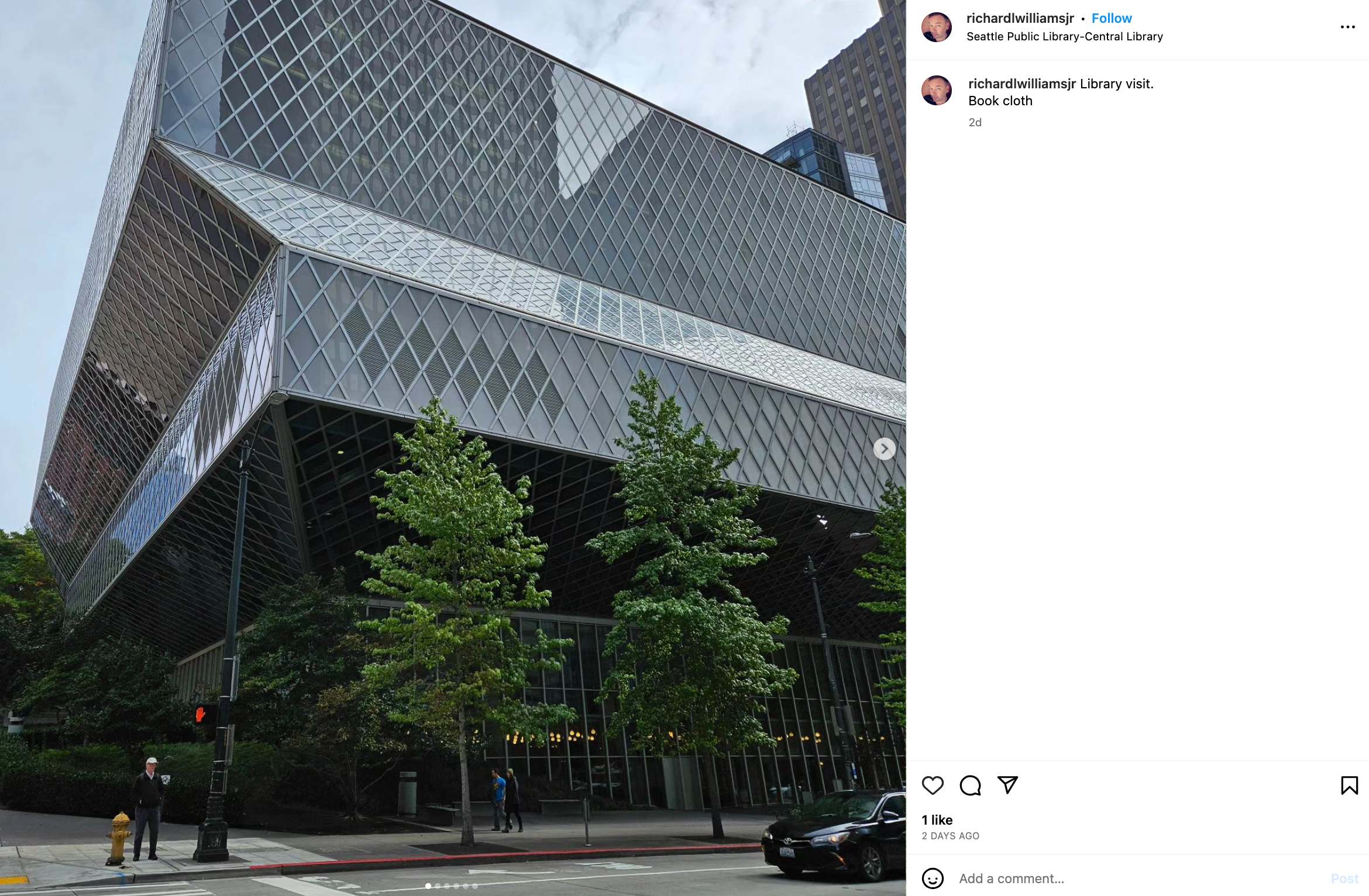 Composed of a series of floating platforms housed within a striking angular glass and steel mesh façade, the building's exterior plays with transparency and reflection—creating a dynamic interplay with its urban surroundings. Its design challenges traditional architectural form—featuring a tilted, non-rectilinear profile that lends the structure a sense of movement and unpredictability.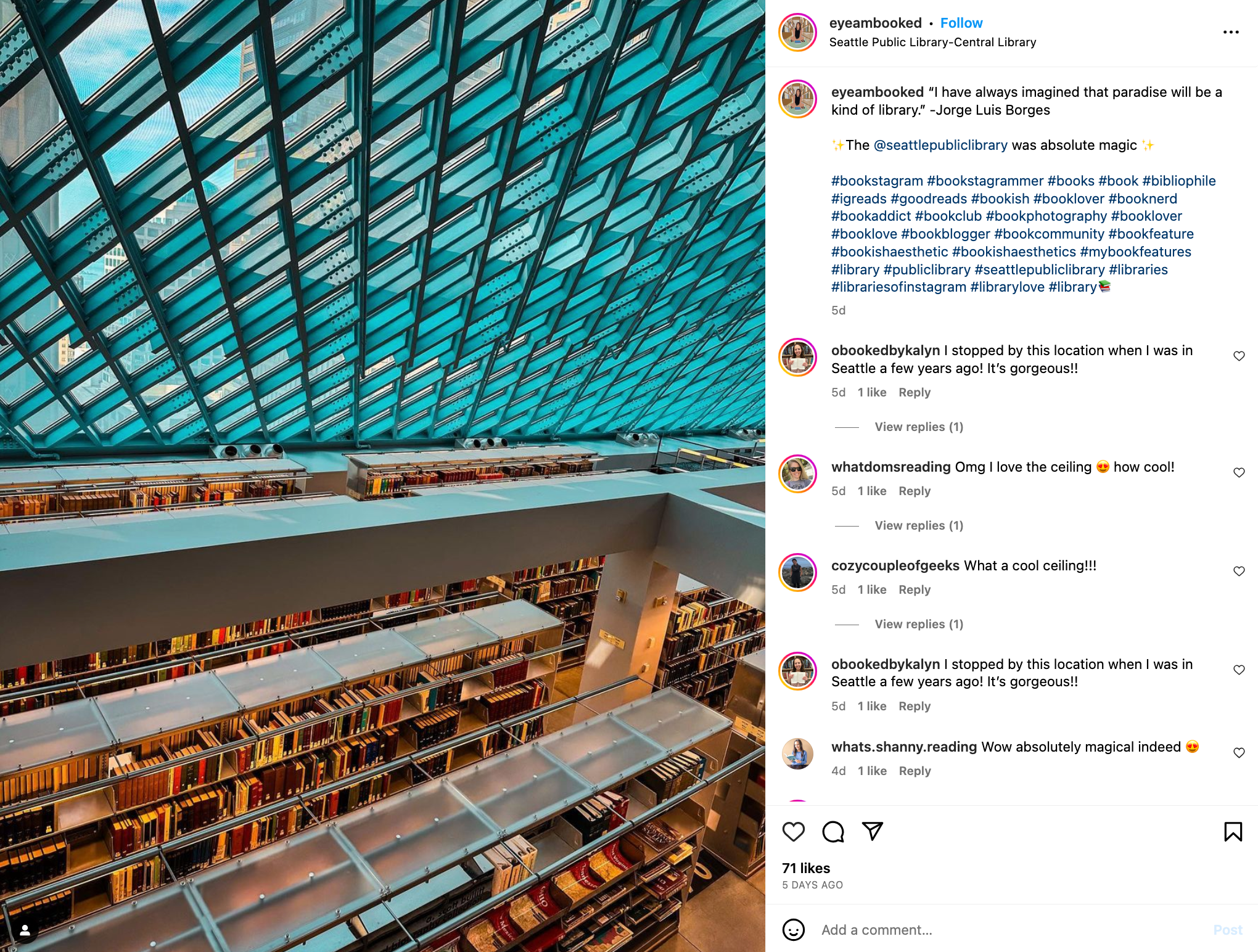 Inside, the library offers an immersive journey through meticulously designed spaces. The "Books Spiral"—a continuous, gently sloping ramp—allows patrons to traverse the library's nonfiction collection without the interruption of floors or stairs. Bathed in natural light filtered through a yellow mesh ceiling, the vibrant "Living Room" on the third floor offers a welcoming space for reading and relaxation.
The "Mixing Chamber" on the fifth floor—an innovative information desk area—showcases the library's commitment to technology and modern service approaches. Throughout the building, the use of bold colors, diverse materials, and unconventional spatial arrangements reflects a forward-thinking approach to library design—making it not just a repository of books, but a dynamic hub of knowledge, interaction, and architectural exploration.
Olympic Sculpture Park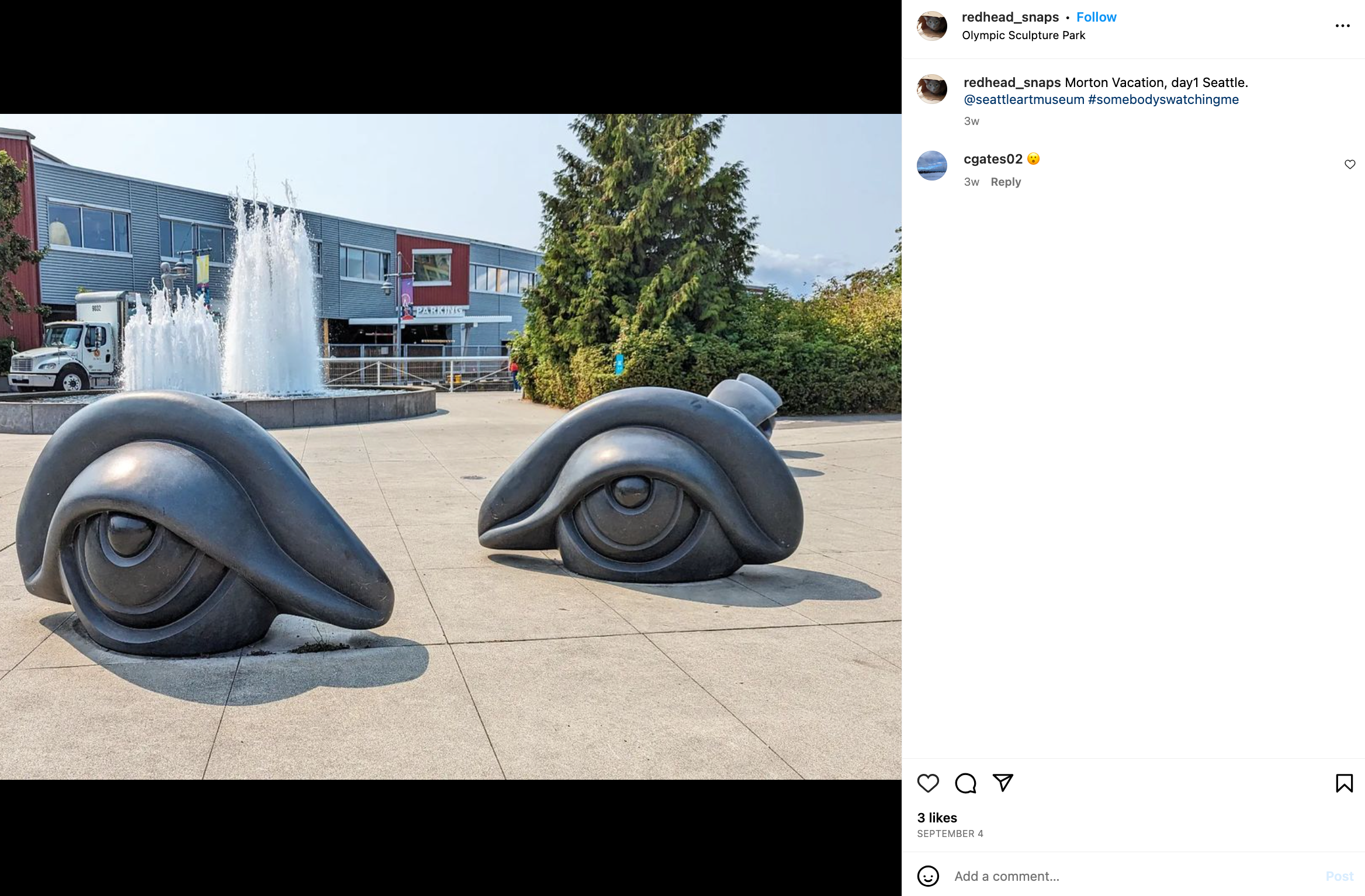 Olympic Sculpture Park—nestled on the Seattle waterfront—is a transformative urban green space that seamlessly merges art, design, and nature. An extension of the Seattle Art Museum, this nine-acre open-air sanctuary boasts an impressive array of large-scale sculptures by renowned artists. These pieces are strategically positioned amidst beautifully landscaped terrains that transition from a valley to a beach—providing panoramic views of the Puget Sound and Olympic Mountains.
Conceived as an environmental restoration project, the park revitalizes a former industrial site—illustrating how urban spaces can be reimagined to enhance cultural engagement while preserving and celebrating the natural landscape.
Millionaire's Row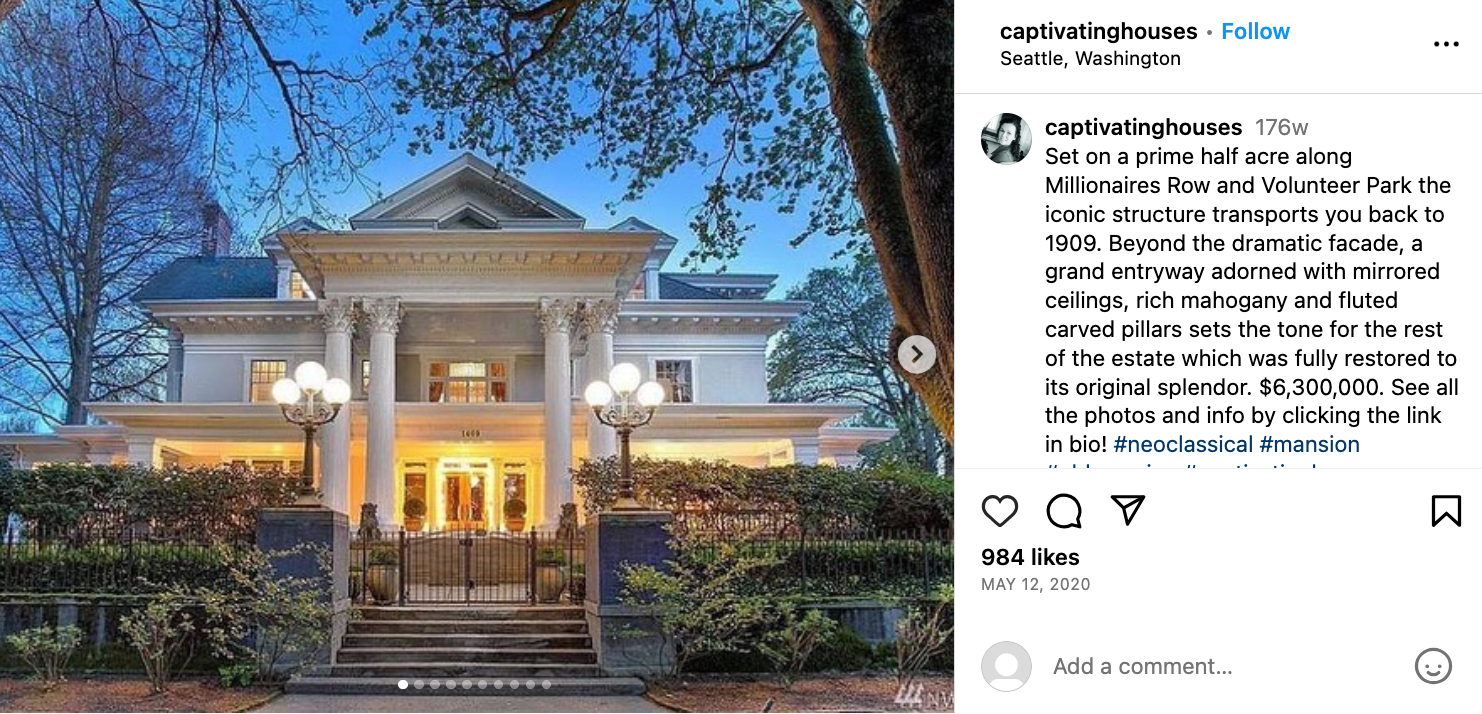 Readers who enjoy historic interiors and architecture should not miss the elegant homes that dot Millionaire's Row. Millionaire's Row—located along 14th Avenue East in Seattle's Capitol Hill neighborhood—stands as a testament to the city's early 20th-century opulence. This illustrious stretch is characterized by grand mansions—each bearing distinct architectural styles ranging from Colonial Revival to Tudor and Beaux-Arts.
Initially inhabited by some of Seattle's most affluent pioneers and business magnates, these homes not only exude architectural elegance but also encapsulate stories of the city's burgeoning economic growth during the gold rush and timber boom eras. Today—as one walks along this tree-lined avenue—the meticulously preserved or restored residences of Millionaire's Row evoke a bygone era of luxury, ambition, and architectural grandeur.
Printmaking Workshops at Pratt Fine Arts Center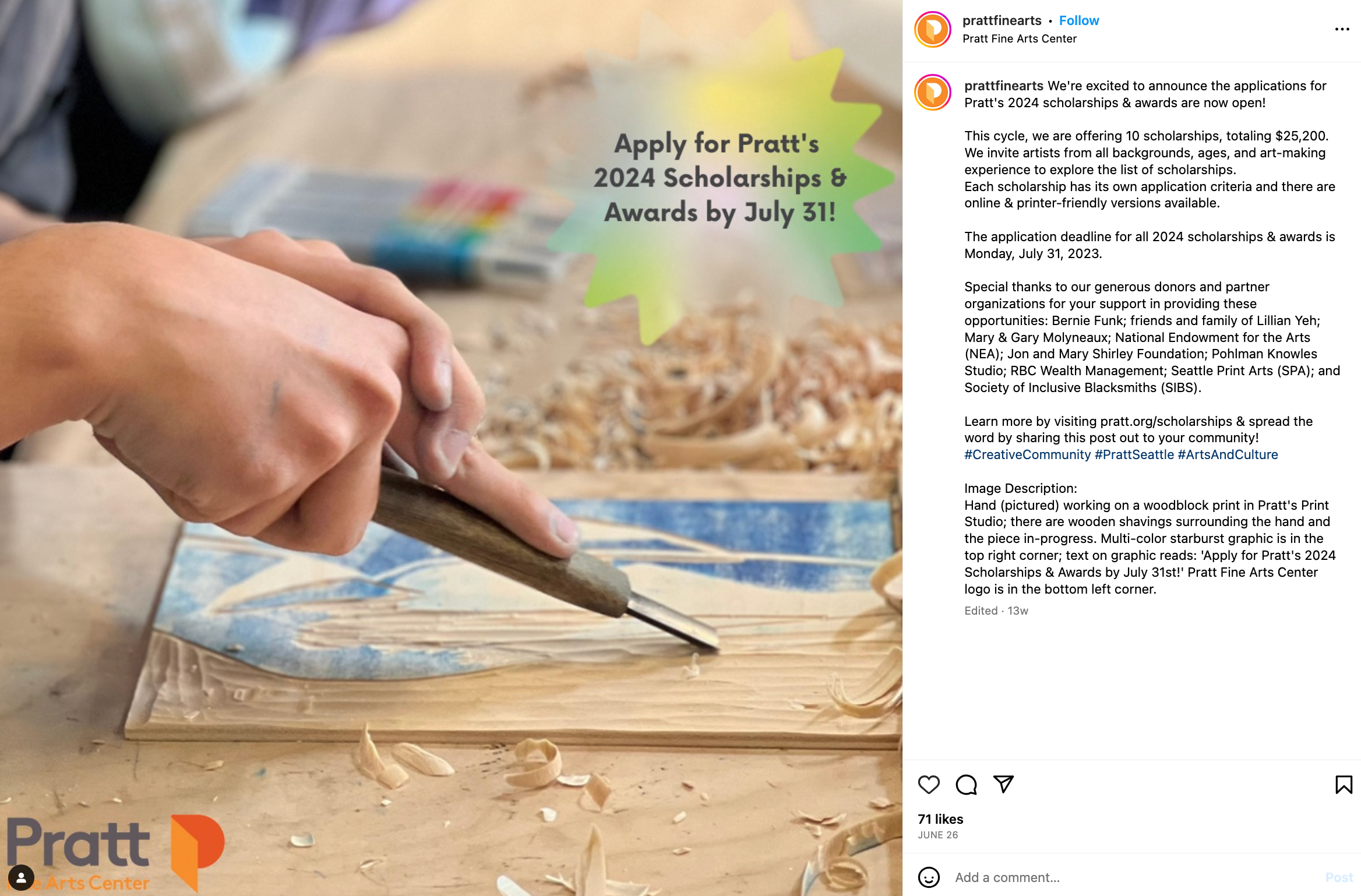 For an interactive activity sure to inspire while visiting Seattle, consider taking a printmaking workshop at Pratt Fine Arts Center. The Pratt Fine Arts Center—located in Seattle's Central District—is a revered institution dedicated to fostering creativity and craftsmanship across a range of artistic disciplines like printmaking.
Offering both introductory and advanced workshops, Pratt's printmaking studios provide a comprehensive hands-on experience that delves deep into the multifaceted world of print arts. Under the guidance of experienced instructors, participants are introduced to various techniques such as etching, woodcut, linocut, monotype, lithography, and screen printing. The center's well-equipped facilities—boasting a vast array of presses and tools—ensure that students have the opportunity to experiment and hone their skills—regardless of whether they are newcomers or seasoned practitioners.
Beyond the technicalities, Pratt's workshops emphasize the art of storytelling and personal expression through printmaking. The curriculum often delves into the history and evolution of print arts—instilling a deeper appreciation for the craft.
Collaborative sessions, open studio times, and gallery visits further enrich the learning experience—creating a vibrant community of print artists. These workshops not only equip participants with the skills to produce captivating prints but also immerse them in a culture of artistic exploration, innovation, and camaraderie.
Art Attack and Pottery Classes in Georgetown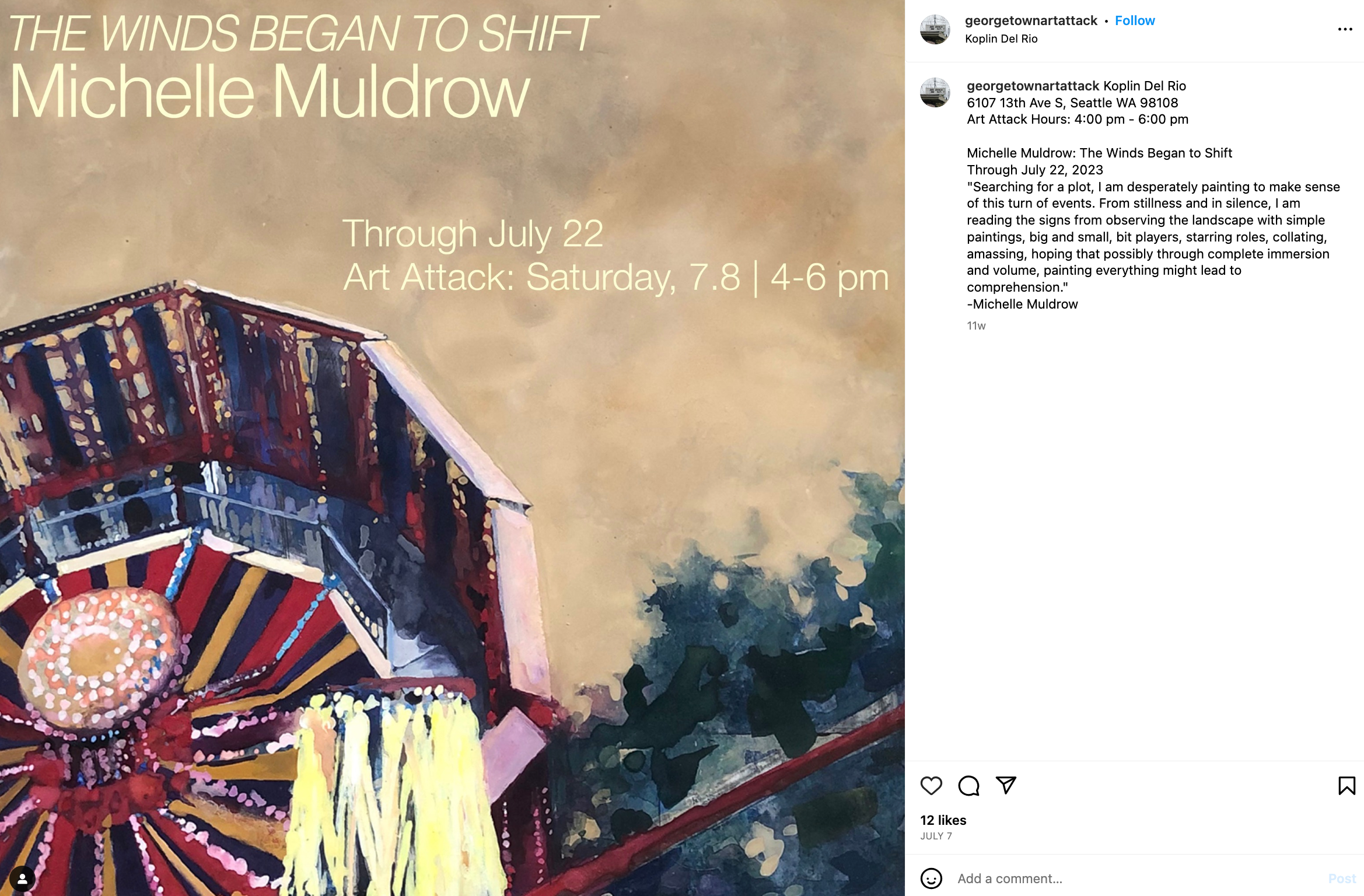 Unleash your inner ceramicist at a pottery class or celebrate emerging artists during Art Attack in Georgetown—one of Seattle's most charming artistic enclaves. Georgetown, with its rich industrial past and vintage charm, has evolved over the decades to become a vibrant epicenter for the arts in Seattle.
The neighborhood's historic brick buildings and former factories have been repurposed into eclectic art studios, galleries, and performance spaces. As the oldest of Seattle neighborhoods, Georgetown's architectural character and urban grit provide a contrasting backdrop for the flourishing creativity within—drawing artists and enthusiasts who appreciate its authentic and unpretentious vibe.
The community's artistic heartbeat is most palpable during events like the Georgetown Art Attack—a monthly art walk where studios throw open their doors and streets come alive with art installations, live music, and performances. If you miss Art Attack while in Seattle, schedule a pottery class instead. We recommend Sean's Clay Corner, Pottery Northwest, or Emerald City Fired Arts.
Where Will You Wander?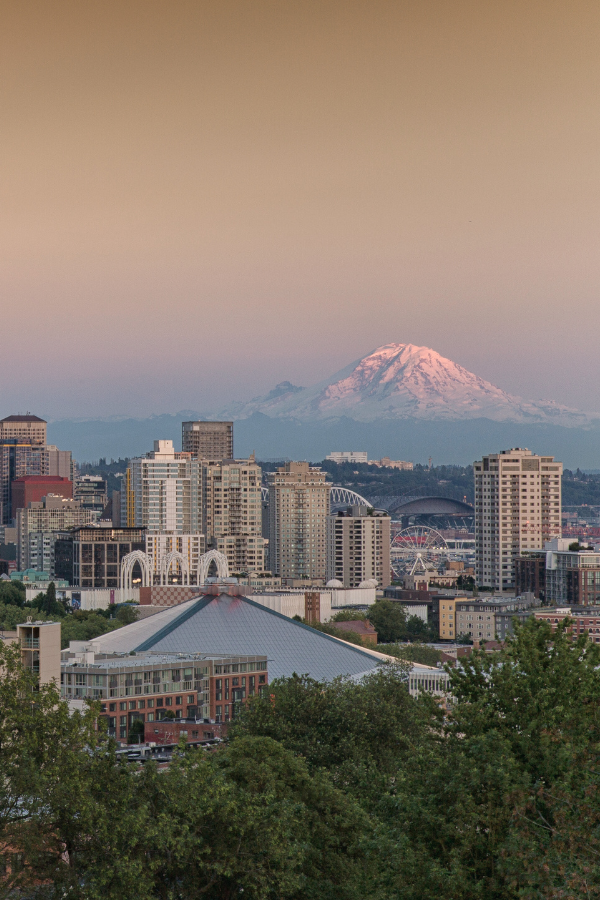 Seattle serves as a muse for many creatives. There is so much to do and see beyond tourist traps like the Seattle Great Wheel, Pacific Science Center, Kerry Park, Seattle Aquarium, Pike Place Market, and Seattle Center. From the architectural marvels that punctuate its skyline to the grassroots art movements thriving in its historic neighborhoods, the city offers a boundless wellspring of inspiration.
Whether it's the serene vistas of Puget Sound, the dynamic art installations of Georgetown, or the legacy of design enshrined in places like the Seattle Central Library, every corner tells a story. For creatives seeking a blend of urban energy and nature's tranquility, Seattle is the place to be. Don't let the rainy weather deter you!
No matter whether you spend 3 days in Seattle or an entire month, let us know where you go in the Emerald City by leaving a comment below.