Trailblazing Female Interior Designers Who Shaped the Industry
Throughout much of our industry's history, men have dominated the field—bolstered by gender norms, laws, and other antiquated restrictions that prevented women from flourishing as interior designers. However, some women were able to break free of those restrictions—making their mark from the early 20th century until today. Their pioneering approaches—not only in aesthetic choices but also in challenging industry norms—have redefined how interiors are conceptualized and executed. These trailblazing women—transcending cultural and societal barriers—have shaped the trajectory of interior design. In this article, we will highlight and honor the profound influence and enduring legacies of these exceptional female interior designers who have indubitably shaped the interior design industry. From Elsie de Wolfe and Dorothy Draper to Patricia Urquiola, these are the women interior designers who inspire us. There's no need to wait for International Women's Day to celebrate these icons of design.
Herstory: Historical Context for the Lack of Female Interior Designers
Throughout much of history, the embellishment of interior spaces was a manifestation of societal status and power—with the primary decision-makers predominantly being male rulers or elites. As societies evolved, the domestic sphere—particularly in Western cultures—became largely influenced by women.
The act of "turning a house into a home"—both functionally and aesthetically—began to align more with the female domain. This was especially so during the late Renaissance and into the Victorian era. Although these women played pivotal roles in the development and evolution of interior aesthetics, their contributions were often overshadowed, unofficial, or relegated to the realm of domesticity rather than professional expertise.
Sociocultural Factors Influencing the Recognition of Women in Interior Design
Several social and cultural factors have historically impeded the recognition and progress of women in the interior design profession. One significant barrier was the societal perception of women's roles during the 18th and 19th centuries. Women's primary domain was considered to be the household. While they were key players in shaping domestic interiors, this role was viewed as an extension of homemaking rather than a professional endeavor.
Moreover, institutional education in design and architecture was largely exclusive to men—with women facing significant hurdles to access formal training. Furthermore, the publishing world—which was instrumental in disseminating design ideas—was male-dominated. As such, even when women did make significant contributions, they often lacked the platforms to showcase their work or were sidelined in favor of their male counterparts.
A Changing Tide and Women's Ascent in the Industry
Fortunately—as the 20th century dawned—societal shifts began to challenge and change these entrenched norms. The suffragette movement, advocating for women's rights—combined with the broader cultural shift towards modernism—paved the way for a reevaluation of women's roles in various professions, including interior design.
Schools and institutions began opening their doors to women, allowing them to gain formalized training and credentials. The post-war era—with its rapid urbanization and the rise of consumerism—also saw a burgeoning demand for professionalized interior design.
Women—equipped with both formal training and an innate understanding of domestic spaces—stepped into the spotlight. Magazines and media, too, evolved—offering women designers a platform to showcase their innovations. By the latter half of the 20th century, female interior designers were not just contributors but often trendsetters—shaping the industry's direction and narrative.
Trailblazing Female Interior Designers Who Shaped Our Industry
With that said, here are a few famous female interior designers who normalized women's success in the industry. We acknowledge that many female interior designers were not so well-known, but appreciate their contributions all the same.
Pioneers of Their Time
Elsie de Wolfe (1865-1950)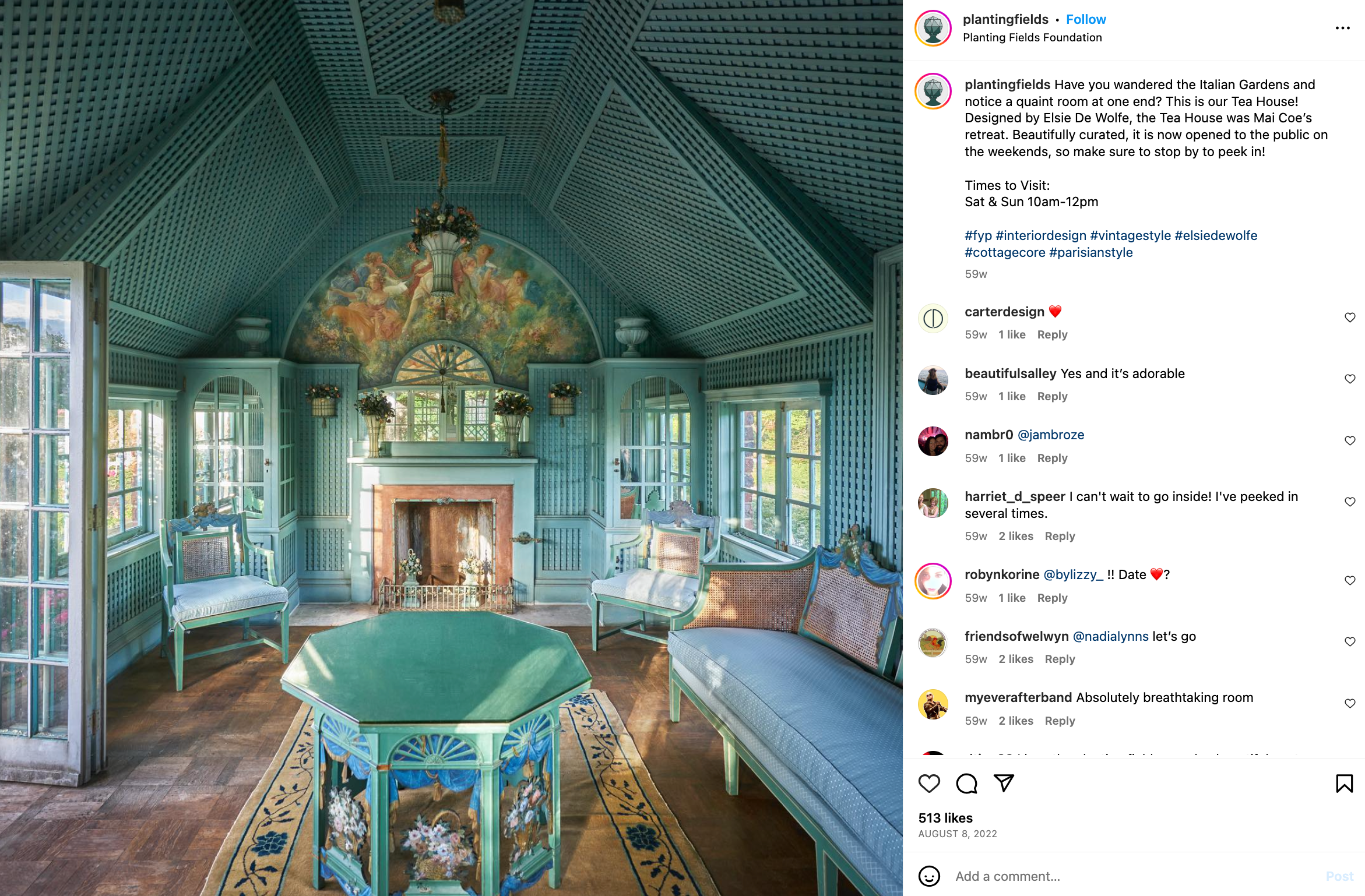 Elsie de Wolfe—born in New York City in 1865—is widely acknowledged as America's first professional interior decorator. Challenging the dark, heavily ornate Victorian interiors prevalent in the late 19th century, de Wolfe championed a lighter, more refreshing approach characterized by clear spaces, pale color palettes, and the incorporation of 18th-century French furniture.
Beyond her transformative design sensibilities, de Wolfe's professionalization of interior decoration set a precedent—encapsulated in her seminal 1913 work "The House in Good Taste." Her influential career as an interior designer—coupled with her savvy self-promotion—firmly established her as a pioneering figure in the annals of American interior design.
Notable Projects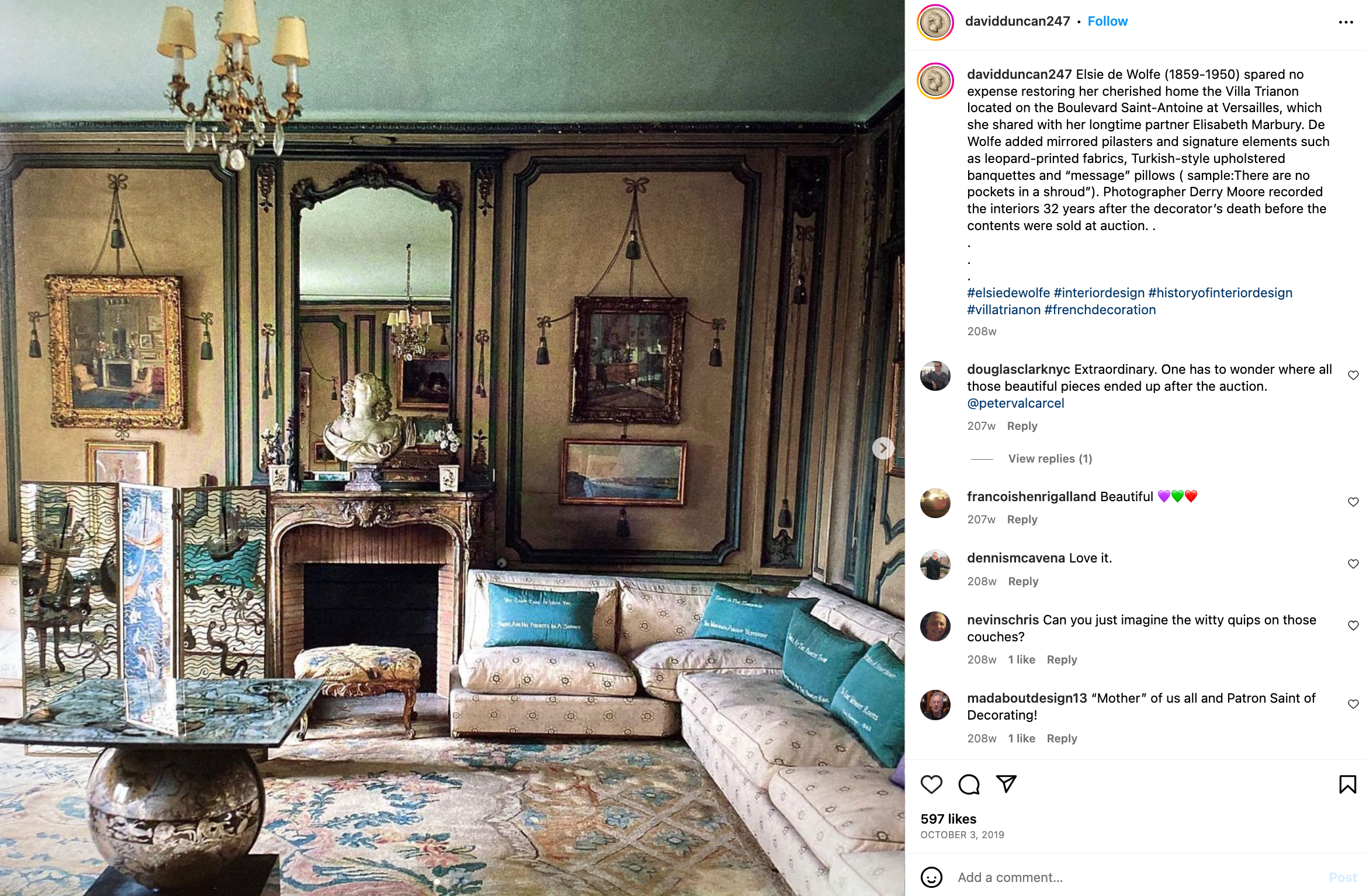 The Colony Club
Henry Clay Frick Residence (now The Frick Collection)
The Villa Trianon
I. N. and Iva T. Phelps Stokes Residence
Tony Duquette Studios
Dorothy Draper (1889-1969)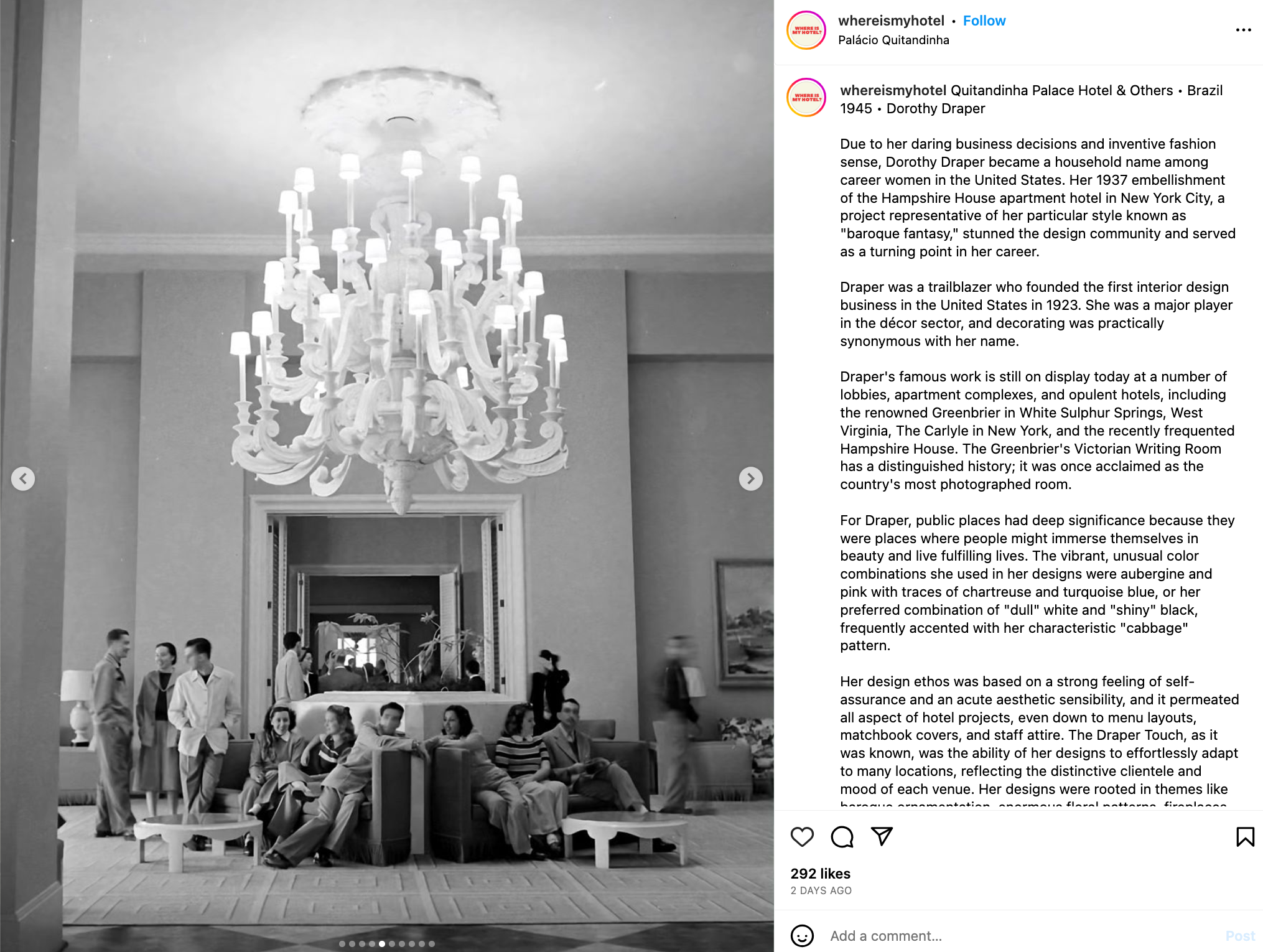 Dorothy Draper—active predominantly in the early to mid-20th century—is celebrated as a defining voice in American interior design. The interior designer is noted for her audacious use of color and bold contrasts. Coined as the "Draper Touch," her style was a radical departure from the reserved norms of the time—embracing vibrant palettes, oversized motifs, and eclectic mixes of historical styles.
She transformed many prominent public spaces—such as the Greenbrier Hotel in West Virginia—into visual spectacles using her signature style. Draper's fearless approach to design, marked by exuberance and a keen sense of theatricality, not only reshaped American interiors but also laid the foundation for the modern decorating profession—cementing her legacy as a trailblazing figure in the design world.
Draper is also celebrated for founding her own interior design company and taking her work all across the country and abroad. The design firm was known as Dorothy Draper & Company. Her design studio was involved in designing interiors for numerous other hotels, resorts, restaurants, and private residences. Though she often worked in New York, her West Coast interior design can be seen in the Arrowhead Springs Hotel and The Fairmount.
Notable Projects
The Greenbrier Hotel, West Virginia
The Carlyle Hotel, New York City
The Hampshire House, New York City
Arrowhead Springs Hotel, California
The Fairmont Hotel, San Francisco
The Quitandinha Palace, Brazil
The Metropolitan Museum of Art's Dorotheum
Camellia House & Bird Cage, Drake Hotel, Chicago
Madeleine Castaing (1894-1992)
Next on our list of female designers is Madeleine Castaing. Madeleine Castaing—a prominent French interior decorator of the 20th century—carved a distinctive niche with her unique aesthetic that masterfully blended Romanticism, Directoire style, and a touch of whimsy.
Operating in the post-war era, Castaing's design sensibilities stood out for their embrace of rich fabrics, vibrant color palettes, especially her signature Leopold blue, and eclectic antiques. Her boutique on Rue Jacob in Paris became a design mecca for enthusiasts and professionals alike.
In addition to her retail endeavors, the work of this interior designer shone in her personal residences—a townhouse in the Left Bank and her country home in Lèves. These serve as tangible manifestations of her visionary style. Through her works and influence, Castaing established herself as a timeless icon of design inspiration.
Important Projects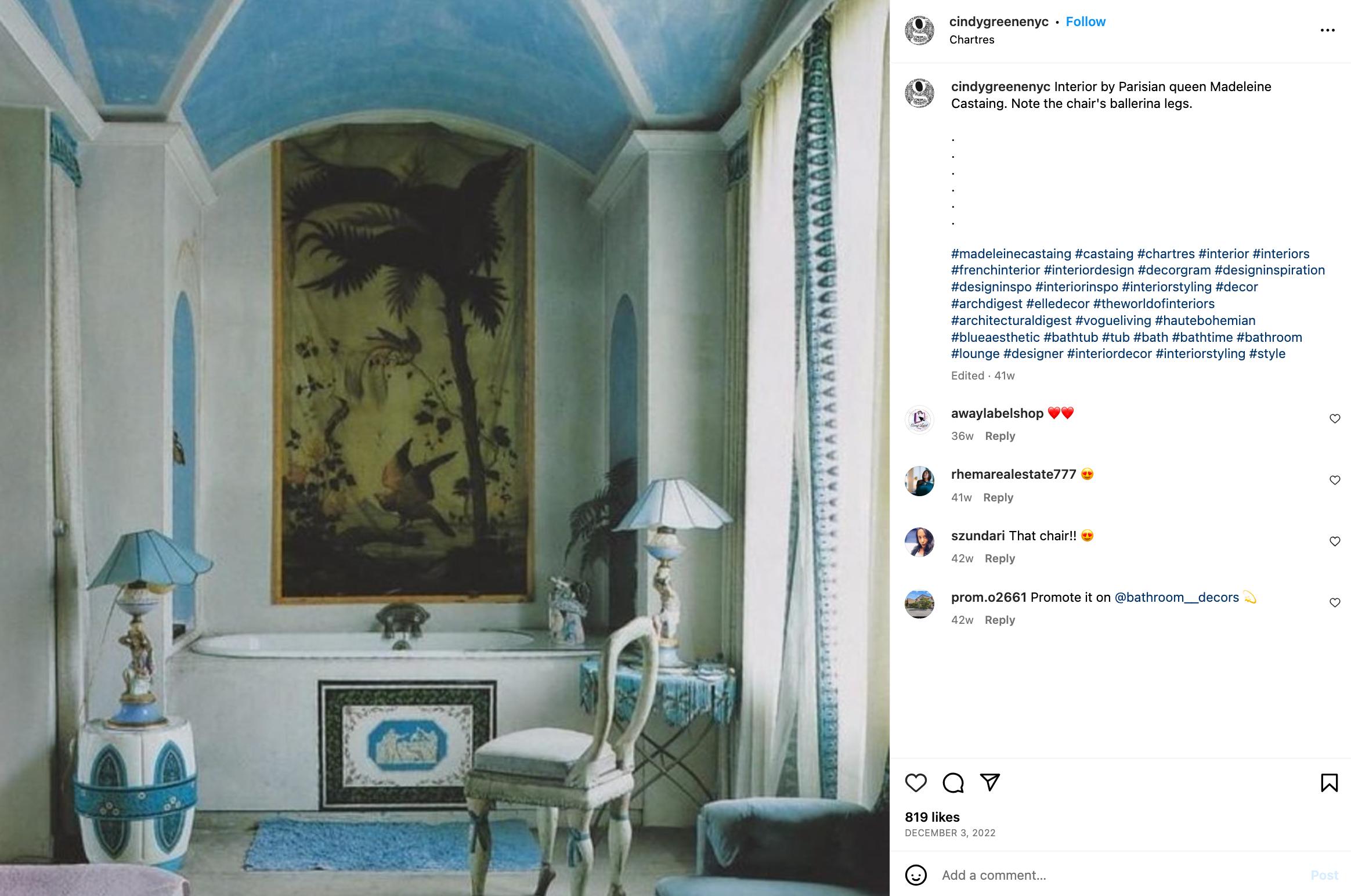 Her Boutique on Rue Jacob, Paris
Her Townhouse in the Left Bank, Paris
The Country House in Lèves
Modern Masters and Boundary Pushers
Sister Parish (1910-1994)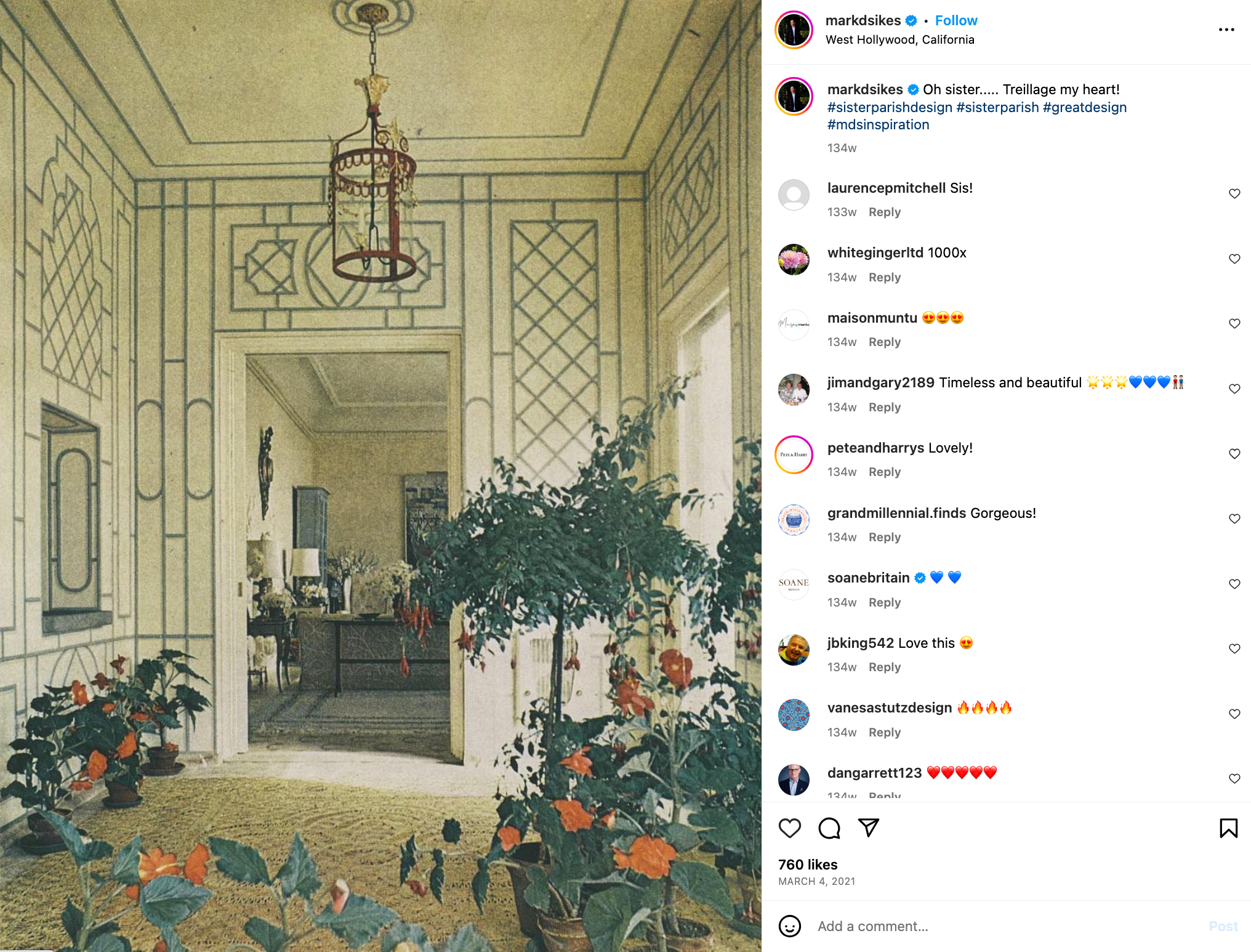 Sister Parish—born Dorothy May Kinnicutt in 1910—stands as an enduring figure in American interior design, celebrated for pioneering the "American Country" aesthetic. Parish's design approach melded English comfort with colonial American antiques—characterized by a warm, familial atmosphere accentuated by chintz fabrics, needlepoint rugs, and folk art.
She co-founded her own design studio—the illustrious design firm Parish-Hadley Associates. Her influence extended to several prominent American families—most notably the Kennedys—for whom she partially decorated the White House during John F. Kennedy's presidency.
Parish's lasting legacy extends beyond her iconic designs. It includes mentoring an entire generation of iconic designers—ensuring her influence resonates in contemporary American design narratives.
Important Projects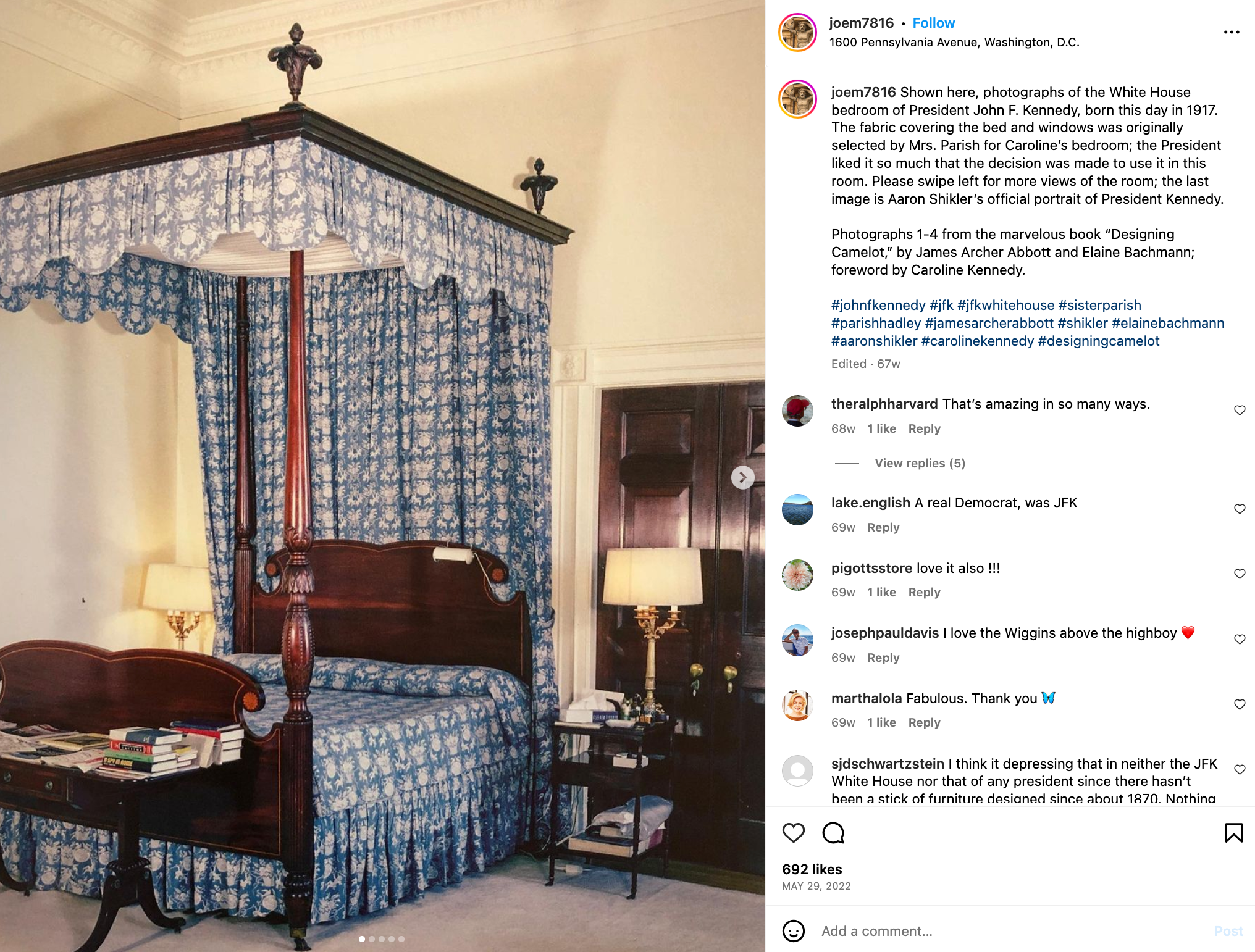 The White House, Washington, D.C.
The Kennedy Compound in Hyannis Port, Massachusetts
Dozens of projects through Parish-Hadley Associates
Florence Knoll (1917-2019)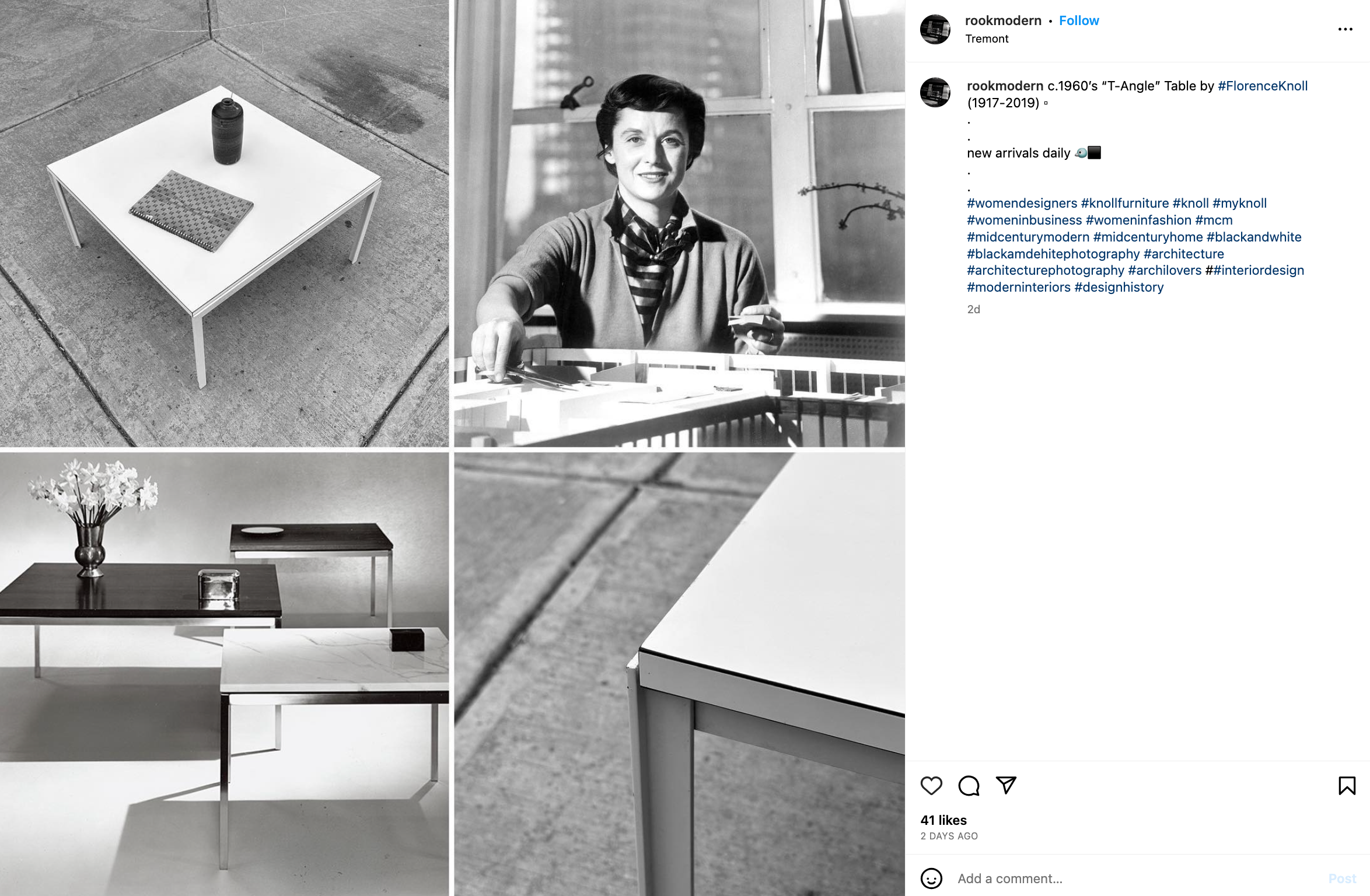 Florence Knoll—born in 1917—was an influential American architect and furniture designer who played a pivotal role in shaping the trajectory of modern design during the mid-20th century. Educated at the Cranbrook Academy of Art and the Illinois Institute of Technology—where she studied under eminent figures like Mies van der Rohe and Eliel Saarinen—Knoll brought a rigorously architectural approach to interior spaces.
As a key figure in the Knoll furniture company, her holistic view of design led to the creation of iconic pieces that epitomized the principles of the International Style—characterized by clean lines, functionalism, and an unadorned aesthetic. Her innovative concept of "total design" encompassed all elements of a space—from architecture and furniture to textiles and graphics—leaving an indelible mark on post-war American interiors and commercial spaces.
We continue to draw inspiration from her modern spaces and custom furniture today.
Important Projects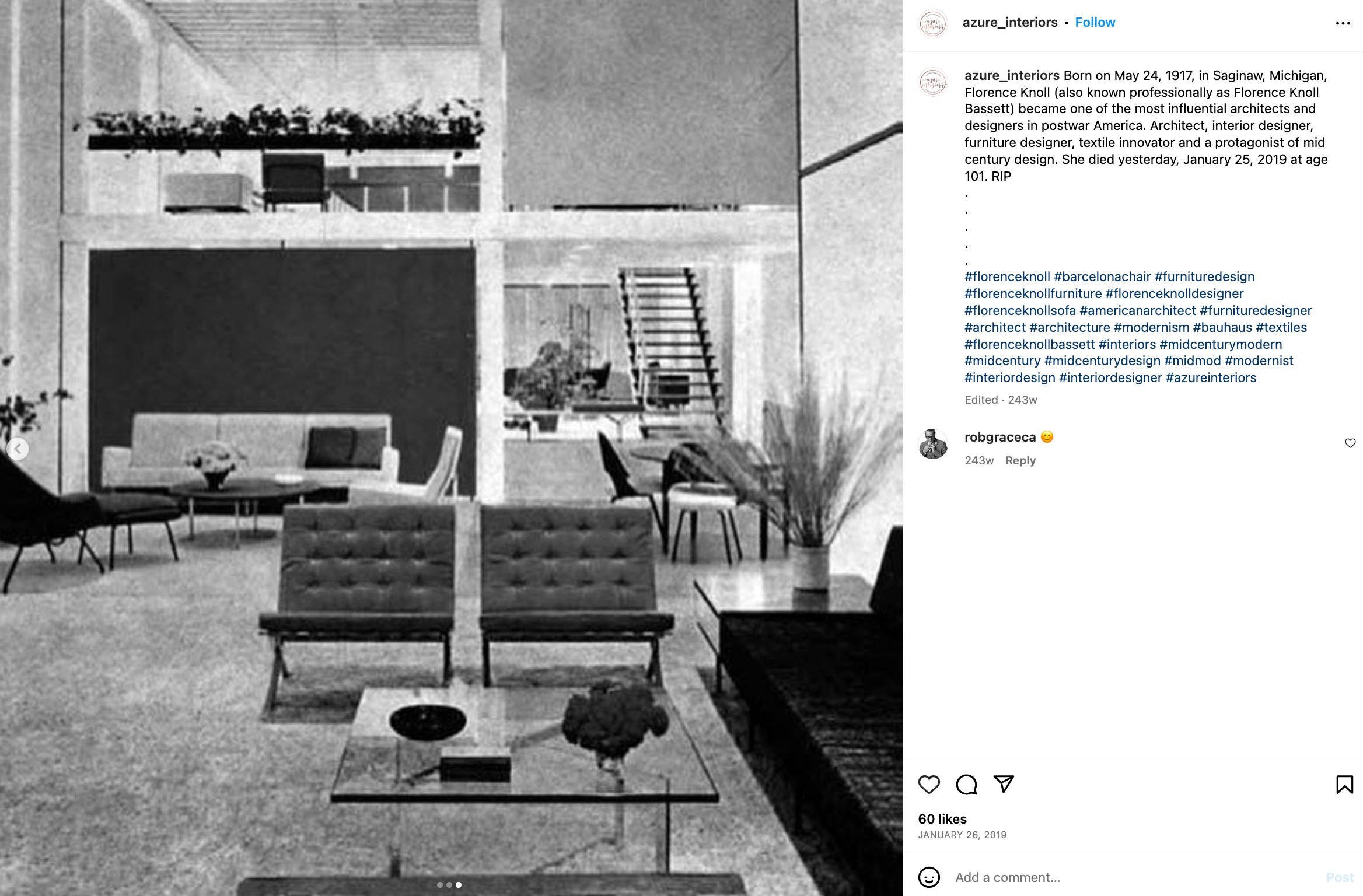 Knoll Showrooms
CBS Headquarters, New York
Connecticut General Life Insurance Company's Headquarters
Diverse Voices in Post-Modern Interior Design
Zaha Hadid
Born in 1950 in Baghdad, Zaha Hadid is universally acclaimed for her avant-garde architectural designs. Yet her multidimensional prowess extended into the realm of interior design—where she infused spaces with her signature dynamism and fluidity.
Educated at the Architectural Association in London, Hadid's architectural ethos—often labeled as neo-futuristic—was characterized by the sweeping lines, organic forms, and interconnectedness of spaces. These defining traits seamlessly transitioned into her interior projects—revealing a profound understanding of space, function, and human interaction. Her interior environments echo the sculptural quality of her building exteriors.
One of the lesser-known facets of Hadid's oeuvre lies in her interior projects that—although fewer in number compared to her architectural works—stand as testaments to her innovative design approach. Residential interiors—like the Capital Hill Residence in Moscow—exhibit the synthesis of furniture and spatial design. Every element follows a cohesive, flowing narrative.
Commercial spaces—including the Donna Karan flagship store in Seoul and the Neil Barrett shop in Tokyo—mirror her architectural audacity. They redefine conventional retail environments through fragmented geometries and integrated displays. These interiors—though perhaps overshadowed by her groundbreaking buildings—offer an intimate glimpse into Hadid's design philosophy and incredible space-planning abilities. They underscore her capacity to think and design across scales—from urban landscapes to the nuances of interior spaces.
Important Projects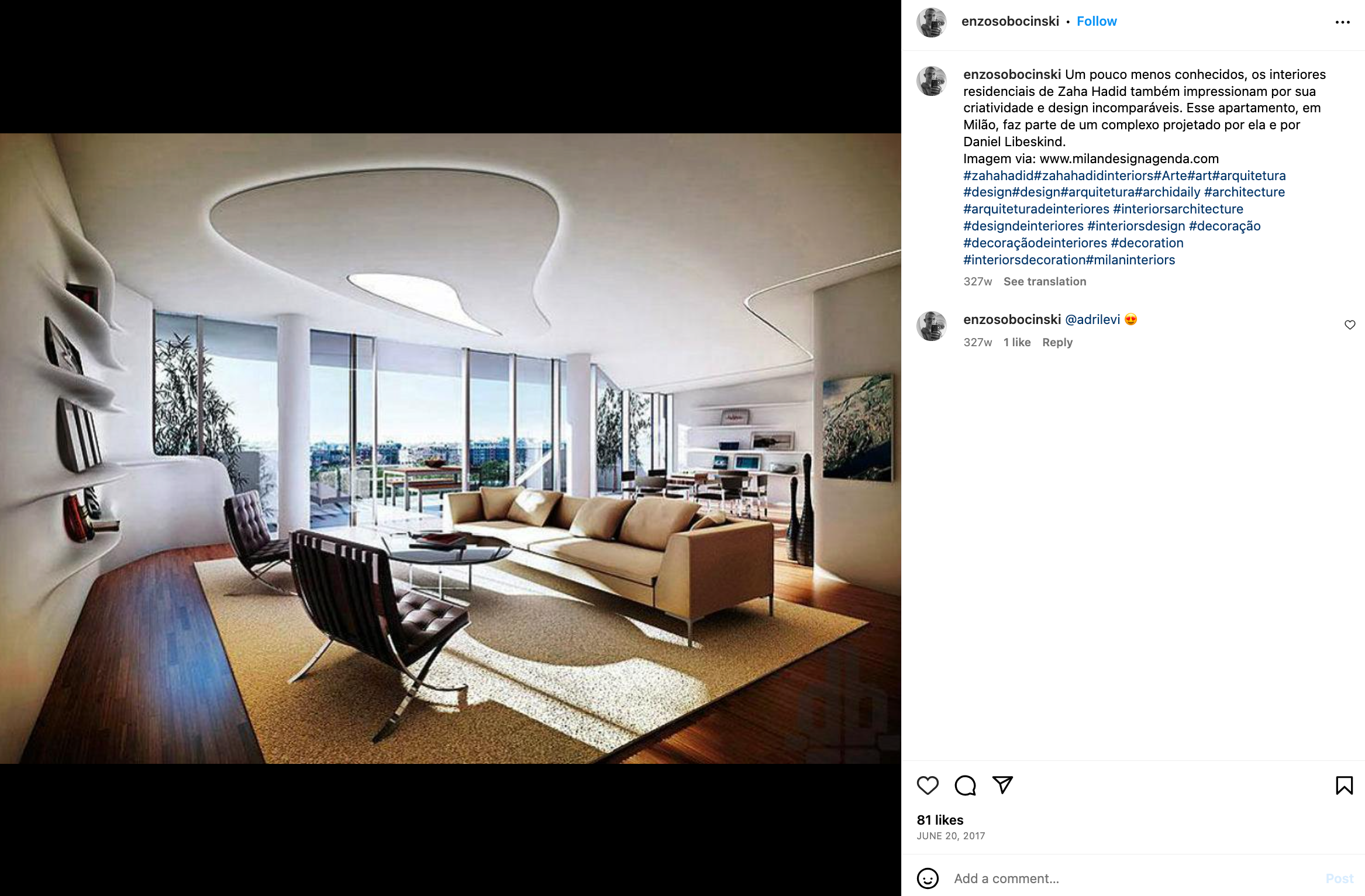 Capital Hill Residence, Moscow
Donna Karan Flagship Store, Seoul
Neil Barrett Shop, Tokyo
Patricia Urquiola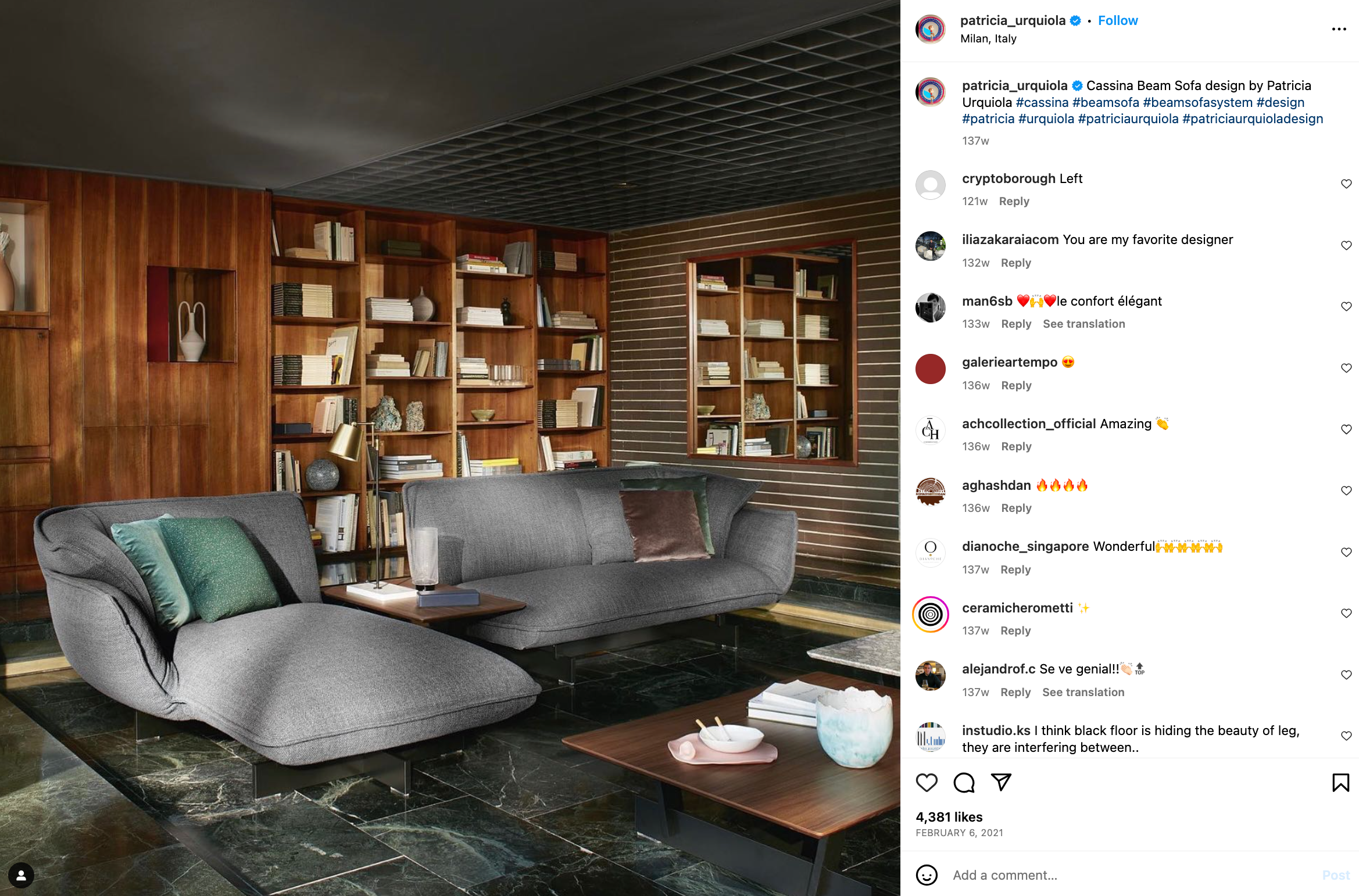 Patricia Urquiola—born in 1961 in Oviedo, Spain—stands out as one of the foremost contemporary interior designers and architects of her generation. She is known for her modern Baroque style. Educated at the Polytechnic University of Milan under the mentorship of renowned designers Achille Castiglioni and Eugenio Bettinelli, Urquiola's designs effortlessly bridge the spheres of product, furniture, and interior design.
Her aesthetic—often described as a harmonious blend of modernist traditions and playful experimentation—is underscored by a keen sensitivity to materials, textures, and colors. With a portfolio spanning collaborations with elite international brands and the design of intricate interior spaces, Urquiola has etched an indelible mark on the global design landscape—marrying functionality with poetic expressiveness.
Her works frequently challenge conventional boundaries—seamlessly integrating craft traditions with contemporary techniques—thereby solidifying her reputation as a visionary in the realms of design and architecture.
Important Projects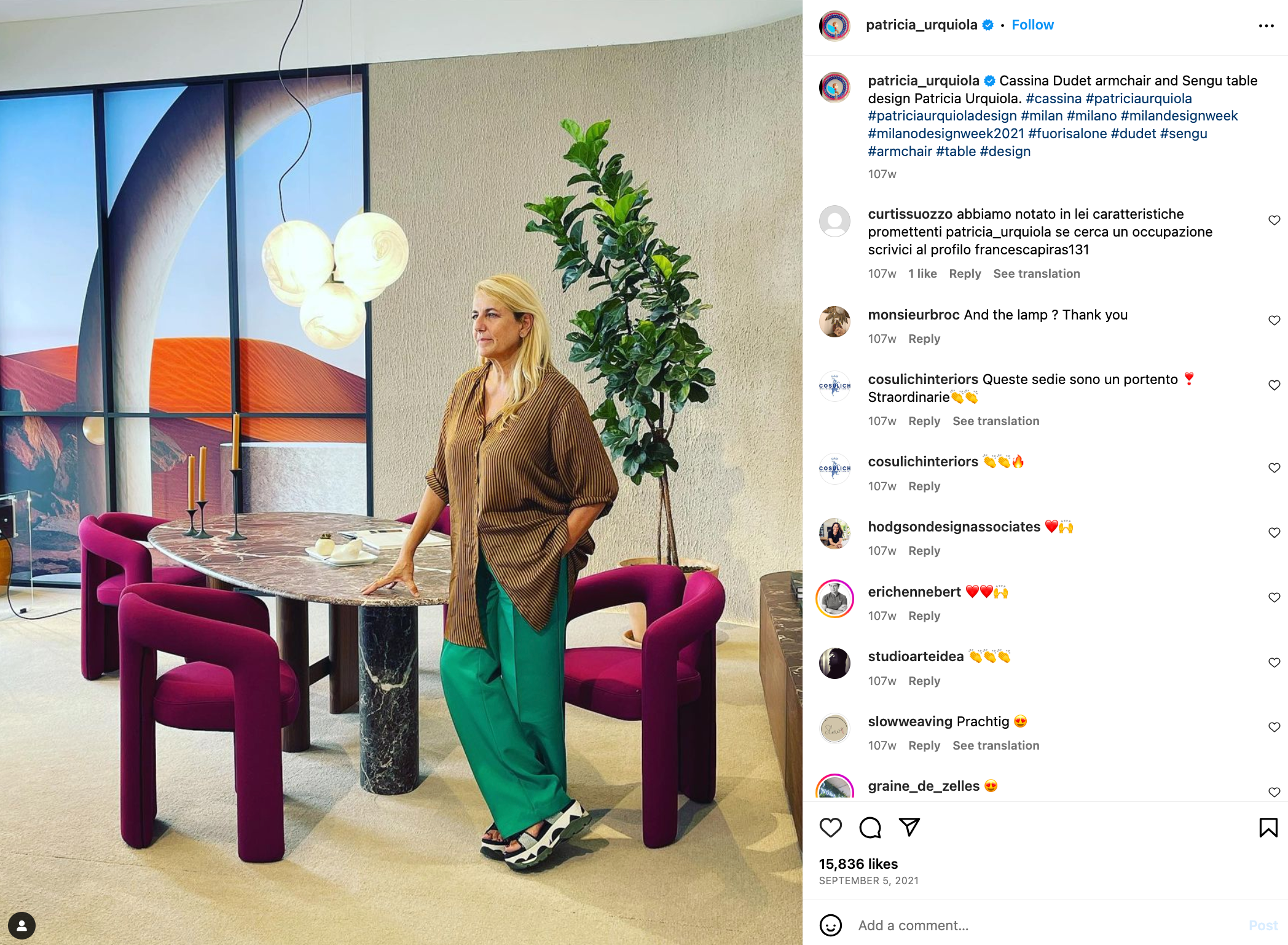 Mandarin Oriental Hotel, Barcelona
Il Sereno Hotel, Lake Como
Collaborations with B&B Italia—including the "Husk" chair and "Tabano" armchair
Collaborations with Moroso—including the "Lowseat" and "Fjord" seating collections
Room Mate Giulia Hotel, Milan
Kelly Wearstler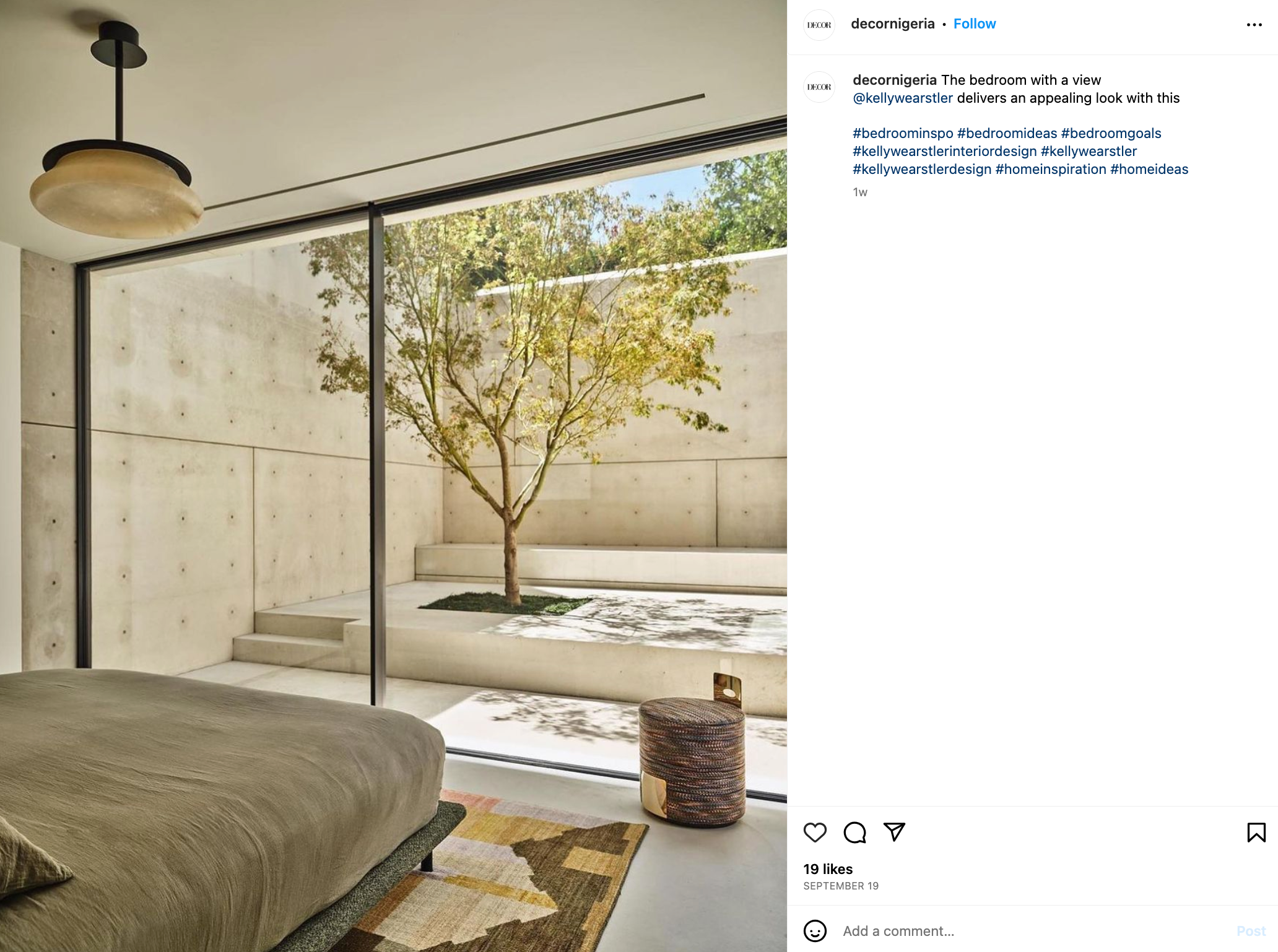 An American interior designer born in 1967, Kelly Wearstler is renowned for her multidisciplinary approach and distinctive aesthetic. With formal training from the Massachusetts College of Art, Wearstler's design language is characterized by its bold juxtapositions, rich textures, and eclectic references that span eras and mediums.
Kelly Wearstler interior design projects—which encompass a range of hospitality, residential, and commercial spaces—exhibit a confluence of modernist principles, organic forms, and artful maximalism. Beyond interiors, Wearstler's influence extends to product design, fashion, and publishing—underscoring her holistic grasp of the design domain.
With a series of acclaimed design books and a slew of prestigious awards to her name, Wearstler has firmly positioned herself at the forefront of global interior design—celebrated for her audacious reinterpretations of contemporary spaces.
Kelly Wearstler's Commercial Success
Kelly Wearstler's ascent in the design world is marked by significant commercial success that is rooted not only in her distinctive design sensibilities but also in her astute entrepreneurial acumen. Beginning with the establishment of her own design firm in the 1990s, Wearstler's profile rose meteorically with high-profile hospitality projects—most notably her transformative work on the Avalon Beverly Hills Hotel. This project positioned her as a sought-after designer in the luxury hotel sector.
Her brand expanded to encompass a range of consumer touchpoints—including a line of luxury home furnishings, lighting, wallpapers, and fashion accessories. All resonated with both critics and consumers. Her published design books—often bestsellers—and collaborations with prominent brands like Visual Comfort and Groundworks have further cemented her commercial foothold.
Wearstler's sustained commercial triumph can be attributed to her ability to synthesize her bold design vision with market demands—making her brand synonymous with modern luxury and avant-garde elegance.
Final Thoughts
Each of these designers navigated a complex labyrinth of gender biases—often having their abilities questioned or marginalized. With tenacity and vision, they transcended these constraints—etching their names as pioneering forces in a field historically dominated by men. The echoes of their design styles and philosophies are palpable in today's interiors—evidence of their lasting influence and the universality of their principles.
As trailblazers, they not only redefined aesthetic standards but also paved the way for subsequent generations—instilling in them a belief in the transformative power of design. As burgeoning designers draw inspiration from their legacies, the works of Urquiola, Hadid, Knoll, and others in this list serve as enduring reminders of the confluence of artistry and resilience.