A Feast for the Eyes: The Most Beautiful Restaurants in Los Angeles
From Venice to Beverly Hills and from the Hollywood Hills to Manhattan Beach, LA is a vast wonderland of gorgeous landscapes, beautiful interiors, incredible cuisine, and countless cultures. Its restaurant scene combines each of these to unparalleled effect. Including the Broad Museum's Otium and the Pendry Hotel's rooftop restaurant, these are the most stunning restaurant interiors across LA County.
10 of the Most Beautiful Restaurant Interiors in Los Angeles
#1 The Broad Museum's Otium Restaurant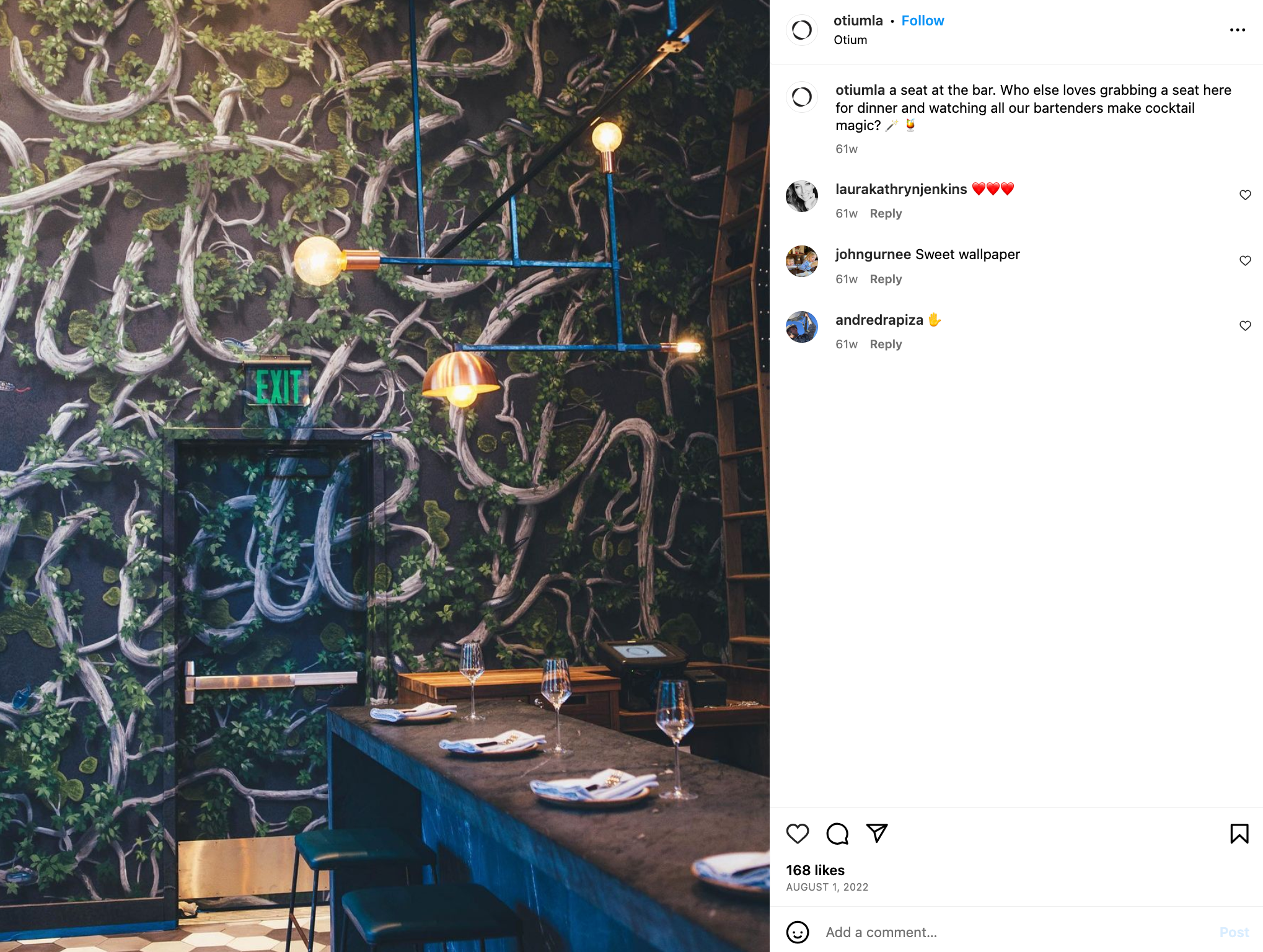 Otium is a contemporary restaurant adjacent to The Broad Museum in Downtown Los Angeles. This social restaurant offers an open kitchen and soaring windows that merge indoor and outdoor spaces. The restaurant's name has Latin roots and reveals the restaurant's aim to function as a place of respite amid this bustling city.
The space was designed by Diller Scofidio + Renfro—with interiors by House of Honey. Otium's interior complements the contemporary art of The Broad—creating a seamless transition between the museum and the dining experience.
The space is also a bit whimsical. With a climbing vines wallcovering by Sagmeister & Walsh, moss-green upholstery, and live edge wooden tables, Otium reminds one of a magical forest. One standout feature is the stunning rain chandelier created by Neptune Glassworks for the space.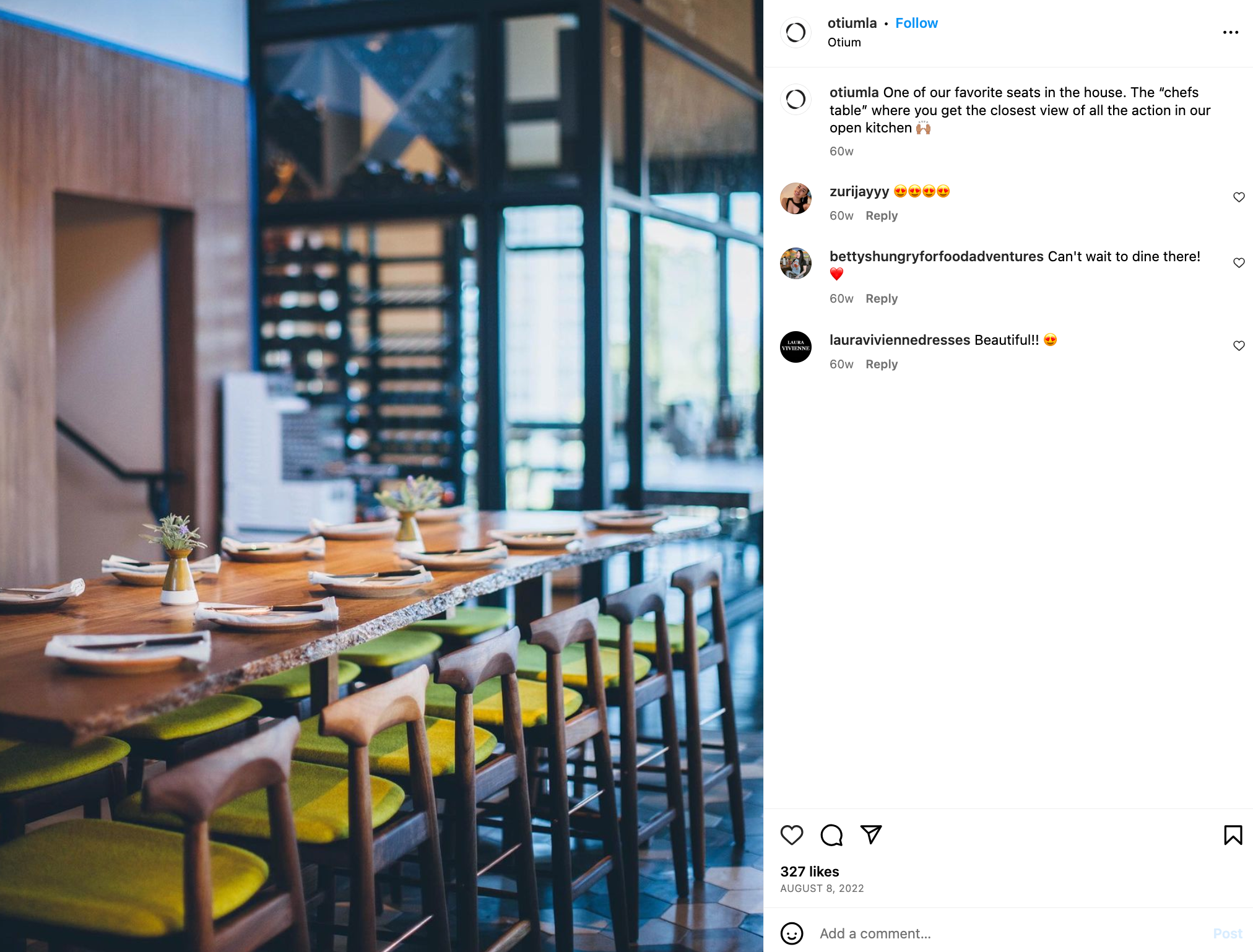 The menu at Otium is inspired by the rich culinary heritage of Los Angeles—with dishes that draw from various global cuisines. Ingredients are often locally sourced and dishes are presented in an artistic manner. Dishes recently featured on Otium's menu include wood-fired branzino with meyer lemon, a bloomsdale spinach Caesar with redbor kale, and chestnut agnolotti with fontina cheese and celery root burnt allium.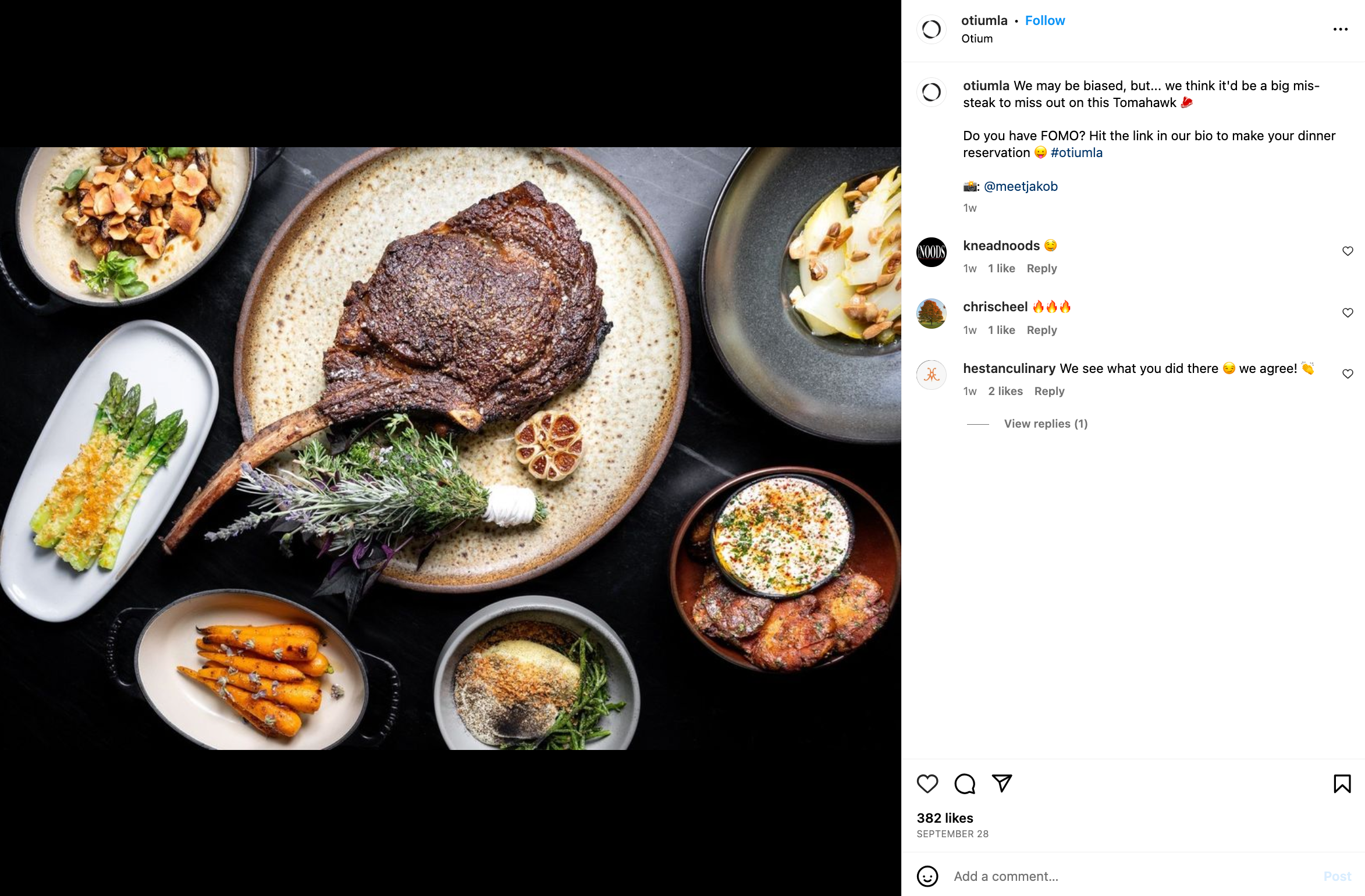 Chef Timothy Hollingsworth—previously of The French Laundry—is the driving force behind Otium. His vision for the restaurant is to create a space where food, art, and culture converge. The dishes are not only delicious but also visually stunning—making dining at Otium a multi-sensory experience. The restaurant also features a bar with a diverse selection of cocktails, wines, and craft beers.
With an amazing ambiance, gorgeous interior details, and incredible food, this is one of the most romantic restaurants in LA, but it is also a wonderful spot to gather with friends.
#2 Gracias Madre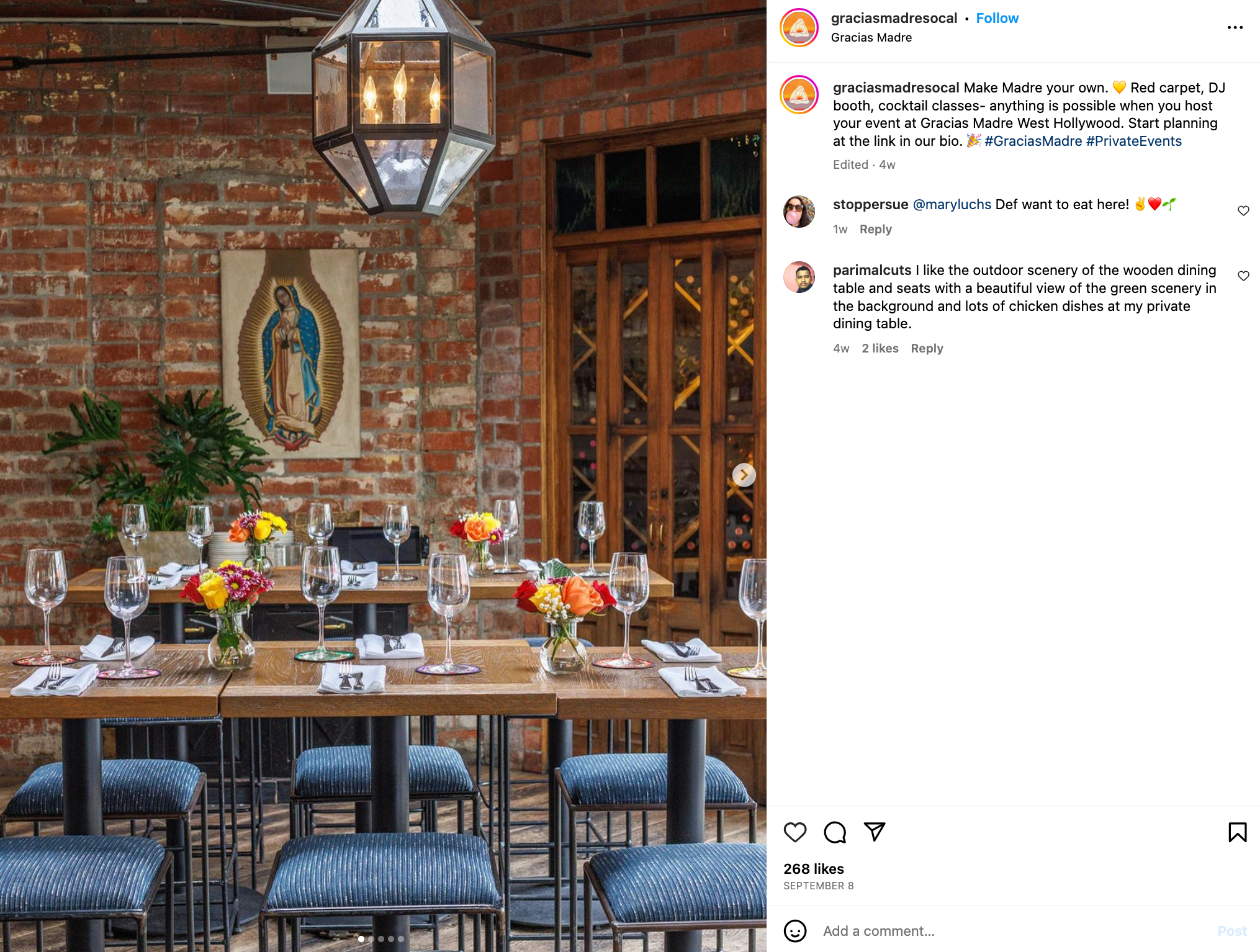 With interiors designed by Wendy Haworth—who is also responsible for the beautiful indoor-outdoor restaurant Winsome—Gracias Madre is a popular restaurant located in West Hollywood. It offers a unique dining experience by serving plant-based Mexican cuisine—which means all the dishes are vegan. The restaurant's name translates to "Thank you, Mother"—reflecting gratitude towards Mother Earth and the bounty she provides.
The spacious outdoor patio—adorned with string lights and lush greenery—is a favorite spot for diners. Inside, the decor features electric blue upholstery, brick walls, wooden tables, colorful tiles, and intriguing artwork—creating a warm and welcoming atmosphere.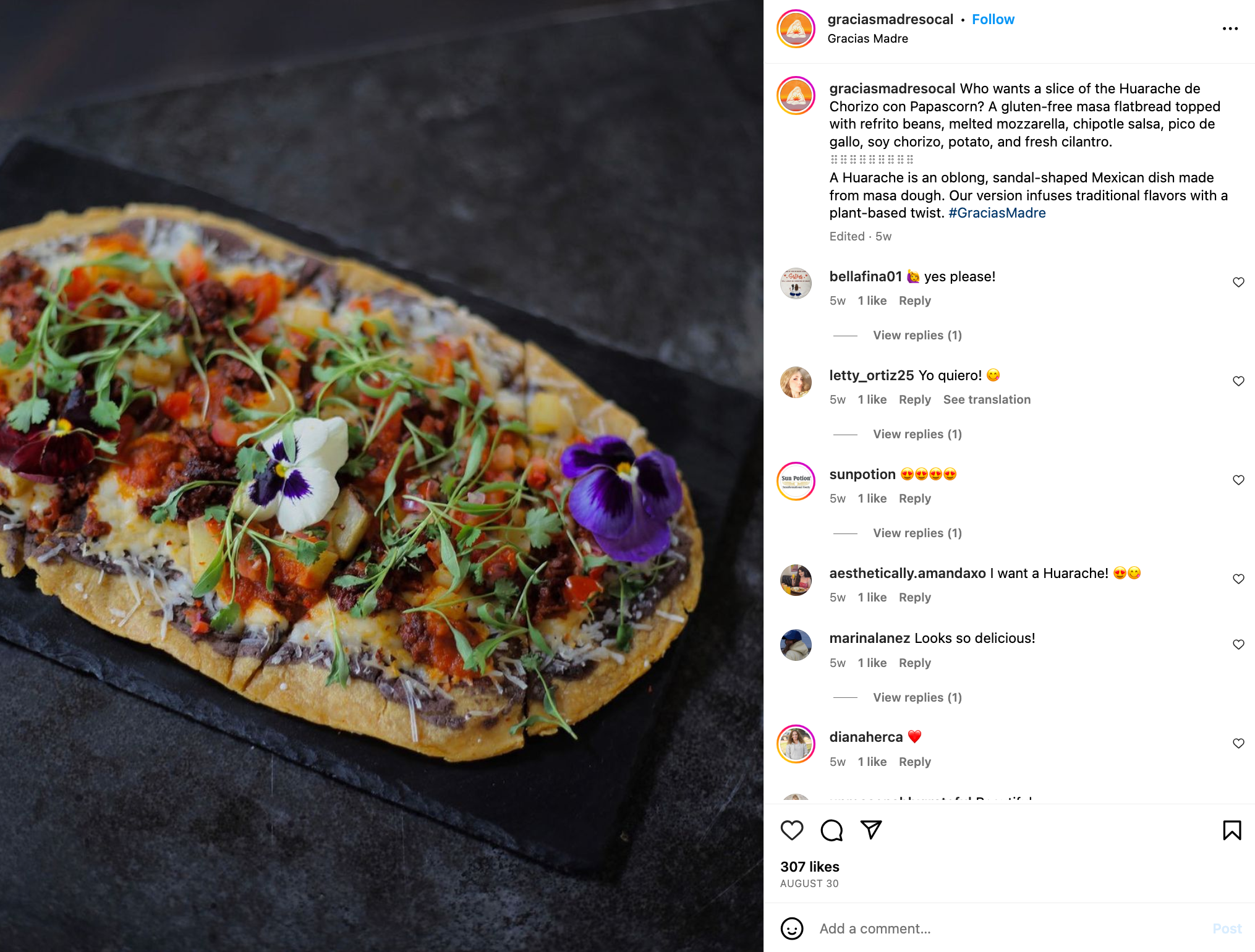 Crafted by Executive Chef and Owner Chandra Gilbert and Chef Diana Briscoe, the menu at Gracias Madre is a testament to the rich flavors and diversity of Mexican cuisine—reimagined without the use of animal products. Dishes range from traditional favorites like tacos and enchiladas to innovative creations that showcase the versatility of plant-based ingredients. The restaurant places a strong emphasis on organic and locally-sourced produce—ensuring that the food is not only delicious but also sustainable and ethical.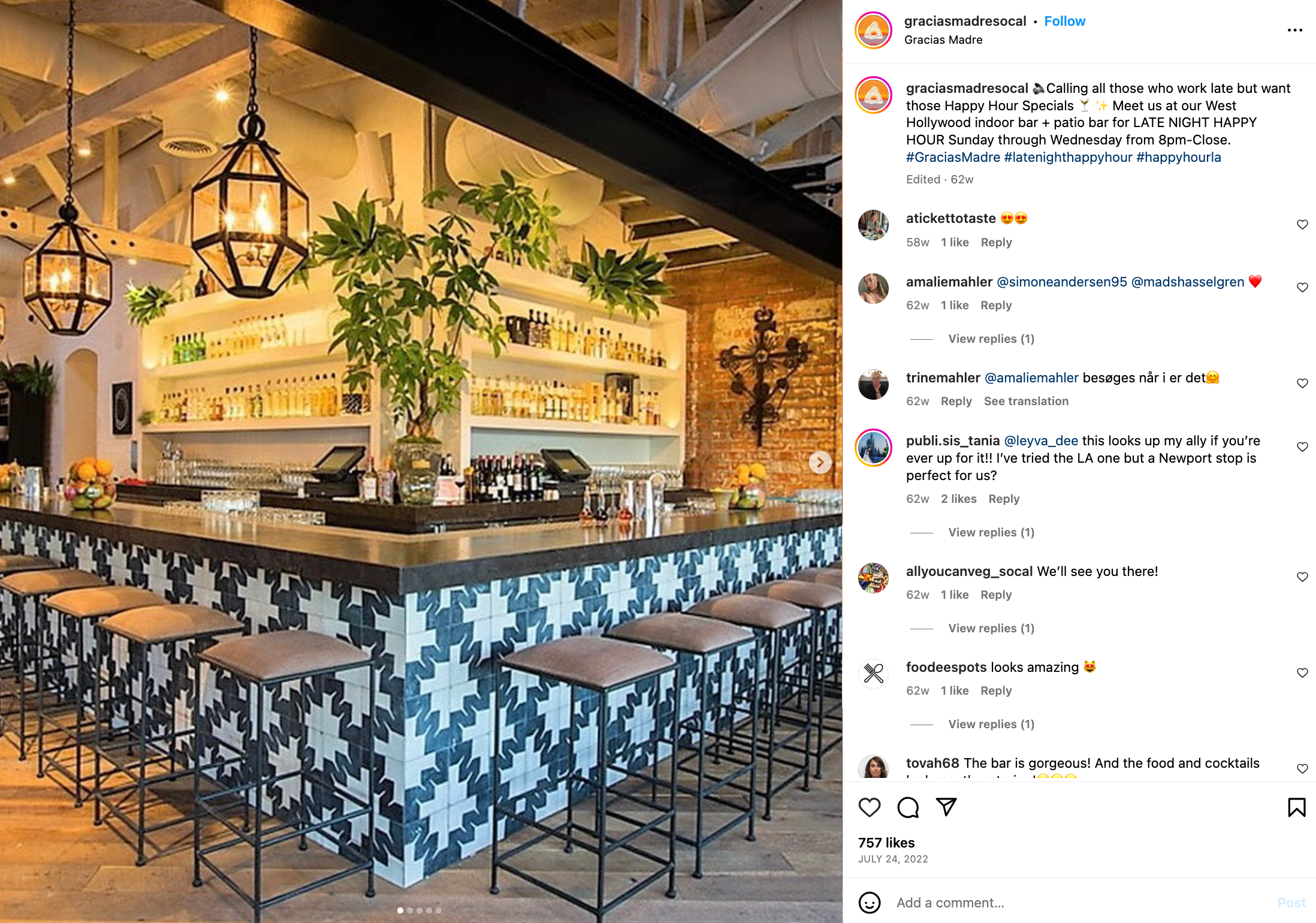 In addition to the food, Gracias Madre is also renowned for its extensive beverage menu—particularly its cocktails. The bar offers a variety of drinks made with organic spirits and fresh ingredients—with a special focus on tequila and mezcal-based concoctions.
Owned by the same team behind the Cafe Gratitude chain, Gracias Madre has garnered a loyal following of both vegans and non-vegans alike. Its commitment to sustainability—combined with its flavorful and innovative dishes—makes it a standout destination in the Los Angeles dining scene.
#3 Loqui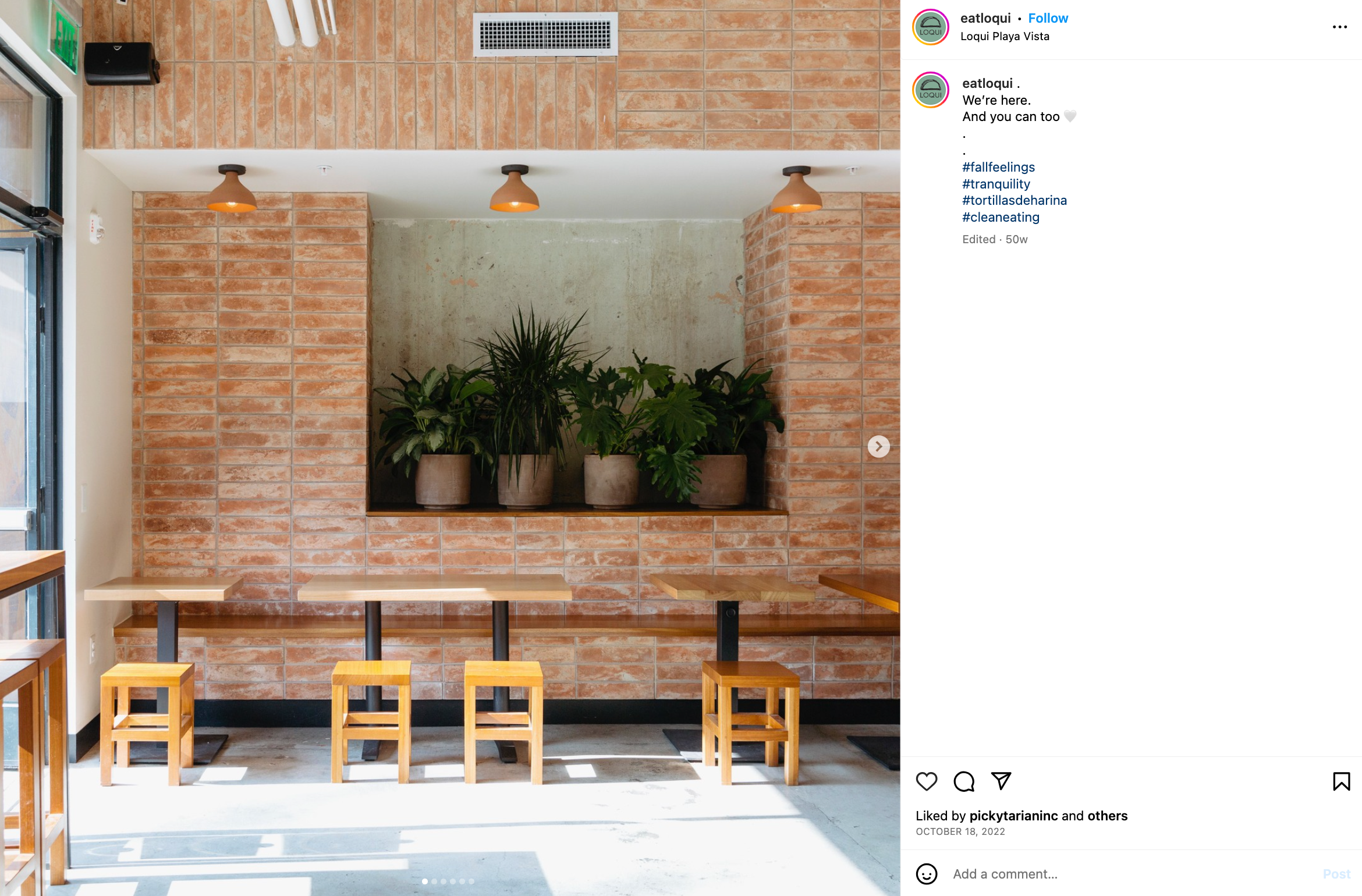 Created by Ari Ampudia and Cameron Wallace, Loqui is a celebrated eatery in Los Angeles known for its authentic Mexican tacos and other dishes. Originating from a small taco stand in the Arts District, Loqui has since expanded—capturing the hearts of many Angelenos with its simple yet flavorful offerings.
Designed by Wick Architecture & Design in collaboration with LAND Design Studio, the interior of Loqui is a blend of modern minimalism and rustic charm—reminiscent of traditional taquerias in Mexico. The design is clean and unpretentious—with an emphasis on natural materials. Blush-toned exposed brick walls, wooden tables, simple seating, and concrete floors create an inviting space.
Large windows ensure the space is bathed in natural light during the day, while warm-toned pendant lights provide a cozy glow in the evenings. When the weather permits—which is nearly always in Los Angeles—outdoor seating expands the restaurant to a beautiful patio with outdoor fire pits.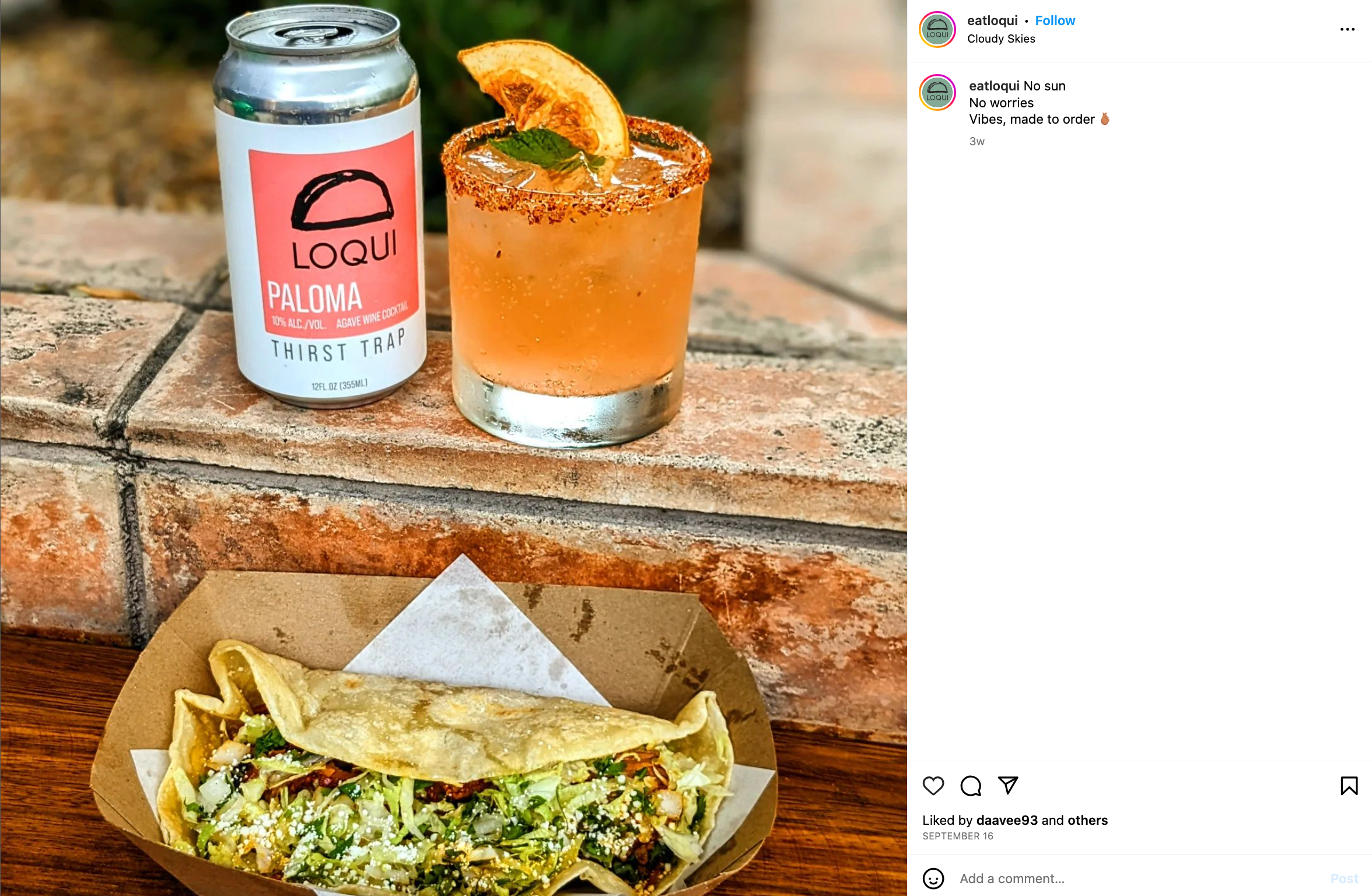 The menu at Loqui is concise but impactful. Their tortillas—made in-house—are a highlight and serve as the perfect base for their various fillings. These include carne asada, pollo, and mushroom for vegetarians. The dishes are straightforward—letting the fresh ingredients shine. To complement the food, Loqui offers a selection of beverages—including Mexican beers, sodas, cocktails, and aguas frescas.
Loqui now has three locations across LA—with one in Culver City, another in Downtown LA, and a third in Playa Vista.
#4 The Nice Guy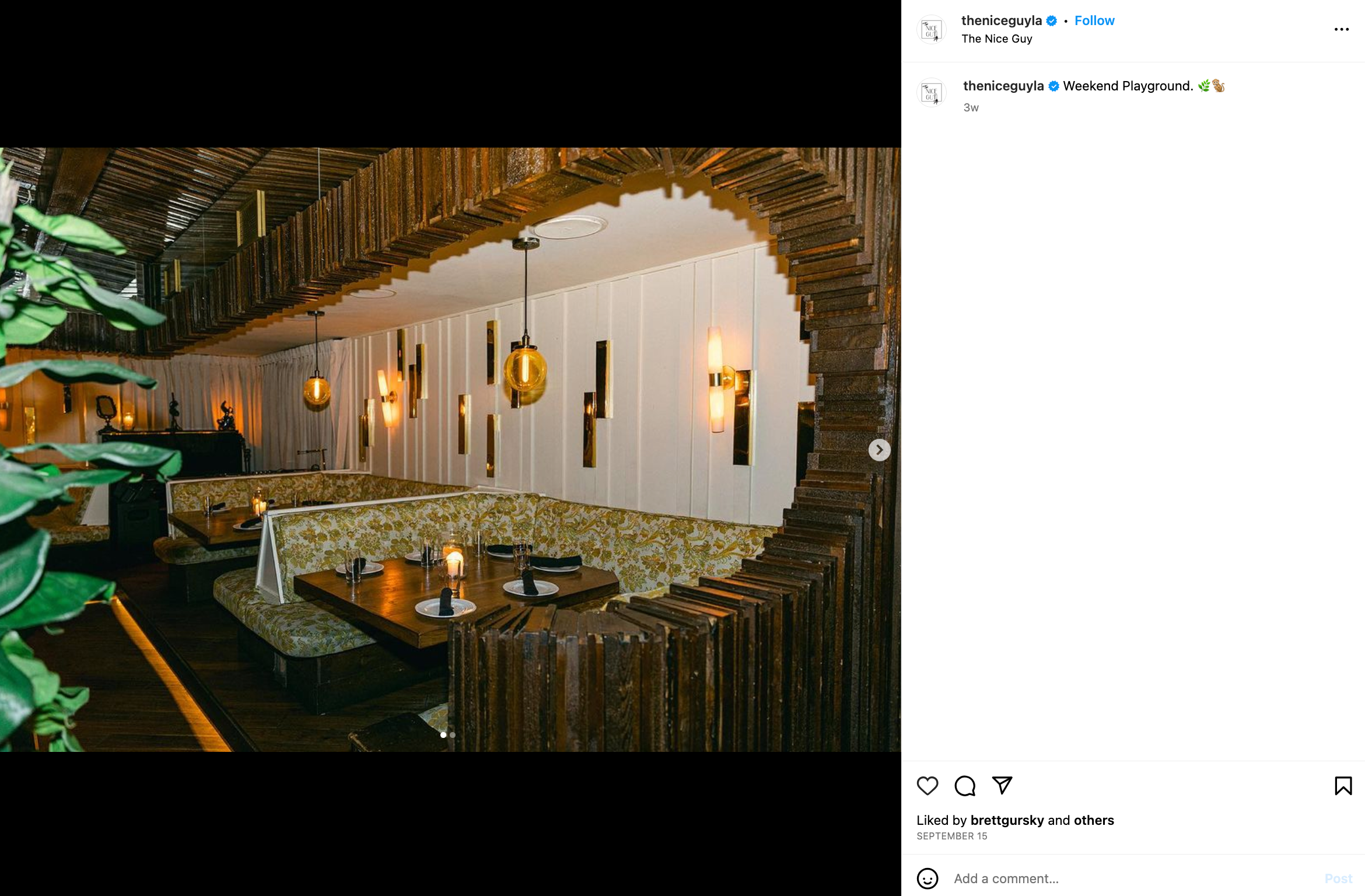 With interiors by Built Inc's John Sofio and Sormeh Azad, The Nice Guy is a sophisticated, upscale lounge-restaurant located in West Hollywood. Owned by Markus Molinari, Adam Koral, John Terzian, and Brian Toll, The Nice Guy known not just for its culinary offerings but also for its chic ambiance and exclusivity—often attracting celebrities and LA's elite. With low lighting and dark tones, the old-school Mafia inspiration is clear.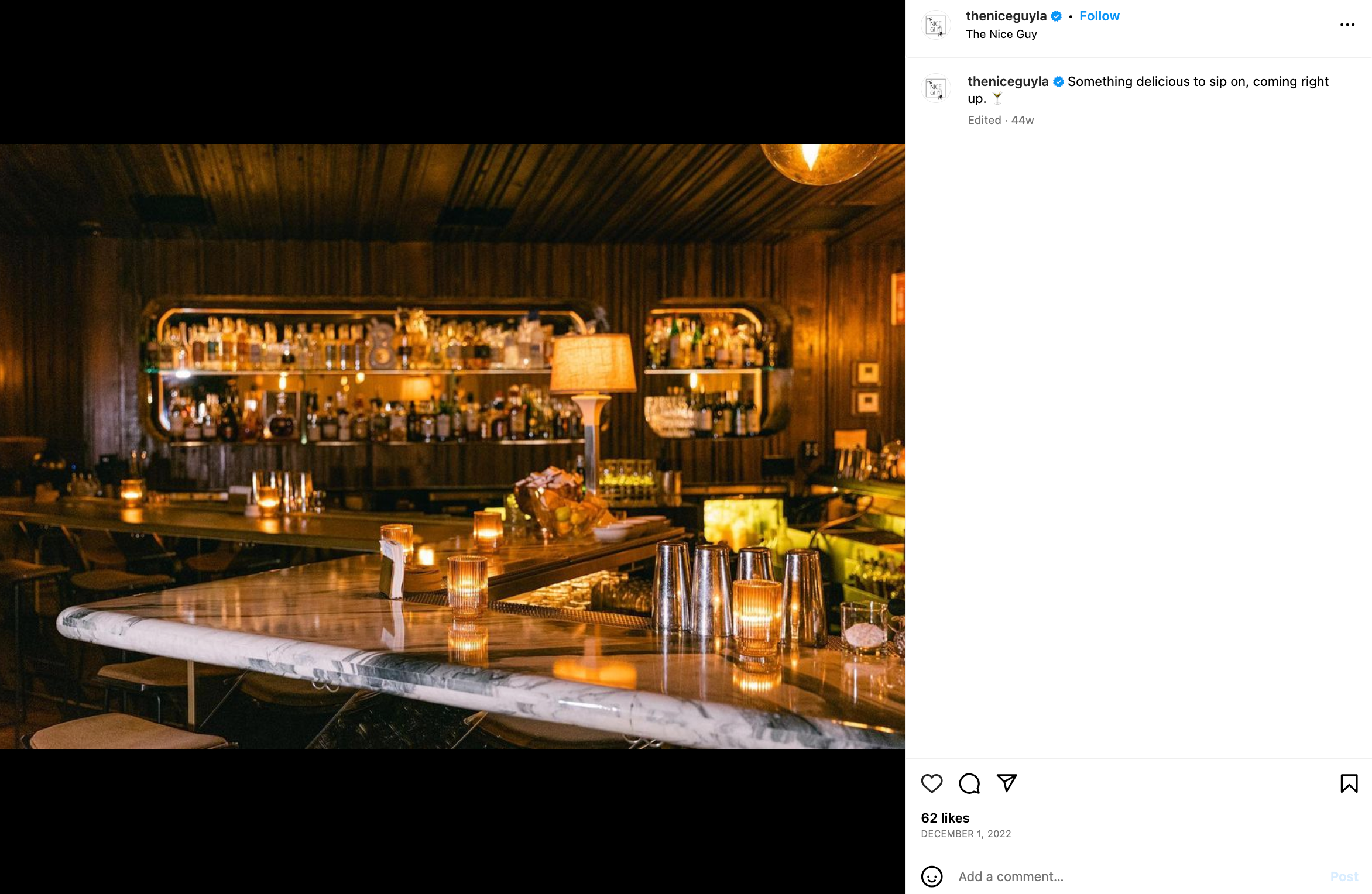 The interior of The Nice Guy is moody—to say the least. The design of its dining room is a mix of classic Italian-American lounge aesthetics with modern touches. Dark wood, plush leather booths, and moody lighting dominate the space. Black-and-white photographs dot the walls, ornate chandeliers hang from the ceilings, and brass accents feature throughout. Visit this great restaurant for an intimate date night or a special occasion.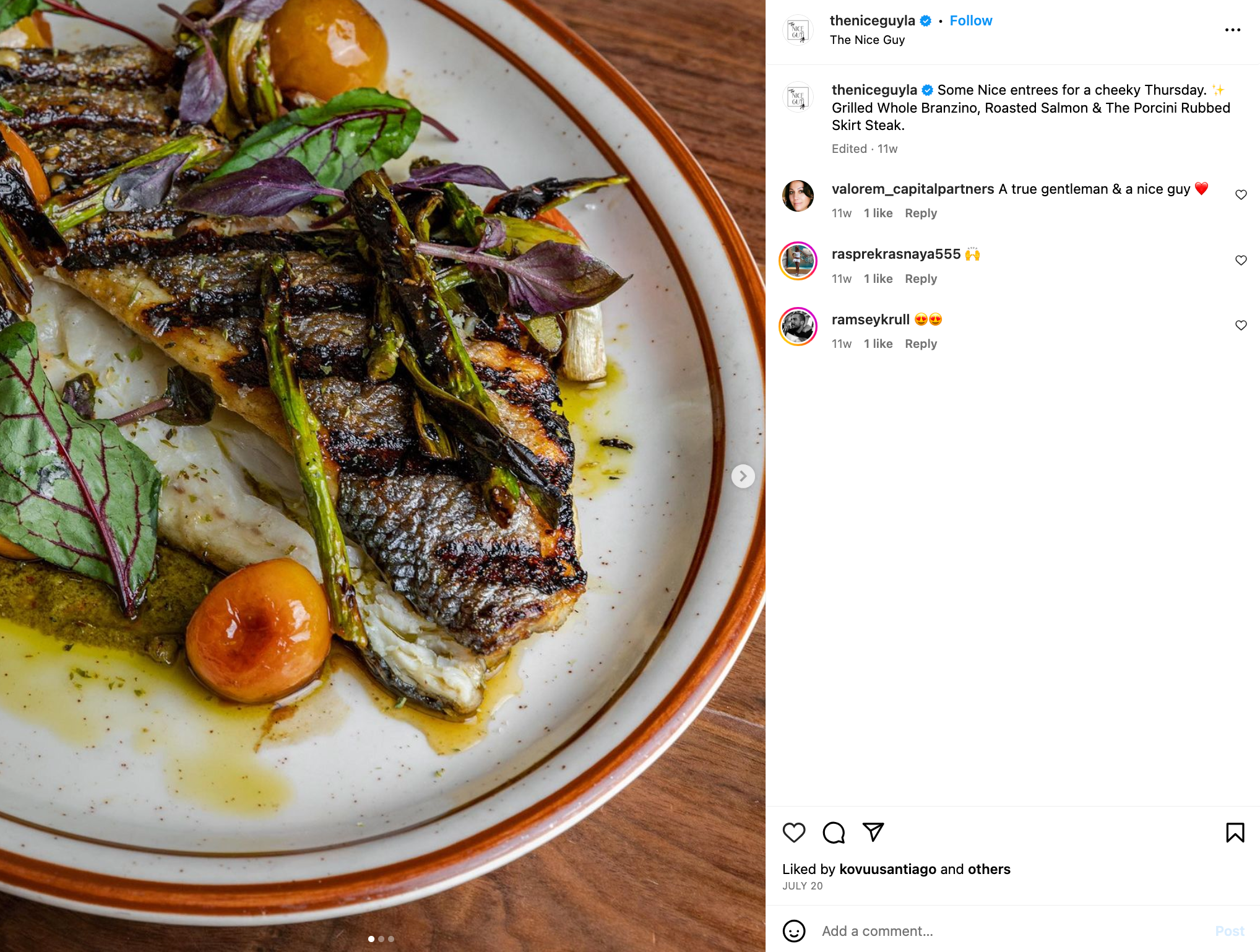 The menu at The Nice Guy offers a contemporary take on classic Italian-American dishes. From pizzas and pastas to more refined entrees, the culinary offerings are designed to cater to a discerning palate that seeks a touch of nostalgia. The bar serves a range of handcrafted cocktails, fine wines, and spirits—making it a popular spot for both dining and late-night lounging.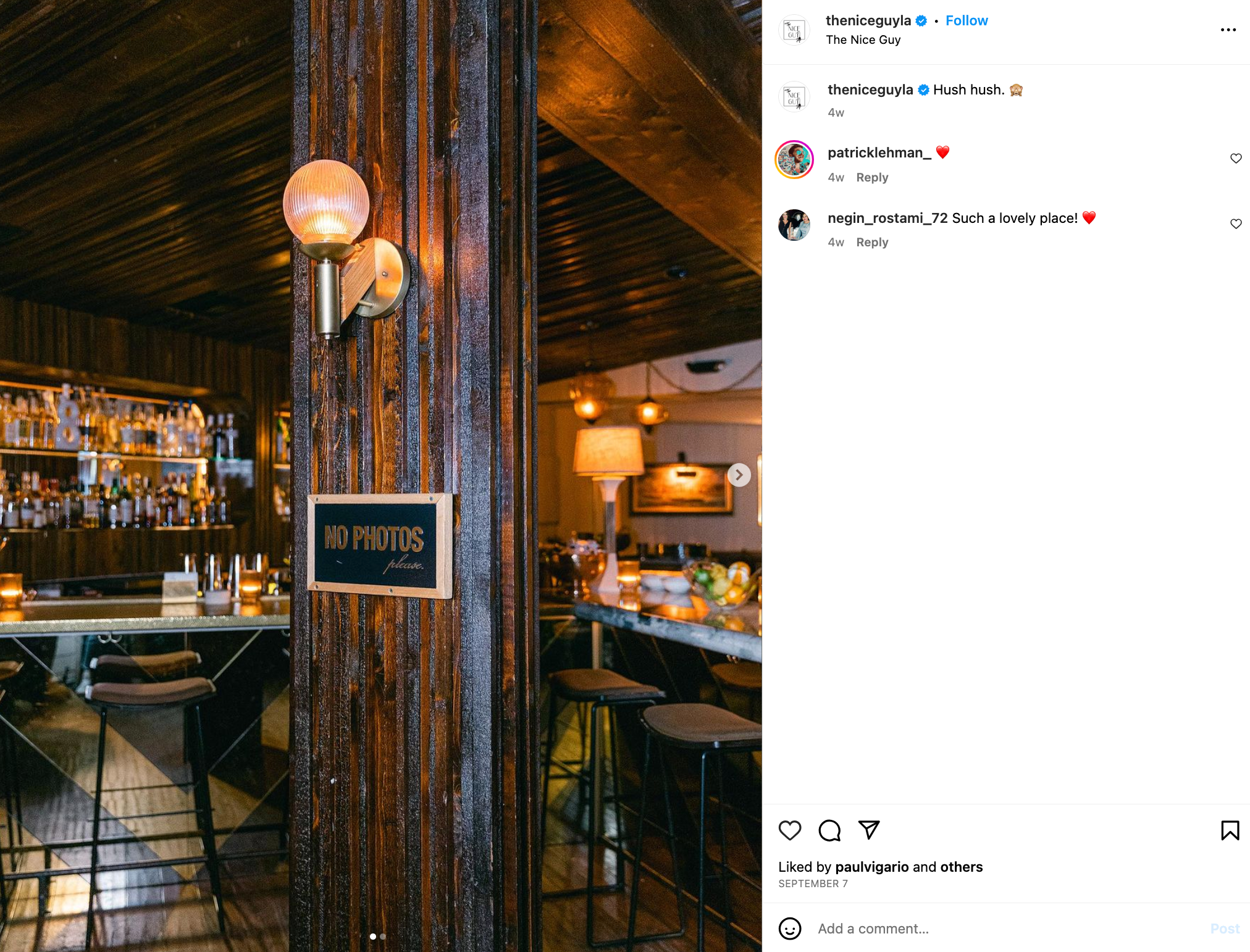 Unlike practically every other space in Los Angeles, The Nice Guy once had a no-photography policy—ensuring privacy for its patrons and maintaining an air of mystery around the establishment. This policy—combined with its evocative decor and top-notch service—has made it a favorite haunt for celebrities and those looking for an exclusive dining experience in Los Angeles.
#5 Hinoki & the Bird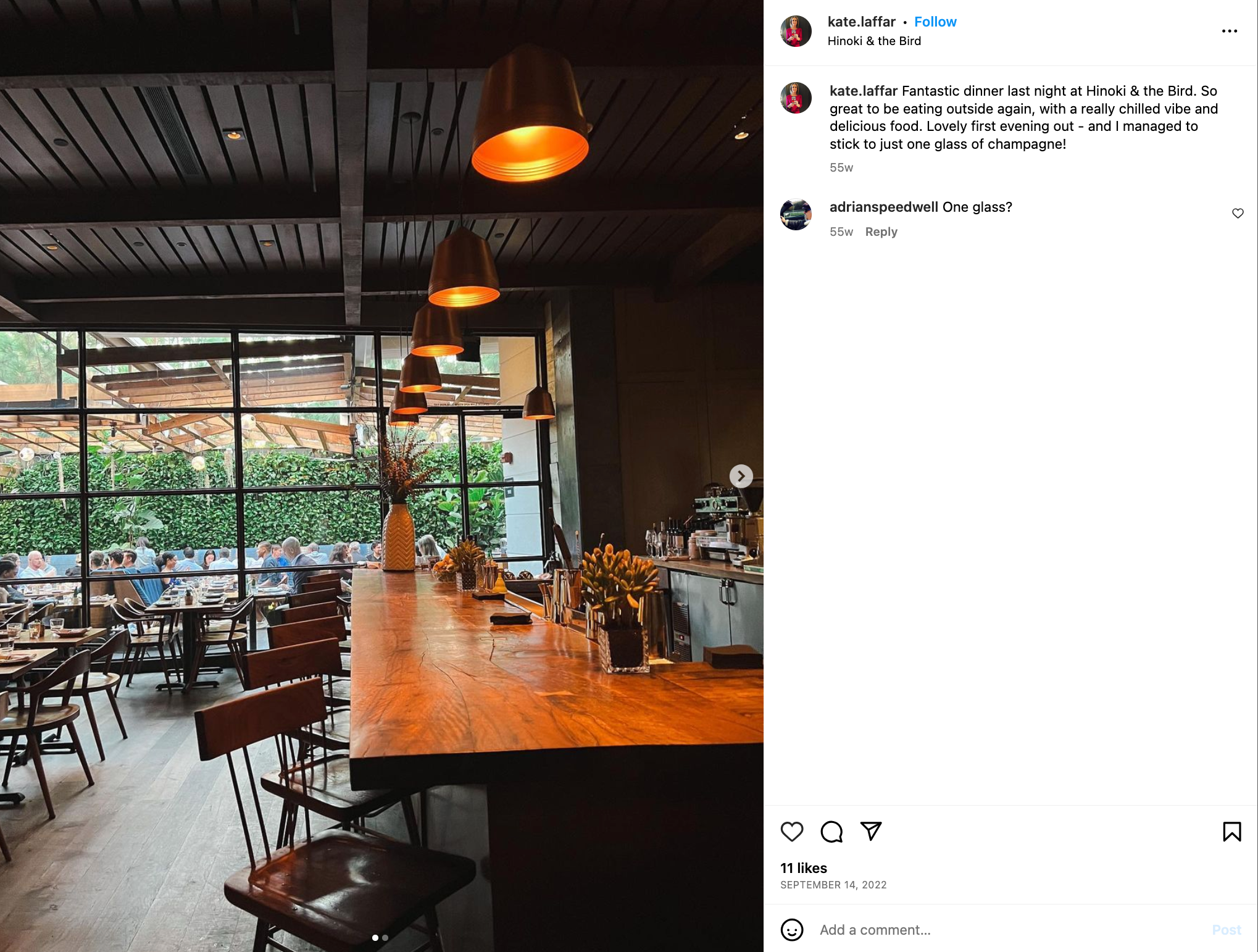 Originally founded by Kuniko Yagi and David Myers, Hinoki & the Bird is now led by Executive Chef Brandon Kida—who recently opened Gunsmoke in the Columbia Square complex on Sunset Boulevard. The Century City restaurant offers a unique dining experience inspired by the Silk Road—the ancient trade route that connected the East and West. Its culinary offerings are a blend of Californian and Asian flavors—with dishes that are both innovative and deeply rooted in tradition.
Designed by Milo Garcia, the interior of Hinoki & the Bird is a testament to its East-meets-West philosophy. The design is a harmonious blend of rustic and contemporary elements—creating an ambiance that is both sophisticated and inviting. We love its use of bold colors and natural materials—which are complemented by modern fixtures and furnishings.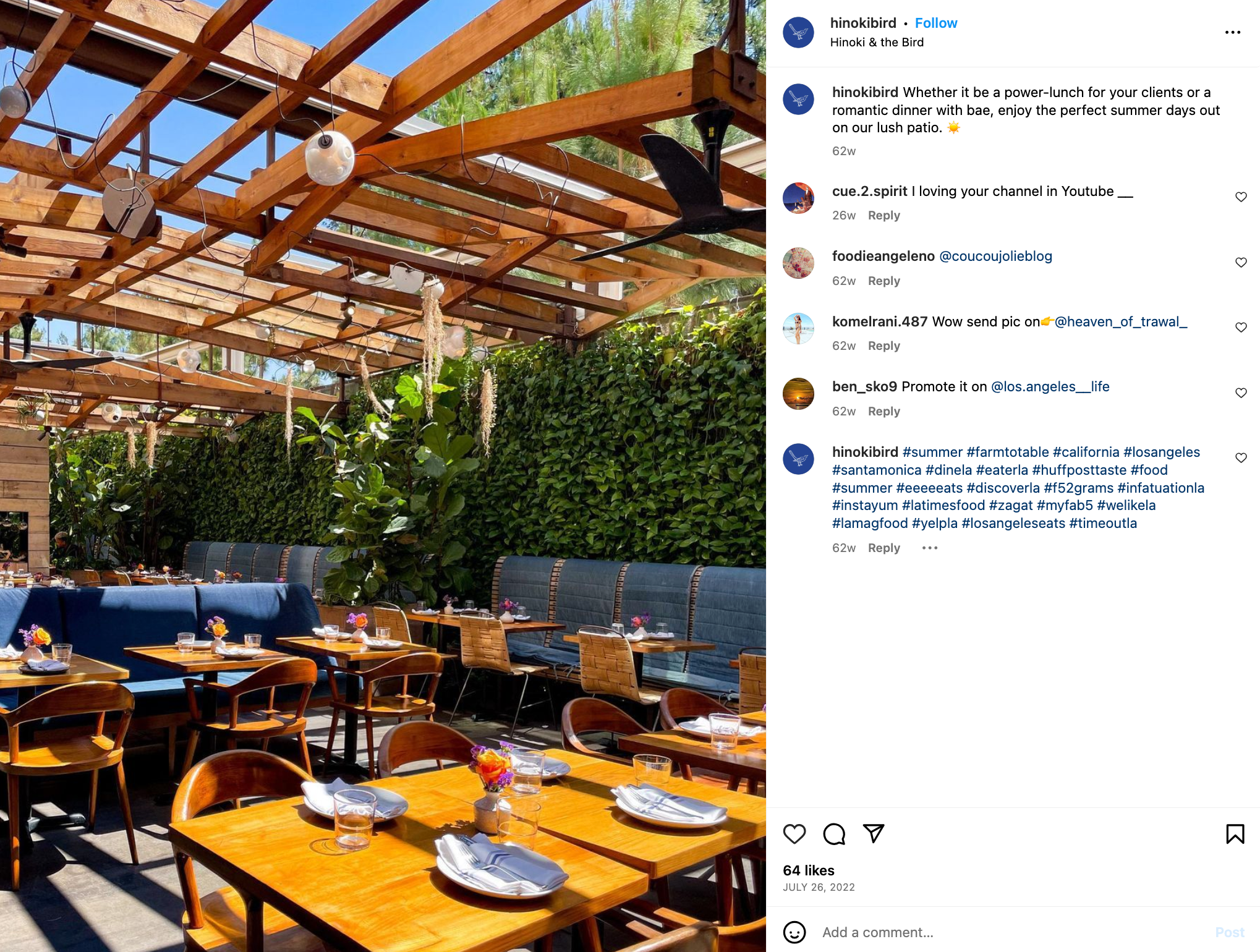 Like Loqui, Hinoki & the Bird allows diners a peek behind the scenes with their open kitchen. Large sliding glass doors lead to a spacious patio—offering an indoor-outdoor dining experience that is quintessentially Californian. The use of hinoki—a fragrant Japanese cypress wood—adds a sensory dimension to the dining experience.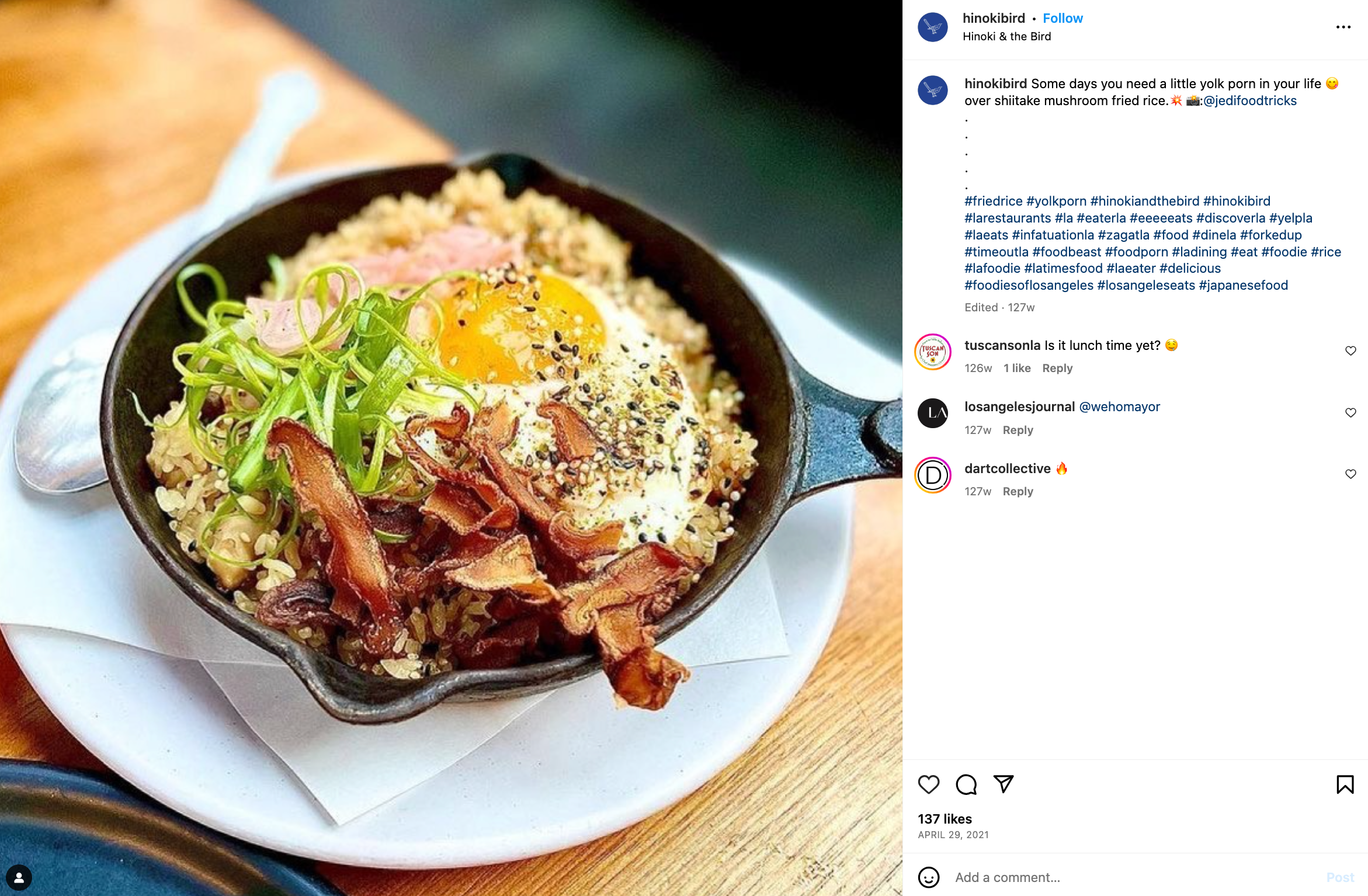 The menu at Hinoki & the Bird is a reflection of Chef Brandon Kida's diverse culinary background and travels. All the food is exceptional. Dishes are crafted using seasonal and locally-sourced ingredients—ensuring freshness and flavor. Signature dishes often incorporate the aromatic hinoki wood—either as a smoking agent or as a serving platter—adding a unique touch to the culinary creations.
Its blend of Californian and Asian influences—combined with its stunning interior design—makes Hinoki & the Bird an incredible dining destination. It also serves as a stunning wedding venue.
#6 Per L'Ora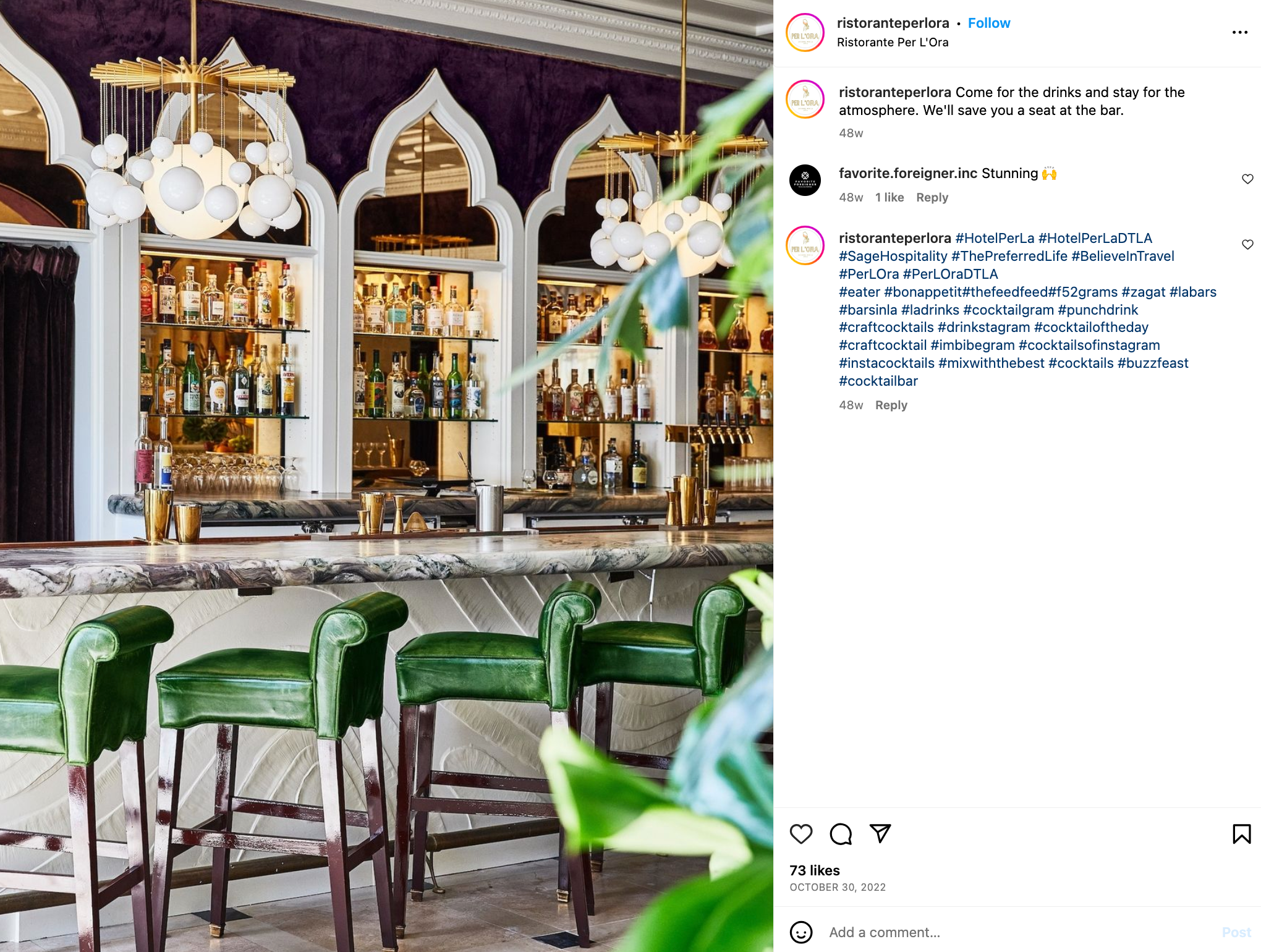 Next on our list of the most beautiful restaurants Los Angeles has to offer is Per L'Ora—situated in a historic building that once housed the Bank of Italy. Until early last year, this space was home to The NoMad Hotel LA.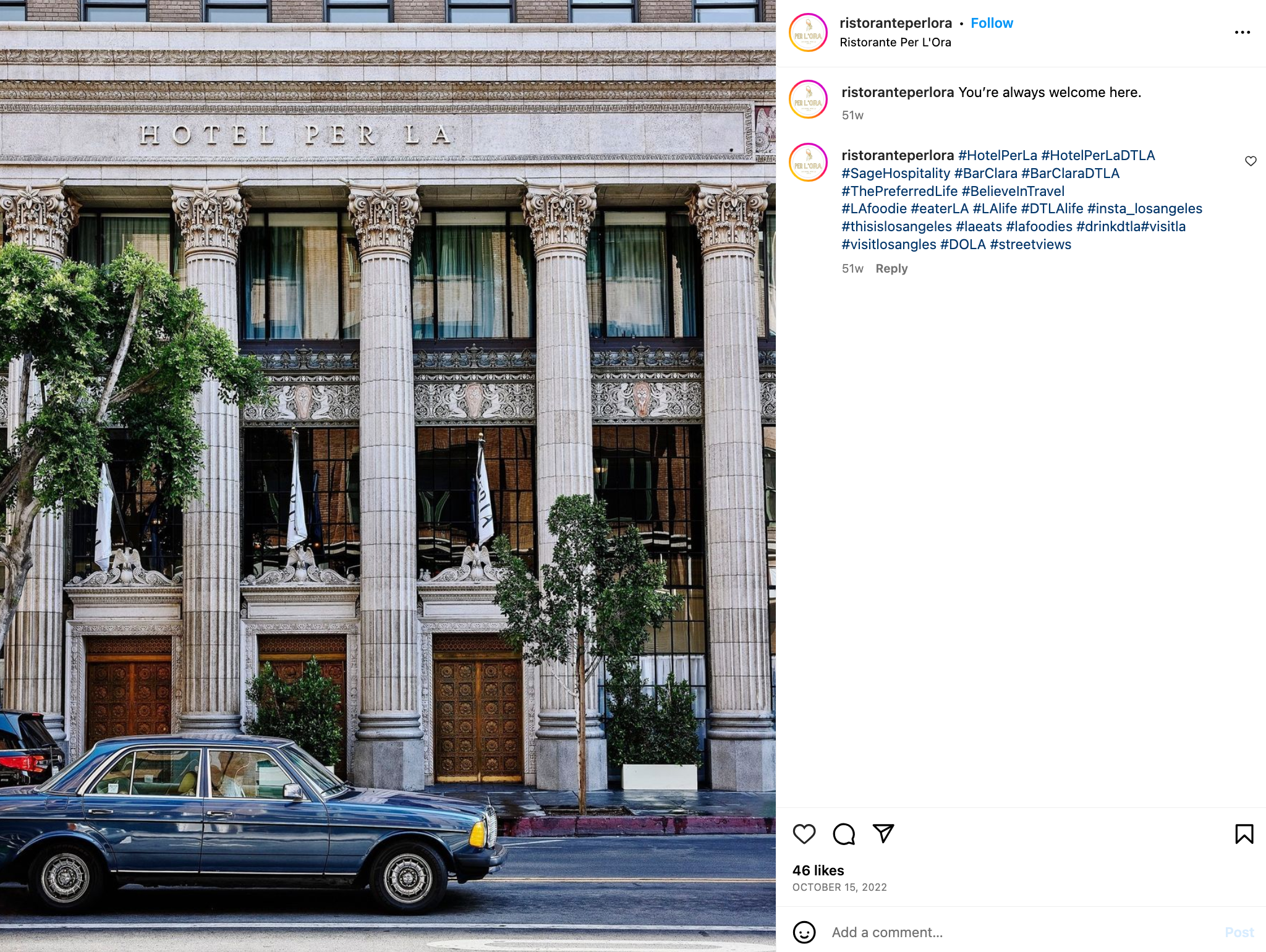 Before the space was transformed, it drew inspiration from the building's Beaux-Arts architecture. The dining room featured rich, velvety drapes, dark wood furnishings, iron accents, and plush seating with stunning upholstery. Chef-de-Cuisine Rudy P. Lopez, Executive Chef Chris Flint, and Chef Daniel Humm were responsible for the restaurant's menu. Now, the cafe and dining room are both lighter and brighter—with a moodier atmosphere at the bar and in the game room.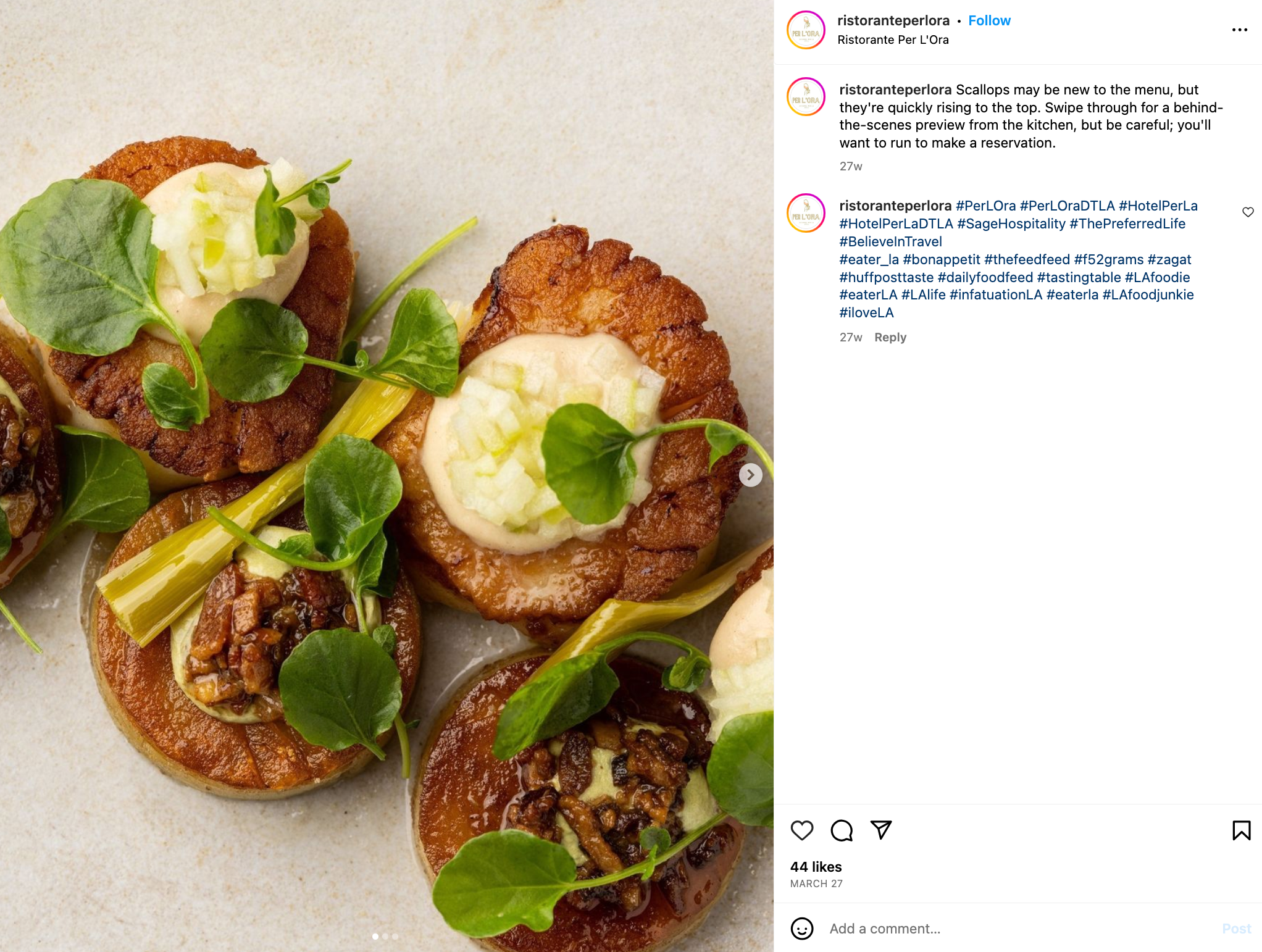 Now in the hands of Courtney Van Dyke, Per L'Ora's menu represents a distinctly West Coast sensibility. Chef Van Dyke tells Mona Holmes, "I look at this menu and I see all of my friends, I see everyone I've grown up with, all the neighborhoods, and [things I've seen while] I'm running around LA" in this article for Eater Los Angeles.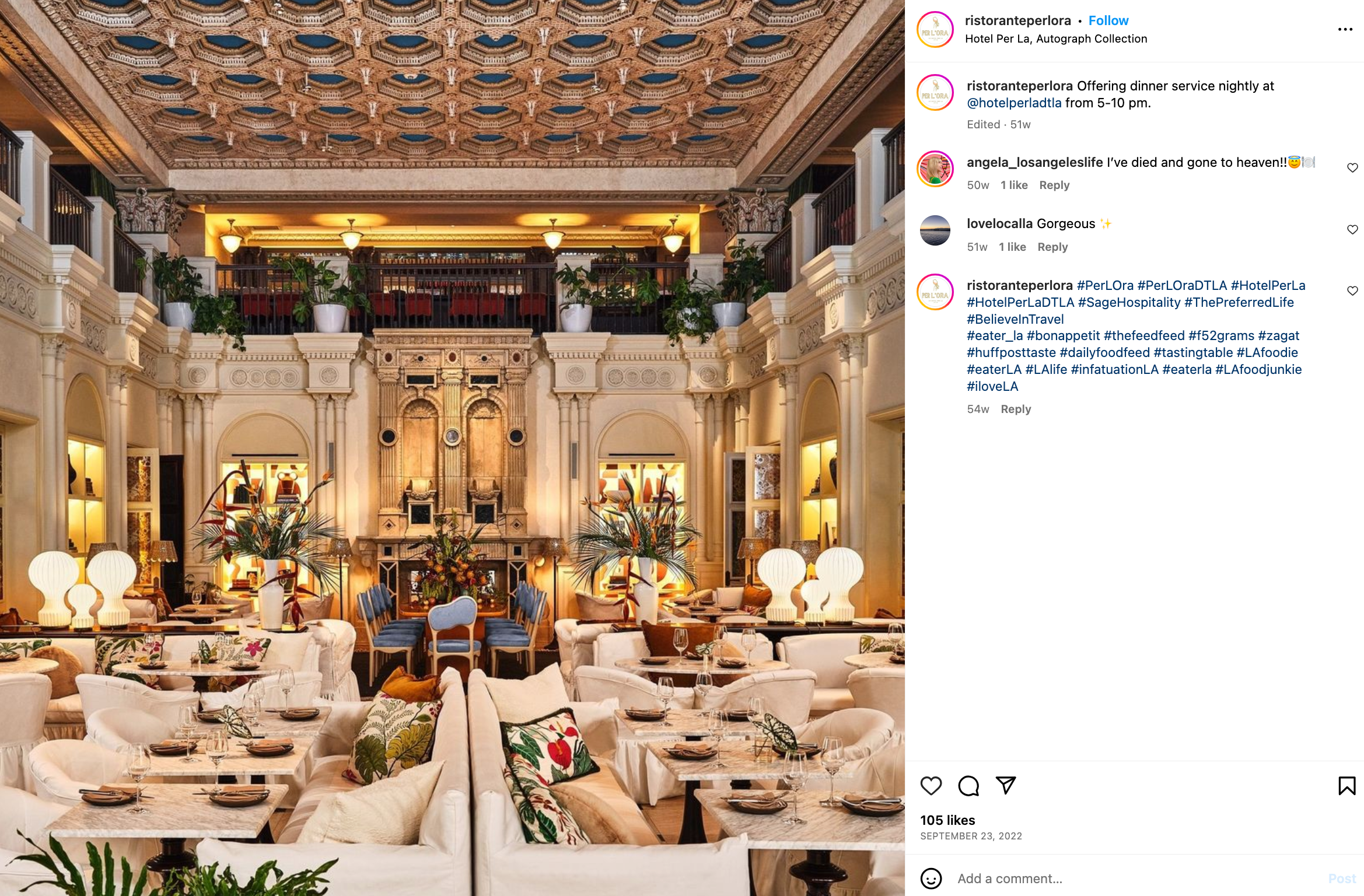 As for its interiors, designer Jacques Garcia honors the original architecture and 1920s aesthetic of Hotel Per La. As Juliana Shallcross writes in her review for Condé Nast Traveler, the new owners and design team also restored elements of the historic building–including its "Italianate ceiling."
Each space is bold and grand. Cozy furniture makes the space feel intimate despite soaring ceilings and exceptional interior architecture. The interior meshes 1920s elements with mid-century and postmodern silhouettes in a truly intriguing and inventive way.
#7 Nobu Malibu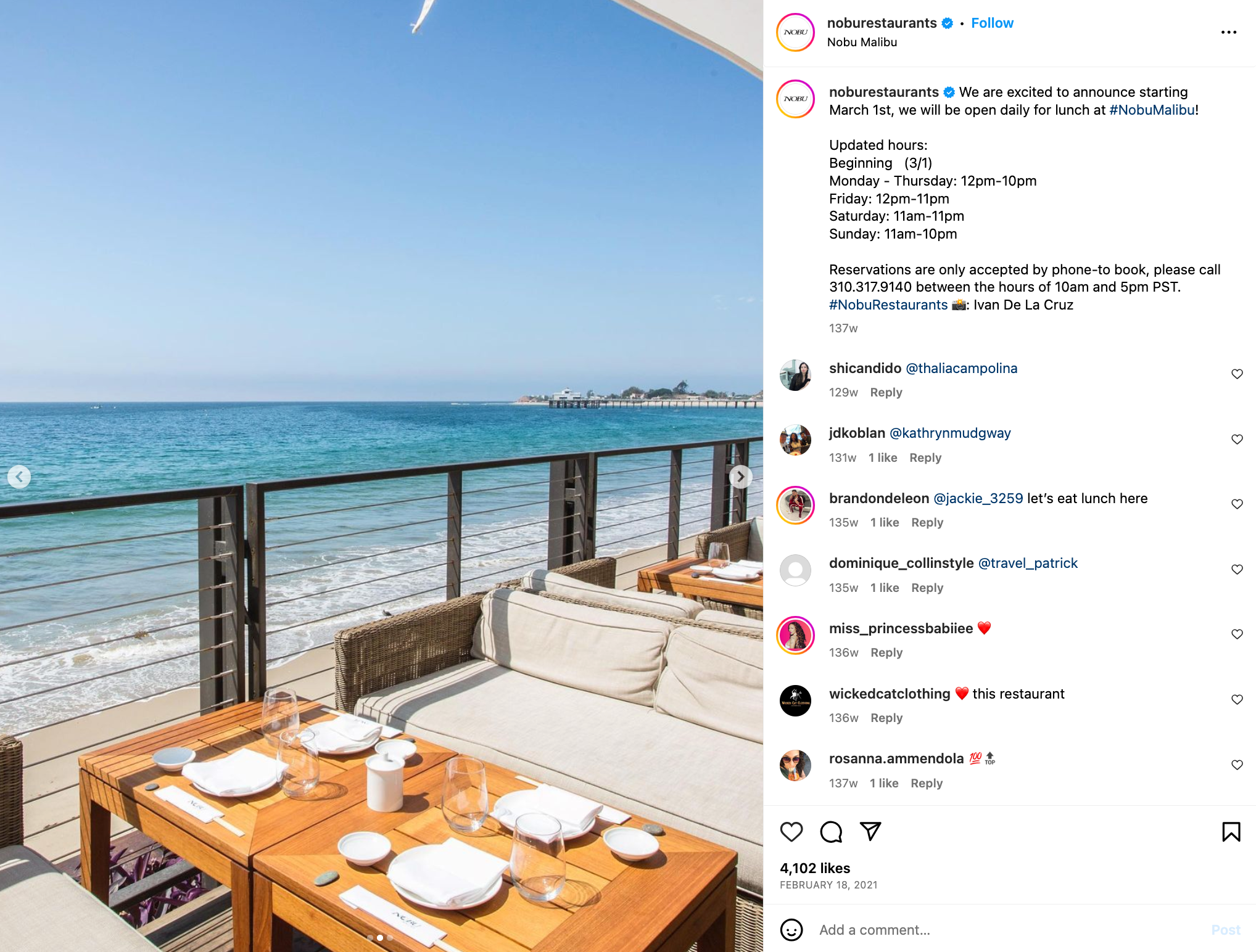 Of course, this list would be incomplete without Malibu's iconic Nobu restaurant. Nobu Malibu is one of the most popular outposts of the global Nobu restaurant empire—co-founded by renowned chef Nobu Matsuhisa and actor Robert De Niro. Located in the upscale beach community, this restaurant is celebrated not only for its exceptional Japanese-Peruvian fusion cuisine but also for its gorgeous views of the Pacific Ocean.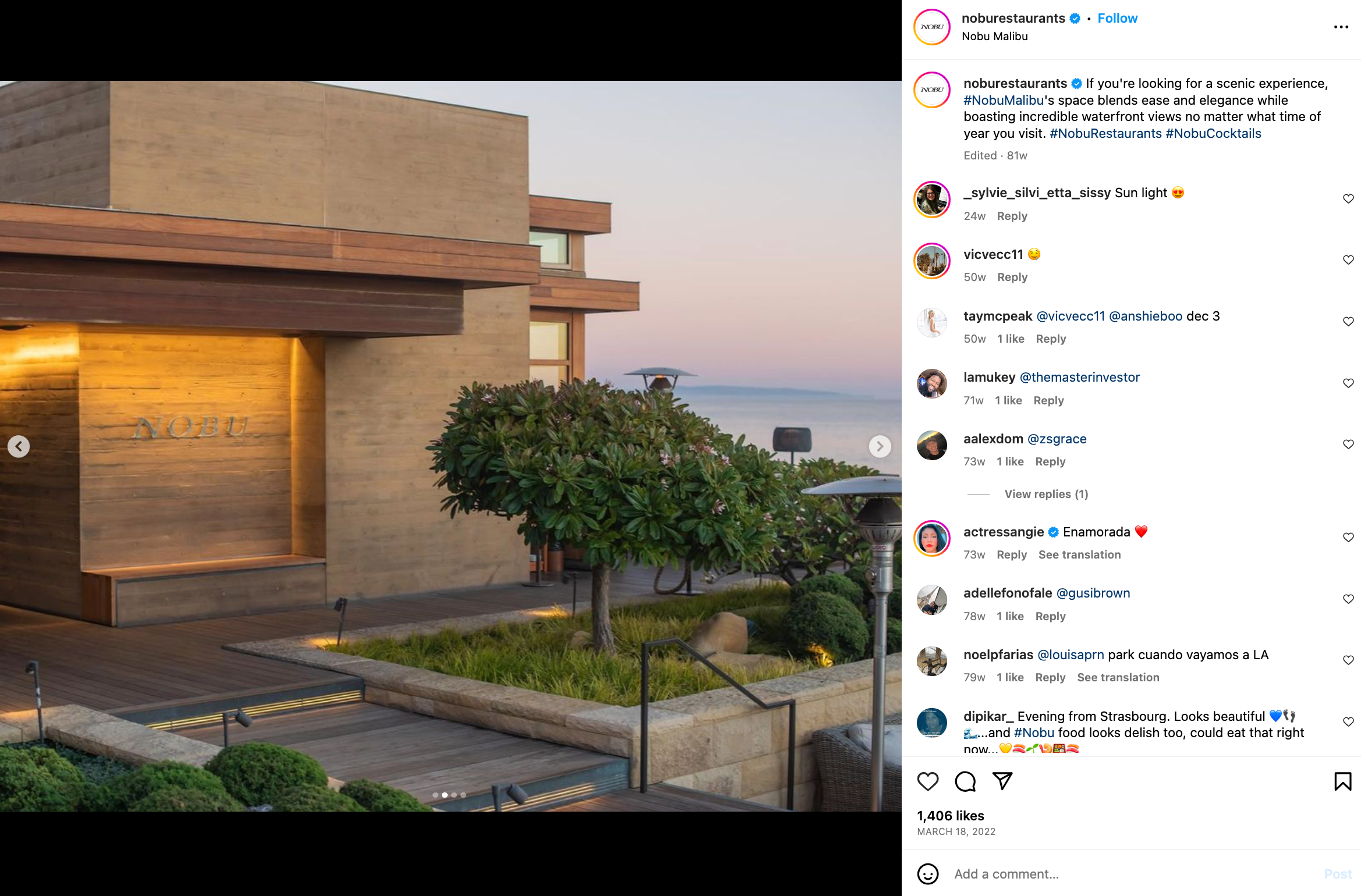 Designed jointly by Studio PCH and Montalba Architects, the interior of Nobu Malibu is understated and elegant. Drawing inspiration from its beachfront setting, the design seamlessly blends indoor and outdoor spaces—allowing diners to fully immerse themselves in the breathtaking view. The use of natural materials evokes a sense of organic elegance.
Floor-to-ceiling windows ensure that the dining space is bathed in natural light—enhancing the serene and airy ambiance. Its decor is minimalist with subtle Japanese influences—allowing the ocean to take center stage. The restaurant also features a sleek bar area—where guests can enjoy signature cocktails and an extensive wine list.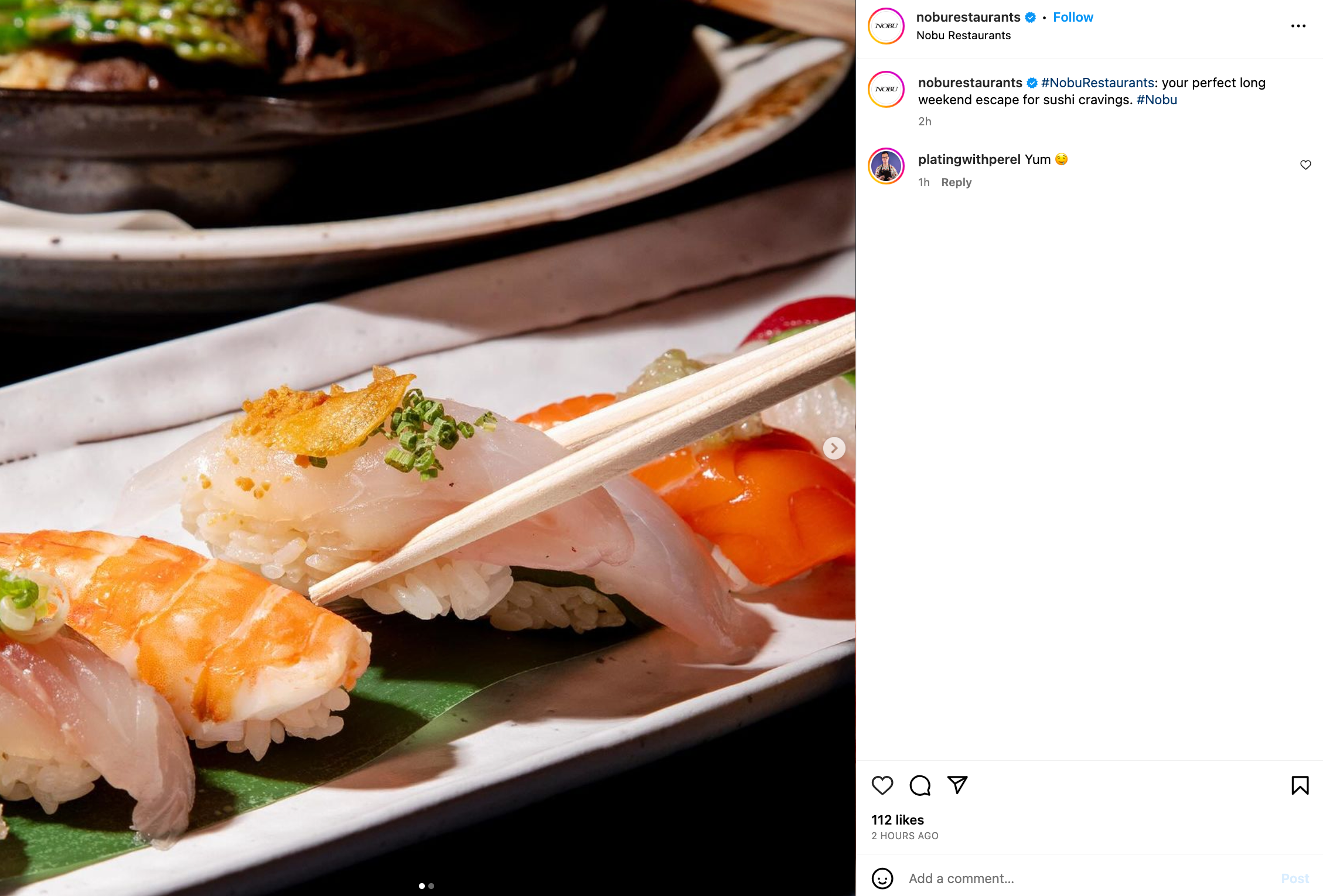 As for its menu, Nobu Malibu showcases many of Chef Nobu's signature dishes—including the Black Cod Miso and Yellowtail Jalapeño. Its culinary offerings are a fusion of traditional Japanese flavors and Peruvian influences. Fresh seafood—sourced locally and from around the world—is a highlight of the menu. The Omakase—or chef's tasting menu—provides a curated dining experience and allows guests to sample a range of Nobu's iconic dishes.
#8 The Tasting Kitchen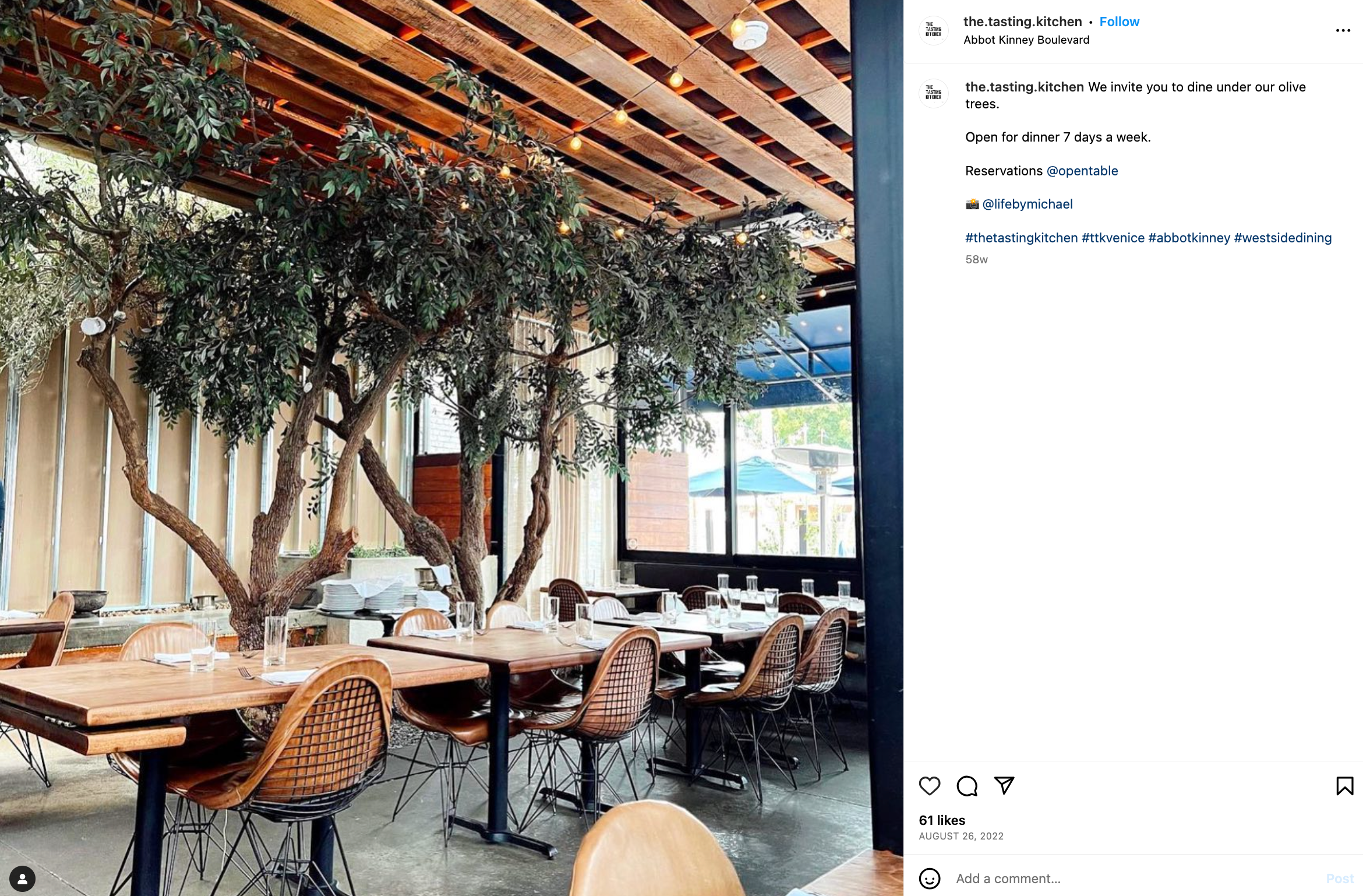 The Tasting Kitchen is a distinctive dining destination on Abbot Kinney Boulevard in Venice near Santa Monica. Known for Chef Travis Passerotti's innovative approach to cuisine and his commitment to seasonal and locally-sourced ingredients, The Tasting Kitchen has carved a niche for itself in LA's vibrant culinary scene.
The interior of boasts high ceilings with wooden slats, living olive trees, and large windows that allow for an abundance of natural light. Reclaimed wood tables, industrial-style lighting fixtures, and dining chairs clearly inspired by the iconic Eames Wire Chair make the space feel distinctly SoCal.
The bar area—with its extensive selection of wines and handcrafted cocktails—boasts a more intimate setting with dim lighting and cozy seating. Overall, the decor is casual yet sophisticated—making it suitable for both special occasions and relaxed gatherings.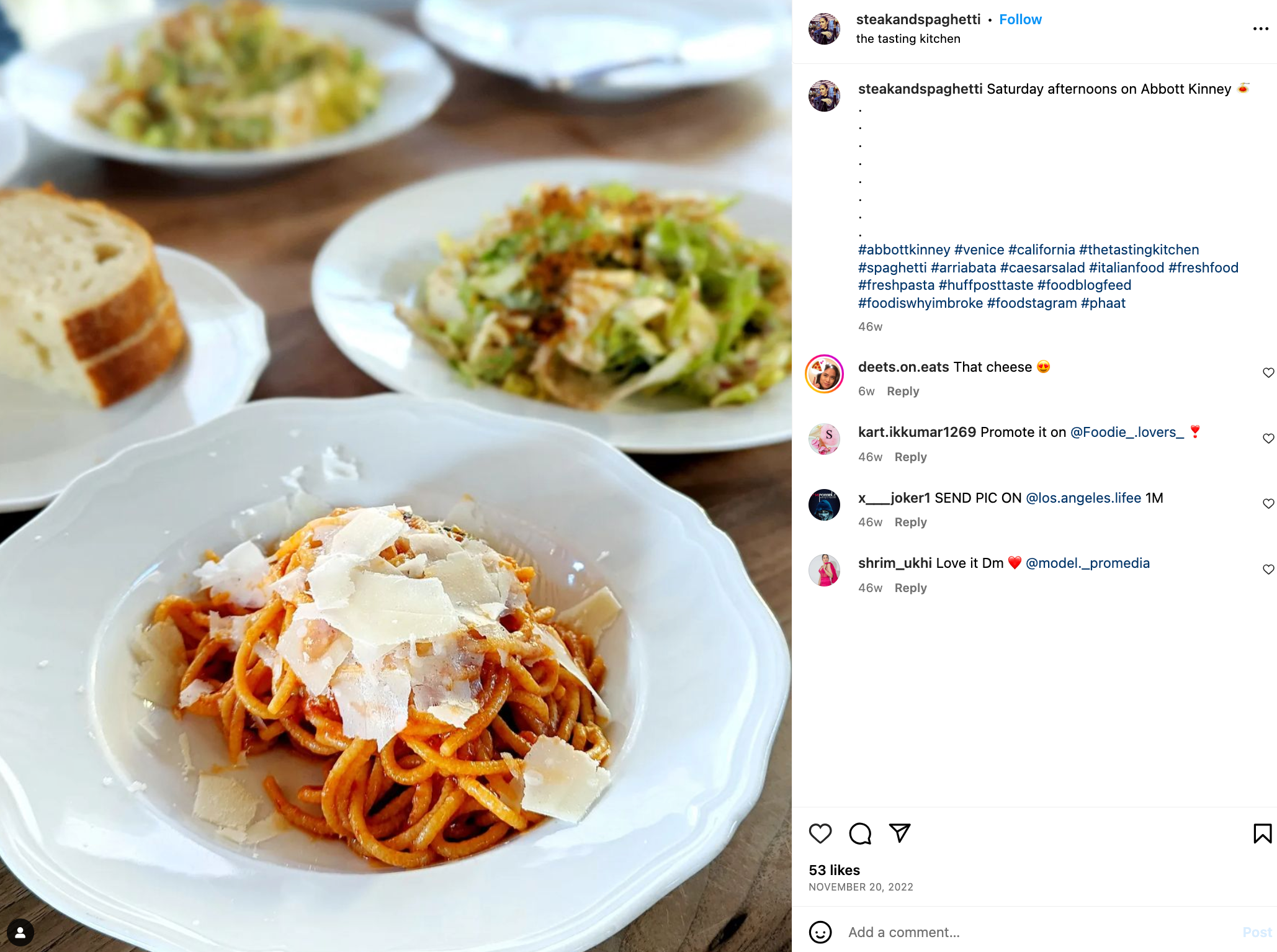 The Tasting Kitchen's menu has since evolved beyond original Chef Casey Lane European-inspired dishes. Its menu now draws inspiration from Middle Eastern dishes. The offerings change still regularly based on the availability of seasonal produce—ensuring that diners always have something new and exciting to look forward to.
From house-made pastas to wood-grilled meats and seafood, each dish is crafted with precision and presented with artistic flair. As you might imagine, the restaurant also offers a tasting menu that many diners favor.
#9 République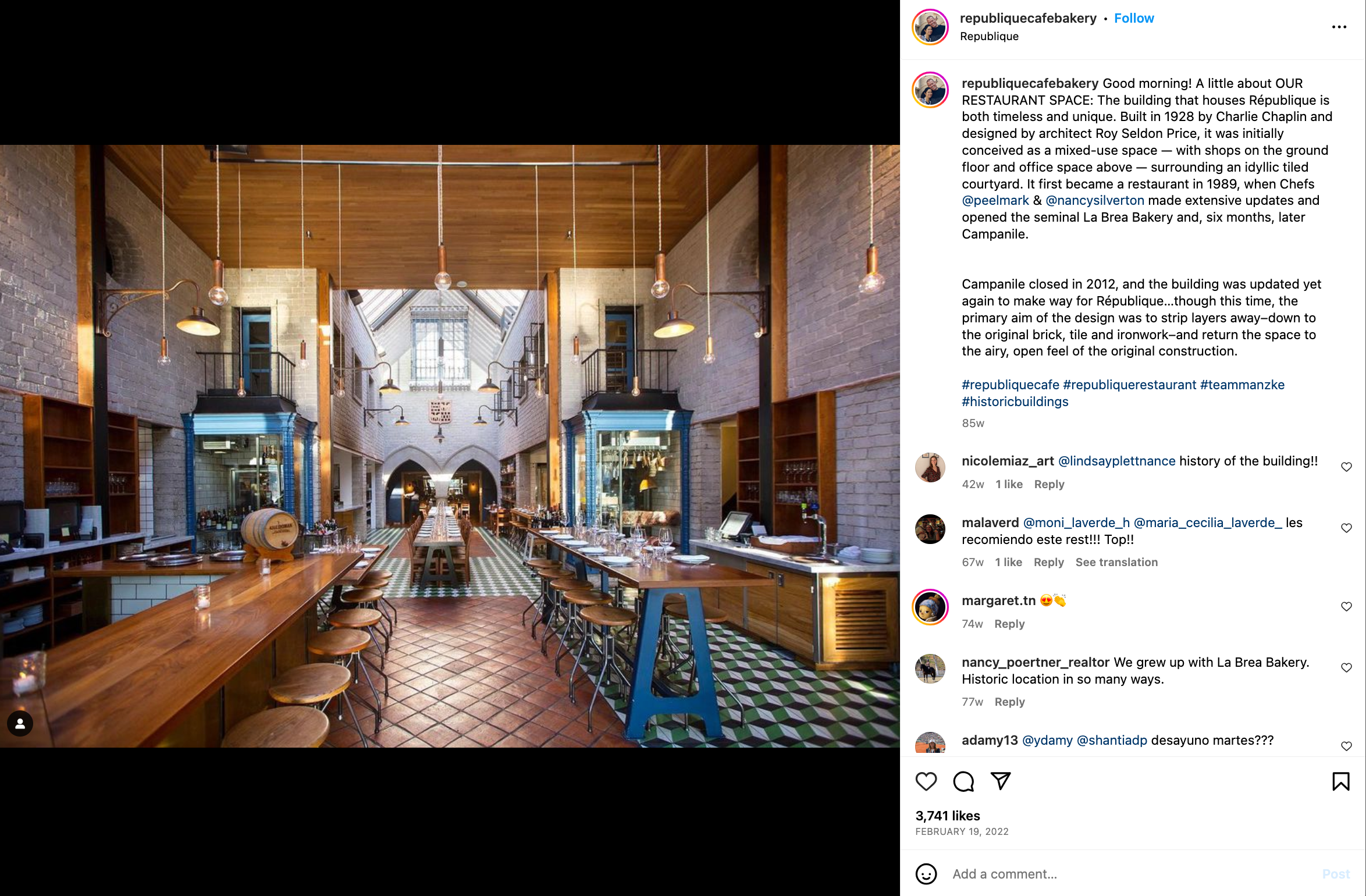 Designed by architect Osvaldo Maiozzi and Dan Barling, République is a renowned restaurant and bakery located on La Brea Avenue in the Mid Wilshire area. Housed in a historic building that was once Charlie Chaplin's office, République has become a staple in the LA dining scene—known for its French-inspired dishes and artisanal baked goods.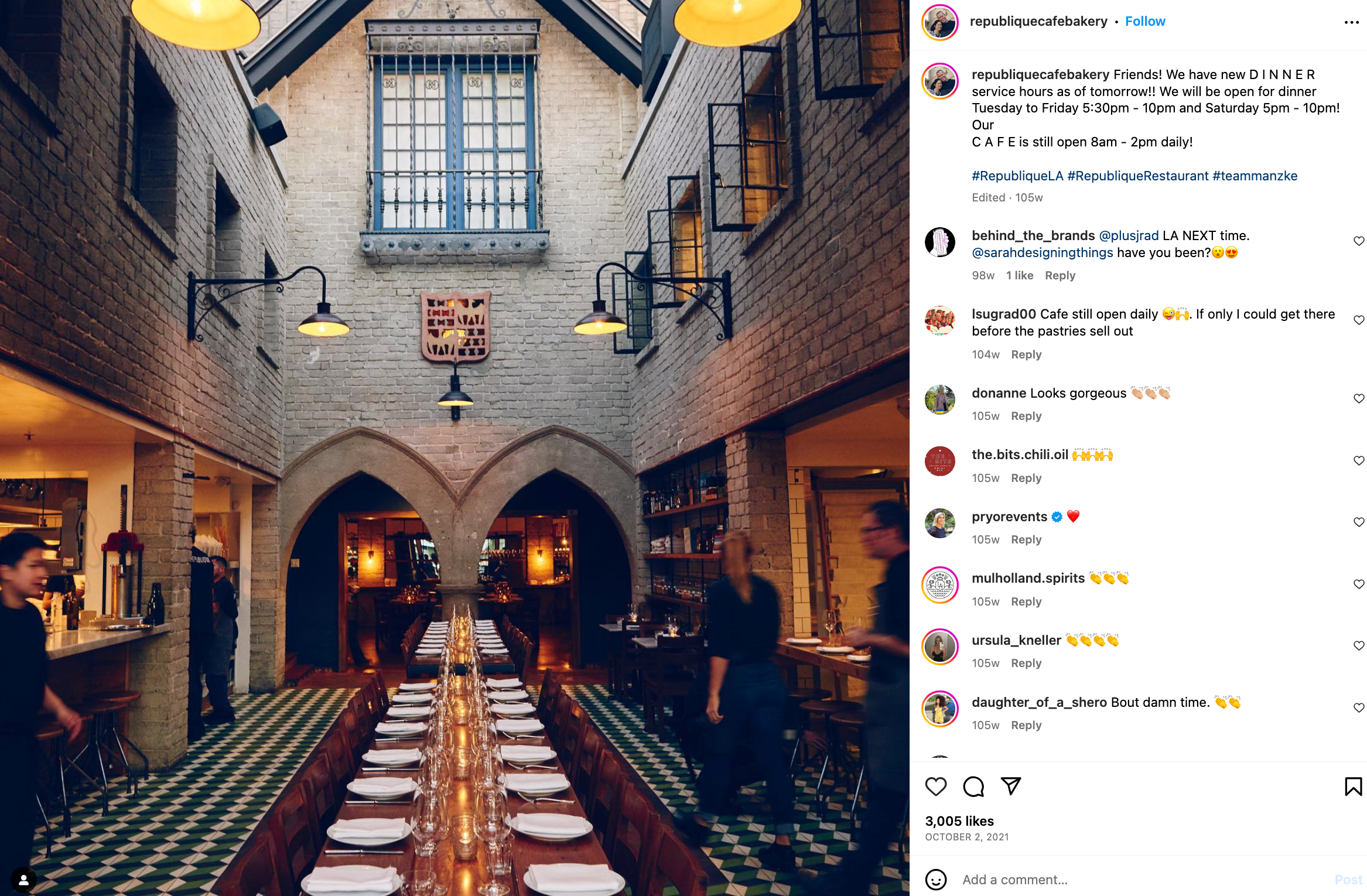 With its iconic campanile, the building is instantly recognizable. Inside, the restaurant boasts a series of unique spaces—each with its own character. The front area—with its communal tables and bakery counter—is casual and bustling. As you move further into the restaurant, the space opens up into a grand dining hall with soaring ceilings, skylights, and a beautifully tiled floor. This central area is reminiscent of a European courtyard and is anchored by a bar in the center.
The rear of the restaurant offers a more intimate dining experience—with cozy booths and moodier lighting. Throughout République, the interior pairs rustic and industrial elements like exposed brick walls and metal hardware. The combination of historic architecture, modern design elements, and ambient lighting creates a cozy atmosphere that appeals to both casual diners and those seeking a more upscale experience.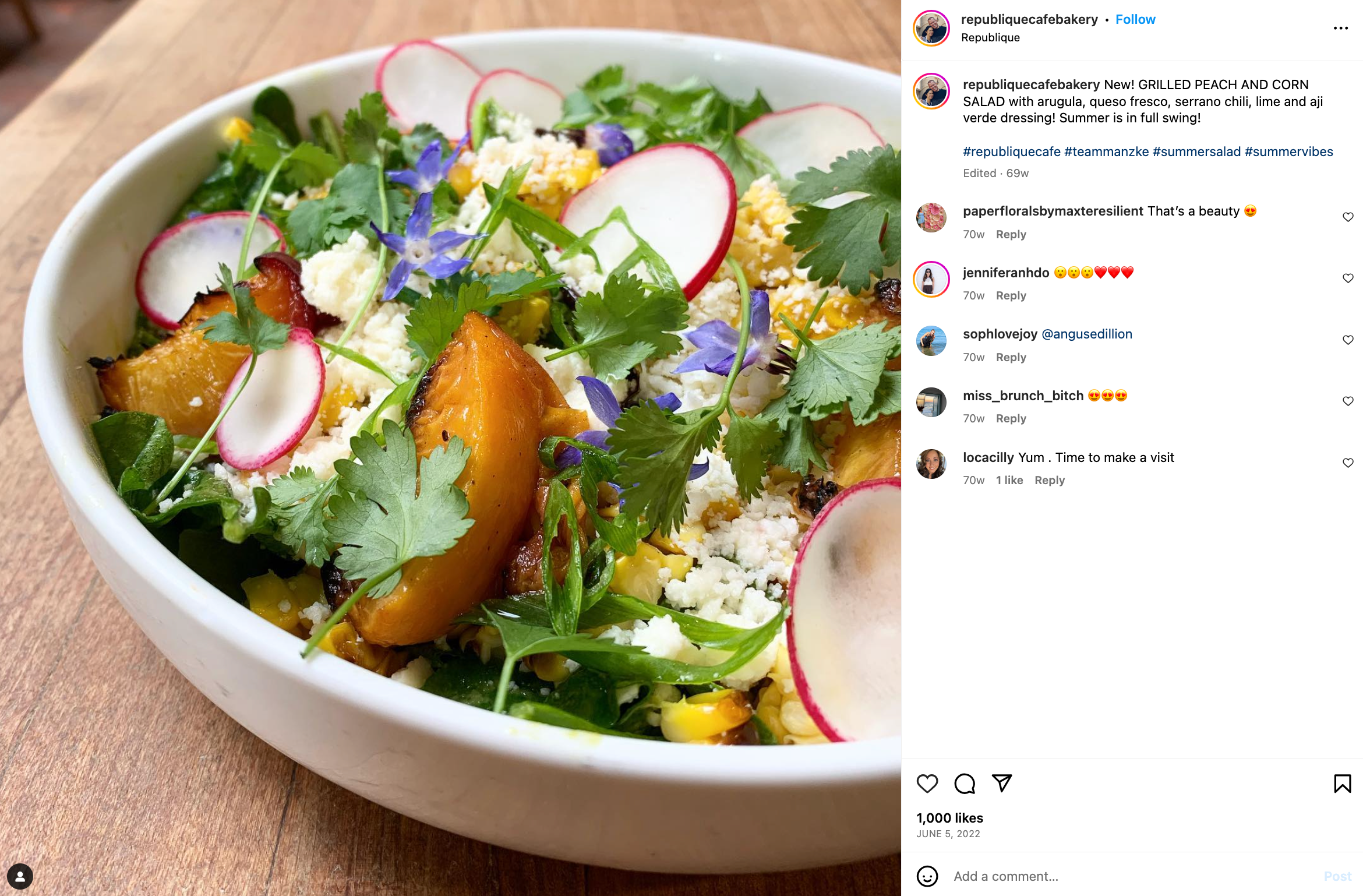 République's menu is curated by Chefs Walter Manzke and wife Mararita Manzke. It offers a contemporary take on classic French dishes. From house-made charcuterie to perfectly roasted meats and fresh seafood, the culinary offerings are both refined and hearty.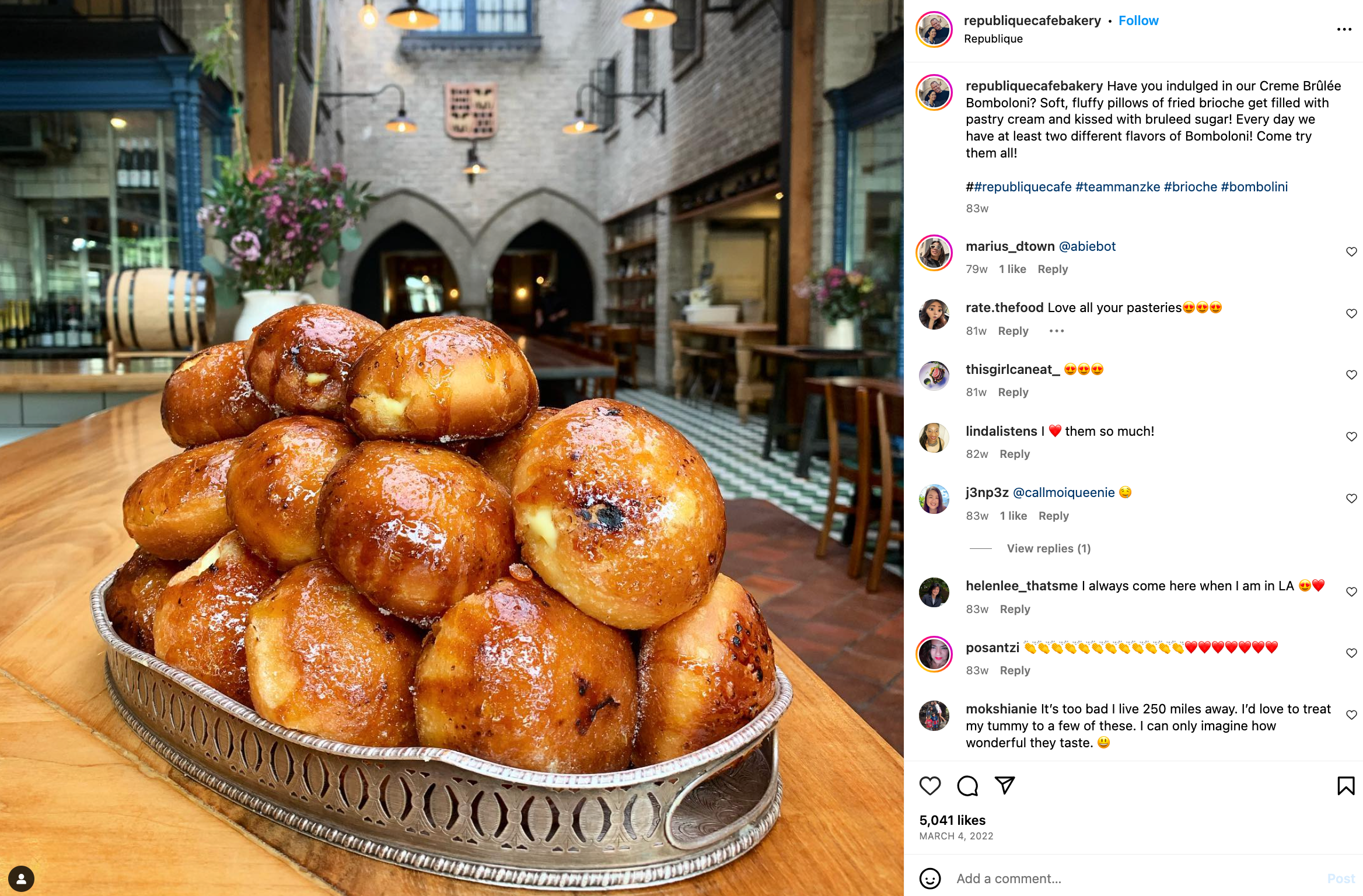 The bakery—led by Margarita—offers a range of artisanal breads, pastries, and desserts that draw crowds. The wine list—predominantly French—complements the food menu and the bar offers a range of handcrafted cocktails.
#10 Merois in the Pendry West Hollywood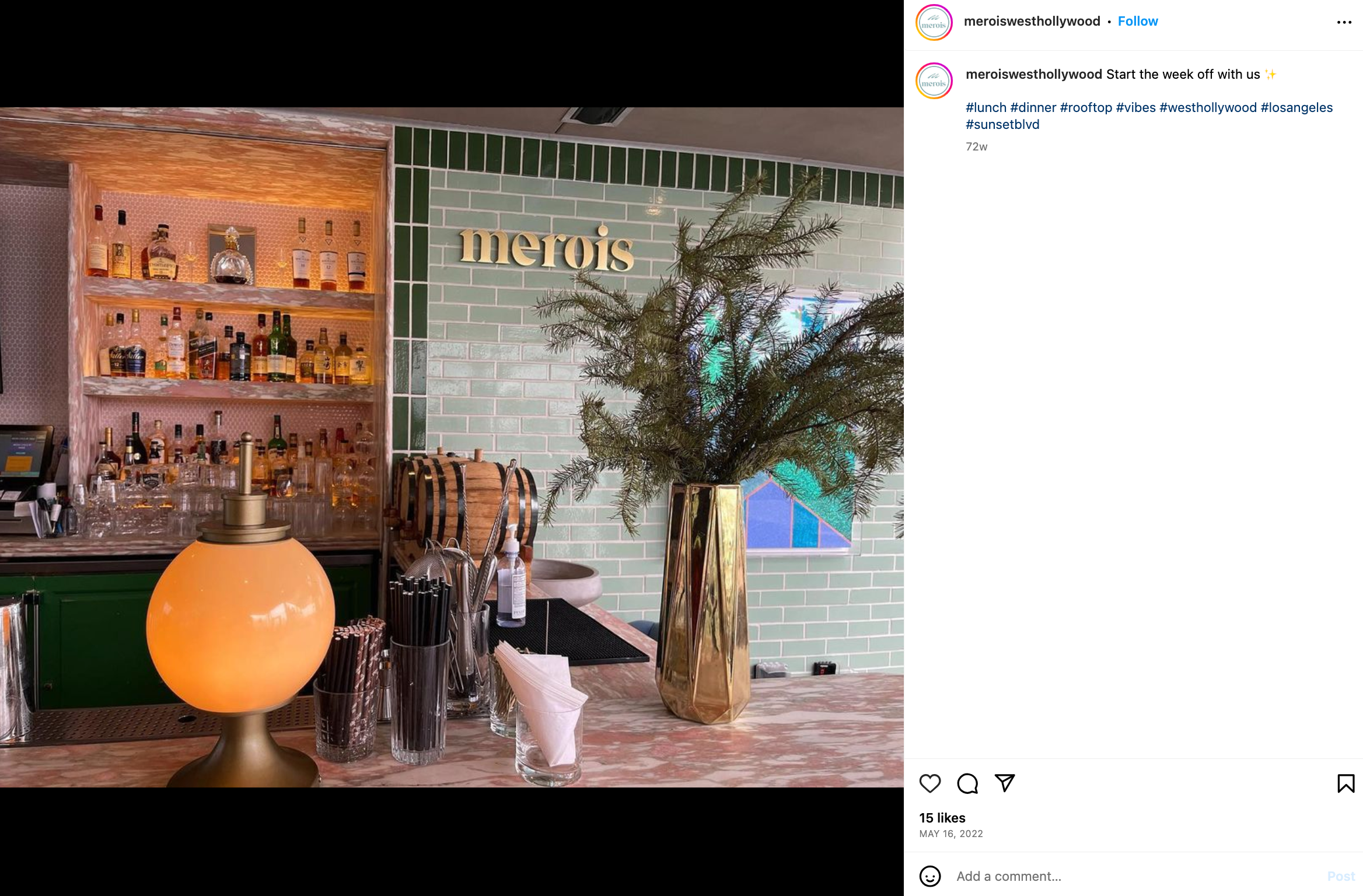 With interiors designed by Martin Brudnizki, Merois is a gorgeous rooftop restaurant located in the Pendry West Hollywood. The restaurant is helmed by acclaimed chef Wolfgang Puck—who brings his signature fusion of Asian, Californian, and French flavors to the establishment.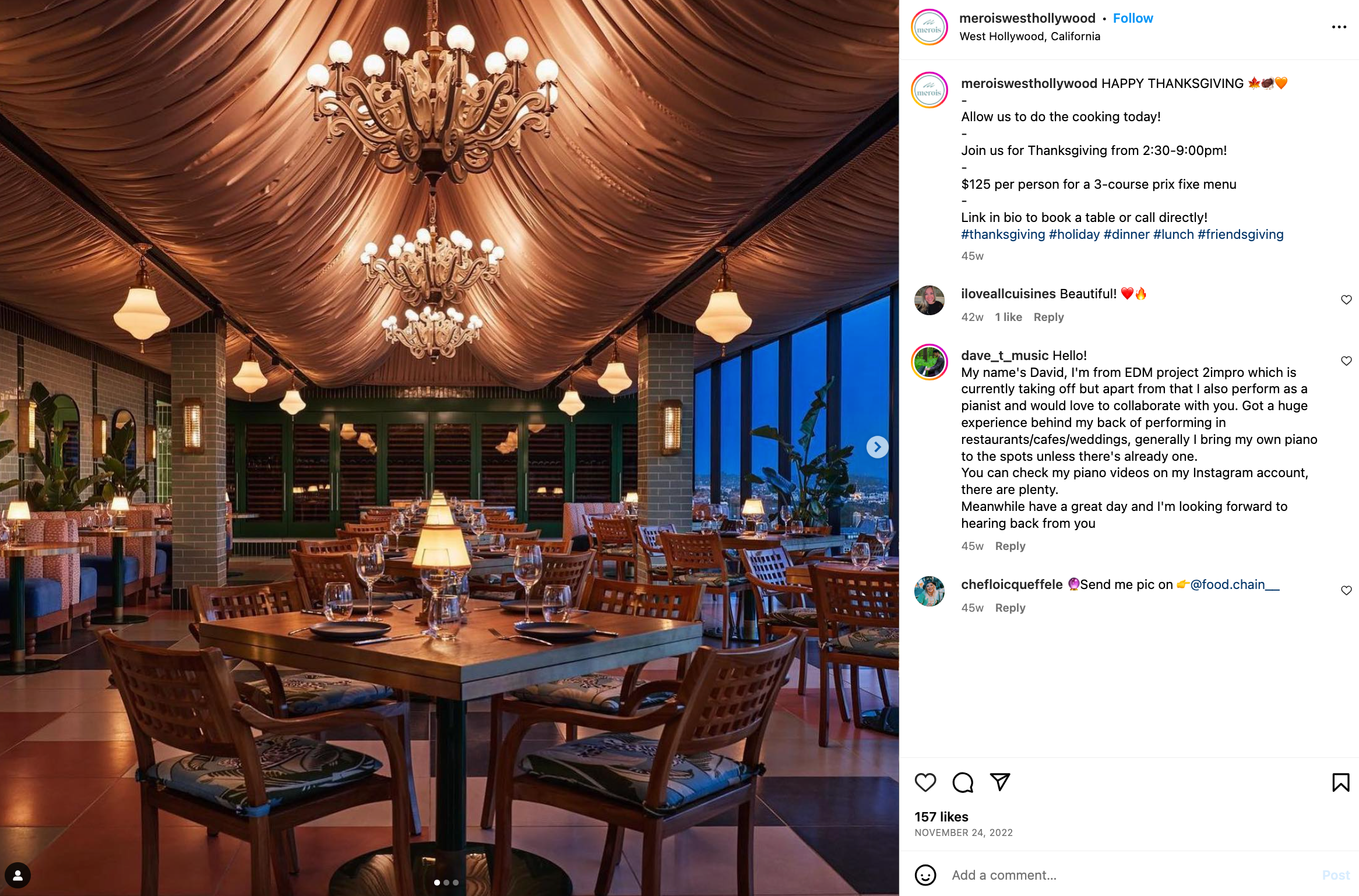 Merois boasts a chic and sophisticated interior that reflects the glamour of West Hollywood while paying homage to modern design aesthetics. The restaurant features a mix of indoor and outdoor dining spaces—allowing guests to enjoy the temperate Los Angeles weather. The outdoor terrace offers panoramic views of the city—making it a prime spot for sunset dining.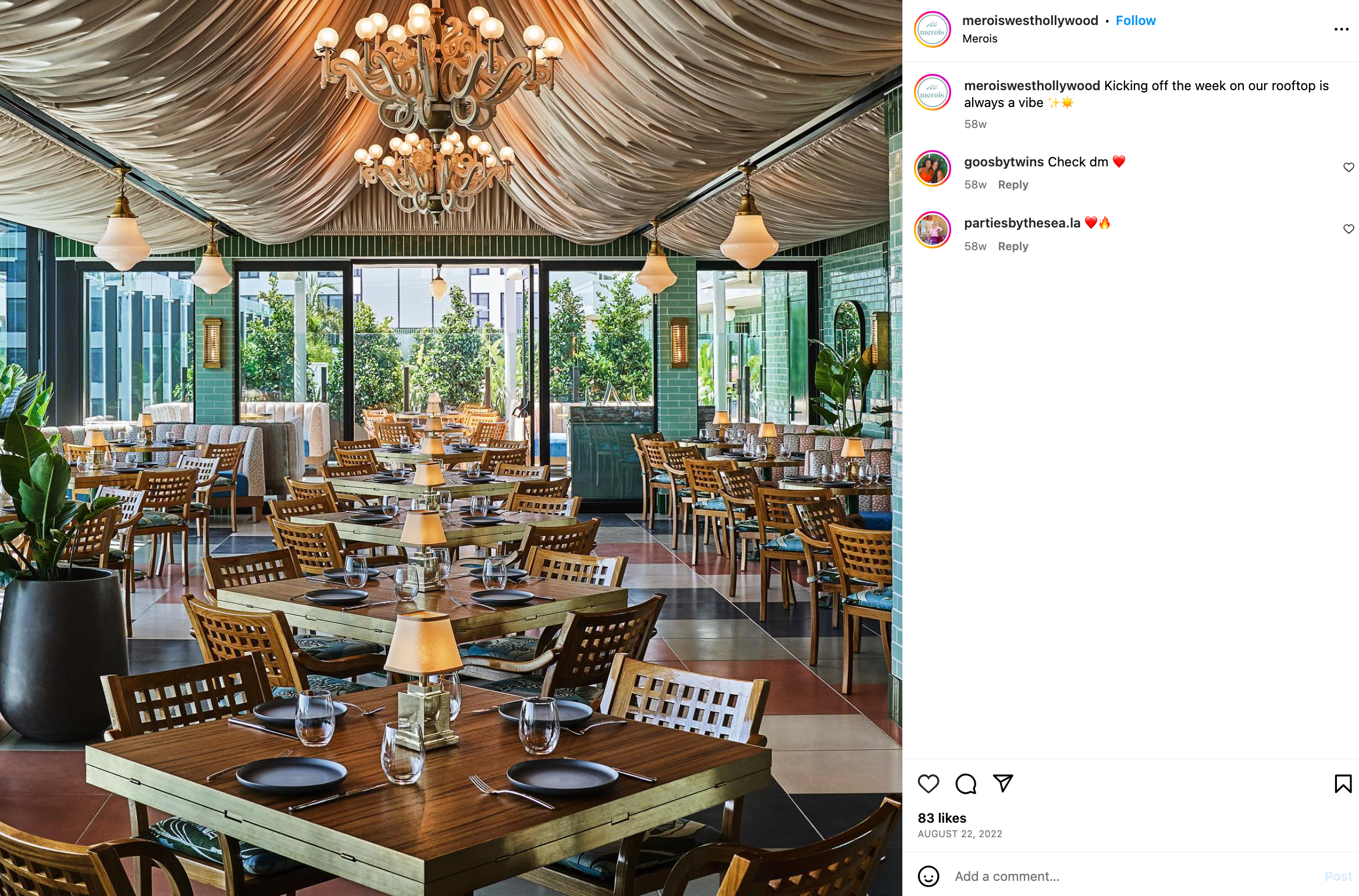 Inside, the decor is characterized by a blend of rich textures, warm tones, and elegant fixtures. Plush seating, ambient lighting, green tiling, and other artful design elements create an atmosphere of luxury and comfort. The use of wood, marble, and brass throughout the space adds to the restaurant's upscale feel. Large windows and open spaces ensure that the interior is bathed in natural light during the day, while the mood becomes more intimate and romantic in the evening.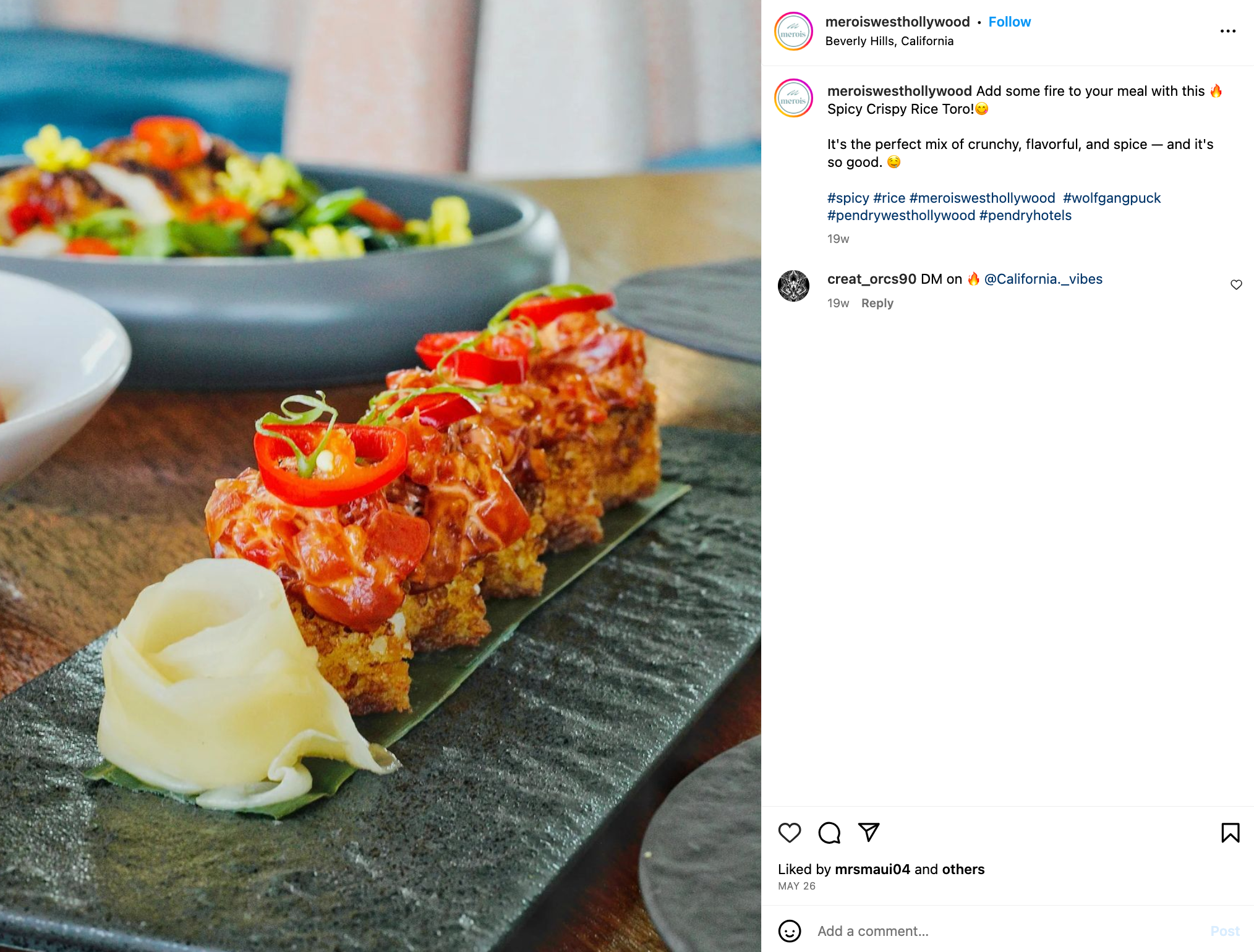 At Merois, Chef Wolfgang Puck showcases a menu that is a blend of Asian influences and Californian freshness. Dishes are crafted using high-quality, locally-sourced ingredients. From fresh seafood to perfectly grilled meats and innovative vegetarian options, the culinary offerings cater to a diverse palate. The restaurant also boasts an extensive wine list and a selection of handcrafted cocktails—further enhancing the dining experience.
Time to Reserve a Table! Which Restaurants Will You Enjoy in LA?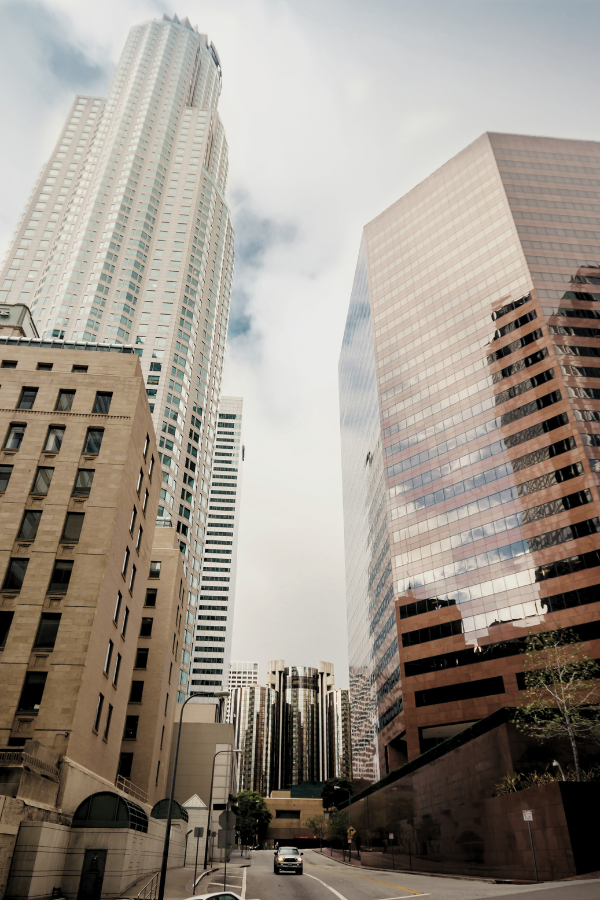 Whether you love modern American cuisine or dishes straight from Mexico City, LA has so much to offer. Which restaurants will you enjoy?
While in LA, don't miss Bacari Silver Lake. Its beautiful outdoor eating area with twinkling lights and a cozy setting makes Bacari Silver Lake the perfect date spot.