Jet-Set in Style: The Top Travel Bags for Women in Business
Women who frequently travel to meet clients, attend conferences, or seek inspiration understand the value of a reliable travel bag. It's not just about functionality; it's about making a statement. Whether it's the sleek crossbody for those hands-free moments during transit, the chic weekender that effortlessly bridges the gap between professionalism and style, or the robust suitcase that stands the test of time (and airport carousels), the right bag can make an enormous difference. In this article, we identify the best in class for each category. Jet-set in style while keeping your work essentials safe and sound with these weekenders, crossbody bags, backpacks, and hard-shell suitcases.
Tips for Choosing the Right Travel Bag for Your Trip
Selecting the perfect travel bag can make or break your trip. Read on for a few essential tips to ensure you choose the right one for your journey.
Consider the Type of Trip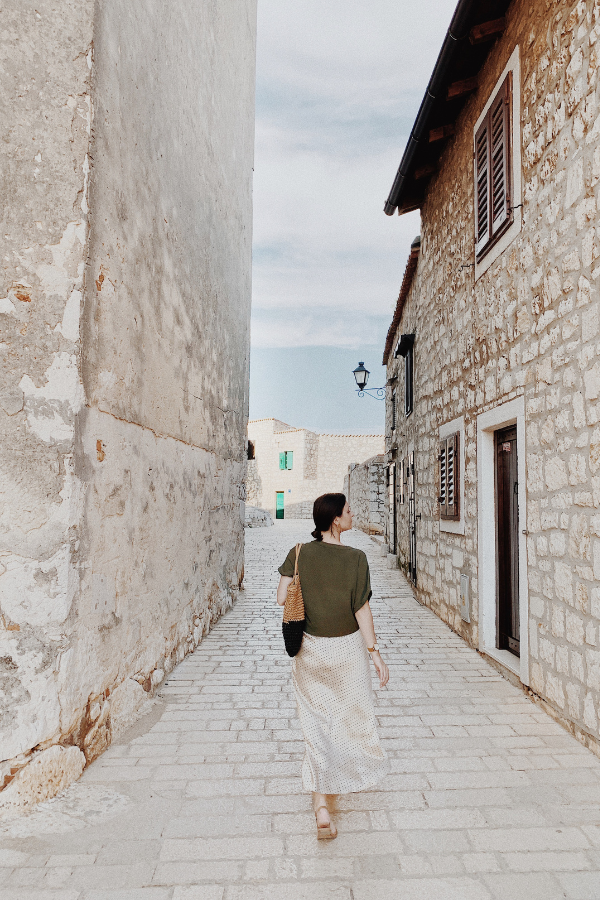 When choosing the right travel bag for your trip, it's essential to consider the type of trip upon which you will embark. For longer business trips, opt for a suitcase and backpack with compartments for your laptop, documents, and other critical work essentials. A rolling suitcase is easy to maneuver and can carry formal wear without creasing. Adding a backpack ensures all of those essentials are close at hand.
For a short, personal getaway with family or friends, opt for a flexible weekender with a removable shoulder strap and a crossbody or belt bag for essentials like your passport and cell. Weekenders offer ample space for a few outfits, toiletries, and essential items without being cumbersome. Opt for one with a separate shoe compartment to keep things tidy. Crossbody bags are lightweight, easy to carry, and hold essentials like wallets, phones, snacks, and a water bottle without weighing you down. This makes them ideal for day trips and walking through the airport.
If heading out on an extended vacation, we recommend a large rolling suitcase or travel backpack, plus a daypack. The larger bag will hold all your clothing and essentials, while the daypack is perfect for daily excursions.
Ensure There Are Enough Compartments and Pockets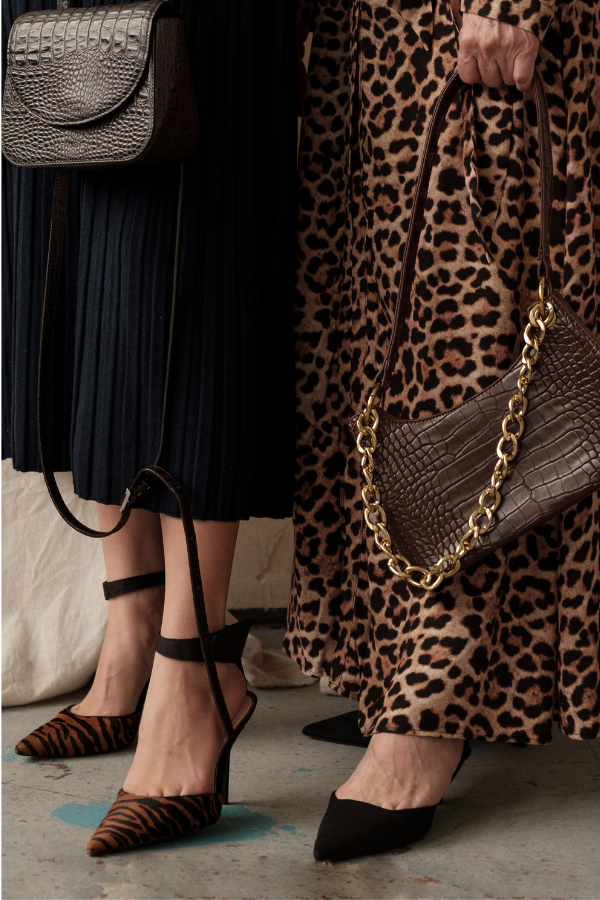 When it comes to selecting the ideal travel bag, having an ample number of compartments and pockets can be a game-changer. Multiple compartments serve allow you to neatly arrange your belongings. No more rummaging around for that elusive charger or passport buried beneath layers of clothes.
Each bag should have both exterior and interior pockets. External pockets are your go-to spots for items you might need to access in a flash. Whether it's your boarding pass, a snack, or your trusty hand sanitizer, having them within easy reach keeps you ahead of the travel game.
Having a well-organized bag can also help speed up the customs and TSA process. You'll breeze through those security checks like a seasoned traveler.
Make Sure You Have Enough Added Security
Look for bags that offer built-in locks or zippers designed to accommodate padlocks. These nifty features add an extra layer of protection, making it tougher for unwanted hands to access your belongings.
If you're jetting off to or within the United States, consider TSA-approved locks. These locks have a special feature that allows TSA agents to open and inspect your bag without damaging it.
Look for Weather Resistance and Durability
When you're out and about, your travel bag needs to be as tough as you are. Mother Nature can be unpredictable, and you don't want your belongings drenched in a sudden downpour. Seek-out bags made from waterproof or water-resistant materials—ideal for travel bags for women. These materials act as a shield, keeping your essentials dry even in wet conditions.
Think of your travel bag as a long-term travel buddy. Invest in one crafted from high-quality materials, perfect for the best travel bags for women, that can handle the wear and tear of your adventures. Check for sturdy stitching and durable zippers, features crucial for women's weekend travel bags, that won't leave you in a bind.
These Are the Top Travel Bags for Women in Business
Below, we have rounded up the top travel bags for absolutely any business trip. They seamlessly blend style, functionality, and durability—ensuring you jet-set in confidence and keep your professional essentials organized.
Best Crossbody Bags
Crossbody bags offer hands-free convenience and quick access to your belongings. Whether you're heading to a business meeting or exploring a new city, these versatile bags effortlessly transition from professional to leisure settings. With a crossbody bag, you're ready for it all—keeping your style on point and your essentials within arm's reach.
Cuyana Top Handle Crossbody Bag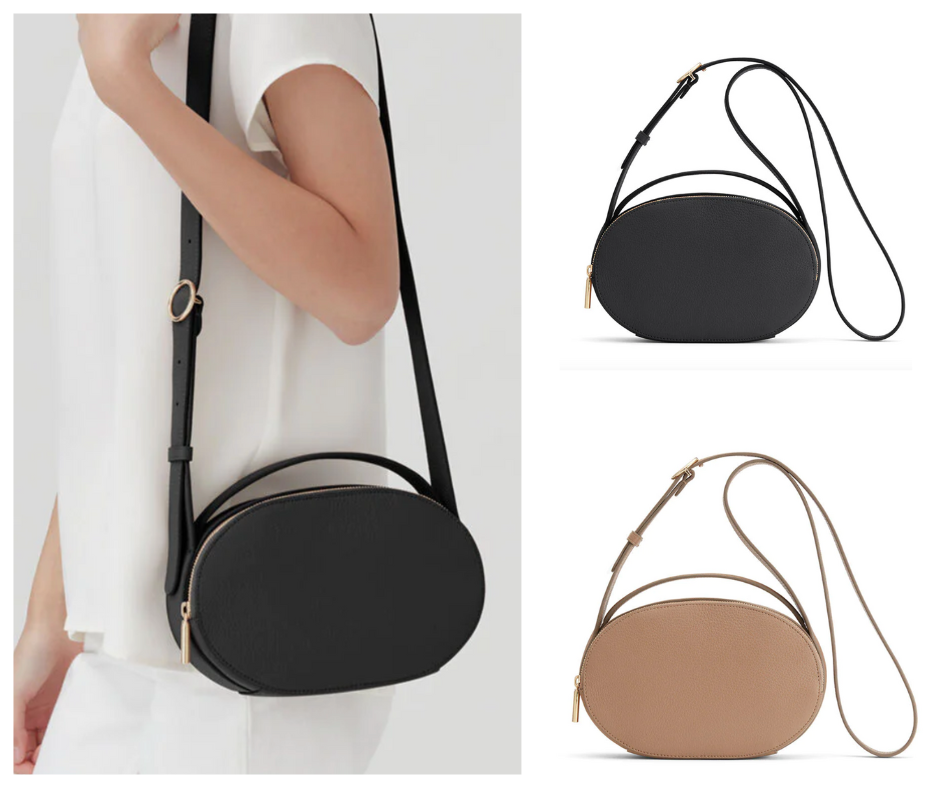 The Cuyana Top Handle Crossbody Bag is favored for its minimalist charm and exceptional craftsmanship. Its simple, elegant design appeals to those who appreciate understated sophistication. Crafted from high-quality leather, it exudes luxury without the hefty price tag.
Users love the Cuyana Classic Leather Crossbody for its versatility, quality, and timeless appeal. Many appreciate how it effortlessly complements both business and casual attire.
Key Features
Italian leather construction.
Adjustable strap for customizable wear.
Thoughtful interior pocket for organization.
Price: $248
Dimensions: Dimensions H 5.7 in. x W 8.8 in. x D 2.3 in, Strap drop adjusts from 16 in. to 24 in., Weighs 14.6 oz
Madewell Transport Crossbody
The Madewell Transport Crossbody is a compact version of the company's best-selling Medium Transport Tote. It's crafted from two pieces of fine leather—offering durability and style. You can carry it in two ways: either by the top handles or the detachable shoulder strap.
It features an exterior pocket for quick access to your essentials and an interior side zip pocket to keep your keys, phone, and wallet handy. Adjustable shoulder straps make these bags suitable for most users.
Key Features
Vegetable-tanned leather.
Adjustable crossbody strap for comfortable wear.
Interior pocket for organization.
Price: $75
Dimensions: 3 1/2″ handle drop. 19″ (at shortest) to 21 5/8″ (at longest) crossbody drop. 7 3/4″H x 7 3/4″W x 2 5/8″D.
Longchamp 'Le Pliage' Nylon Crossbody Bag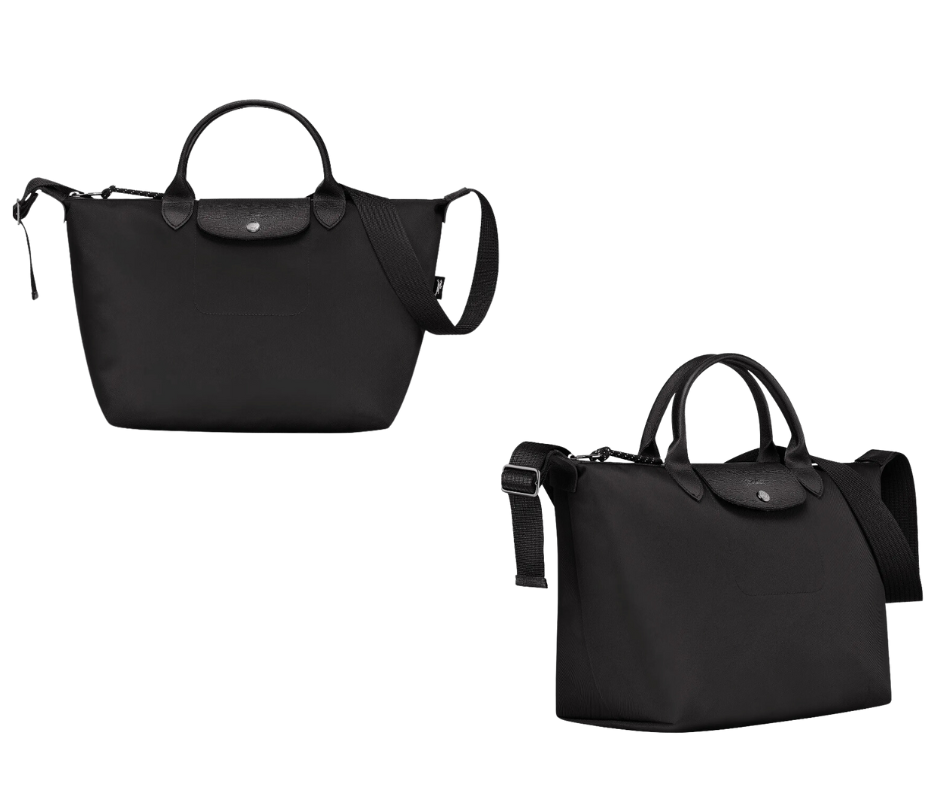 The Longchamp 'Le Pliage' Nylon Crossbody Bag is cherished by travelers for its lightweight build and impressive durability. Ideal for those on the go, this bag is touted for its versatility and reliability.
Users love its spaciousness and chic appearance. Recycled materials are used in its construction— making the Le Pliage a testament to both style and sustainability.
Key Features
Versatile wear
Sustainable materials
Unique design
Spacious interior
Price: $225
Dimensions: 2 1/2" W x 11" H x 6 3/4" D. (Interior capacity: large.) 4″ Strap Drop; 5″ – 21 1/2″ Crossbody Strap drop. 1.3 lbs
Best Weekenders
Not too much bigger than a tote bag, weekenders are your top pick for short getaways. They're lightweight, easy to carry, and perfect for a couple of days' worth of essentials. Whether it's a spontaneous road trip or a quick city escape, weekender bags are your trusty companions.
The North Face Women's Never Stop Weekender Duffel Bag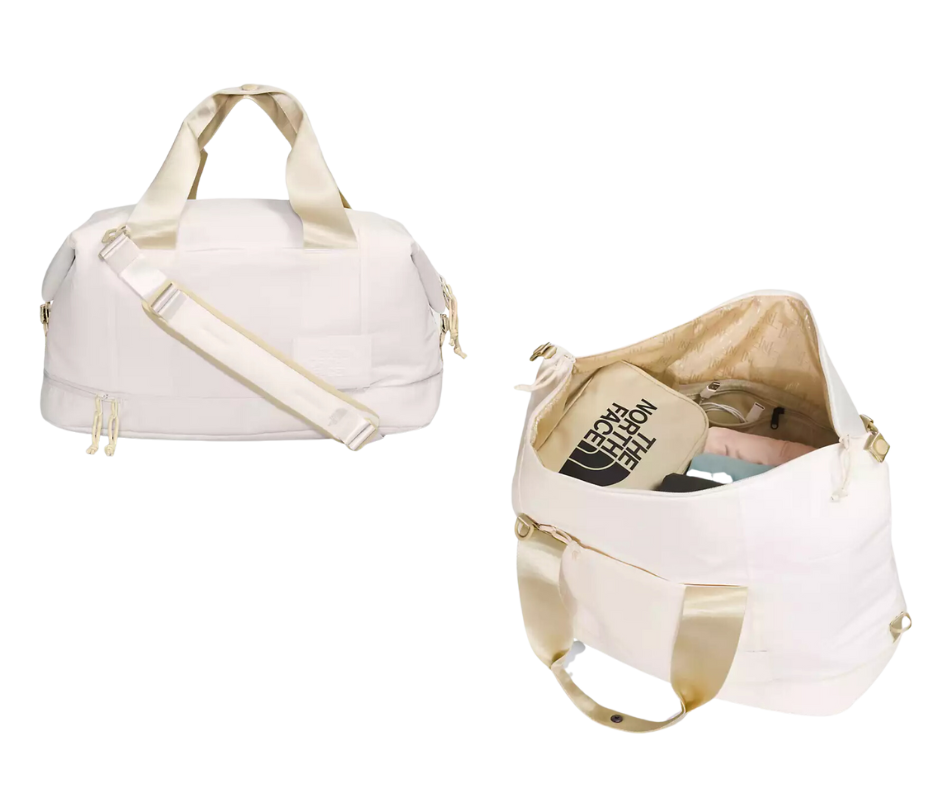 The 42-liter capacity of the Women's Never Stop Weekender Duffel Bag is perfect for short trips. This essential overnight bag boasts a roomy main section, a designated compartment for shoes, and a tough, abrasion-resistant base—ensuring you can pack all your essentials with confidence.
Key Features
Branded internal liner and logo patch.
Soft satin webbing for added comfort.
Vintage texture on crinkly face fabric.
External secure-zip pocket for quick-access items.
Spacious central compartment for gym or weekend trips.
Internal stretch-mesh pocket with key hook.
Secure-zip shoe pocket at the bottom.
Price: $129.00
Dimensions: 27.2" x 15" x 10.2" (69 cm x 38 cm x 26 cm)
Royce New York Leather Weekender Bag
The Royce New York Leather Weekend Bag is a stylish and practical choice for the contemporary traveler. Time Magazine recently identified it as one of "The Best Weekender Bags for Women in 2023."
This versatile weekender bag features a secure top zip closure to keep your belongings safe. It comes with silvertone hardware that adds a touch of elegance to its design. This bag is designed to meet TSA carry-on requirements—making it a convenient choice for air travel.
Key Features
Designed in New York City.
Includes a dust bag and authenticity card.
Crafted from genuine leather.
Lined.
Price: $750
Dimensions: 21″ in width, 17″ in height, and 8″ in depth
Paravel Weekender Bag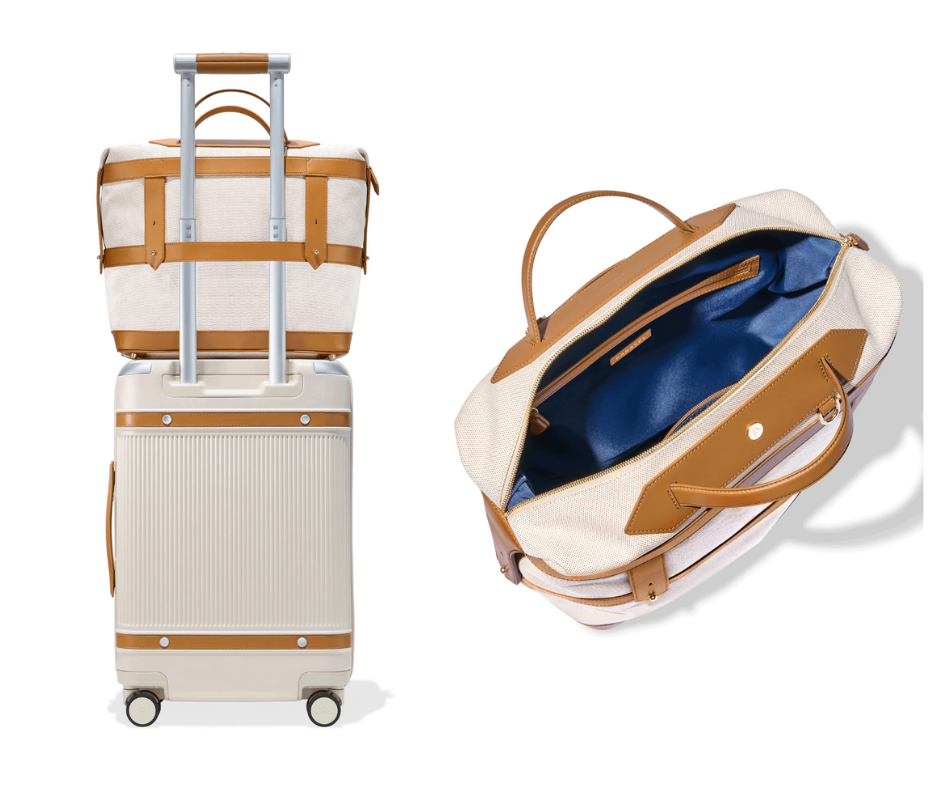 The Paravel Weekender Bag is a versatile travel companion designed for short trips or as an accompaniment to your suitcase. It combines practicality with style—making it a popular choice among travelers. Its smart design, durable materials, and versatility make it suitable for a wide range of travel scenarios.
It features smart straps that can easily slip over the handles of your luggage—making it a practical choice for seamless travel. The bag is made of Paravel's durable and spill-proof EcoCraft Canvas®—which means it's not only tough but also resistant to spills and stains.
Whether you're headed for a short weekend escape or a more extended trip, this bag is an excellent choice for a businesswoman on the go.
Key Features
Smart straps.
Durable and spill-proof.
Versatile.
Price: $295
Dimensions: 15″ x 15″ x 8″ (38.1cm x 38.1cm x 20.3cm)
CALPAK Luka Duffel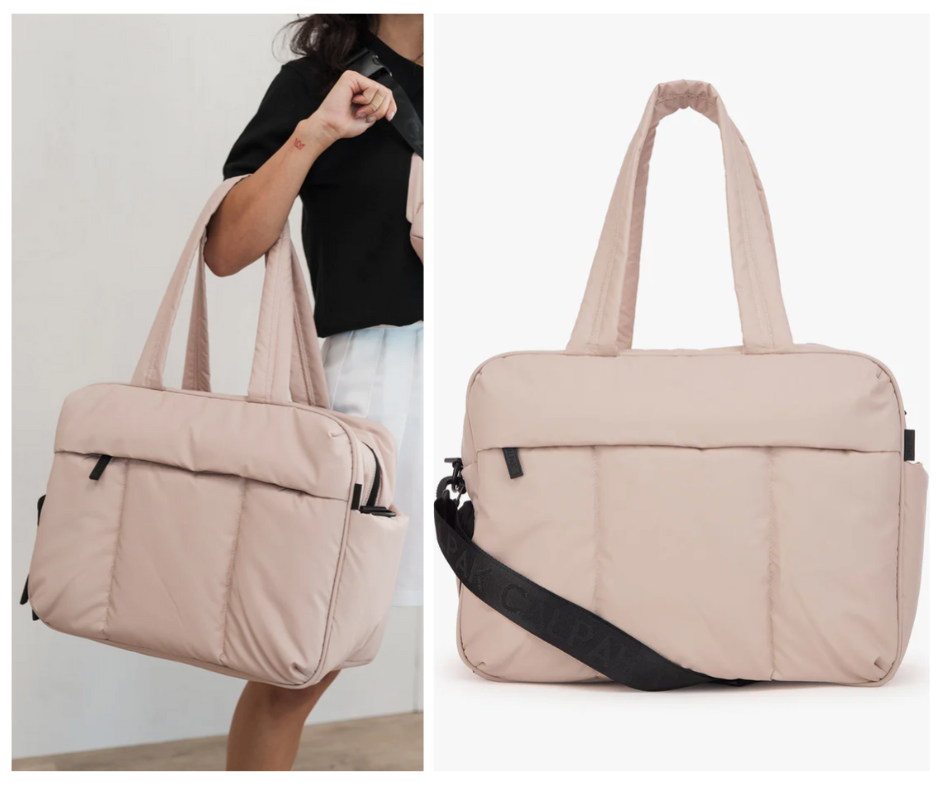 The CALPAK Luka Duffel is an attractive weekend bag that seamlessly combines style with practicality. It's a functional and well-organized bag—making it a fantastic choice for the gym, work, or short trips.
The inclusion of a shoe compartment is a practical touch, and its lightweight build ensures that it won't drag you down. This large weekender bag is a versatile addition to your daily routine and travel plans.
Key Features
The Luka Duffel is designed to be lightweight—ensuring that it doesn't add unnecessary weight to your load.
This bag boasts an impressive nine interior and exterior pockets—offering exceptional organization.
It includes a dedicated compartment for your shoes—keeping them separate from your other belongings.
This bag features a handy trolley sleeve for sliding the bag over the handle of rolling luggage—making airport dashes and urban exploration more convenient.
The bag offers a plush and lightweight design—ensuring that it's comfortable to carry during your daily activities or travels.
Price: $108
Dimensions: 12″ x 16″ x 7″
Monos Metro Duffel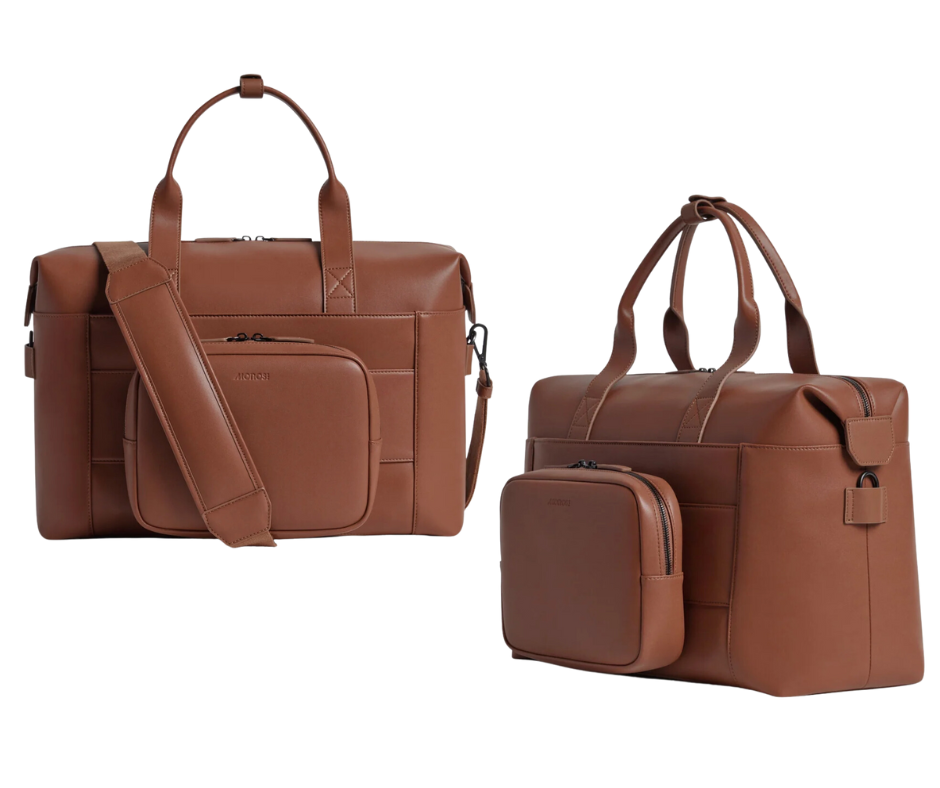 Monos' Metro Duffel is a compact and impressive weekender bag known for its efficient use of space and durability. This bag is a well-rounded option for travelers who appreciate efficient packing and durability.
Its smart design and storage solutions, adjustable shoulder strap, and an included detachable toiletry bag make it a practical choice for weekend getaways or short trips.
Key Features
The bag's interior is surprisingly spacious—allowing you to fit all your designated packing items. It maximizes its storage capacity.
Despite being nearly full, the bag remains lightweight. This is thanks to its design and the inclusion of a comfortable shoulder strap and top handles—making it easy to carry even when fully packed.
An added bonus is the detachable toiletry bag that can be securely latched onto the front of the main bag.
The bag has been tested for durability and proved to be resilient. It can withstand some tossing around without getting scratched up, and the detachable bag remains secure throughout the journey.
The bag is equipped with a large zippered pocket on the opposite side of the detachable pouch.
Price: $210
Weight: 3 pounds
Material: Nylon
Dimensions: 16.3 x 11.2 x 7.2 inches
Best Hard-Shell Luggage
Opting for hard-shell luggage—whether for checking or carrying on—offers several compelling advantages. First and foremost, hard-shell cases provide superior durability and protection for your belongings.
They're built to withstand the rigors of travel—protecting your items from rough handling. Additionally, modern hard-shell luggage often comes equipped with advanced security and tech-friendly features such as built-in locks and USB charging ports.
Finally, their smooth exteriors and multidirectional wheels ensure ease of transport and effortless movement—making them an excellent choice for travelers seeking reliability and convenience.
The Carry-on Flex from Away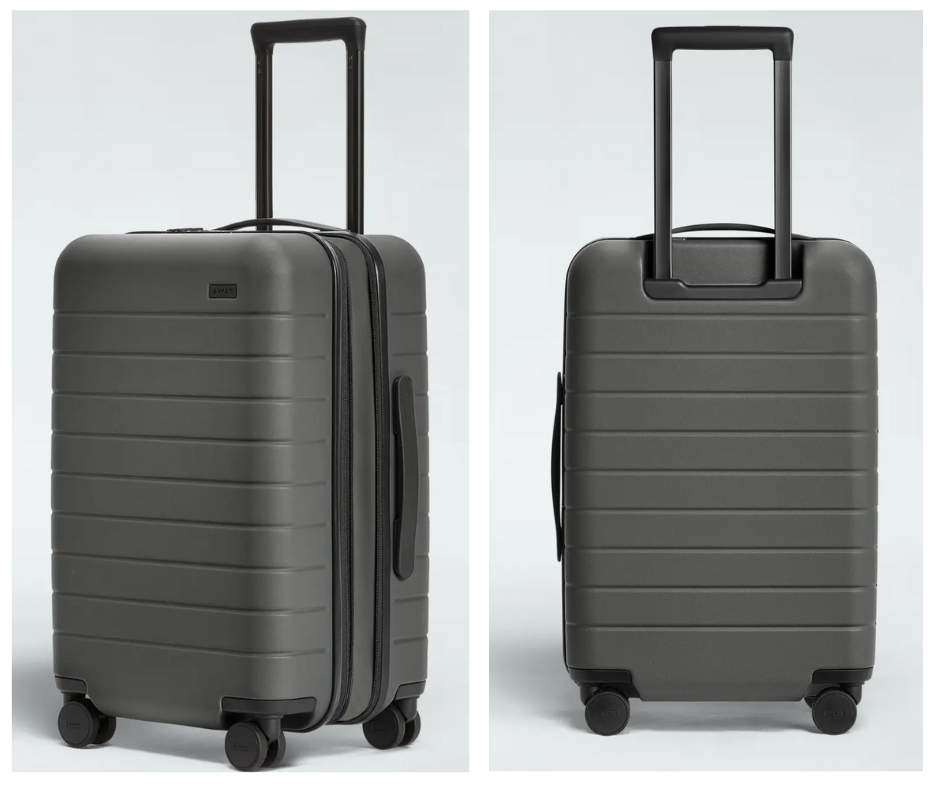 The Carry-On Flex from Away is a suitcase designed for frequent travelers who value versatility and expandable storage. Its expandable design ensures that you have the room you need for both short and extended trips, and it maintains the quality and features that have made Away a favorite among frequent fliers.
Key Features
The standout feature of this carry-on is its expandable design. By unzipping the flex feature, you can create an additional 2.25 inches (6 cm) of space, which comes in handy for accommodating last-minute purchases or additional items during layovers or extended stays.
When not fully expanded, this suitcase is the perfect size for carry-on, meeting airline size restrictions. However—when fully flexed—it becomes suitable for checked luggage.
The Carry-On Flex retains the features you love about Away's classic Carry-Ons. This includes interior organization, 360° spinner wheels for easy maneuverability, and thoughtful details that enhance your travel experience.
It's designed to complement Away's larger checked luggage options—such as The Medium Flex or The Large Flex, so you can efficiently pack for longer trips.
Specifications:
Exterior Measurements: 21.7″ x 13.7″ x 9″
Interior Measurements: 20″ x 13.5″
Weight: 8.15 lbs
Capacity: 39.8 liters (expandable to 46.7 liters when expanded)
Price: $325
The Nomatic Carry-On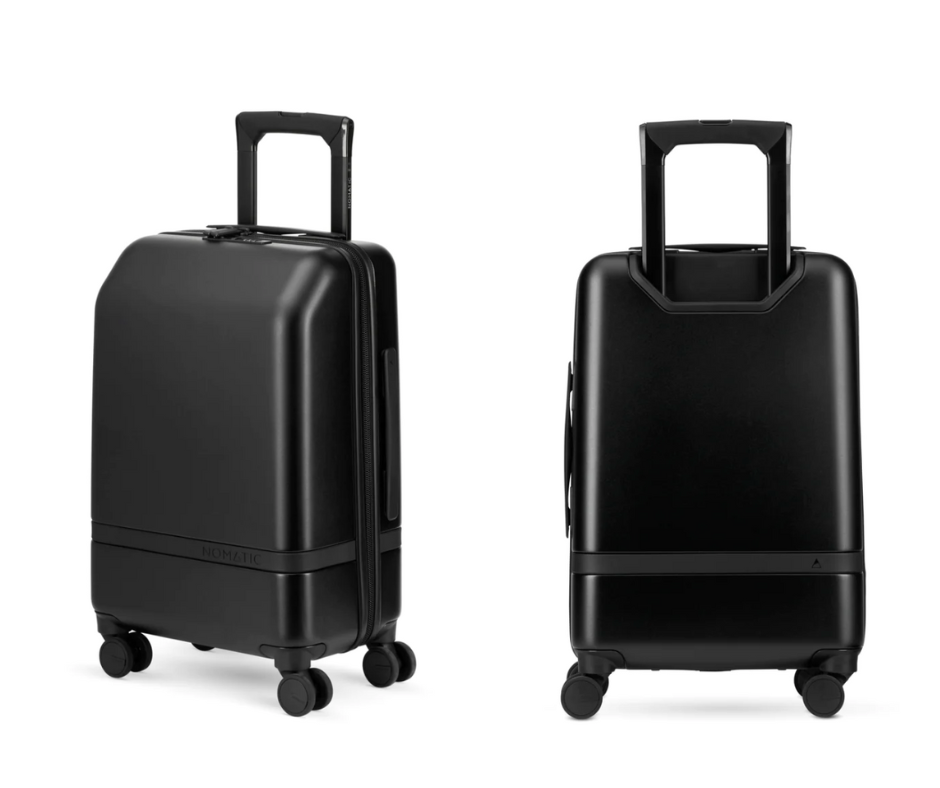 The Nomatic Carry-On Classic is a well-organized and stylish travel companion that's especially suitable for frequent business travelers. The Nomatic Carry-On Classic is an excellent option for those who prioritize organization, style, and premium quality in their luggage.
Its 30-liter capacity is ideal for shorter trips, but the higher price tag might be a consideration for those needing frequent laptop access. Overall, it's a durable and well-designed travel companion for business travelers and anyone who appreciates top-tier organization in their luggage.
Key Features
This suitcase is renowned for its exceptional organization—which enables you to maximize capacity while keeping your belongings neatly arranged.
It offers a capacity of 30 liters, making it a compact yet efficient choice for shorter trips.
The Nomatic Carry-On Classic boasts a sleek and premium appearance—making it an excellent match for business travelers who value style and professionalism.
Price: $399
Specifications:
Weight: 7.46 lbs
Capacity: 30 liters
Outer Dimensions: 22″ H x 14″ W x 9″ D
Rimowa Essential Cabin Lightweight Carry-On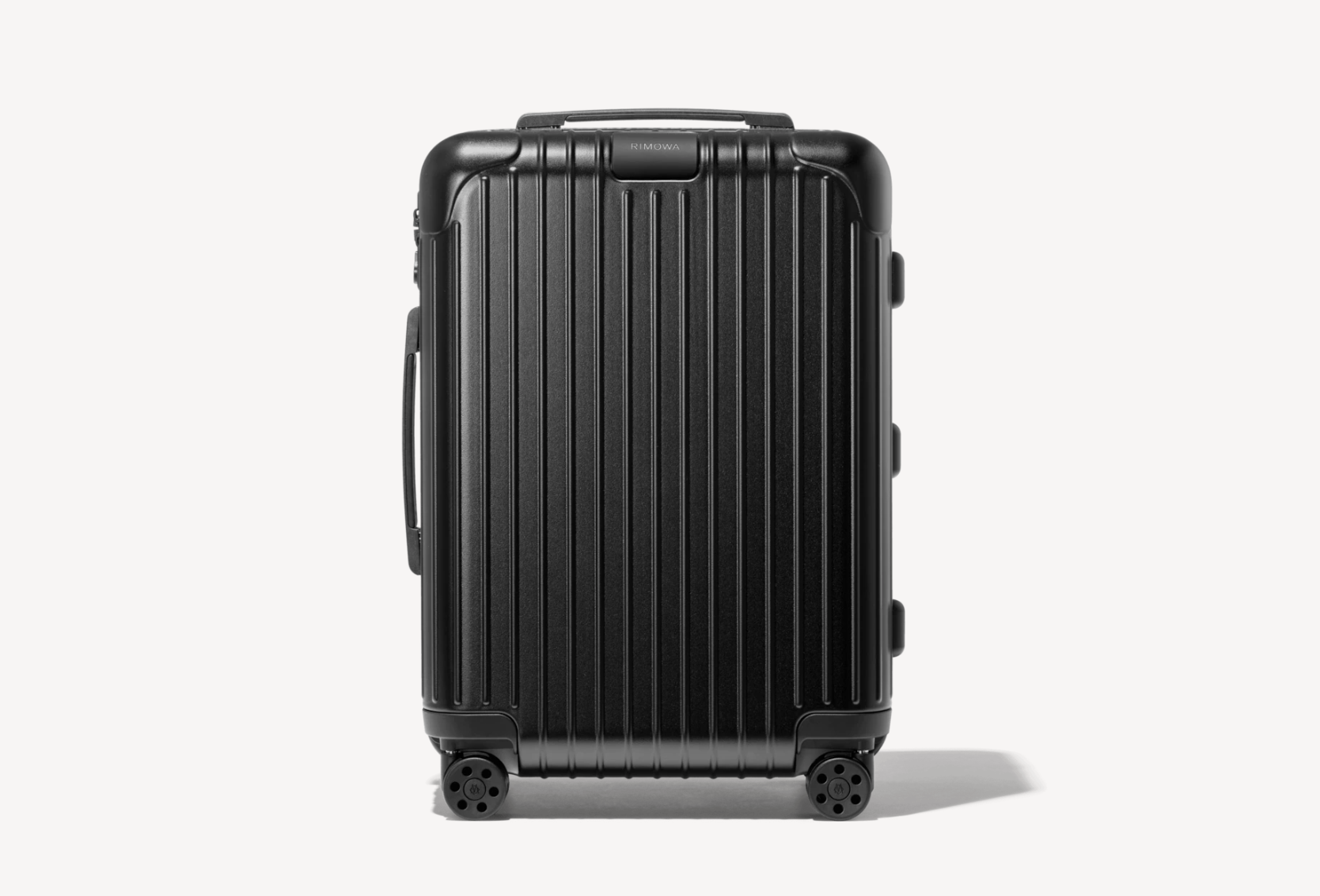 The RIMOWA Essential Cabin is an iconic piece of luggage that revolutionized the industry as the world's first polycarbonate suitcase, originating from Germany. The RIMOWA Essential Cabin is a remarkable piece of luggage known for its high-tech functionality, durability, and lightweight design. Its TSA-approved locks, Flex Divider, Multiwheel® system, and telescopic handle make it a top choice for travelers who value innovation and convenience.
Key Features
Each RIMOWA suitcase comes equipped with TSA-approved locks. These locks allow security personnel to inspect your luggage without causing any damage.
The carry-on features a height-adjustable Flex Divider, ensuring that your packed items remain well-organized and secure during transit. You can adapt it to suit your specific belongings.
RIMOWA pioneered the Multiwheel® system, which offers exceptional stability and effortless steering. This is achieved through ball-bearing mounted wheels with cushioned axles—ensuring smooth navigation.
The suitcase is engineered with a telescopic handle that offers seamless, stage-free adjustment for maximum comfort and easy maneuverability.
Price: $900
Specifications:
Width: 15.8 inches
Depth: 9.1 inches
Height: 21.7 inches
Weight: 7.1 pounds
Volume: 9.8 gallons
Materials:
Outside: Polycarbonate
Inside: Polyjacquard
Zippers: KK Metal
Handles: Plastic
Wheels: Polycarbonate
Dividers: Polyjacquard
Best Backpacks
Selecting a backpack for travel offers multiple advantages—including balanced weight distribution that reduces strain and fatigue. These backpacks typically provide spaciousness and well-organized compartments—making it easy to pack and access your belongings.
They often strike a balance between a professional and casual appearance, and opting for neutral or versatile colors maintains a polished look. When choosing a travel backpack, it's crucial to evaluate your specific needs—such as accommodating your laptop, documents, and any additional gear. These considerations ensure that the backpack aligns perfectly with your travel requirements and enhances your overall experience.
Patagonia Black Hole Backpack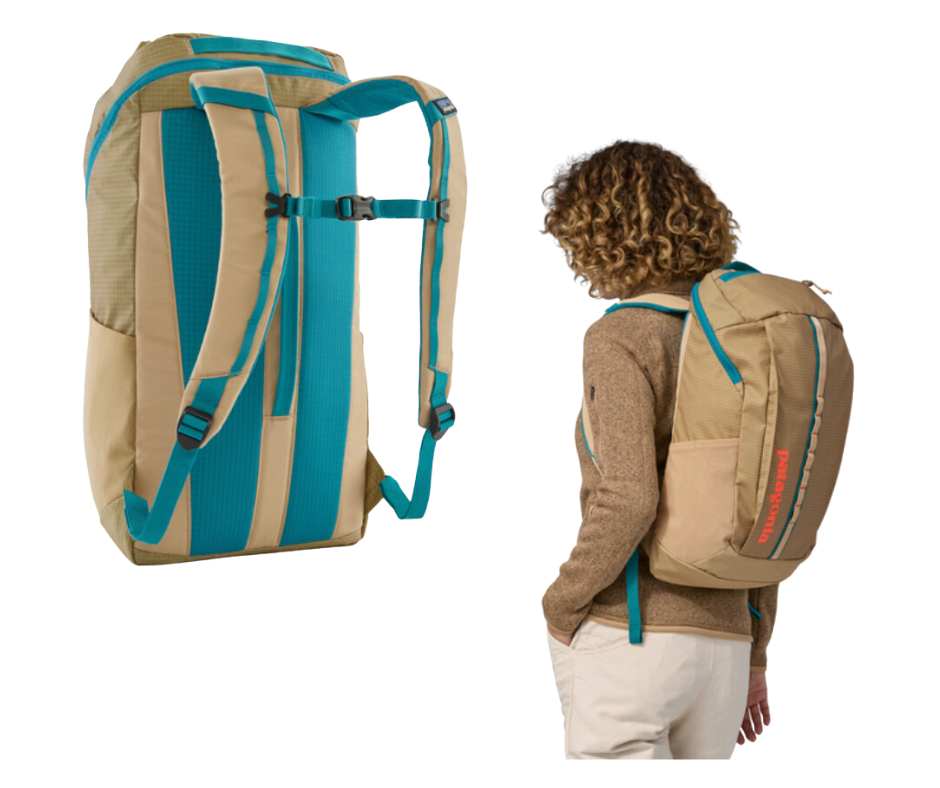 The Patagonia Black Hole Backpack is a robust and environmentally conscious daypack designed to handle your daily needs. This backpack offers durability, organization, and a commitment to environmental sustainability. With its ample storage options, it's a versatile choice for daily use while contributing to reduced environmental impact through its use of recycled materials.
Key Features
This backpack is constructed from burly recycled polyester ripstop with a matte, weather-resistant, recycled TPU-film laminate.
It provides easy access to the main compartment—which includes a padded sleeve suitable for most 15″ laptops. There's also a zippered internal pocket for organizing smaller items.
The large front stash pocket is perfect for keeping essentials organized and within reach.
On the sides, stretch-woven pockets accommodate a wide range of water bottle shapes and sizes. The backpack also includes a top-mounted, reinforced haul handle and a front daisy chain for lashing additional gear.
This product is made in a Fair Trade Certified™ factory—ensuring that the people involved in its production earn a fair wage for their labor.
Price: $149
Specifications:
Country of Origin: Made in Vietnam.
Weight: 640 grams (22.58 ounces)
Dimensions: 18.8″ x 11″ x 5.9″
Capacity: 25 liters (1,526 cubic inches)
Materials:
Body: 8.7-ounce 300-denier 100% post-consumer recycled polyester ripstop with a postindustrial recycled TPU-film laminate.
Lining: 3-ounce 200-denier 100% recycled polyester with a PU coating.
Women's Osprey Fairview 40 Travel Pack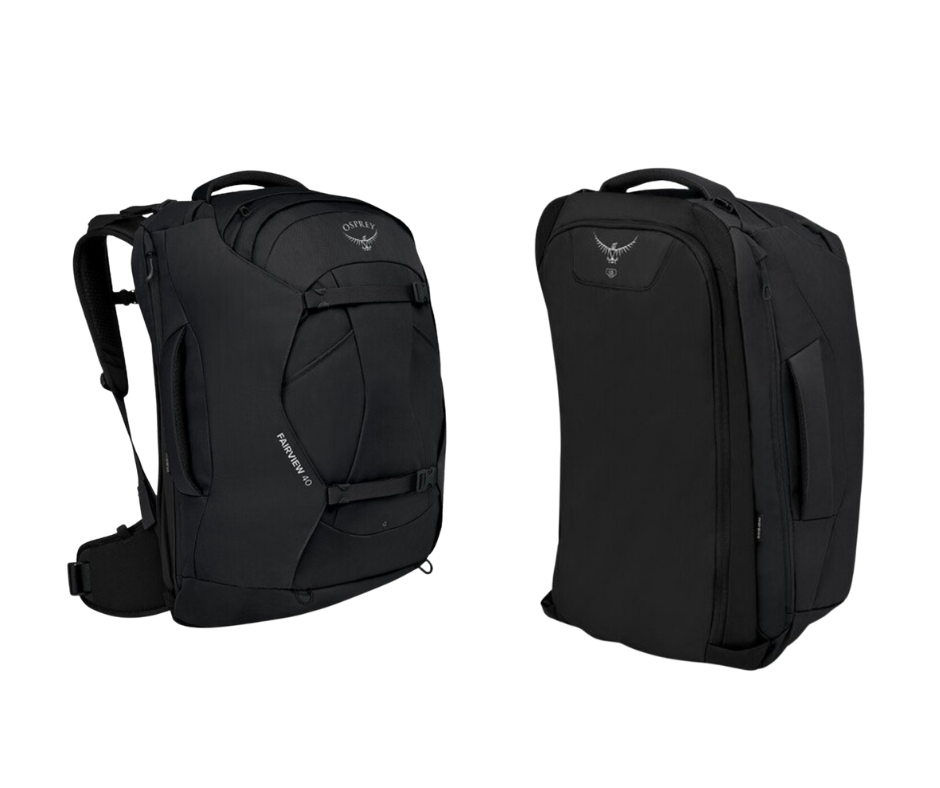 The Women's Osprey Fairview 40 Travel Pack is an excellent choice for adventurous globetrotters who want to travel lightly and efficiently. It is an excellent companion for female travelers who appreciate a balance of lightweight design, durability, and comfort. Its travel-friendly features, optimized organization, and tech-savvy compartments make it an ideal choice for those on the move—whether for short trips or more extensive journeys.
Key Features
The Fairview Family—designed for female travelers—combines the lightweight nature of travel backpacks with serious backpacking features. This includes fine-tunable torso adjustments, load-lifting LightWire frames, and breathable harnesses and hip belts—providing comfort and support.
The internal organization of this pack has been optimized for travel purposes. It includes rugged compression straps to keep your load tight and stable—whether you're carrying your full kit or slimming down for excursions.
The Fairview 40 is designed to meet most domestic carry-on size requirements—making it the perfect all-in-one solution for streamlined travel.
It features a quick-access padded laptop sleeve that can accommodate devices up to 16 inches, along with an external toiletry pocket for easy access during security checks.
This pack is compatible with the Farpoint® | Fairview Daypack (sold separately)—adding extra flexibility to your travel setup.
Price: $185
Specifications:
Size: O/S (One Size)
Volume: 2441 cubic inches / 40 liters
Dimensions: 22 inches high x 14 inches wide x 9 inches deep
Weight: 3.411 pounds
The ReNew Transit Backpack from Everlane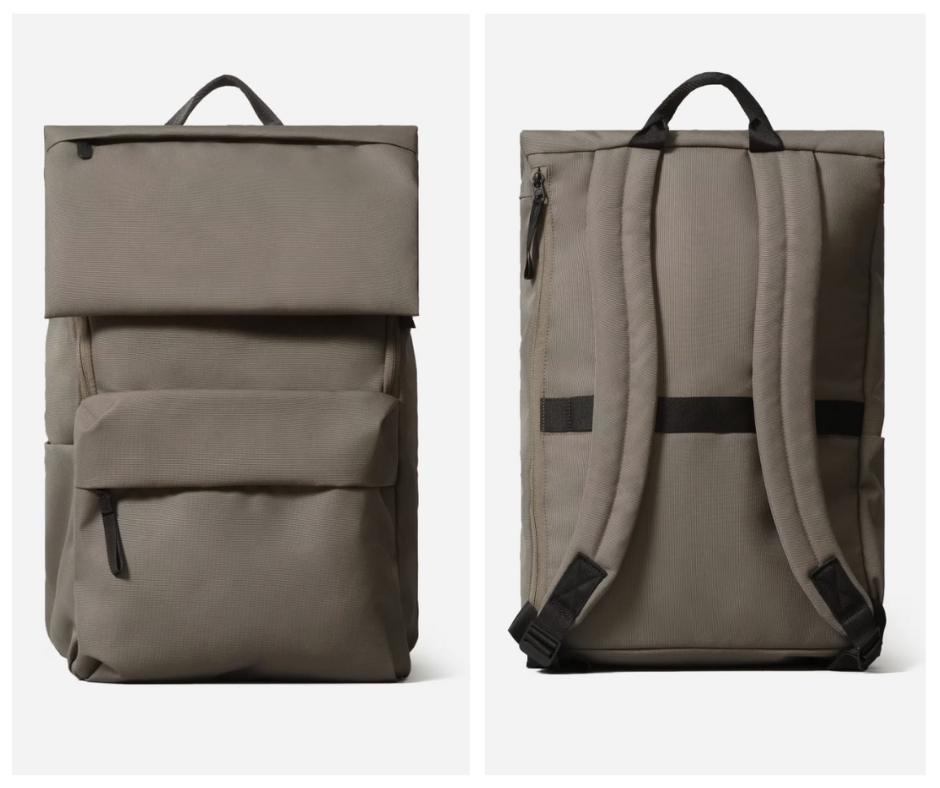 The ReNew 15″ Transit Backpack is a sustainable and well-designed backpack that offers functionality and eco-friendliness. The ReNew 15″ Transit Backpack offers a combination of practical features and environmentally friendly design. Its TSA-accessible laptop pocket, ample storage compartments, and sustainable materials make it an excellent choice for travelers who want to reduce their environmental impact while staying organized on the go.
Key Features
TSA-Accessible Padded Laptop Sleeve: It includes a 15″ exterior laptop pocket that allows for easy TSA access—making it convenient for travelers during security checks.
Catch-All Zip Pockets: The backpack features catch-all zip pockets designed for storing essential items such as passports and tickets—helping you keep your travel documents organized and accessible.
Magnetic Closure: The backpack has a handy magnetic closure for secure and easy access to your belongings.
Pass-Through Strap: For added convenience during travel, it comes with a detachable padded shoulder strap that attaches to your roller bag—making it easy to stack your backpack on top of your suitcase.
Eco-Friendly: The ReNew Transit Backpack is made from 100% recycled polyester—contributing to sustainability efforts. It's worth noting that while some parts like zipper sliders and pulls are metal, the majority of the zipper pulls are made from recycled polyester. The only new plastic used is for the zipper coil (teeth).
Specifications:
Height: 17.5 inches
Depth: 7.25 inches
Length: 12 inches
Capacity: 27 liters
Made from: 29.2 renewed plastic bottles
Which Travel Bag Will You Purchase?
When it comes to choosing the right travel bag, the options are endless! We hope this list helped you narrow your search for the perfect luggage. Remember that each style comes with its unique advantages. Hard-shell luggage offers durability and protection for your belongings with modern security features. Soft-sided luggage is more flexible and lightweight—ideal for overpackers.
For a balanced approach, consider backpacks that distribute weight evenly and provide organization. And, if sustainability is a priority, eco-friendly options like the ReNew Transit Backpack are a great choice.
Which travel bag made the cut? Share your thoughts and experiences in the comments to help fellow travelers make their best choice. Happy travels!
By Armela E.