Sustainable Hotel Spas Designed for Maximum Relaxation and Minimal Impact on our Planet
With the rise of eco-conscious travel, more travelers are looking for ways to reduce their carbon footprint while still enjoying a luxurious vacation. This has led to the emergence of sustainable hotel spas – a concept that combines ultimate relaxation with environmental responsibility. By choosing a sustainable spa, travelers can indulge in luxury while also making a positive impact on the environment – truly an engaging and self-discovery journey. Ultimately, it's a win-win situation for both yourself and the planet. Below is our list of spas from the best eco-resorts around the world. These spas pair sustainable practices, local ingredients, and indigenous traditions with the latest treatments and technologies. From the Six Senses Spa collection to Bardessono Hotel & Spa, read on to learn what each eco-friendly resort offers its guests.
The New Age Traveler's Expectation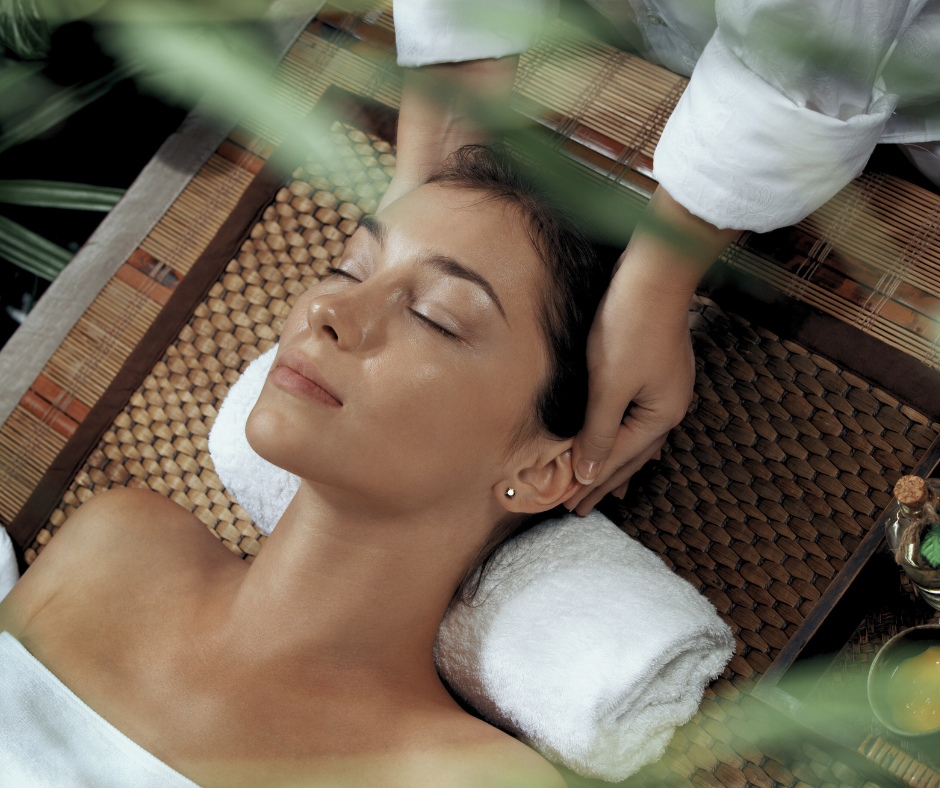 A recent study by Booking.com shows that 76% of global travelers want to travel sustainably, and 43% would pay more for eco-friendly accommodations. This trend is not surprising as we become increasingly aware of environmental issues.
Additionally, a survey published by the World Economic Forum found that up to 74% of travelers agree that traveling sustainably is important. This indicates that sustainable travel is not just a trend, but a rapidly growing preference among travelers worldwide.
Core Principles of Sustainable Hotel Spas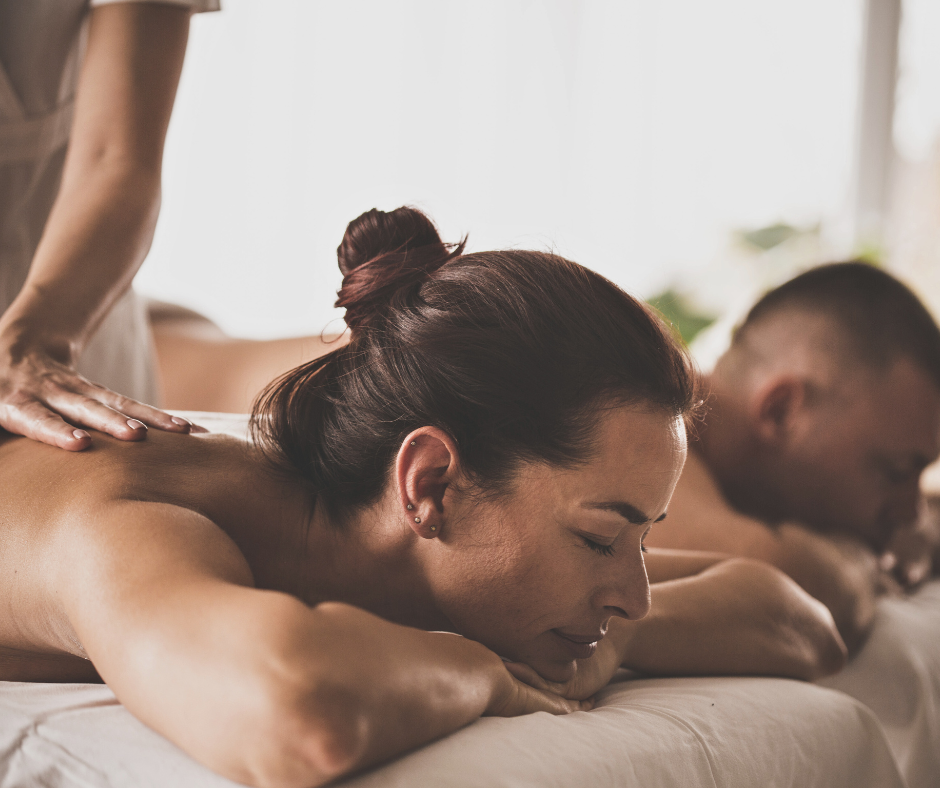 Plenty of hotels and resorts have been accused of "greenwashing" over the years. It's certainly not enough to claim a green ethos without actually honoring those principles. To be considered truly sustainable and environmentally friendly, each luxury eco-resort must meet certain criteria. These criteria include incorporating energy-efficient practices, utilizing eco-friendly products, supporting local community development initiatives, and promoting wellness through on-site gardens and natural elements. Some fund wildlife conservation efforts and lead clean-up efforts designed to preserve the pristine environment that surrounds their resorts. The best eco hotels protect our planet and its people.
Eco-friendly Design and Construction
The design and construction of sustainable spas play a crucial role in their eco-friendliness. These facilities often use sustainably sourced materials—such as bamboo, reclaimed wood, and non-toxic paints. They may also incorporate natural elements like living walls or green roofs to improve air quality and provide insulation.
Water and Energy Conservation
Sustainable spas prioritize water and energy conservation to reduce their carbon footprint and limit the stress they place on local resources. This may include using low-flow fixtures, energy-efficient lighting systems, and solar panels or other renewable energy sources.
By implementing these practices, sustainable spas can significantly reduce their environmental impact while still providing a luxurious experience for guests.
Waste Reduction
Sustainable spas also strive to minimize waste through various practices—such as using biodegradable products, implementing recycling programs, and composting organic materials. Such practices not only reduce their environmental impact but also support a circular economy where resources are reused or repurposed rather than discarded.
Locally-Sourced Products and Labor
Social responsibility is another key element. Sustainable spas often demonstrate and advertise some level of commitment to supporting the local community. This may include sourcing products and services from nearby businesses, hiring local employees, and giving back through charitable initiatives.
By investing in the local economy, sustainable spas not only contribute to the well-being of the community but also create a more authentic and immersive experience for guests.
Notable Sustainable Hotel Spas Around the World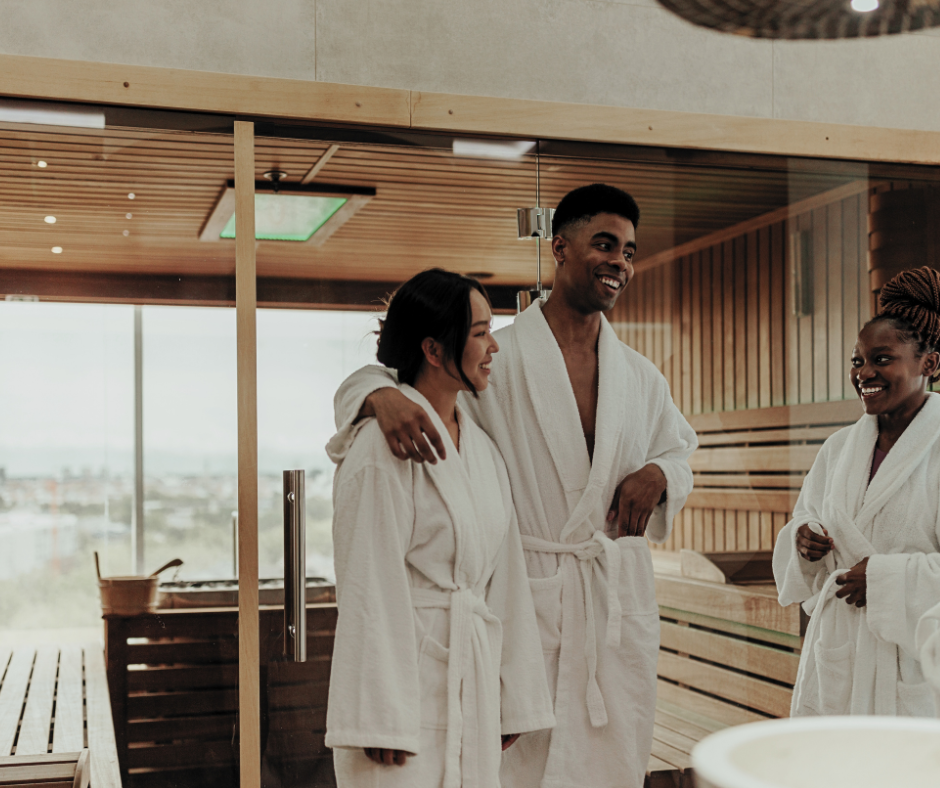 With the rise in demand for both comfort and sustainability, there has been a recent increase in the number of sustainable hotels and eco-spas globally. Many are in the luxury hospitality sector. Let's take a look at some of our favorite eco-friendly hotels with incredible spas.
Six Senses Spas – All Around the World
One well-known example is the Six Senses brand—which has locations across the globe in Thailand, Vietnam, Portugal, the Maldives, and beyond. Their commitment to sustainability includes recycling, conserving water, sourcing food locally, and even establishing Earth Labs in many resorts to educate guests about their initiatives.
Their spas feature organic treatments using sustainably sourced ingredients, and some locations even have their own on-site organic gardens. The spa products used are also carefully selected to align with the brand's values of sustainability and natural wellness.
The Six Senses spas are designed by renowned architects who incorporate eco-friendly elements into their designs—such as solar panels, rainwater harvesting systems, and energy-efficient lighting. This not only reduces the environmental impact of the spas but also creates a serene and natural atmosphere for guests to relax and rejuvenate.
For a full list of these luxury spa locations and features, check out their website here.
Six Senses Spa Courchevel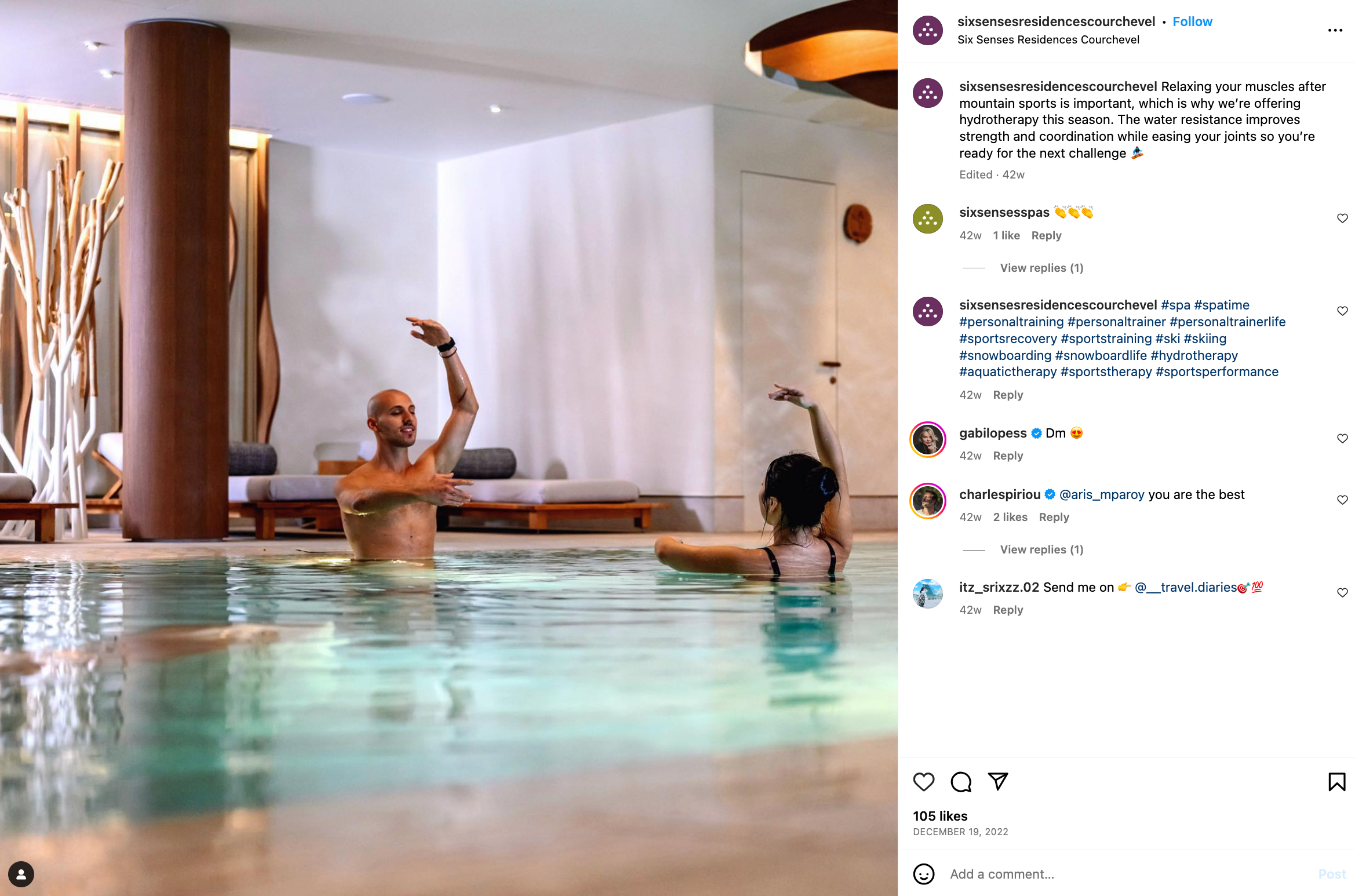 At Six Senses Courchevel, guests can enjoy a range of treatments inspired by the surrounding natural beauty—including alpine energy massages and snow crystal facials. This spa is popular among ski enthusiasts looking for luxurious rejuvenation after a day on the slopes in the heart of Courchevel. According to its website, this spa uses "biophilic principles to offer restorative therapies"—which allow guests to pair self-expression and growth with eco-friendly indulgence for a truly rejuvenating experience.
Six Senses Spa Elounda
If you prefer the sea to the slopes, Six Senses Spa Elounda offers spectacular views of the crystal clear waters of the Aegean Sea while presenting a diverse menu of treatments—ranging from massages, facials, and body treatments to more specialized therapies.
This exclusive spa embraces its Mediterranean location by incorporating local ingredients like Cretan herbs into its treatments which draw inspiration from Greek traditions. Combined with modern wellness techniques, these ingredients make for a truly unique experience.
Six Senses Spa Gstaad
In the rugged mountains of the Swiss Alps—famous for skiing, upscale hotels, and wellness retreats—lies the Six Senses Spa Gstaad. According to its website, this resort offers "advanced and Asian-inspired therapies." One treatment uses locally sourced royal jelly from the Alpine hives provided by local farmers. This experience redefines eco-luxury for any traveler wanting to limit their carbon footprint while indulging in luxurious spa treatments.
Bamford Wellness Spa in 1 Hotel Brooklyn Bridge – New York, USA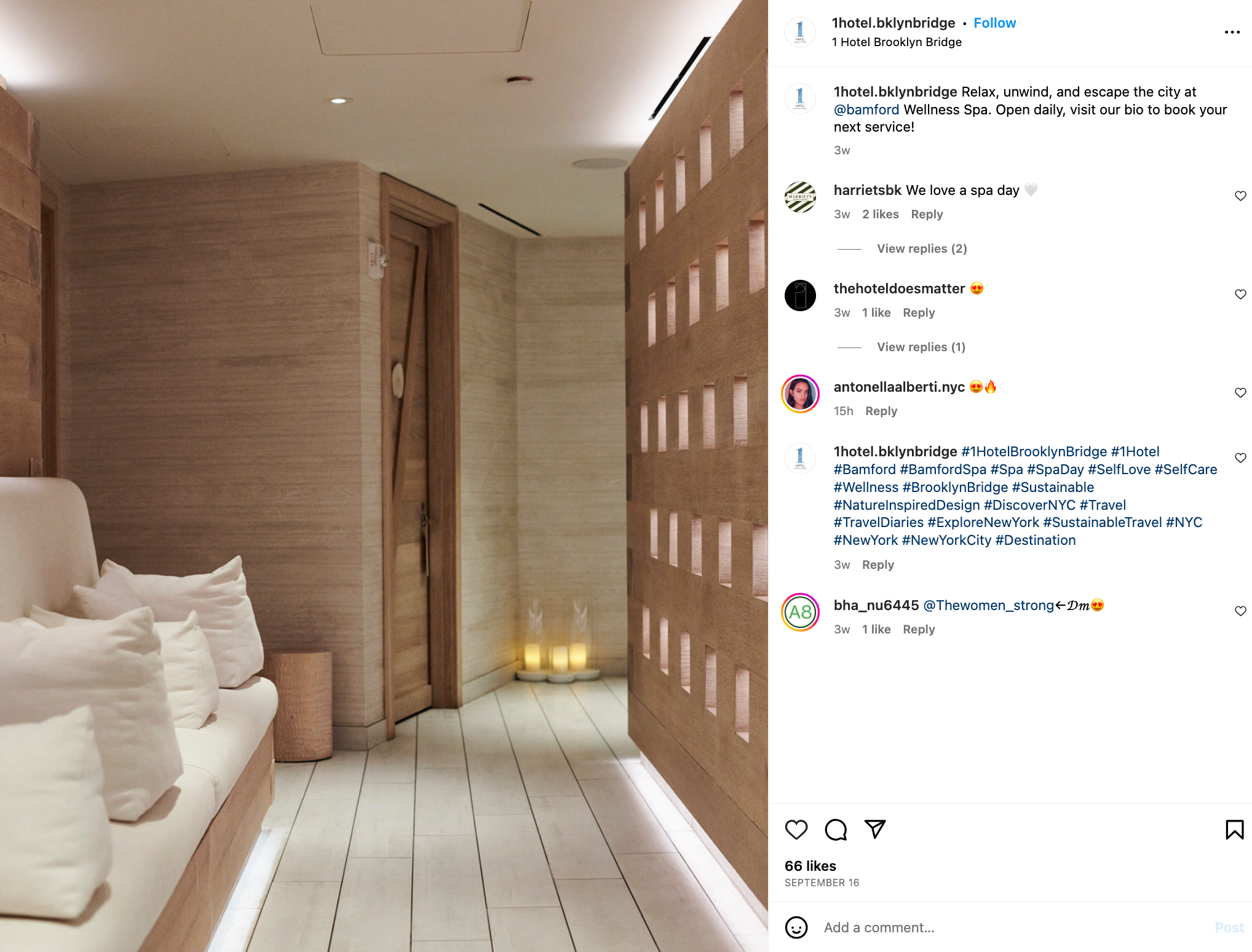 Perhaps you want to practice sustainable tourism closer to home. If you are on the East Coast, look no further than the Bamford Wellness Spa in New York. Leading the charge in limiting their carbon emissions, the Bamford Wellness Spa uses resources from local communities to nourish its visitors on a holistic level.
Mind, body, and spirit will receive locally sourced food products and spa services that "mitigate climate change, support local farming, and nurture healthy living," according to their website section dedicated to sustainability. The entire hotel is built using reclaimed materials like wood from old factories and warehouses.
The rooms themselves are dedicated to energy efficiency with low-energy LED lighting and smart temperature controls. Luxurious beds feature hemp-blend mattresses and organic cotton sheets.
This eco-resort was envisioned and brought to life by Carole Bamford—a pioneer in the advancement of organic food, and sustainable living. Sustainability initiatives include a nature-driven design, rainwater reclamation system, and the use of reclaimed materials to limit the amount of waste products.
Digital newspapers and filtered water in recyclable containers replace traditional paper newspapers and plastic bottles. Bamford's passion for the compatibility of luxury and sustainability is evident at Bamford Wellness Spa—which boasts an impressive CO2 offset of 19,171 tons.
Soneva Soul Spa at Soneva Jani Resort – Maldives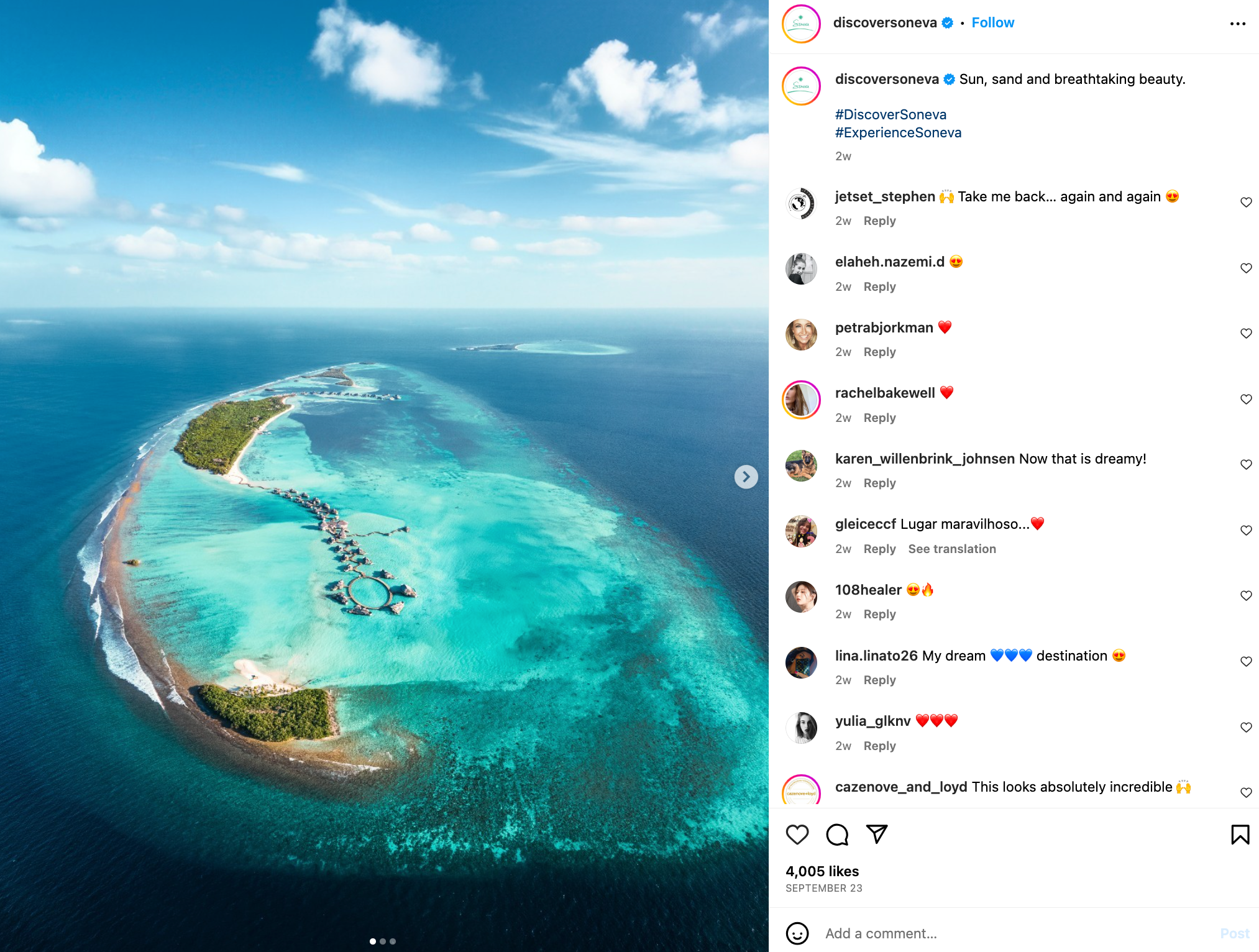 Take a trip to the Maldives or Thailand to experience rejuvenation in a stunning location unlike anything you have experienced. Both resorts from Soneva offer incredible experiences for travelers.
These spas offer organic and natural treatments that vary by location as they use locally sourced products. Both eco resorts maintain organic gardens and have a strong waste-to-wealth system—which benefits from the use of sustainable resources.
In the Maldives, Soneva Jani provides a tropical jungle feeling to tourists and their families with The Den playground. Parents can enjoy a rejuvenating spa treatment at the Soneva Soul eco spa—which uses locally sourced products in all their treatments. Before the day ends, take your leave of the spa to watch dolphins jumping from the crystal waters. The resort's Sunset Dolphin Cruise is another unique feature.
Eco Spa in The Scarlet Hotel – Cornwall, UK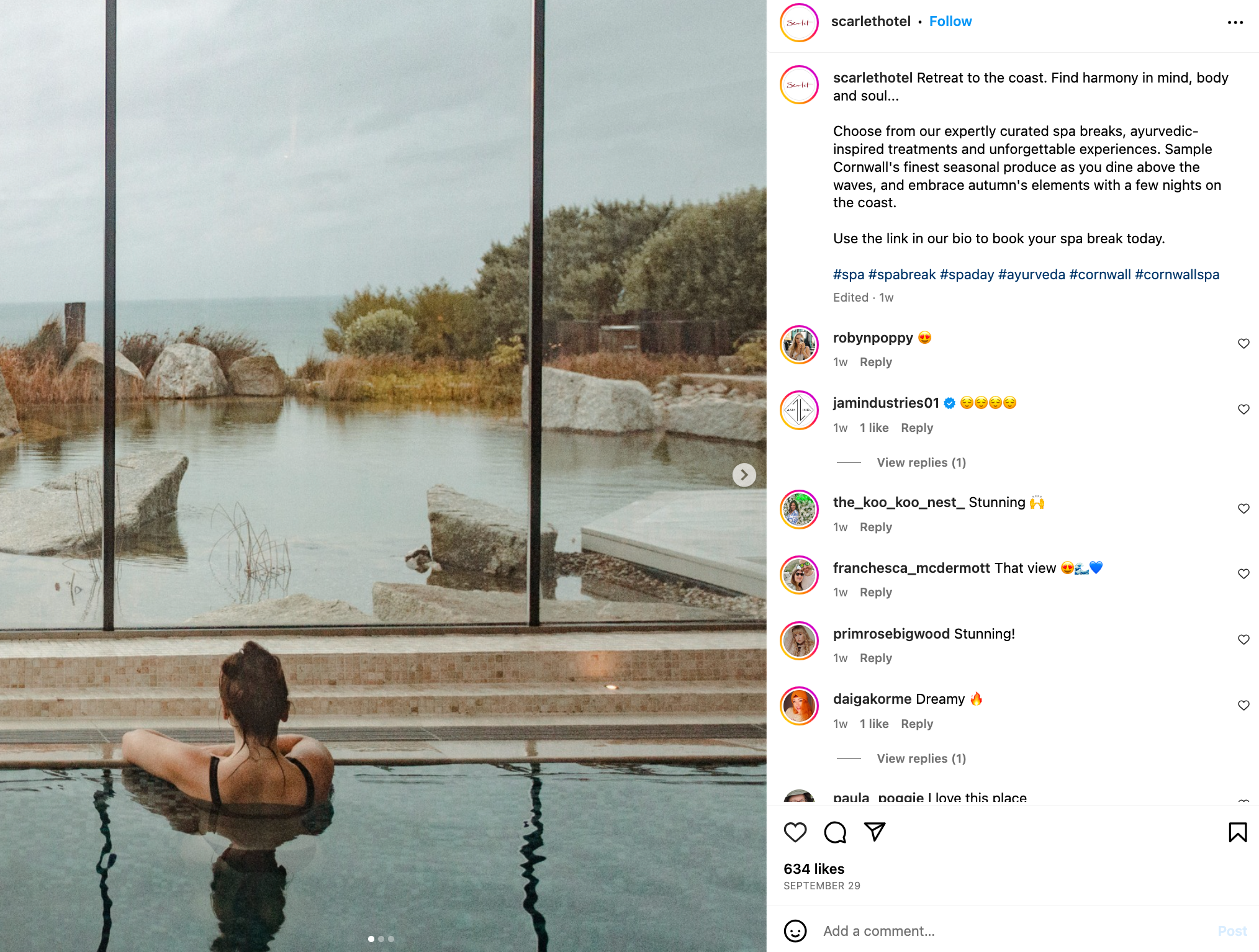 This next luxury spa is located in Mawgan Porth. The spa features a natural reed-filtered pool, solar panels, and locally sourced sustainable materials. But what truly sets this spa apart is its suspended cocoon pods—which provide a one-of-a-kind relaxation experience.
The outdoor clifftop hot tubs offer stunning views of the Cornish coast, allowing guests to connect with nature while indulging in some much-needed self-care. Many treatments at this spa are influenced by Ayurveda—an ancient Indian system of medicine and wellness.
The spa also takes pride in using a range of organic products that are ethically sourced. Sustainability initiatives include rainwater harvesting systems and wastewater that is treated and returned to the ground via a reed bed system, renewable energy, and heat recovery systems. On-site waste reduction systems including recycling and composting. This not only protects the environment but also ensures that guests are receiving high-quality and eco-friendly treatments.
Bardessono Hotel & Spa – California, USA
The Bardessono Hotel and Spa located in California, USA, is a prime example of an upscale luxury resort that prioritizes sustainability and eco-friendliness. This LEED Platinum-certified hotel uses geothermal heating, organic linens, and non-toxic materials to offer guests a luxurious yet environmentally conscious stay.
Bardessono Hotel and Spa is committed to using non-toxic and non-allergenic materials in its construction and day-to-day operations. This ensures that guests can relax without any worries about harmful chemicals or allergens. The hotel also boasts an on-site culinary garden that emphasizes organic farming practices and supplies fresh produce to its restaurant.
Spa treatments at Bardessono also align with the hotel's eco-friendly values. Many of the treatments incorporate organic products and draw inspiration from the Napa Valley setting—which is known for its vineyards and wine production. This not only adds to the indulgent experience but also showcases a deeper connection with nature.
Jean-Michel Cousteau Resort – Fiji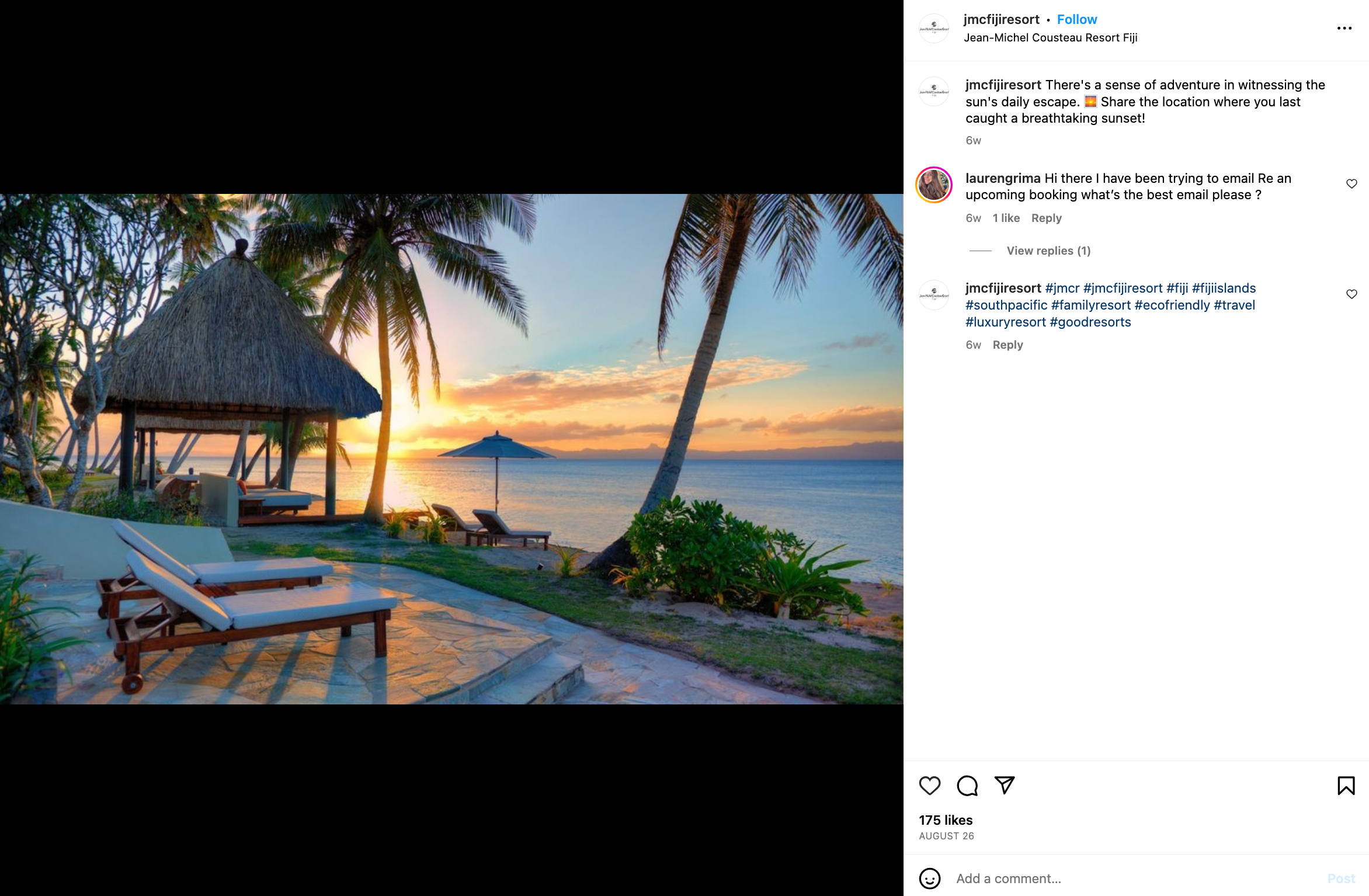 Another example of a luxury spa that strives to meet sustainability standards is the Jean-Michel Cousteau Resort. This stunning resort is set on 17 acres of land—with a focus on preserving the natural beauty and resources of Fiji.
Guests can enjoy treatments concocted from locally sourced, organic ingredients and take part in various conservation efforts. These include beach cleanups, coral reef restoration, and several other activities.
Located on the island of Vanua Levu in Fiji, Jean-Michel Cousteau Resort boasts an ethos rooted in sustainability and respect for the environment. The resort utilizes solar power and practices waste minimization to reduce its footprint on the Earth. Being associated with Jean-Michel Cousteau, the resort is naturally known for its diving experiences—which are an absolute delight for guests.
And when it comes to spa treatments, guests can book unique experiences inspired by ancient Fijian traditions. From massages using locally sourced virgin coconut oil to facials with papaya and honey, these therapies not only pamper the body but also connect guests to the Fijian culture and its ancestral healing traditions. At Jean-Michel Cousteau Resort, you can have it all: luxury, self-discovery, and a deeper connection with nature.
Lefay Resort & Spa – Lago di Garda, Italy
Nestled in the breathtaking Italian countryside, Lefay Resort & Spa is a luxurious eco-friendly getaway for those seeking relaxation and rejuvenation. Designed according to the principles of bio-architecture, this resort features energy-saving solutions such as solar panels and geothermal systems.
Lefay Resort & Spa also focuses on using local materials in its construction and promoting sustainable tourism practices. At this resort, guests have the opportunity to experience many spa treatments that seamlessly blend ancient Eastern techniques with cutting-edge scientific research.
These holistic therapies combine the principles of classical Chinese medicine with the latest advancements in scientific research to treat not just individual symptoms, but the root causes of stress and imbalance. With a variety of treatments available, guests can choose from relaxing massages, rejuvenating facials, and revitalizing body treatments—all using organic and locally sourced ingredients. This not only ensures a luxurious experience but also aligns with Lefay's commitment to promoting sustainable practices.
Beyond the spa, guests at Lefay Resort & Spa can also enjoy a range of activities that promote self-discovery and personal growth. From yoga and meditation to cooking classes and nature hikes, there are endless opportunities for guests to indulge while connecting with the environment. Learn more here.
Spas at El Nido Resorts – Several Resorts Across Palawan, Philippines
The spas at El Nido Resorts are also dedicated to sustainability and offer an eco-friendly luxury experience. Each green hotel—Miniloc, Lagen, Pangulasian, and Apulit—boasts its own unique spa facility that integrates nature-inspired elements into every treatment.
At Miniloc Island Resort, guests can enjoy a massage in their private villa surrounded by lush gardens or opt for a rejuvenating outdoor massage by the pristine beaches that surround this hotel. Lagen Island Resort offers a unique rainforest experience with its spa located in the middle of a dense forest—incorporating natural sounds and scents into every treatment.
Pangulasian Island Resort's spa is perched on a cliff—offering breathtaking views of the pristine natural surroundings while guests indulge in luxurious treatments using locally sourced organic ingredients. At the Apulit Island Resort, guests can enjoy a massage in their private beach cove or relax in the open-air spa pavilion overlooking the crystal-clear waters of the Pacific Ocean.
Beyond the luxurious spa treatments and facilities, El Nido Resorts also prioritizes sustainable practices. All resorts operate under a "Triple Bottom Line" approach—focusing on environmental, social, and financial stewardship.
From using solar power and rainwater harvesting to supporting surrounding communities and promoting sustainable tourism practices, El Nido Resorts is committed to creating a positive impact on the world. So while indulging in a traditional Hilot massage using banana leaves and coconut oil—or experiencing an ancient Dagdagay foot massage with wooden sticks and Filipino techniques—guests can relax knowing that their luxury spa experience is supporting sustainable initiatives.
The Daintree Eco Lodge & Spa, Queensland, Australia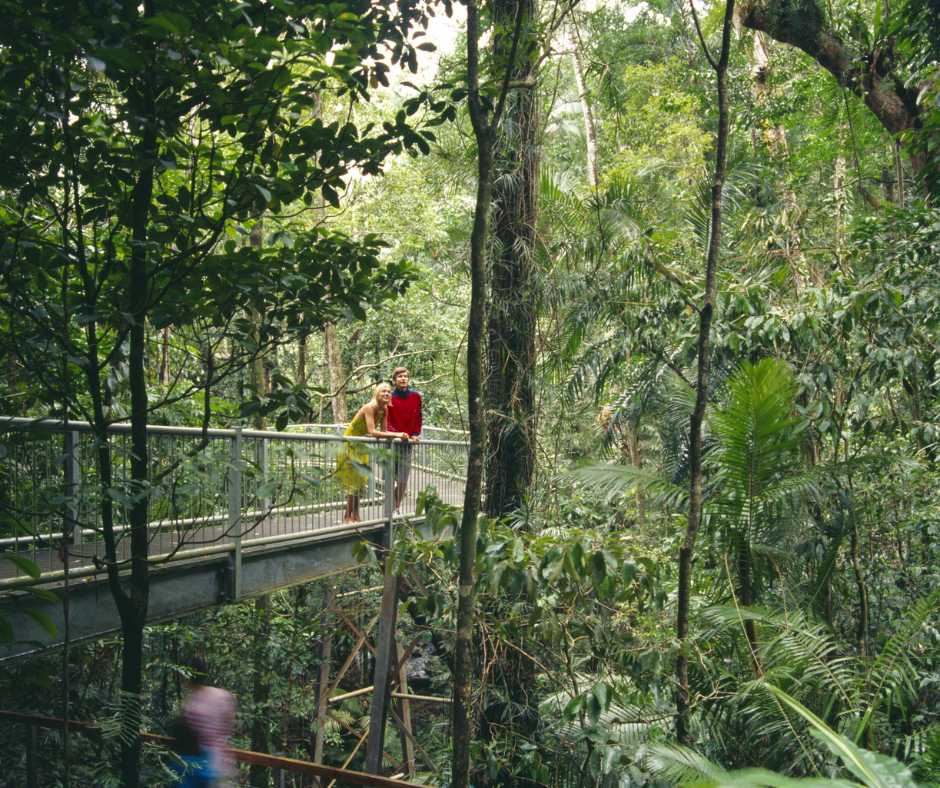 If you're looking for an eco-friendly trip down under, look no further than the Daintree Eco Lodge and Spa. Located amidst the world's oldest rainforest, these eco-friendly lodges offer a unique and immersive rainforest experience.
With over 135 million years of history, this ancient rainforest is a treasure trove of biodiversity and natural wonders. At this luxury eco spa, guests can not only relax and rejuvenate but also learn about the importance of preserving this delicate ecosystem.
From rainwater harvesting to waste recycling, this spa strives to limit its carbon footprint and promote sustainable practices—working closely with the local community and indigenous people. The treatments and therapies offered here are inspired by the ancient traditions of the local Kuku Yalanji people.
They incorporate native Australian ingredients like macadamia, Kakadu plum, and Davidson plum. These ingredients not only provide nourishment for the body but also support the community and promote a connection with nature.
In addition to indulgent spa treatments, guests can also embark on guided wildlife cruises and local nature walks—where they can witness the rich flora and fauna of the Daintree Rainforest. This allows for a truly immersive experience—connecting with nature and gaining a deeper appreciation for the environment.
What to Look for When Booking a Sustainable Hotel Spa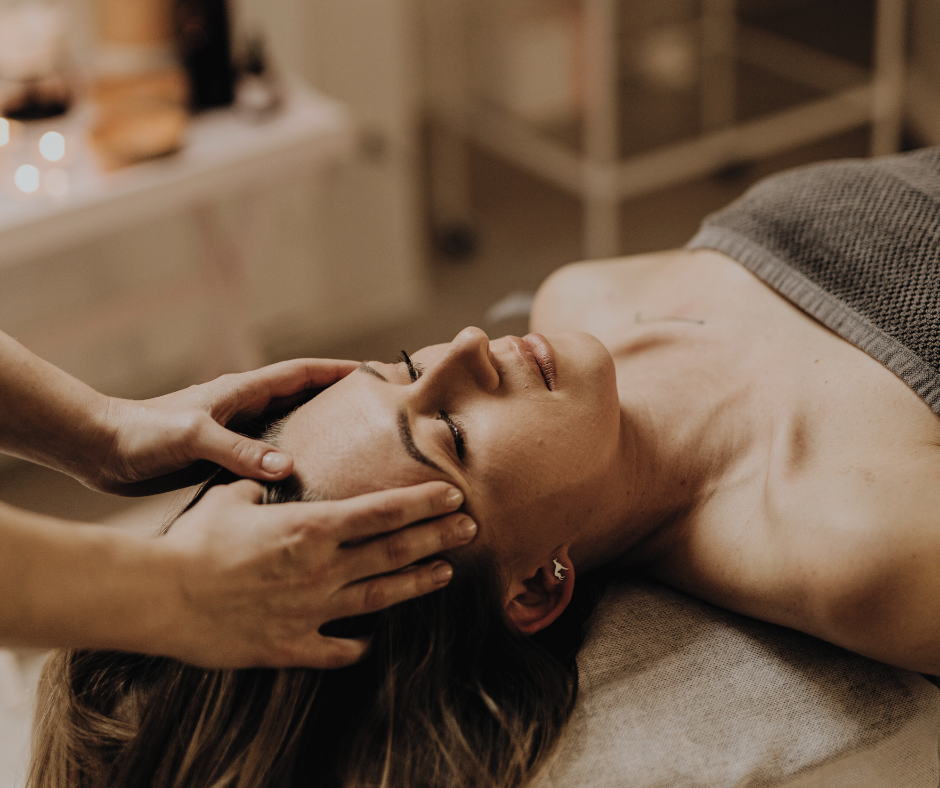 When booking a sustainable hotel Spa, be sure to look for certifications and awards like Green Key, EarthCheck, or LEED. Check guest reviews for authentic feedback from actual visitors, and don't be afraid to make direct inquiries to the hotel about their sustainability practices.
If you have visited an eco-friendly resort or spa, be sure to share your experience with others in the comments below. Did we miss any? Tell us!
By Amy Bonifacio.