Painted Ladies: All About San Francisco's Victorian Row Houses
The Painted Ladies of San Francisco—an iconic ensemble of Victorian and Edwardian houses—have long captured the imagination of both locals and tourists due to their jewel-toned facades and antique ornamentation. Built primarily along Steiner Street across from Alamo Square Park, these Victorian row houses encapsulate the architectural renaissance that revitalized this city during the Gold Rush.
Characterized by their intricate detailing, multi-hued facades, and distinctive bay windows, these row houses are both aesthetic marvels and historical markers—reflecting the city's resilience through devastating disasters like the 1906 earthquake. This article delves into the history, architecture, and cultural significance of these celebrated structures. You might be surprised to learn that the now vibrant exteriors of San Francisco's Victorian houses were repainted during the 1960s and '70s. Read on to learn more about these fascinating homes.
Exploring the History of San Francisco's Victorian Houses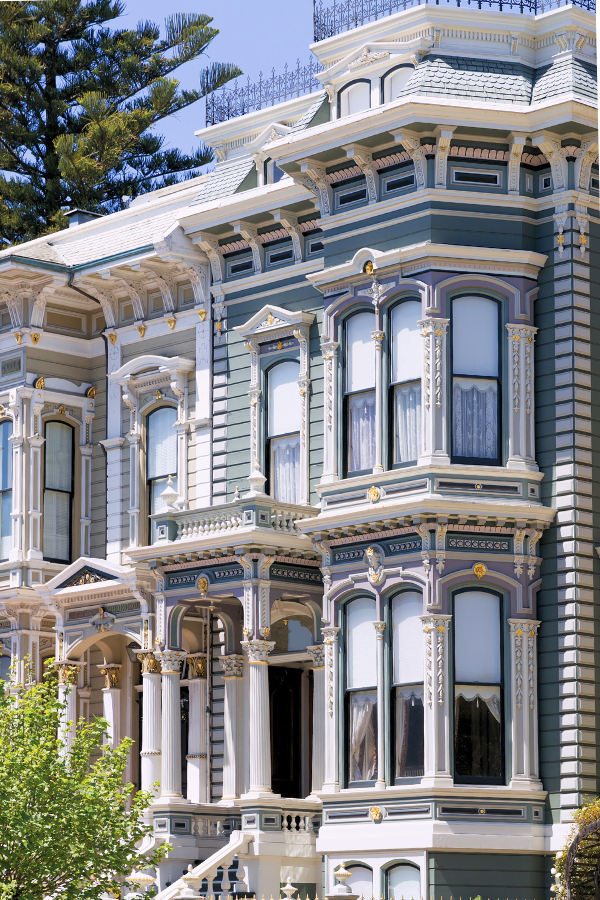 San Francisco's Victorian row houses—often referred to as "Painted Ladies"—have become one of the iconic symbols of the city. Their rich history traces back to the late 19th and early 20th centuries during California's Gold Rush era. San Francisco saw rapid growth following the California Gold Rush of 1849. As the city's population surged, there was a demand for housing, leading to the construction of many homes in the Victorian style, which was popular during that era.
Between the 1870s and the turn of the century, the Victorian and Edwardian styles of architecture were prominent. The homes from this era are characterized by intricate woodwork, turrets, squared bay windows, and often multiple stories. There are several subtypes of Victorian homes—including Italianate, Stick, Queen Anne, and Second Empire, among others. We will explore each of these in greater detail below.
The devastating earthquake and subsequent fires in 1906 destroyed many of San Francisco's historic buildings—including many Victorian homes. However, many that survived were moved to different locations or were rebuilt—preserving the style and charm of the original designs.
In the mid-20th century, the trend towards modernism and the idea of "urban renewal" led to the demolition of many older structures, including Victorians. However, preservationists and lovers of the architecture rallied to save these historic homes.
The Modern Preservation Movement to Save San Francisco's Victorian Houses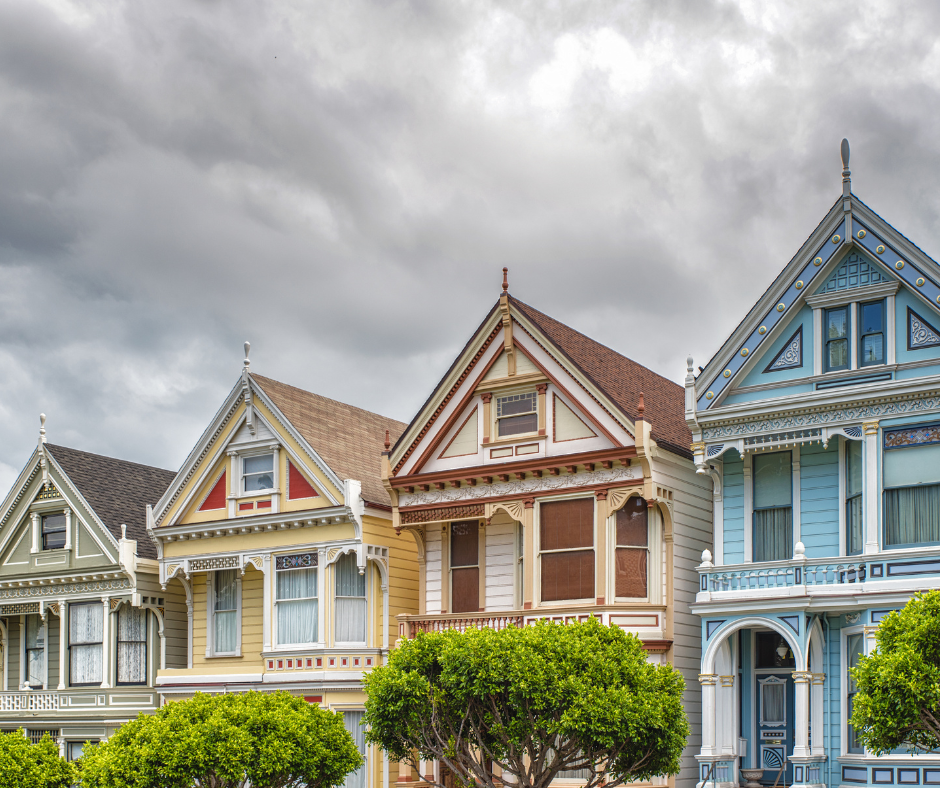 In the latter half of the 20th century, there was a strong movement to restore and preserve the remaining Victorian homes. This movement was not just about preserving the physical structures but also the rich history and charm that they brought to the city's neighborhoods. Ongoing efforts led by locals and by the Historic Preservation Commission established in 2008 continue to prioritize the care of these homes.
Today, the Victorian row houses are not just historical artifacts but also functioning homes. Their iconic status draws thousands of tourists every year, and they remain a testament to the city's resilience and commitment to preserving its history. In addition to their beauty and architectural significance, these homes are also reflective of San Francisco's diverse history—from the Gold Rush era to the present day—marking the evolution of the city through various periods of growth, decline, and rebirth.
Architectural Styles of San Francisco's Victorian Houses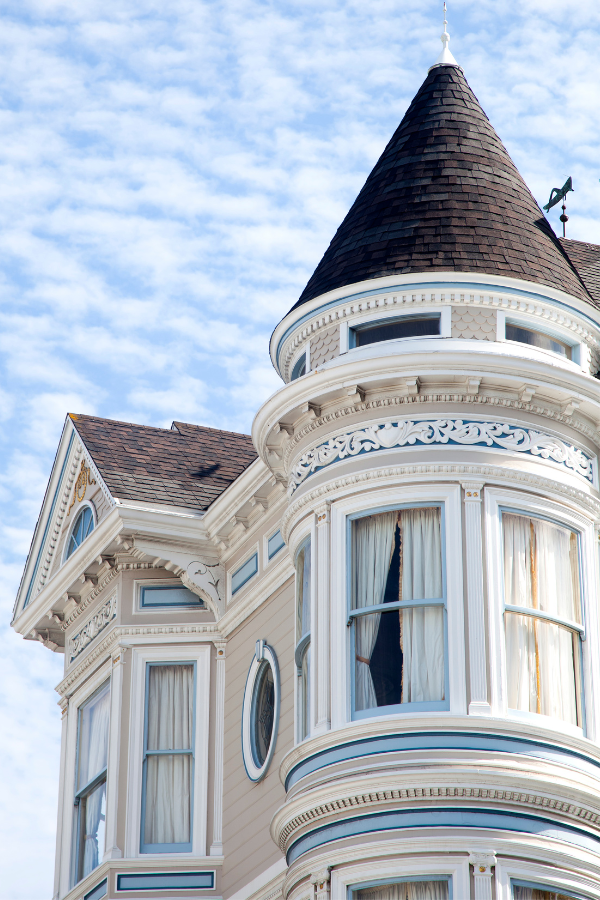 San Francisco boasts a diverse array of Victorian-era architectural styles—reflecting the evolution of design trends over the latter half of the 19th century and into the early 20th century. These styles often overlap and can evolve over time. For instance, a house built in the Italianate style might later receive a Queen Anne-inspired addition.
The diversity and adaptability of these styles are part of what makes San Francisco's Victorian architecture so captivating. From Gothic Revival to Shingle, below are the primary Victorian subtypes you'll find across the city.
Gothic Revival
The Gothic Revival style emerged between 1840 and 1880. Influenced by medieval design, Gothic Revival homes are distinguished by pointed arch windows, steeply pitched roofs, and decorative woodwork known as gingerbread trim. While this style is less common than others in San Francisco, you can still spot some examples.
Italianate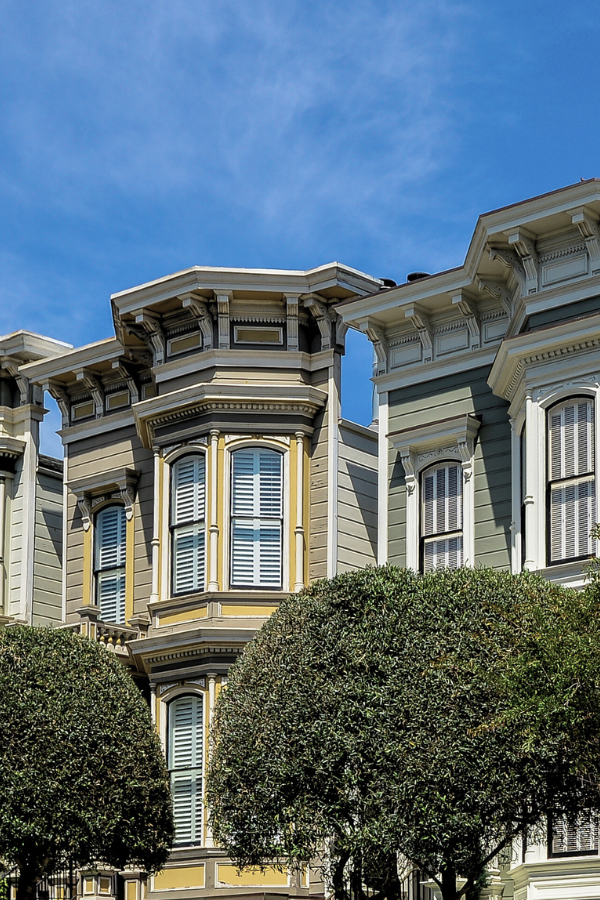 The Italianate style emerged between 1850 and lost popularity around 1885. Italianate architecture was one of the most popular Victorian-era styles in San Francisco. The predominant Victorian style for row houses in San Francisco is the Italianate style. This style was favored for its adaptability to narrow urban lots—making it ideal for the city's burgeoning row house development during that era.
Characteristics of Italianate row houses in San Francisco include tall narrow windows that are rounded or arched at the top, decorative cornices with brackets beneath the eaves, flat or low-pitched roofs, deeply overhanging eaves, and ornate moldings. Bay windows, a common feature in San Francisco's row houses, provide extra interior light and space. Tall, narrow proportions—often spanning two or three stories—are a key characteristic of San Francisco's Victorian row houses and others across the city.
Stick
The Stick style emerged between 1860 and lost popularity around 1890. Stick-style Victorians are characterized by their exposed wooden structural "sticks" and decorative trusses. They can be thought of as a transitional style between the Italianate and the later Queen Anne. The Sarah Mish House is one example of a Stick-Eastlake Victorian home.
Second Empire
The Second Empire style emerged between 1865 and lost popularity around 1890. This style is notable for its mansard roofs, which are flat on top and sloped on the sides. The design was inspired by architecture from the era of Napoleon III in France. Second Empire homes in San Francisco may also have other common Victorian elements, such as bay windows.
Queen Anne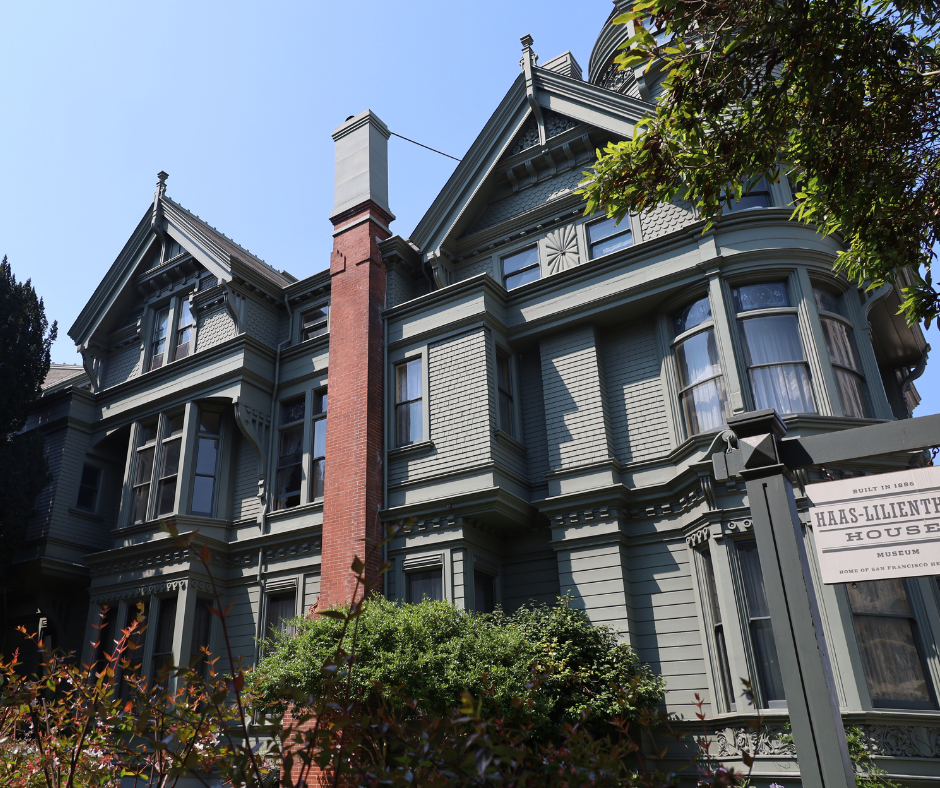 Identifiable by their gingerbread house details, the Queen style of Victorian homes emerged between 1880 and lost popularity around 1910. Queen Anne homes are often the most ornate—boasting features like turrets, spindlework, decorative brackets, and patterned shingles. Bay windows and large front porches are common.
In San Francisco, the use of multiple paint colors on these homes led to the term "Painted Ladies." The homes in San Francisco's famous "Postcard Row" at Alamo Square are Queen Anne style. Many are turreted Queen Anne homes.
Half a mile from Alamo Square is the Haas-Lilienthal House. The historic house in Pacific Heights is a Queen Victoria style home now listed on the National Register. Built in 1886, the Haas-Lilienthal House is not only an architectural gem but also holds significance as a historical landmark. It's one of the few intact Victorian-era homes in the city that is open to the public as a museum. The house offers a glimpse into the life and style of a well-to-do family living in San Francisco during the late 19th and early 20th centuries.
Shingle
The Shingle style emerged between 1880 and lost popularity around 1900. This style can be thought of as a subset of Queen Anne but places an emphasis on wood shingles as the dominant exterior feature. While the details might be more restrained than the highly ornate Queen Anne homes, Shingle style homes have a rustic, cohesive look due to the continuous shingled surface.
The Painted Ladies of Alamo Square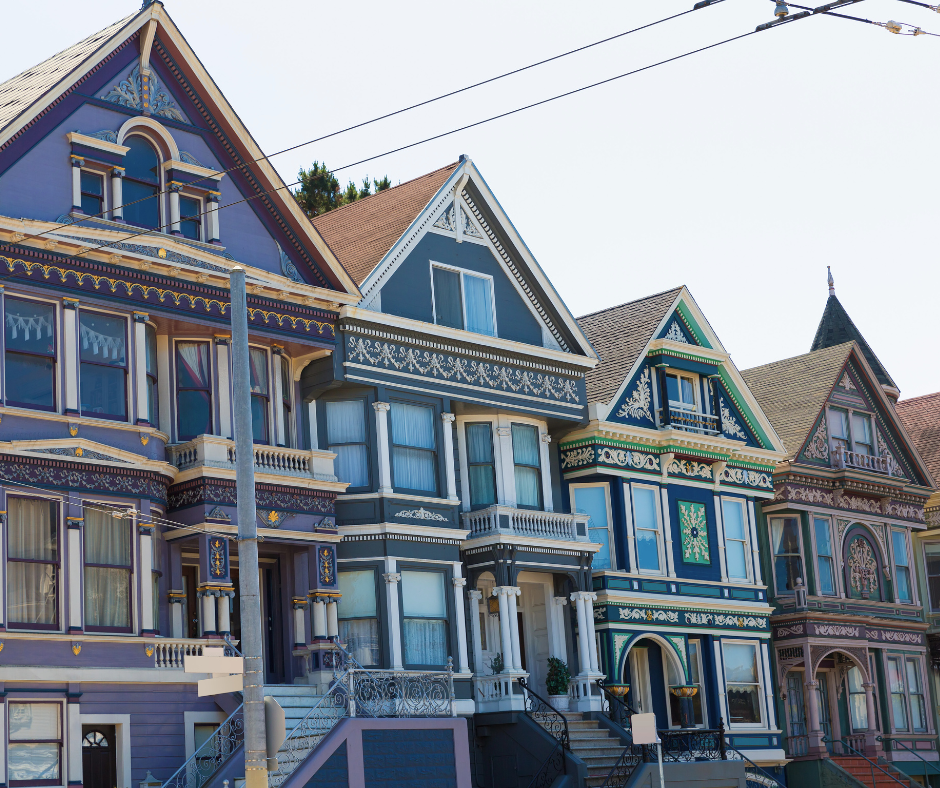 Perhaps the most famous of San Francisco's Victorian houses are "The Painted Ladies" of Alamo Square. The Painted Ladies are row houses—a style of housing where individual houses are built side-by-side and share common walls. Row houses are a common architectural style in urban areas—particularly in places with limited space—as they are designed to maximize the number of homes on a particular plot of land.
The Painted Ladies along Steiner Street in San Francisco are a series of adjacent homes built in a row, and they share common walls with each other. While these homes are particularly famous for their vibrant colors and Victorian and Edwardian architecture, the city has many other examples of row houses in various architectural styles.
All About the Steiner Street Row Houses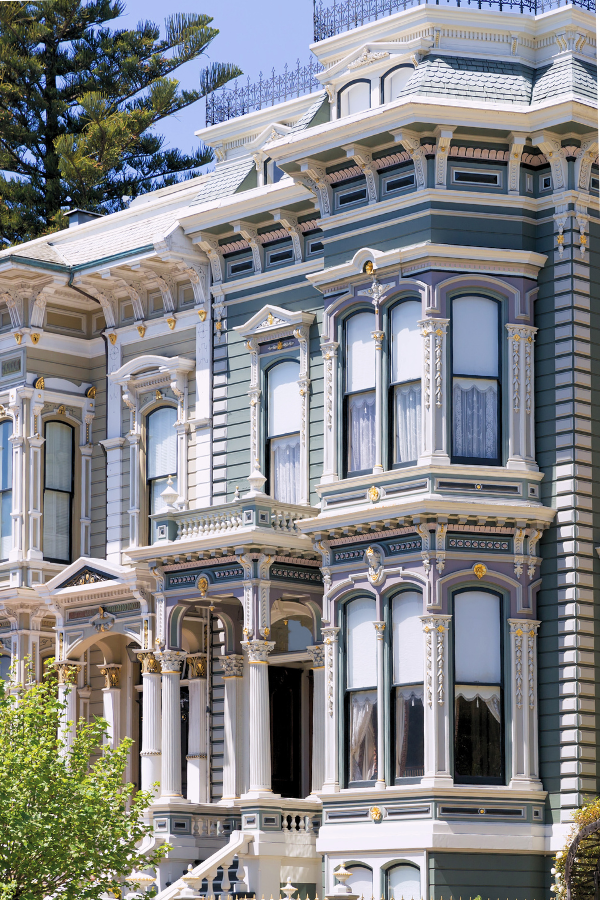 The most famous cluster of Painted Ladies is located along Steiner Street—across from Alamo Square Park—in the Western Addition neighborhood. This specific row is often referred to as "Postcard Row" or the "Seven Sisters."
Many of these homes were built between 1892 and 1896 by developer Matthew Kavanaugh—a prominent figure in San Francisco's development during this era. Their design and architectural features are characteristic of the period—showcasing intricate woodwork, turrets, and bay windows.
The trend of painting these homes in vibrant colors actually began in the 1960s and 1970s—long after the Victorian and Edwardian houses were originally constructed. Before that, many of these homes were painted in more subdued colors or were not well-maintained.
The move towards bold colors was—in part—a backlash against the urban renewal and modernist movements. Those movements had led to the destruction of many Victorian homes. The bright colors highlighted the intricate architectural details of the homes and became a form of architectural preservation and rebellion. This probably reminds you of other postmodern movements across the US—which rebelled against the streamlined, minimalistic, and sometimes austere style of modernist architecture and interiors.
San Francisco's Painted Ladies in Pop Culture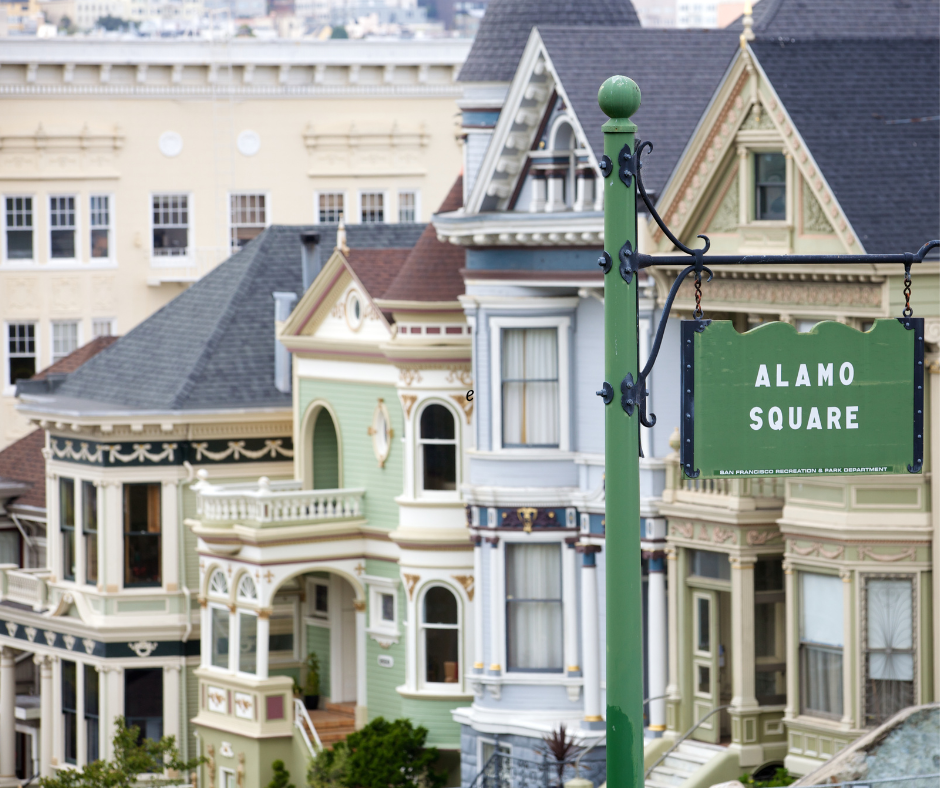 The Painted Ladies of San Francisco—particularly the iconic row near Alamo Square that is sometimes referred to as "Postcard Row" or the "Seven Sisters"—have been featured in numerous movies, TV shows, commercials, and even print media due to their distinctive and picturesque appearance. For example, the opening credits of Full House and its sequel series Fuller House feature the Tanner family having a picnic in Alamo Square with the Painted Ladies in the background. The 1993 film Mrs. Doubtfire—which starred Robin Williams—prominently features San Francisco, and while the house in the movie isn't one of the Painted Ladies, they do make an appearance.
In the 1978 horror classic Invasion of the Body Snatchers, these San Francisco Victorian houses are pictured in several scenes. Set in San Francisco, the Painted Ladies also make a brief appearance in The Princess Diaries and the television series Monk. Beyond movies and TV shows, the Painted Ladies have been featured in various commercials and even a few music videos over the years.
Historic Significance and Ongoing Appreciation of San Francisco's Victorian Row Houses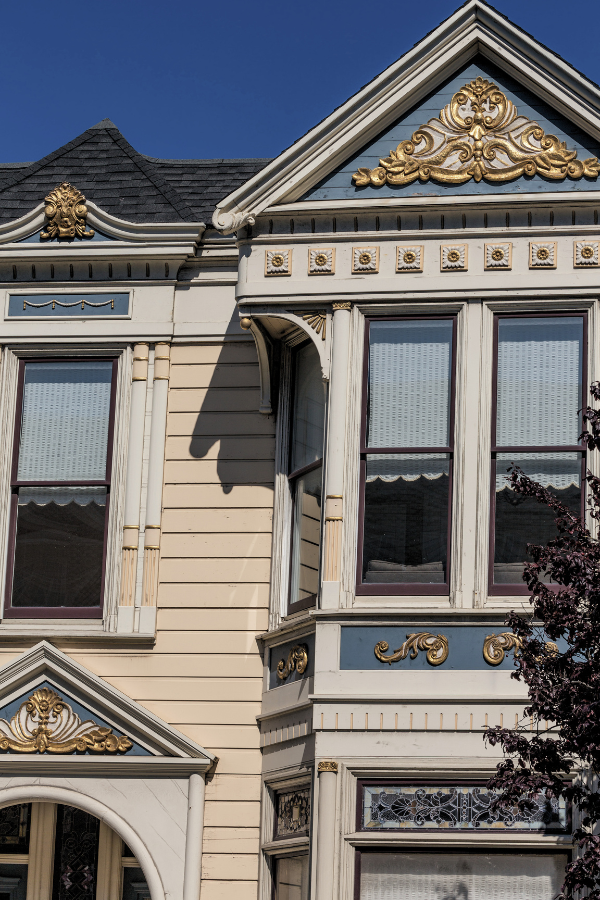 Apart from their aesthetic appeal, the Painted Ladies represent a historical period in San Francisco's development. They have survived earthquakes, fires, and urban renewal efforts—standing as testaments to the city's resilience and commitment to preserving its cultural heritage.
Today, the Painted Ladies are a major tourist attraction. On any given day, you'll find numerous tourists and locals alike, sitting in Alamo Square Park—capturing photos of these houses with the backdrop of San Francisco's modern skyline. While the exteriors of these homes are well-known, the interiors remain private as most of them are residences.
However, there are walking tours available in San Francisco that provide historical context and details about the Painted Ladies and other historic homes in the area. Other historic Victorians in San Francisco include the Sarah Mish House and the Walker House. Sign up for a tour to celebrate San Francisco's architectural heritage and see these
Have You Visited San Francisco's Painted Ladies?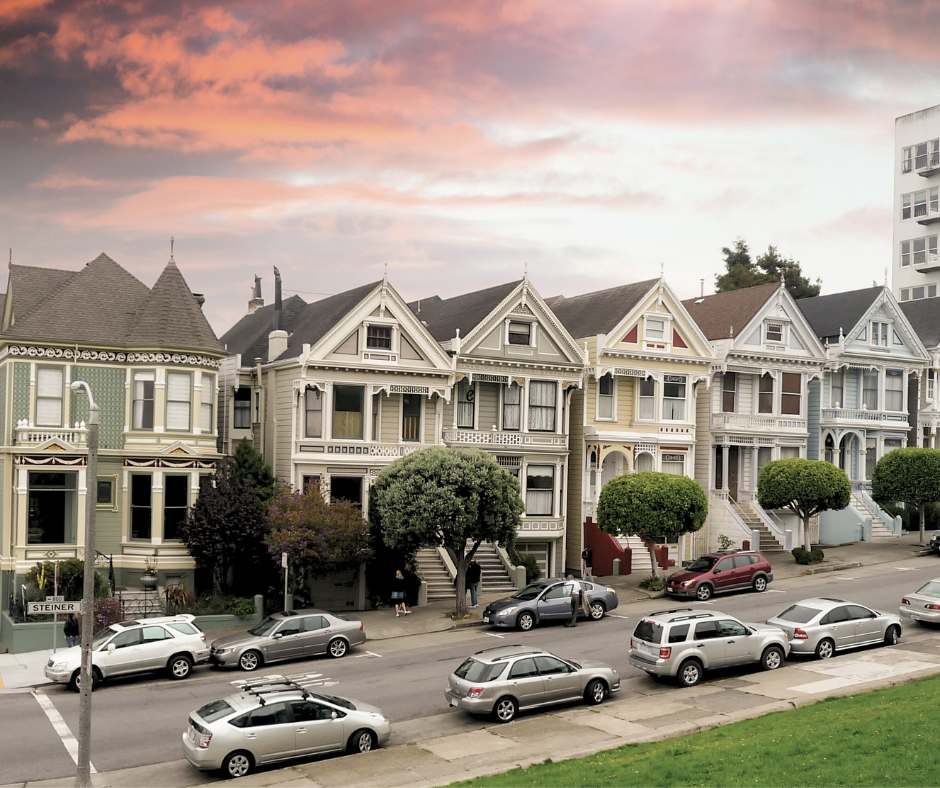 With part of our team based in California, DesignDash's writers have often peered up at the pastel facades of San Francisco's Painted Ladies. Have you? Let us know in the comments below.