Checking into Design: 13 Hotels with Unforgettable Interiors
Planning your next getaway? While most travelers prioritize destination and activities, there's something to be said about the profound impact that hotel interior design can have on your overall experience. After all, a hotel isn't just a place to rest your head; it's an integral part of your journey. Whether you're an architecture enthusiast, a design connoisseur, or just someone seeking a unique and memorable stay, these hotels are destinations in themselves. From unrestrained opulence to chic minimalism, we've scoured the globe to bring you hotels that promise more than just a good night's sleep. Read on as we celebrate the best hotel interior design in the world, and honor the hotel interior designers and architects responsible for crafting such gorgeous spaces.
13 of the Most Beautiful Hotels in the World
The Silo Hotel in Cape Town
This architectural gem—located at Silo Square in V&A Waterfront, Cape Town, South Africa—is absolutely stunning. It was constructed in March 2017 within a transformed historic grain silo boasting shimmering pillowed-glass large windows that offer breathtaking panoramic views spanning from the majestic Table Mountain to the enchanting Table Bay harbor.
The building's design is attributed to hotel designer Thomas Heatherwick, while the talented Liz Biden meticulously crafted the interiors. The Royal Portfolio proudly owns this South African sanctuary and gave the visionary initiative to create spaces that change the hospitality world.
Liz Biden's unique ability to combine style and comfort is evident throughout The Silo Hotel. She has an eye for the unusual—sourcing exquisite furniture and fabrics from her travels worldwide. Her relentless pursuit of beauty is reflected in every corner of this extraordinary establishment—creating warm, inviting, and inspiring public spaces for new guests.
Aman in Tokyo
Aman Hotel has a minimalist yet luxurious interior inspired by traditional Japanese aesthetics—with expansive city views and sleek lines. Located in Tokyo, Japan at The Otemachi Tower, the hotel opened its doors in December 2014. This architectural wonder was designed both structurally and aesthetically by Kerry Hill Architects.
It stands proudly under the ownership of Aman Resorts. Drawing design inspiration from Japanese traditions, Aman Tokyo balances the vibrancy of the city with a deep sense of tranquility and aesthetically pleasing outlook. The hotel's interior style is an embodiment of minimalist luxury—reflecting traditional Japanese aesthetics.
Its architectural style seamlessly combines contemporary design with traditional Japanese influences. The vast lobby, ryokan-style guest rooms, and Aman Spa offer an immersive experience—featuring elegant ikebana displays, delicate washi paper doors, and traditional engawa platforms. Together, these elements create a serene urban retreat where luxury harmonizes with Japanese serenity.
The Beekman in New York City
The Beekman—located at 123 Nassau St, New York City, United States—combines history and modern elegance. Originally completed in 1883, the building underwent meticulous restoration and reopened as a hotel in 2016.
The architectural design is credited to Gerner, Kronick + Valcarcel, Architects, and James M. Farnsworth, while the hotel's interior was reimagined by Martin Brudnizki Design Studio—a celebrated firm of hotel designers. They seamlessly blend the charm of the Victorian era with New York's unique elegance.
Owned by Thompson Hotels, The Beekman welcomes hotel guests into a restored 19th-century building featuring a grand nine-story atrium as a focal point adorned with Victorian wrought-iron railings and vintage furnishings. This space—crowned by a pyramidal skylight for natural light—was brought back to life after years of anticipation. Today, it captivates visitors with its historical charm.
Nestled between two rivers, this iconic hotel bridges the 19th century's design and decor with 21st-century decadence—offering an extraordinary ambiance. This team's sensitive renovation has brilliantly revived this neglected gem while preserving its unique patina. Their impact on the hospitality industry does not go unnoticed.
Palacio Duhau Park Hyatt in Buenos Aires
Palacio Duhau – Park Hyatt Buenos Aires, Argentina, is a true gem in hotel interior design that harmoniously blends the past and present. Originally constructed in 1934, this fabulous palace hotel underwent expansion with a modern building in 2006.
This architectural fusion pays homage to the glory days of Thirties Buenos Aires—striking a balance between classic and modern elegance.
The palace—designed by architect León Dourge—refers back to the city's traditional aristocracy, while the modern building—designed by Carlos Ott— represents the future of Buenos Aires. Connecting these architectural wonders is an eclectic underground art gallery and lush gardens—originally landscaped by Carlos Thays.
Owned by Hyatt Hotels Corporation—a group of luxury collection hotels—Palacio Duhau offers a unique blend of neoclassical elegance and modern design. This particular luxury collection hotel is a visual delight—with picturesque gardens, an extensive wine cellar, a superb spa, and its very own art gallery featuring work by local artists.
With a year-round Oak Bar that caters to discerning tastes, Palacio Duhau is a luxury destination nestled in the elegant Recoleta neighborhood.
La Mamounia in Marrakech
Located in the heart of Marrakech, Morocco, La Mamounia is an ageless masterpiece with a history dating back to its original construction in 1923—followed by meticulous renovations, hotel interior remodels, and additions. It is an industry-leading example of hotel interior design.
It was designed by the renowned architect Henri Prost, with the interiors curated by Jacques Garcia. Together, the two seamlessly blend Moroccan grandeur with exquisite tile work, intricately carved wood, and traditional textiles. The architectural style echoes Moroccan and Art Deco influences—creating an atmosphere of enduring elegance.
La Mamounia's interiors are a celebration of Moroccan craftsmanship and culture. Behind each traditional wooden door lies a luxurious haven where style and incredible comfort harmonize—subtly combining Moroccan artistry with contemporary design.
Whether you seek a romantic escape, diverse flavors across the hotel's four restaurants, a spa retreat, or stylish evenings in the Churchill Bar, La Mamounia offers a range of experiences to savor.
The Ned in London
Originally built in 1939 as a bank, The Ned was later transformed into a hotel—opening its doors in 2017. Designed by the renowned Edwin 'Ned' Lutyens, the original building boasts stunning neoclassical and Art Deco elements.
Its interiors were skillfully renovated by Soho House & Co.—preserving many of the original bank features including verdite columns and walnut banking counters.
Owned by Soho House & Co, The Ned is a testament to classic architecture. It houses Ned's Club, a private members' space, a gym, rooftop, a public spa, ten restaurants and bars, and 250 hotel bedrooms.
Nick Jones—the founder of Soho House & Co. Inc.—recognized the building's unique charm upon first viewing the space in 2012. This fortuitous encounter led to the creation of The Ned—a place where history, architecture, and modern hospitality converge. It is one of several industry-leading examples of successful hotel restorations and renovations on this list.
The Ritz in Paris
The Ritz Paris is situated at 15 Place Vendôme, Paris, France. Originally opened in 1898, this iconic establishment underwent a successful renovation in 2016. The brainchild of César Ritz, it blends Beaux-Arts architecture with a blend of classic French exterior design and interior modern luxury—thanks to contemporary interiors by Thierry W. Despont.
Now under the ownership of Qatari Diar, The Ritz Paris is an unparalleled luxury destination in the heart of the City of Light. It preserves the grandeur of its period style while benefiting from Thierry Despont's meticulous renovation—which showcased the excellence of French craftsmanship.
The hotel boasts exquisite custom-made carpets, fabrics, and rugs by Maison Pierre Frey and Braquenié.
Burj Al Arab in Dubai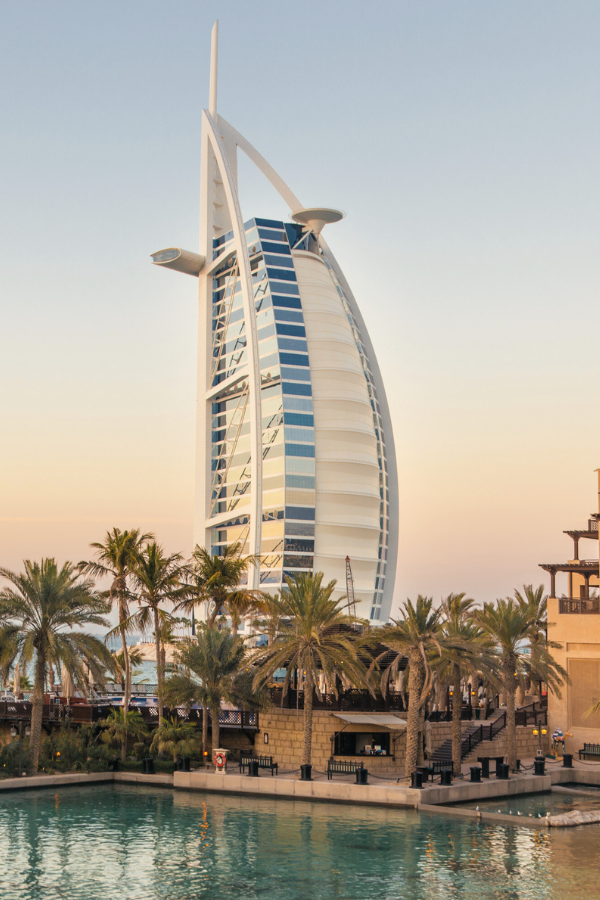 The architectural brilliance of Burj Al Arab—designed by Tom Wright—is unparalleled. Its sail-shaped structure boldly extends into the Arabian Gulf—leaving an indelible mark on Dubai's skyline. Its interiors include lavish suites adorned in gold leaf and opulent designs.
From its unique artificial beach to the grand atrium soaring a majestic 180 meters, the Burj Al Arab spares no detail in offering a truly exceptional stay. The interiors of Burj Al Arab are nothing short of a dream—thanks to the visionary work of London-based interior designer Khuan Chew.
The Four Seasons George V in Paris
The Four Seasons Hotel George V in Paris originally opened its doors in 1928. Since then, the hotel has undergone a series of renovations that sought to preserve its historical and architectural significance.
Designed by Charles Nicod, this landmark in the Golden Triangle of Paris off the Champs-Élysées boasts an exquisite blend of French neoclassical and Art Deco architectural styles. The interiors have been thoughtfully reimagined by Pierre-Yves Rochon—reflecting classical European grandeur with elements such as floral displays, Art Deco furnishings, crystal chandeliers, and historical artworks.
From the hotel lobby to the suites, marble floors, hand-painted murals, trompe l'oeil ceilings, gilded elements, and silk damask adorn the hotel. Each of the 185 guest rooms and 59 suites is a unique masterpiece—blending elements of Parisian local heritage with modern-day technology.
The Greenbrier in West Virginia
The Greenbrier—situated in the breathtaking mountains of West Virginia—is a true American treasure with a history dating back to its opening in 1778. Over the years, it has undergone various renovations and transformations. With a sprawling 11,000-acre estate, it continues to lure visitors with its mineral springs—just as it did centuries ago.
The Greenbrier is a National Historic Landmark and has played host to an illustrious guest list that includes 28 U.S. Presidents, celebrities, royalty, and business leaders.
One of The Greenbrier's most iconic features is its interior design—attributed to the celebrated Dorothy Draper. After serving as a hospital during World War II, the resort transformed under Draper's artistic vision. Her usage of bold colors and oversized patterns gave the hotel a new personality.
Carleton Varney—who succeeded Dorothy Draper—continued to infuse the resort with vibrant colors and bold contrasts.
Faena Hotel in Miami
The Faena Hotel—situated at Collins Ave in Miami Beach, Florida—opened to the public in December 2015. This elegant hotel is the brainchild of Alan Faena. It has become an integral part of the transformative Faena District in vibrant Miami Beach—a hub of art, culture, design, and collaboration.
Faena Hotel Miami Beach combines contemporary aesthetics with Art Deco influences. The interiors are nothing short of theatrical—adorned with red, gold, and animal prints, complemented by contemporary artwork and installations.
Designed by the acclaimed architectural firm Foster + Partners with interiors crafted by Baz Luhrmann and his wife – Catherine Martin, the hotel is delightfully glamorous.
Hotel de Crillon in Paris
Originally built in 1758, this historic palace underwent an extensive renovation from 2013 to 2017.
The Hotel de Crillon beautifully blends 18th-century elegance with natural materials and modern touches. The extensive renovation project involved the collaboration of numerous artists and craftsmen who worked harmoniously to revive the palace's splendors.
Richard Martinet—an architect renowned for restoring iconic buildings worldwide—played a pivotal role in elevating the 18th-century structure to new heights.
The art direction was skillfully managed by Aline Asmar d'Amman—ensuring the project's decor was consistent and coherent. The hotel's interior designers—including Tristan Auer, Chahan Minassian, Cyril Vergniol, and Culture in Architecture—worked together to create a unique space.
For the reopening of the Hotel de Crillon in 2017, a total of 147 artists and 250 French craftsmen worked diligently—contributing to the creation of custom-built expensive furniture, rooms, decor, and a myriad of art pieces scattered throughout the hotel.
Hotel Per La in Los Angeles (Previously The NoMad)
Hotel Per La—previously known as The NoMad—is a luxurious hotel located at South Olive Street in the heart of Los Angeles, California. This remarkable hotel offers a captivating exterior and interior blend of old-world elegance and contemporary sophistication in an iconic 1920s bank building.
The hotel originally opened as The NoMad in 2018 but was rebranded as Hotel Per La in 2022 while preserving the charm of its historical setting.
Morgan, Walls & Clements—a renowned architectural firm—designed the original architecture of this neoclassical building. The hotel's room features and interiors have been meticulously curated by the acclaimed interior designer Jacques Garcia—who ensured that the atmosphere exudes vintage European decor and grandeur.
The combination of classic neoclassical concept elements with European sophistication gives the hotel a distinctive character.
Hotel Per La stands out in the hotel industry with its commitment to maintaining the building's historic integrity while transforming it into a plush, artistic space.
Where Will You Stay?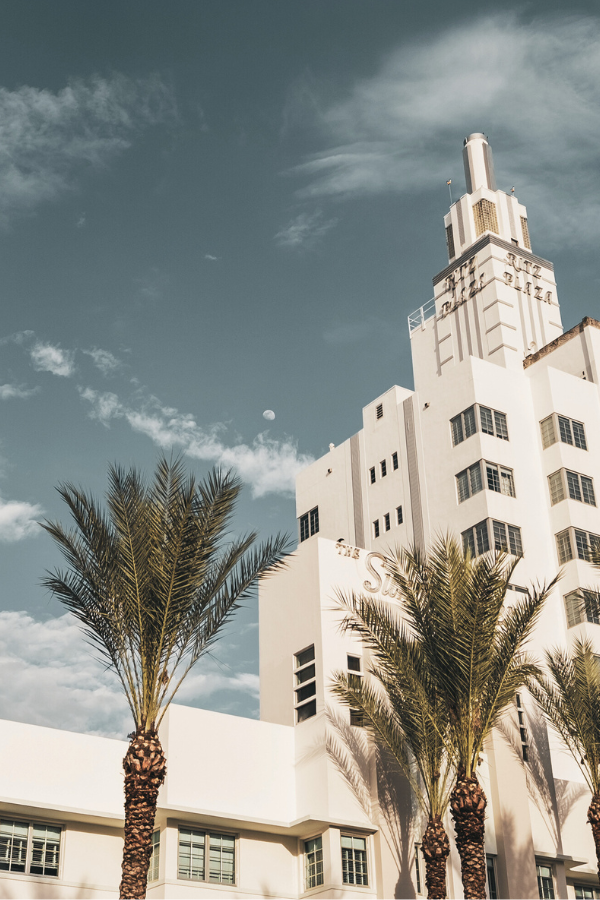 The world's most remarkable hotels—imagined by the best hotel designers—not only offer a place to rest and relax. They inspire all who step inside.
From the architectural wonders of The Silo Hotel to the iconic luxury of The Ritz Paris, these hotels demonstrate the power of interior design. Each one tells a story—combining history, culture, and innovation.
Where will you stay on your next adventure? Share your thoughts and let us know which hotel's design captivated you the most. Your comments are always appreciated.
By Anila Hasnain.